Well, for those with December birthdays, you are lucky, as there are actually several options to choose from and we will provide basic information on all four of them for you here. Let's start with Turquoise.
Turquoise
One of four official birthstones for December is Turquoise. This beautiful opaque blue-green gem has been worn as personal adornment since the time of Cleopatra and long before.
It is said to bring good fortune and protection to its wearer. Turquoise is believed to be a powerful healing stone that helps relieve stress, enhance communication skills and strengthens the immune system. In today's world, it sounds as if everyone could benefit from wearing Turquoise! 😇
It is also said to bring joy and luck. So donning a piece of Turquoise jewelry in December can be an opportunity to invite positive energy into your life.
Turquoise mined in the U.S., most often features black matrix, a web-like black veining seen throughout the stone.  Fine Turquoise has minimal or no veining at all, is robin's egg blue, and is far more rare which justifies the premium prices.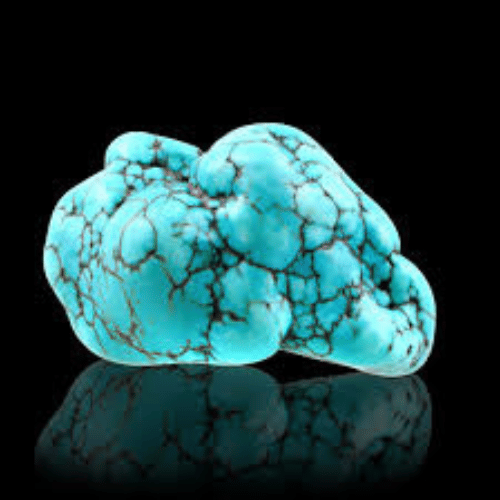 Where Does Turquoise Come From?
The U.S. is the main source today, other countries: Egypt, China, Iran and Mexico.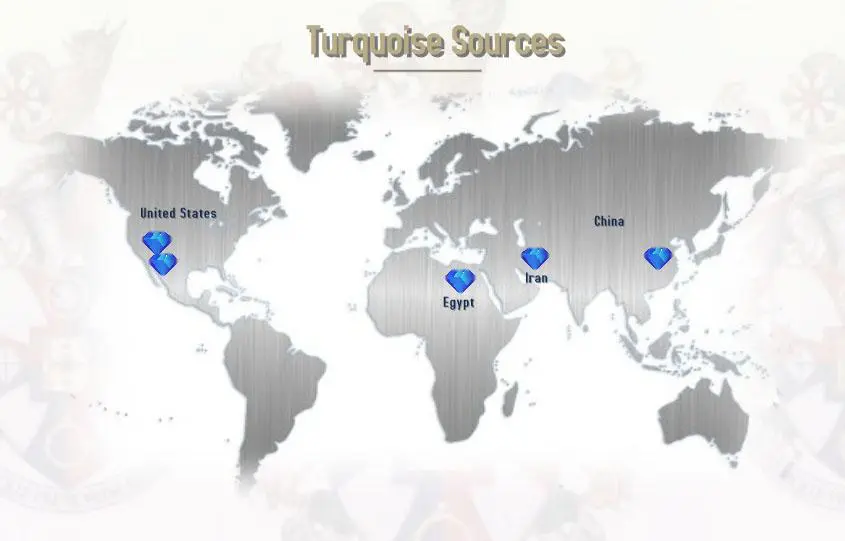 Caring For Turquoise: Turquoise is a very porous gem material, so it is covered with a colorless coating to protect the surface. For this reason it is best just to wipe it off with a damp cloth, avoid liquid cleaners (unless it is indicated on the label that it is safe for Turquoise) and ultrasonic cleaners.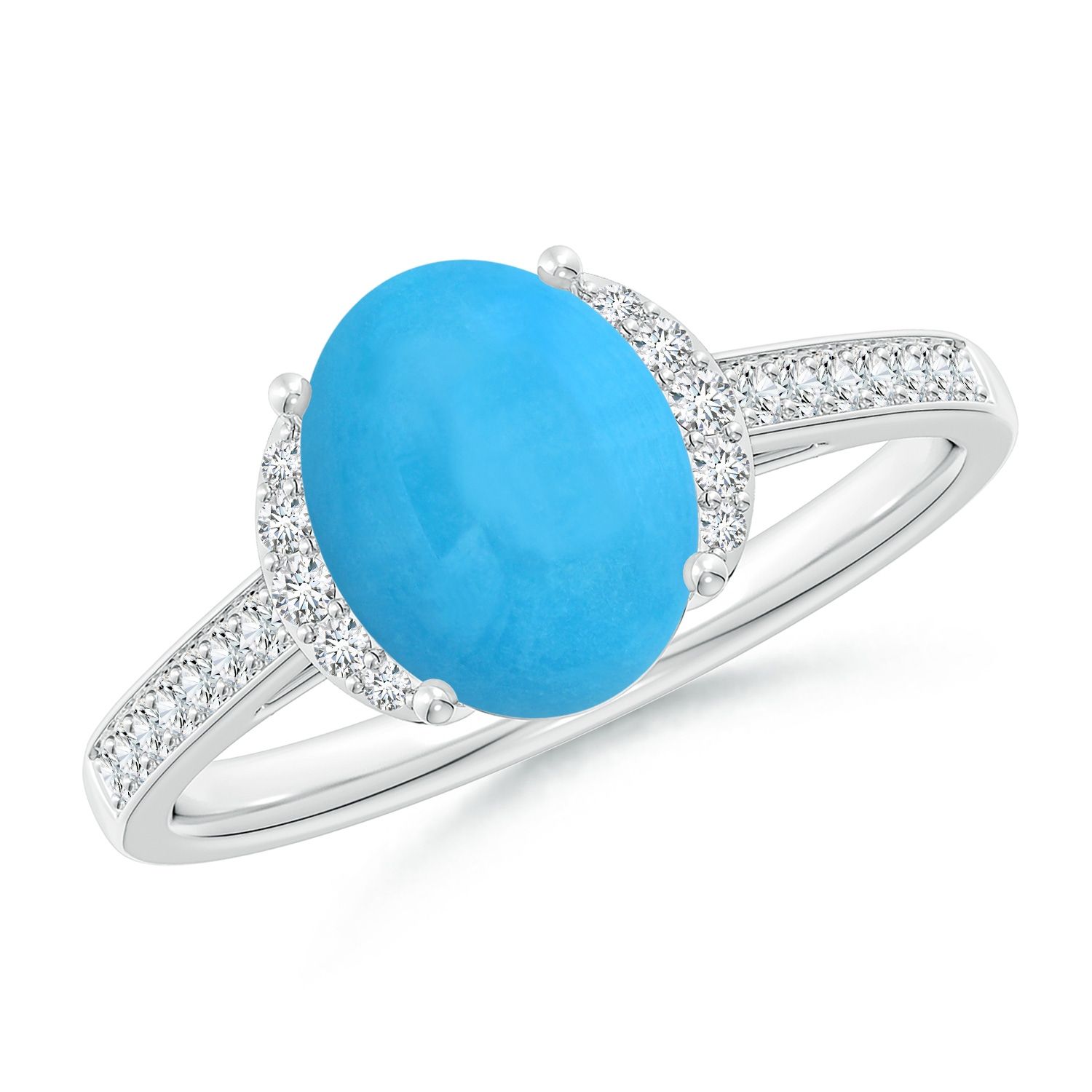 Classic Solitaire Oval Turquoise and Diamond Collar Ring
This gorgeous super-fine cabochon-cut Turquoise weighs 1.75 carats. The center stone is surrounded by 24 natural diamonds set in 14K white gold. This stunning ring is a gift of a lifetime and is accompanied by an Angara Certificate of Authenticity. Click below for additional information and options.
CHECK PRICE ON ANGARA!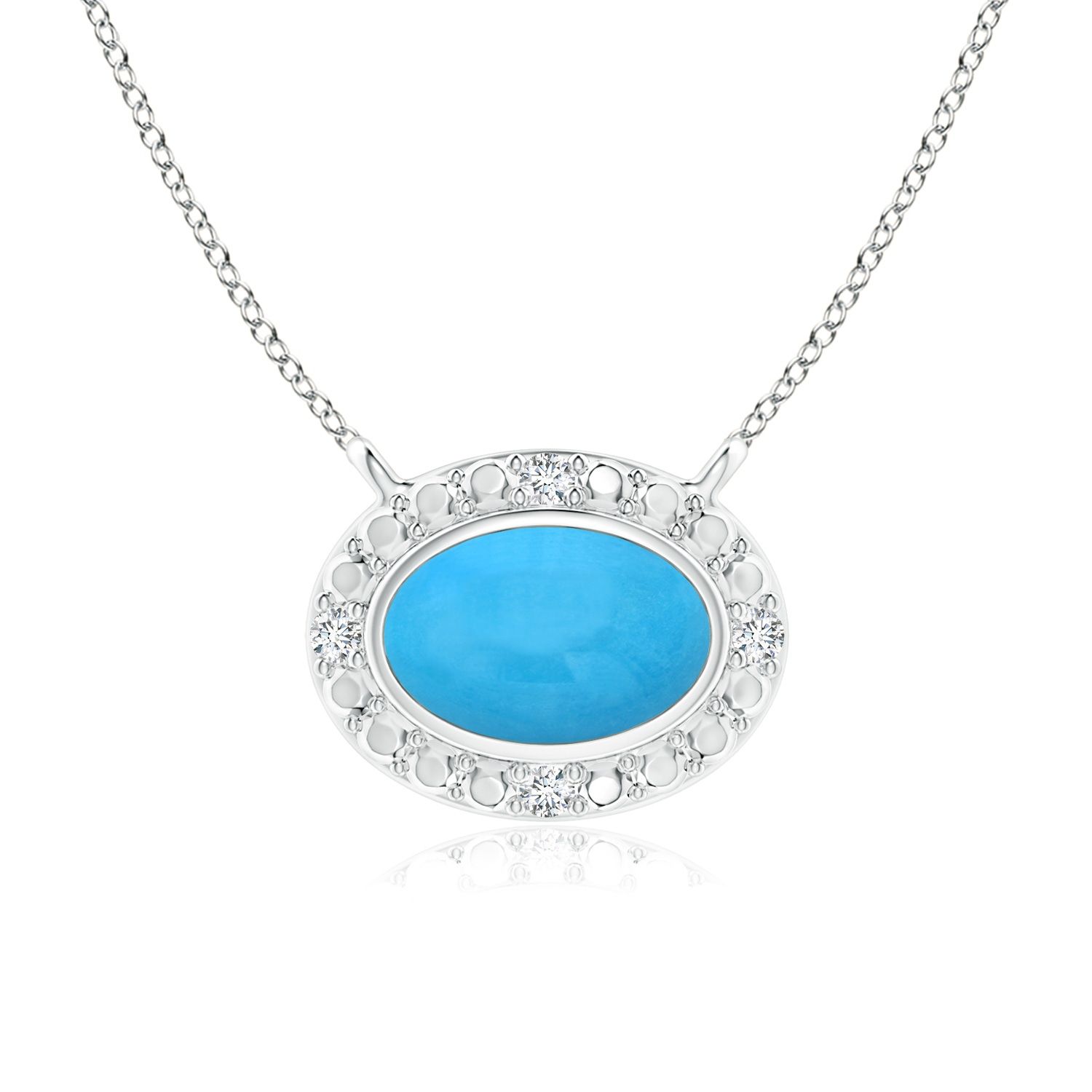 Bezel-Set Oval Turquoise Diamond and Beaded Halo Necklace
This gorgeous Turquoise necklace will delight the lucky recipient! It features a natural 0.38 carat oval Turquoise and comes with an Angara Certificate of Authenticity. The chain is 18 inches long and you have a choice of white, yellow or rose gold for the setting and chain. Click below for details.
CHECK PRICE ON ANGARA!
As you celebrate the holidays and ring in the new year, why not consider Turquoise for the birthday girl or guy in your life! But before you make a final decision, read on as there are still three more December birthstones to cover.
Tanzanite
One of the most beautiful gem materials,Tanzanite, was inducted into the family of birthstones in 2002 for those lucky folks born in December.
Tanzanite is a relatively new gemstone, found in Tanzania and identified by Tiffany & Co. in the late 1960's. It is prized for its beautiful deep blue-violet color (the most prized and valuable color.) But that hue is rare, so what you will see most often are stones that are grayish-blue and less saturated.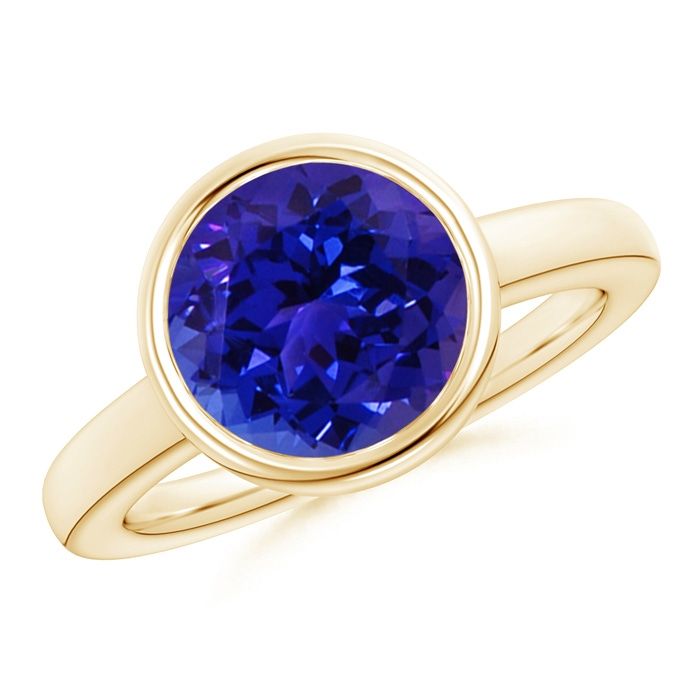 Bezel-Set Round Tanzanite Ring
This magnificent bezel-set round Tanzanite exemplifies the violet-blue color Tanzanites are most coveted for. This gem weighs 3.50 carats, which makes it exceeding rare both for its color and size. Available in 14K yellow, rose, white gold, or platinum. This ring comes with an Angara Certificate of Authenticity. Click below to learn more.
CHECK PRICE ON ANGARA!
Tanzanite is said to bring spiritual growth and understanding - perfect for this season of reflection. So why not add Tanzanite to your December birthstone collection and experience the beauty of Tanzanite! 💎✨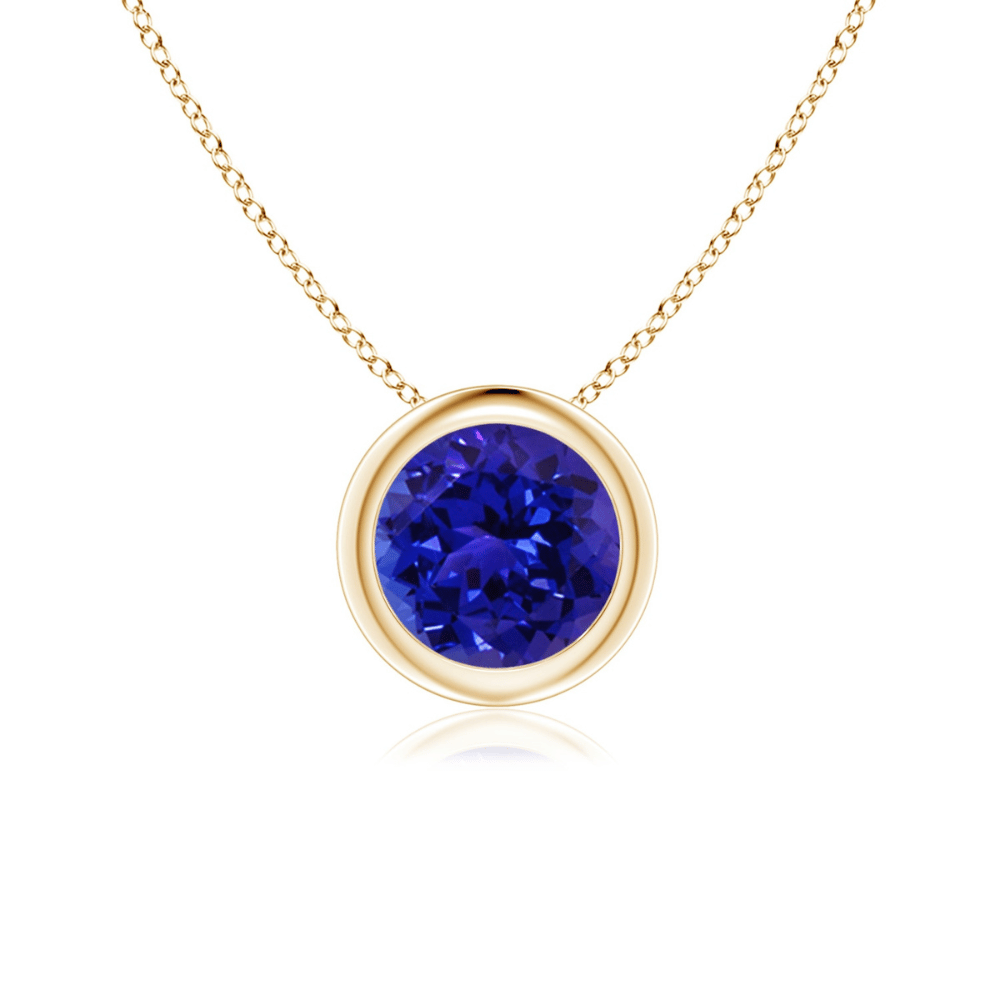 Bezel-Set Round Tanzanite Solitaire Pendant
If you love the bezel-set Tanzanite ring featured above, the matching pendant is very tempting too. This heirloom quality Tanzanite is 0.90 carats, set 14K yellow gold or the precious metal of your choice. The pendant comes with an Angara Certificate of Authenticity. Click below to see all the options.
CHECK PRICE ON ANGARA!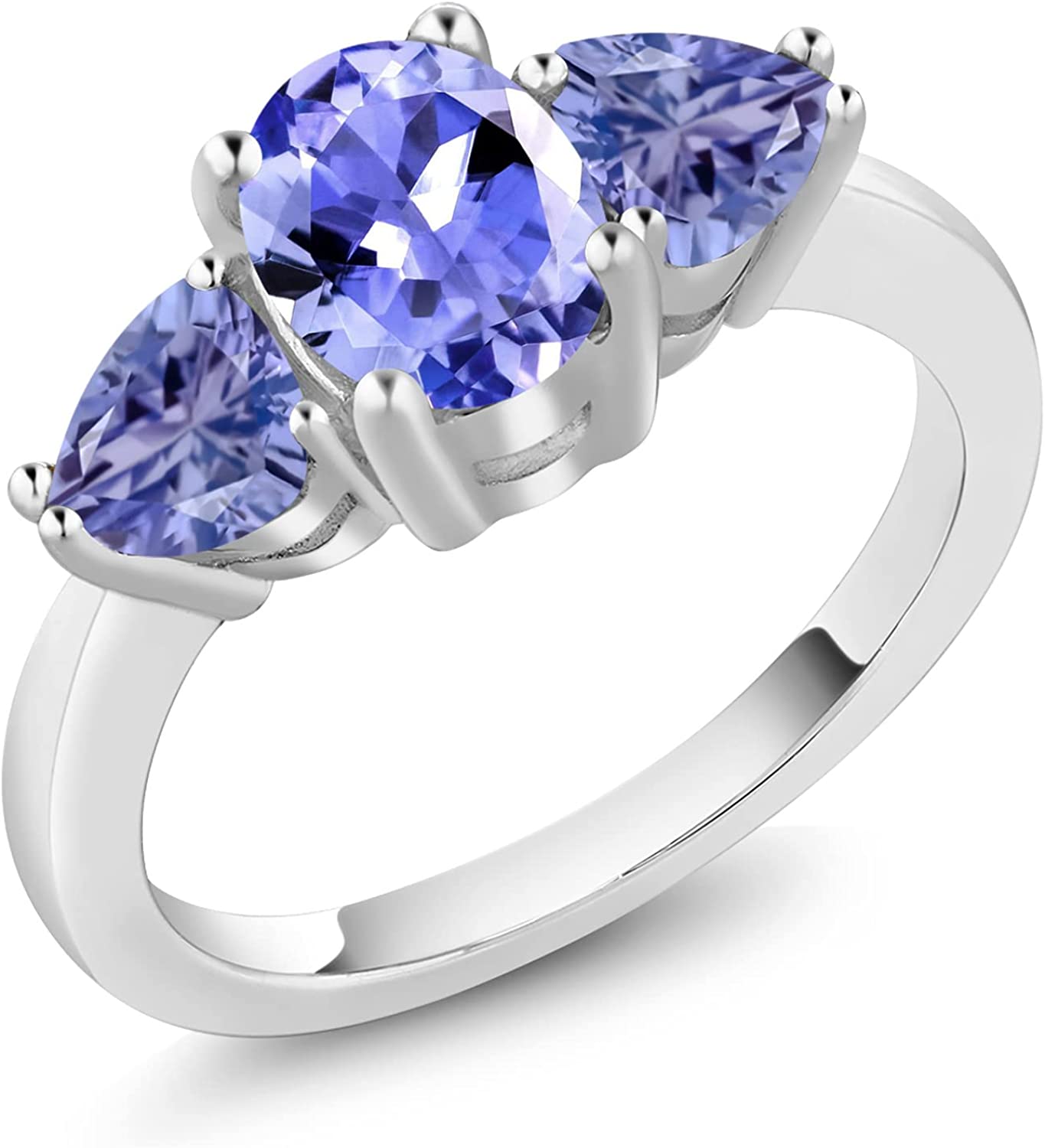 Gem Stone King 925 Sterling Silver Tanzanite 3-Stone Ring for Women
This classic 3-stone Tanzanite ring is set in 925 sterling silver. Featured gems weigh 1.96 carats. This ring is available in sizes 5-9. Click below for additional information.
CHECK PRICE ON AMAZON!
Where Does Tanzanite come From?        
Tanzanite is only found in Tanzania.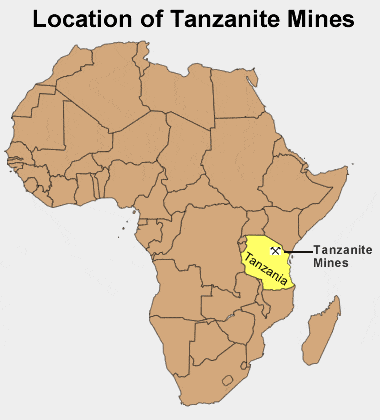 Caring For Tanzanite: Tanzanite is a fragile stone and is considered a "special occasion gemstone" especially if set in a ring. If, however, it is set in a bezel setting it will be protected. Use a mild jewelry cleaner or warm water, soft brush and liquid soap to maintain its beauty.
Blue Zircon
Blue Zircon is an interesting alternative to Turquoise or Tanzanite as a December birthstone, if you are lucky enough to find one! This eye-catching mineral radiates fire, unlike any other blue gemstone except perhaps fancy blue diamond. It is sometimes described as having its own rainbow.
Very popular during the Victorian era, you are most likely to see them in antique jewelry. White zircon is well-known for its role as a diamond simulant in decades past, but few people are familiar with the blue variety.
Zircon comes in a range of other colors from pale yellow to deep red, in addition to the greenish-blue color we are focusing on here. Natural blue zircon is limited in availability today and is more likely to be found in antique jewelry stores, or auction houses than in mainstream retail locations.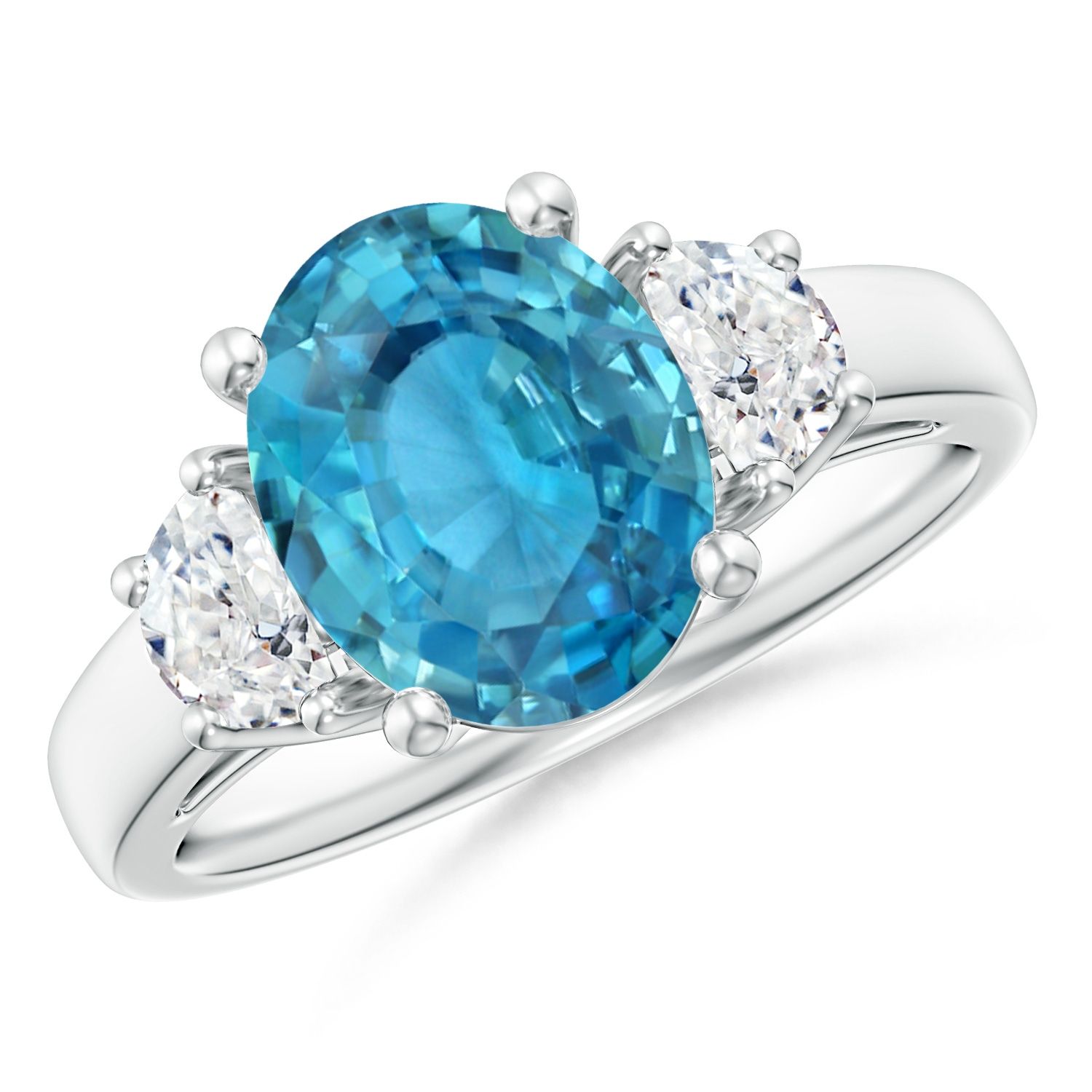 Three Stone Oval Blue Zircon and Half Moon Diamond Ring
This stunning ring features a 4.21 carat zircon (GIA Report) contrasted by two half-moon shaped natural diamonds weighing 0.32tw. This is indeed a rare gemstone and you will be amazed by the fire and brilliance it radiates with each hand movement. Available in the precious metal of your choice. Click below for the more details.
CHECK PRICE ON ANGARA!
If you are a little unsure whether I mean cubic zirconia, I do not, zircon is a natural mineral and cubic zirconia is man-made and comes in all colors, including blue.
Where Do Blue Zircons Come From?
Blue zircons come from several locations: Sri Lanka, Burma (Myanmar), Thailand, China, Madagascar and Australia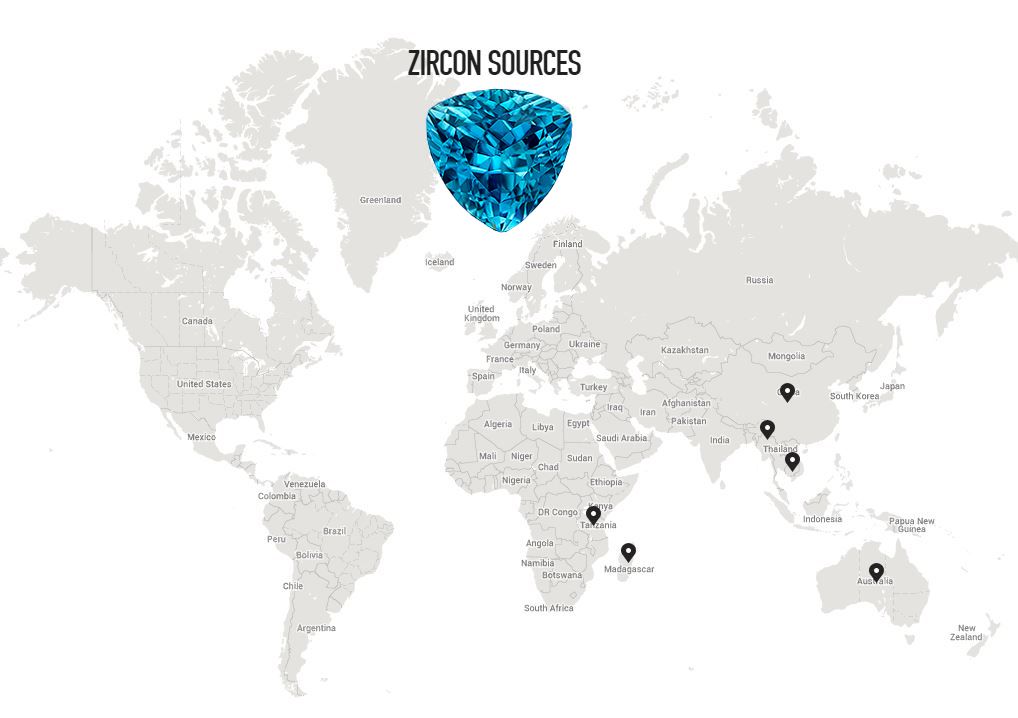 Caring for Zircon: Use a mild jewelry cleaner or warm water, soft brush and liquid soap. Zircon is a brittle gem and should be worn with extra care.
Blue Topaz
Blue Topaz is another great option for a December gift. It has been said that Blue Topaz can help bring abundance and good luck. It is often said to promote energy, balance, and clarity.
Of all the December birthstones, Blue Topaz is the most available and accessible; it rivals the much more expensive gemstone, Aquamarine in beauty! And if you live in Texas, even better, as it is your state's official gemstone.
Tree of Life Necklace for Women December Birthstone Blue Topaz
Here we have a gorgeous Blue Topaz sterling silver necklace covered in 18K white gold. Such a beautiful design, the "Tree of Life" represents love and peace. The pendant hangs from an 18 inch adjustable rolo chain. This design is available in all birthstones. Click below to learn more.
CHECK PRICE ON AMAZON!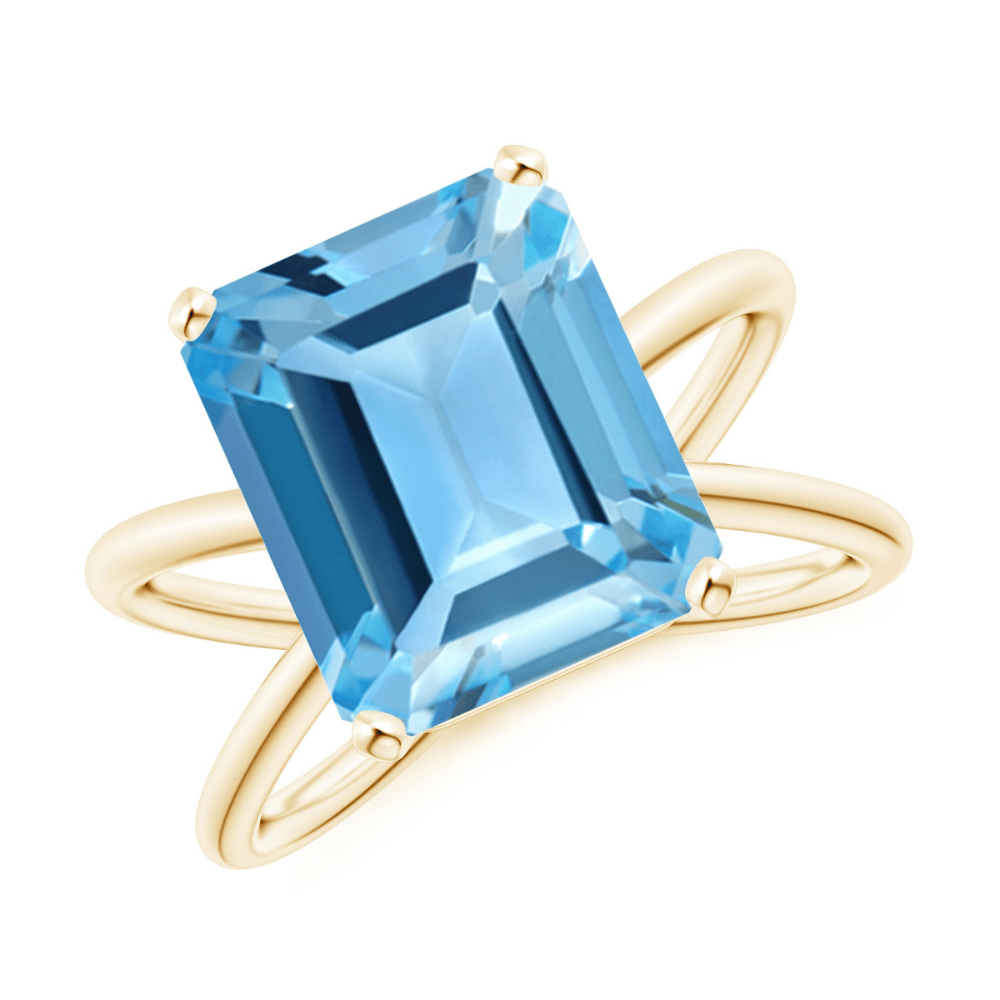 Emerald-Cut Blue Topaz Criss-Cross Split Shank Ring
Looking to make a statement? This Swiss blue Topaz ring will definitely do it! The minimalist, modern design focuses the eye on the 7.20 carat emerald-cut gem. If you are looking for an even grander look, the ring is also available with a ten carat Blue Topaz. The criss-cross setting is available in the precious metal of your choice. All Angara rings come with an Angara Certificate of Authenticity. Click below for additional information.
CHECK PRICE ON ANGARA!
Blue Topaz is available in various shades of blue, from pastel blues up to the most prized hues, "London" and "Swiss Blue." It is also the most affordable and can be found in the majority of jewelry stores. Giving the gift of Topaz conveys messages of loyalty and love.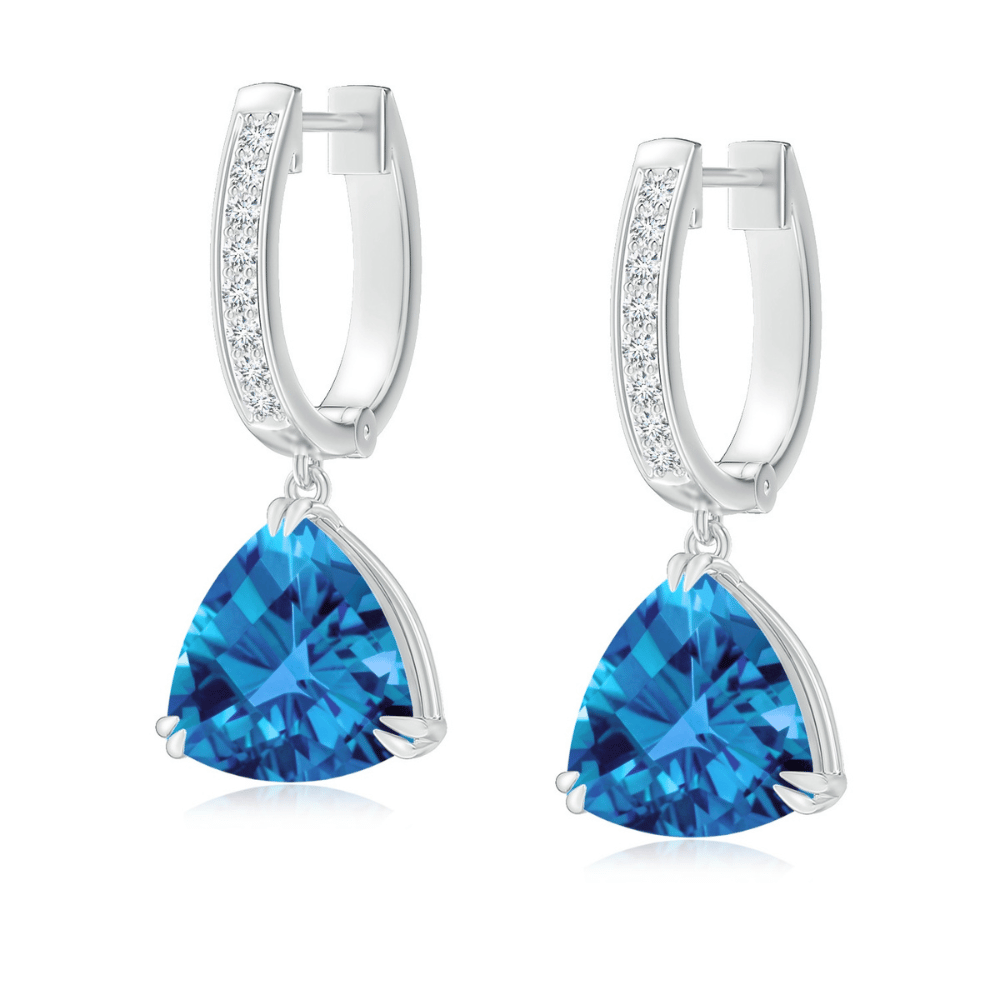 Blue Topaz and Diamond Huggie Drop Earrings
What gorgeous color!! If you are looking for dressier earrings, then these are perfect. They feature Trillion-cut Swiss Blue Topaz. The total gemstone weight is 2.80 carats. Notice that the 14K white gold basket settings secure the stones with elegant double claw prongs. The total diamond weight is 0.13 carats and pavé set. These earrings are available in the precious metal of your choice. All Angara colored gemstones come with an Angara Certificate of Authenticity. Click below to learn more.
CHECK PRICE ON ANGARA!
Where Does Topaz Come From?
Brazil, Nigeria, Australia, Burma (Myanmar), Mexico, Madagascar, Pakistan, Zimbabwe and Sri Lanka.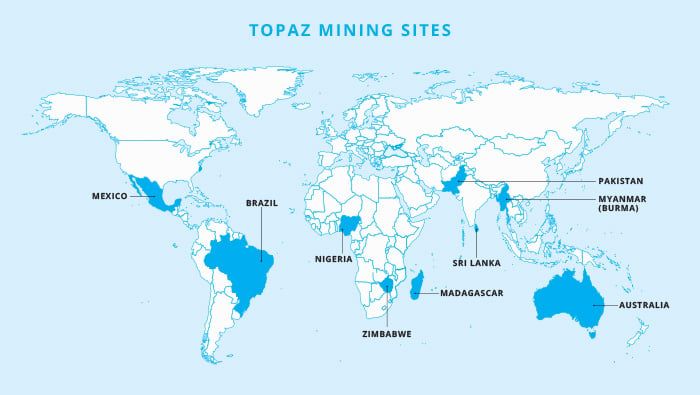 Caring For Topaz:                                               Never clean Blue Topaz in extremely hot water. Use a mild cleaner, or warm water, soft brush and liquid soap.  
In Conclusion

Birthstone jewelry is the perfect way to show that special someone just how much you care. No matter what the style preference or budget parameters, you will no doubt find the perfect piece to present to him or her at that romantic birthday dinner, or the holiday occasions you celebrate. 💎
Thank you for taking the time to read our blog.
Wishing you good health, peace, and happiness this holiday season. 🙏❤️🥰
For additional information on the best jewelry cleaners and kits  to maintain your precious pieces, take a look at our article: How To Clean Jewelry
Thank you for reading our article; please leave your comments and questions below.
Happy Shopping!
Francesca de Granville, G.G. (GIA) F.G.A.
---