Defining Spinel
If you're unfamiliar with spinel, you're in for a treat. This gorgeous gemstone is often overlooked and underestimated, by the end of this article, we hope you will be converted!
There are gemstone snobs that turn their noses up at spinel, but in reality there are red stones that are stunningly beautiful and more certainly more desirable than a low-quality ruby.
Spinel is a beautiful, eye-catching gemstone that has been appreciated by jewelry lovers for centuries (even though they thought they were rubies.) It is not exactly know as mainstream, but slowly it is becoming more and more familiar to customers.
But what makes spinel so desirable? What are the differences between natural and synthetic spinel? And where does spinel come from? Let's take a closer look at this wonderful gemstone.
History
Centuries ago red spinel was most often mistaken for ruby.  The most famous, the black prince's ruby is set in the Imperial State Crown, part of the crown jewels of Great Britain, is actually a spinel. Red spinels were sometimes referred to as balas rubies.
Later in the 1800s, modern gemology used more advanced testing to reveal these stones to be a completely separate mineral species, spinel.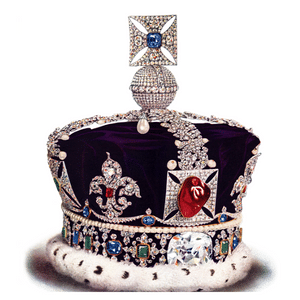 Today, spinel is far more appreciated for its own beauty, but still not that easy to find, and not commonly recognized by most consumers. Spinels have just recently been designated as an alternate birthstone for August; a huge relief for those that don't care for peridot and an added boost for spinel!
What Makes Spinel So Beautiful?
Physical Properties:
CHEMICAL COMPOSITION: MgAl2O4 Magnesium Aluminum Oxide
CRYSTAL HABIT: Cubic System
COLOR RANGE: Red, pink, light blue-dark blue, purple, yellow, orange, dark green, brown, and black. The most common color is pinkish-red or magenta.
CAUSE OF COLOR: Blue-iron, cobalt, pink and red, chromium
SOURCES INCLUDE: Sri Lanka, Afghanistan, Tajikistan, Mogok Myanmar (where top quality rubies are also mined) Vietnam, Tanzania, Tsavo Kenya (where Tanzanite is mined) and Madagascar.
ENHANCEMENTS: None
CARE: Basic jewelry care
HARDNESS: 8.0- It also has very good hardness making it suitable for everyday wear.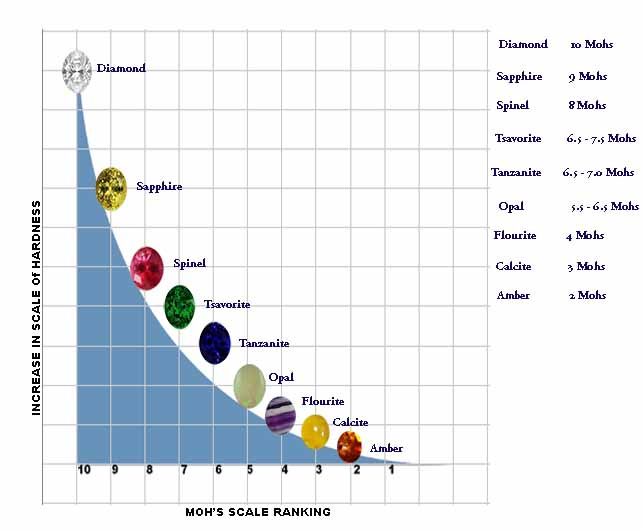 TOUGHNESS: Good
So what does all this mean? well, because spinel is so hard it takes a very smooth polish and the smoother the surface the more light will reflect off the facets.
Rainbow of Colors
As we see above, spinels come in a variety of colors; colors can also vary depending on where they are mined; some regions are known for producing stones that are intense cobalt blue or vivid purple. And don't forget the colorless specimens.
A word about black spinel-we have a friend who owns black spinel beads; they are so beautiful they look like black diamonds (actually, even better) they catch and reflect the light with every move she makes! Not to mention how reasonably priced they are.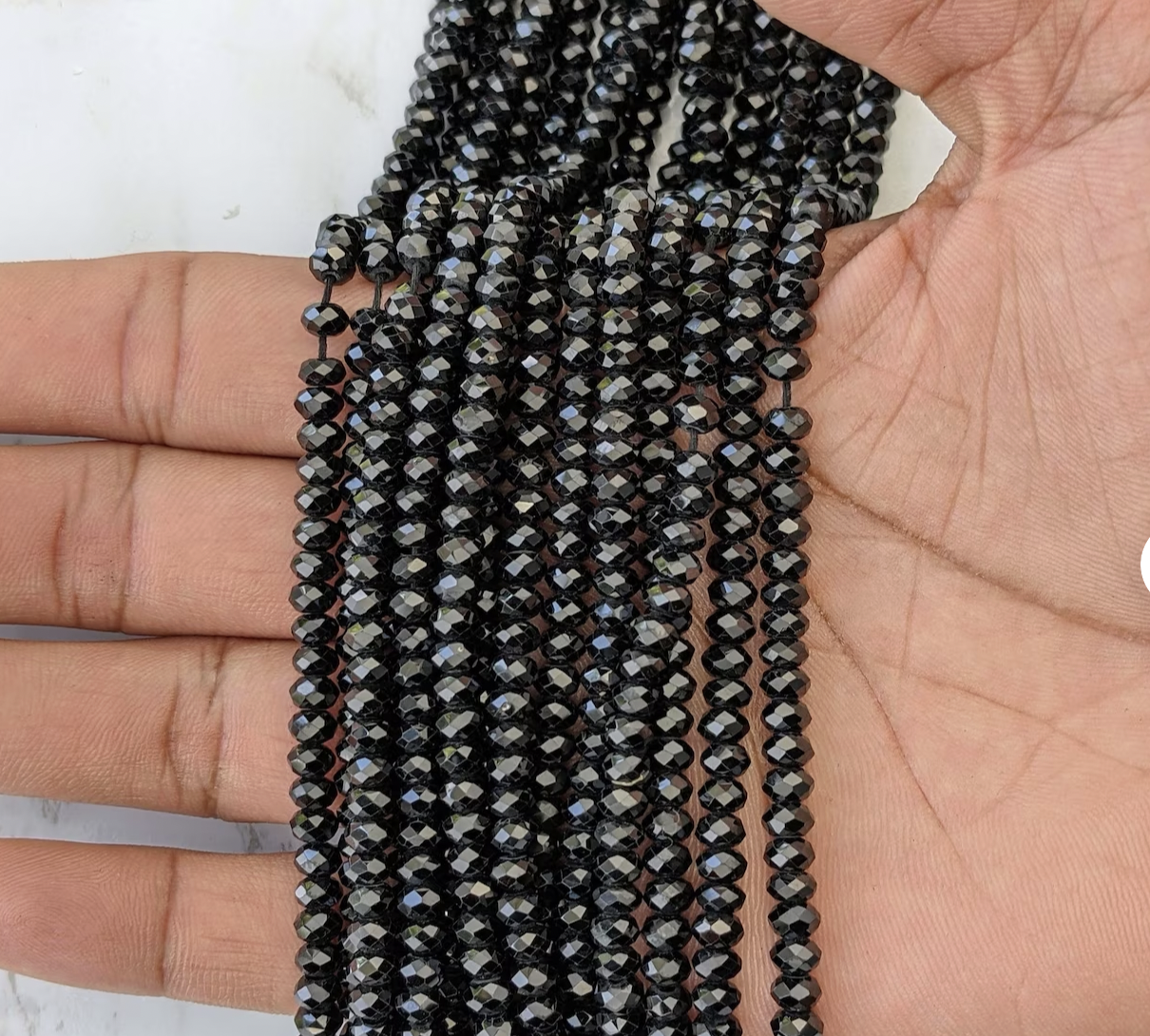 Black Spinel 13" Bead Choker
Why we love these beads:                                                                
Such a fun chocker, great for evening, or daytime, if you love bling! You will get tons of compliments on this piece.
What you should know:
Shape: Faceted Round Beads (rondelles)
Handcrafted
Bead Size: (5mm - 6mm)
Strand Length: 13-13.5 Inches
Pieces per Strand: ~125
Shivam Poddar-Owner of Shivam Imorts
Click below to take advantage of the great price before they all disappear.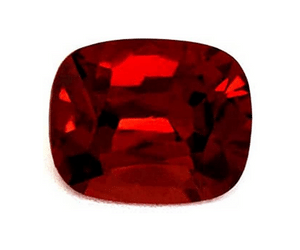 GemsNY Untreated 1.13 Carat Natural Red Spinel Cushion          
Why we ADORE this stone:                                                            
The color of this gem is spectacular, everyone will think it's a ruby, but even brighter. Perfect for collectors or if you fall in love with this stone, have it made into a pendant or gorgeous ring.
What you should know:
This 1.13 carat Natural Red Spinel- cushion cut 6.86 x 5.57 x 3.82mm
Without any treatment, e.g. heat-treatment
Certificate
30-day return policy
NY Gems Owner-NY Gems
Click below and snatch up this stone for yourself.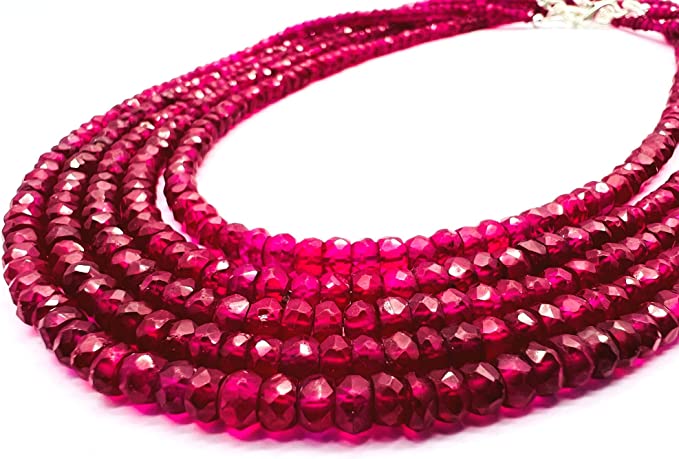 Natural Red Spinel Beads Size 3-4.5mm 16 inch long
Why we love these beads:                                                                  
The vibrancy of the color is unsurpassed. What a fun necklace, excellent brilliance and color make it irresistible. Great worn alone or layered.
What you should know:
Beads Size - 3-4.5mm faceted round beads (rondelles)
Strand Length - 16 inch, great polish and perfectly cut
High quality beads in terms of color and faceting
Sold by Kabir Gems
Click below to learn more and order one today.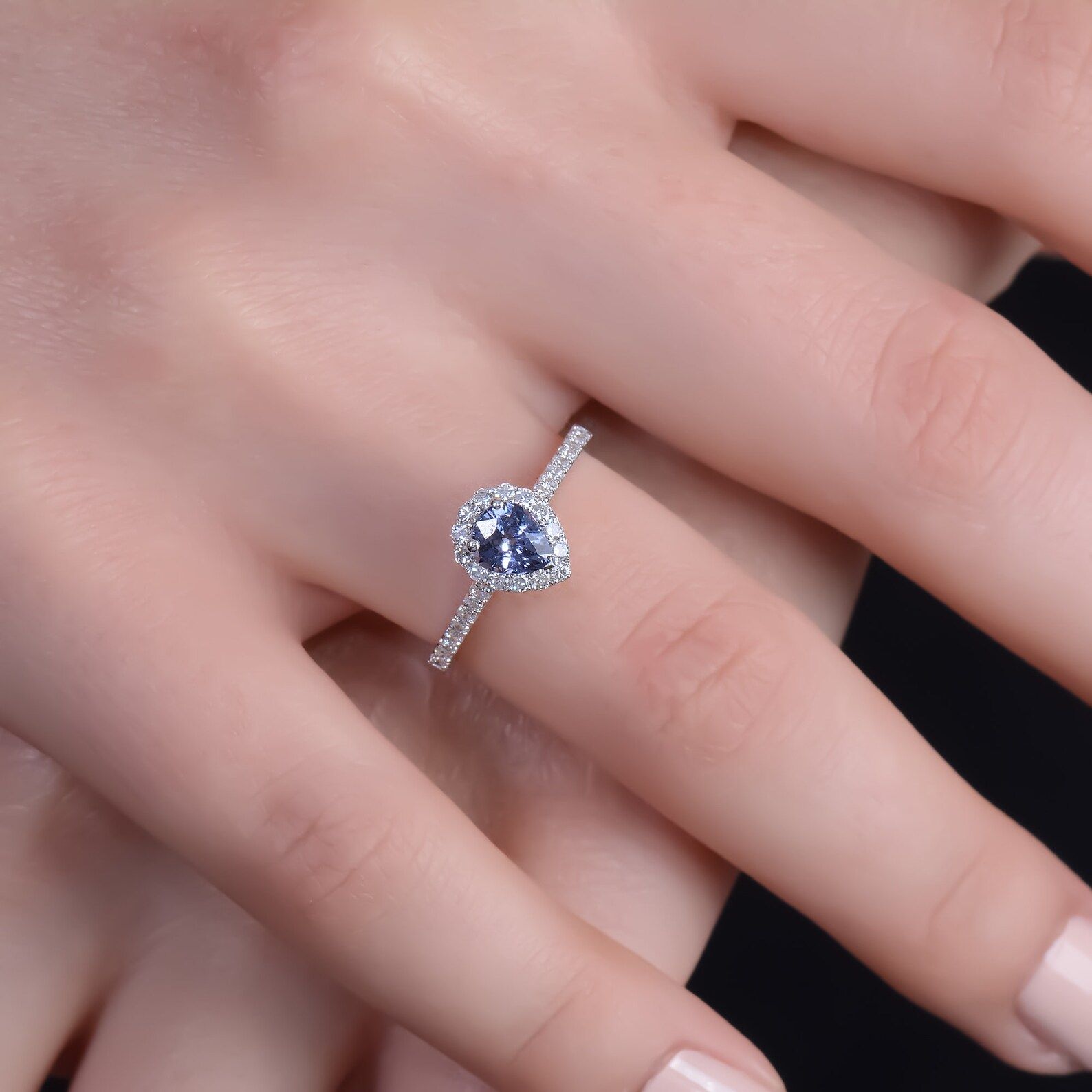 Natural Blue Spinel Ring, 14K White Gold Diamond Ring, Pear Cut Spinel Ring
Why we love this ring:
Blue is one of the rarest colors when it comes to spinel. This gorgeous stone seems to have a hint of lavender. The diamond halo and delicate band compliment the pear-shaped stone perfectly. We think this would make a beautiful one-of-a kind engagement ring.
What you should know:
Without any treatment, e.g. heat-treatment
Natural Blue Spinel Ring
14K White Gold Diamond Ring,
Pear Cut Spinel Ring - 0.70 CT. (1 piece)
Diamond : 30 diamonds-0.34 TCW F Color SI Clarity
Sizes 4-14
8K, 14K, 18K - yellow, white, or rose gold
Click below to see the terrific price.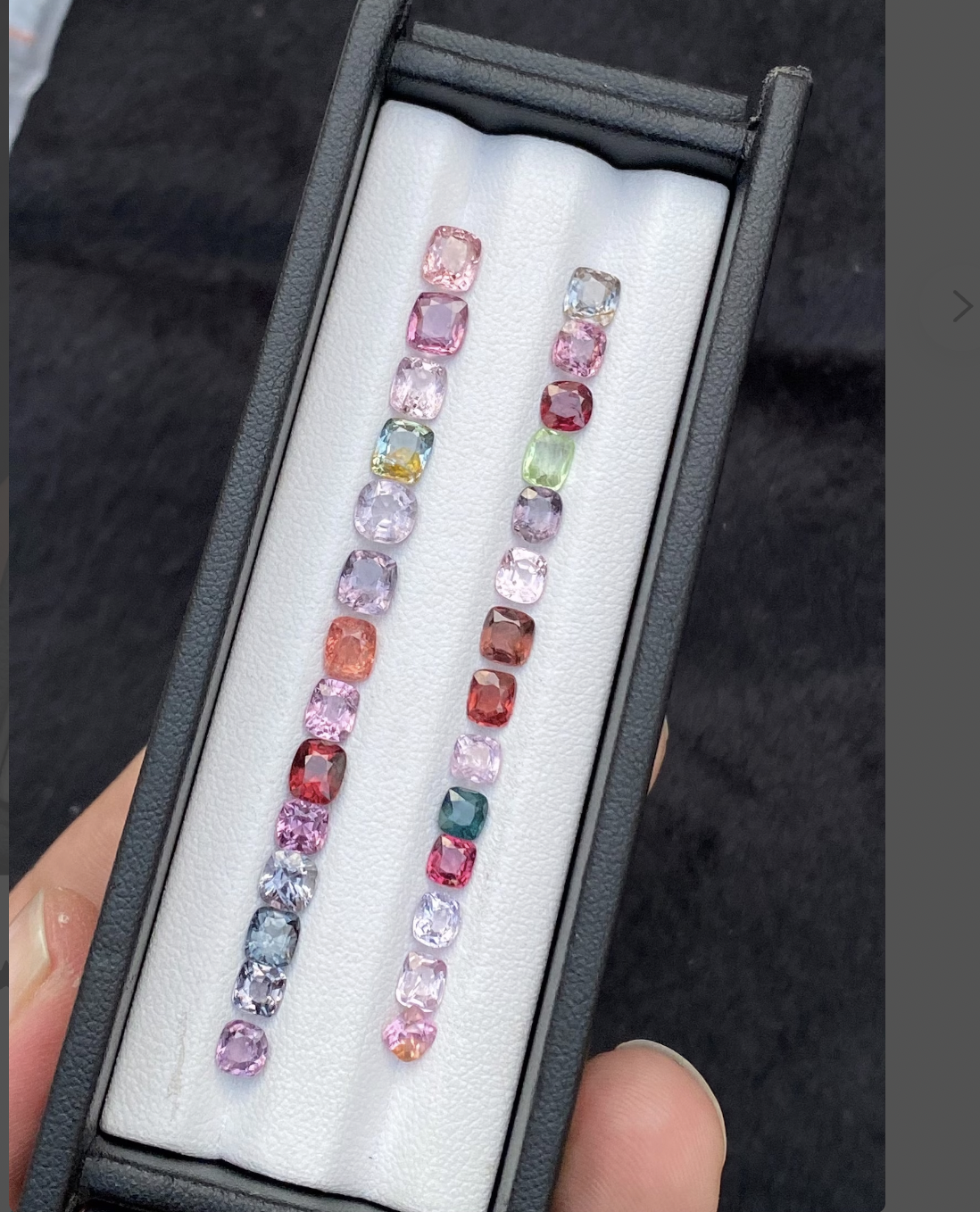 16-Carats Natural Spinels
Why we love these stones:
Here is a great opportunity to have your own private collection of spinels, in all the colors of the rainbow. Fun to show your friends, or use them to design a spectacular piece of statement jewelry.
What you should know:
Natural hand-cut spinels
16 Carats total weight
Faceted and cabochon-cut (domes)
Ethically sourced
Sold by Karim owner of karimgems
Click below to add these beautiful gems to your collection.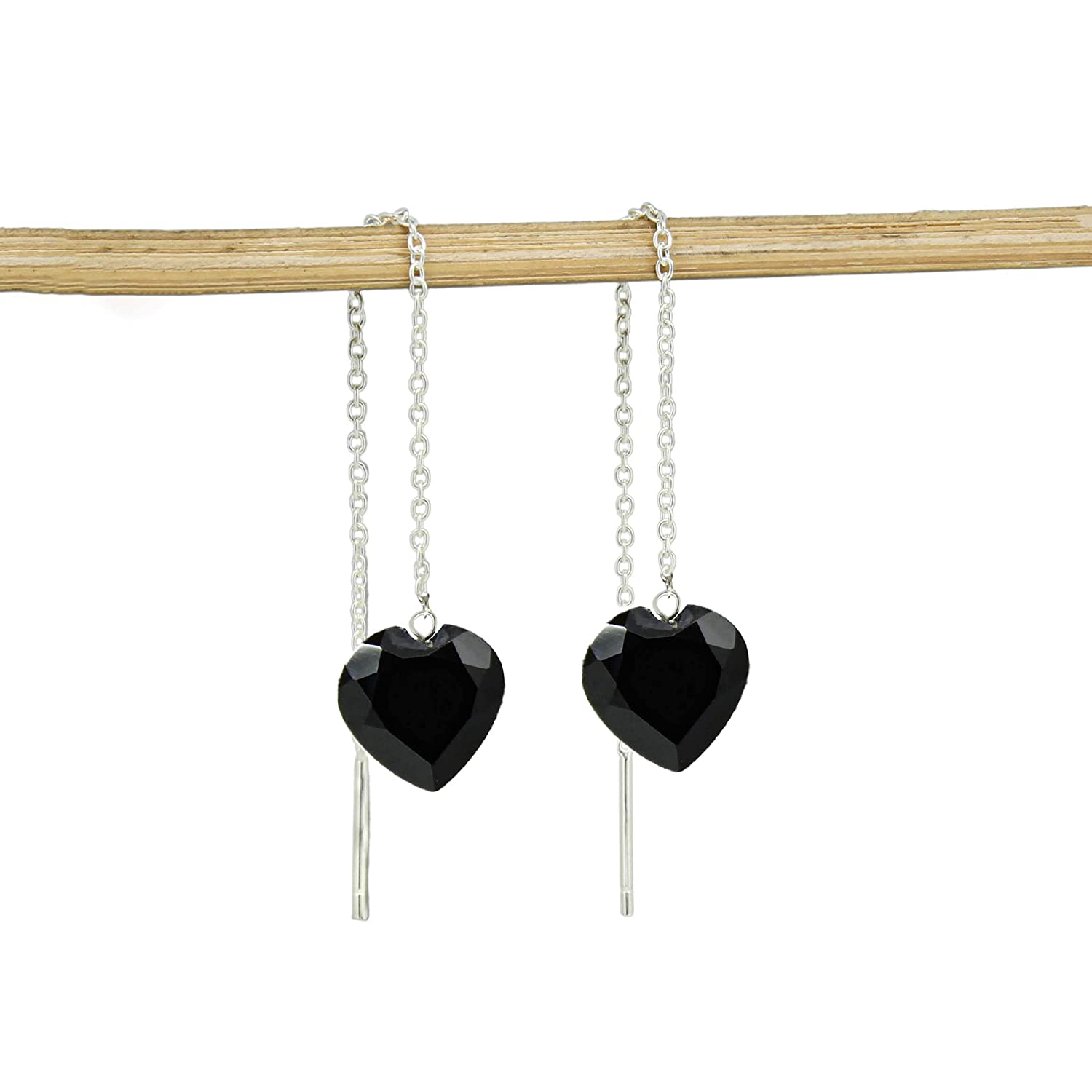 GemInspire Natural Black Spinel Heart Threader Earrings
Why we love these earrings: Super modern and a favorite with teens. Also fun to wear with a little black dress. The fact that they dangle on a chain means they will capture and reflect so much light!
What you should know:
925 Sterling Silver Chain
100% 30 day return
Sold by Geminspire
Click below to order yours today.
Natural vs. Lab-Created Spinel
Natural spinel is created when molten magma cools beneath the Earth's surface over thousands of years, forming igneous rock. In each of these areas, stones with different hues are found ranging from gentle pinks to deep blues and purples.
Synthetic spinel on the other hand is created in laboratories by simulating conditions found beneath the Earth's surface, but the process is much faster than nature. Lab-created spinel is produced in all colors.
The resulting synthetic stones look exactly like natural stones but are far  more affordable than their natural counterparts since they can be mass-produced in laboratories.
Many people think of lab-created gemstones when they think of spinel, due to the almost universal use of synthetic spinel in college and high school class rings. It is often used to simulate gemstones of almost every color. Colorless spinels are used as diamond simulants.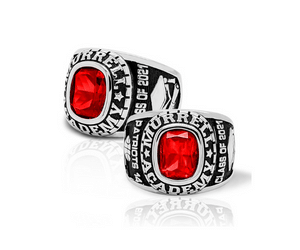 The process of creating lab spinels is not complicated and is inexpensive. These stones exhibit all the beauty factors and resilience as natural spinels and are widely available.
In Conclusion:
Spinel jewelry adds an undeniable sparkle to any outfit! Whether you choose natural or synthetic stones, these gems will add an elegant touch no matter how you choose to wear them.
With its wide range of colors and its long history in jewelry making, it's no wonder why so many people are more and more selecting spinels as part of their jewelry wardrobe!
No matter which region it came from or what color it may be, one thing remains true—spinel sparkles like no other!
FAQS
We've compiled a list of the most frequently asked questions about Spinel so you can make an informed decision when choosing the perfect piece. From color and clarity to cut and carat weight, you'll have all the information you need to make the best choice.
What is the difference between ruby and red spinel?
Although both gemstones contain the element chromium which gives them their red color, other than that they are vastly different. When light enters a spinel, the light rays follow straight along their path and exit the stone just as they entered, as single rays. In ruby, when light rays enter they are split into two rays and exit as two rays, that's called double refraction. In addition, their chemical makeup is completely different, as are their crystal structures. A trained gemologist can easily identify them.
Why is spinel so cheap?
Gemstone prices are based on supply and demand, until recently there was not a huge demand for spinel so prices were low. In recent years the demand for the top quality spinels, those that mimic ruby, has risen and as a new appreciation and demand grows.
Is spinel found in the U.S.?
Yes, spinel is found in limestone deposits in New Jersey and New York.
What is the best way to clean my spinel ring?
The basic jewelry practice, using warm water, liquid soap and a soft brush is perfectly safe.
How durable is spinel?
Gemstones are rated considering two factors, Hardness and Toughness. Spinel is 8 on the hardness scale and has a toughness rating of good, which means it can be worn daily.
How can I tell if a spinel is natural or synthetic?
Most synthetic spinel will glow under ultra-violet light (except red and pink) the refractive index or natural internal characteristics. A qualified gemologist or jewelry appraiser can easily conduct this test.
What does spinel symbolize?
Spinel symbolizes longevity, devotion and love. It is also believed to help the wearer put aside their ego and recognize others.
Are red spinels rarer than rubies?
Yes, they are more rare, however, because there is such a high demand for top quality rubies they are far more valuable.
In Conclusion
All in all, spinel is an amazing gem that deserves more recognition. With its fine quality, array of colors and its durability, it's no wonder that people are increasingly interested in this beautiful gem. If you're looking for something special to add to your collection, take a look at the examples we have presented. You won't be disappointed!
Thank you for reading our article; please leave your comments and questions below. Join the conversation by signing up!
Happy Shopping!
Francesca de Granville, G.G. (GIA) F.G.A.
Related Topics:
Read our full Affiliate Disclosure