Celebrate March Birthdays with Unique Birthstone Gifts from Etsy.
March babies have a special gift waiting for them when their birthday rolls around each year—the aquamarine, the designated birthstone. Find fabulous jewelry featuring aquamarine on Etsy!
This stunning gem has been beloved since ancient times, and is said to bring joy and protection to its wearer. If you know someone celebrating a March birthday this year, why not show them how much you care by gifting them something special?
How we choose:
Etsy is a fantastic marketplace with millions of items to choose from. The only drawback is the amount of time it takes to go through all the pieces, and to read, digest, and compare all the information. We have taken a lot of the work on for you, and curated a selection of pieces that will give you an idea of which designs may or may not appeal to you.
Here are 10 of our favorite aquamarine jewelry gifts you can find on Etsy.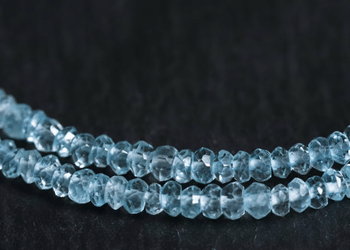 AAAA+ Aquamarine Bead Choker-March Birthstone
Why we love these beads: These aquamarine beads will put a smile on anyone's face, especially if they have a March birthday. The pale blue translucent color is soft and so appealing. We love the size, which is perfect for layering.
What you should know:
Natural top-quality (not dyed) aquamarine
Beads-3.5mm
Dark baby blue color
Silver or gold-filled clasp
Choker length 15-17 inches
Handcrafted
Jennifer M - Owner of EarthlyAbundanceGems
Click below to buy the perfect March birthday gift and pick one up for yourself too.
CHECK PRICE ON ETSY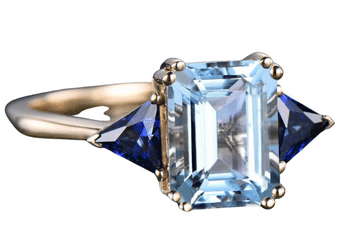 Vintage emerald cut aquamarine engagement ring
Why we love this ring:
This gorgeous aqua and blue sapphire ring is simply stunning. We love the contrast of light and dark blue and the triangular shaped sapphires. The fantasy-cut faceting adds to the brilliance. Double prongs on the truncated corners is inspired by high jewelry design.
The center emerald cut aqua has beautiful even color without a hint of green.
What you should know:
Handcrafted to order
Natural Aquamarine-3x6mm
Lab-created sapphire side stones
14K Rose gold, white, and yellow gold upon request
10K and 18K available upon request
Art Deco inspired design
Will Work, Owner of Will Work
This is such an amazing piece of jewelry, a beautiful ring for anyone who appreciates vintage jewelry.
Click below to place your order and learn more about this fantastic ring.

CHECK PRICE ON ETSY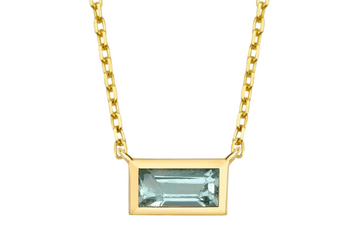 14k Gold Aquamarine Necklace
Why we love this pendant:
We find this pendant both modern and art deco inspired because of its geometric lines. A fantastic necklace to layer, and perfect for that March birthday gift. This is a super trendy design!
What you should know:
Handcrafted necklace
Aquamarine baguette 3.5 x 7mm, 0.20 carats
14K Yellow gold setting - rose or white gold upon request
14-20 inch lengths - Cable chain
Lobster claw clasp for extra security
Sarah-Owner of SarahEliseJewelry
This is such a fun necklace and great addition to anyones jewelry collection. Click below to order.
CHECK PRICE ON ETSY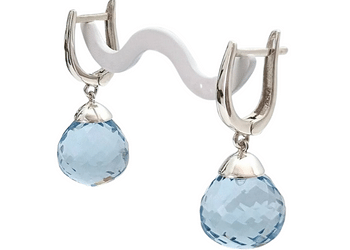 Aquamarine Drop Earrings in Silver
Why we love these earrings:
Looking for elegant earrings at a reasonable price? these dangling aquamarine 'briolette' earrings should fit the bill. We love the delicate faceting the covers the surface, each one reflecting light. The color is perfectly matched, as if they ere cut from the same crystal.
What you should know:
Handcrafted earrings
Natural Aquamarine
Silver latch back is easy to put on and take off
Very secure closure
Deniz - Owner of Star Gold Store
These earrings are terrific for evening wear and can also be worn during the day. Click below to learn more.
CHECK PRICE ON ETSY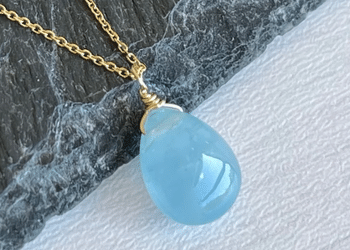 Aquamarine Teardrop Pendant
Why we LOVE this pendant:
How could you not? This soft blue polished aquamarine teardrop is exquisite! The strong baby blue color, evenly dispersed throughout the stone is emphasized by the high-polished, smooth finish. Great for the layered look. This piece is a keeper!
What you should know:
Handcrafted to order
Natural Aquamarine- 6 x 8mm teardrop
14K yellow gold chain
Lengths: 16, 17, or 18 inches
Yania Owner of YaniaJewelryNYC
CHECK PRICE ON ETSY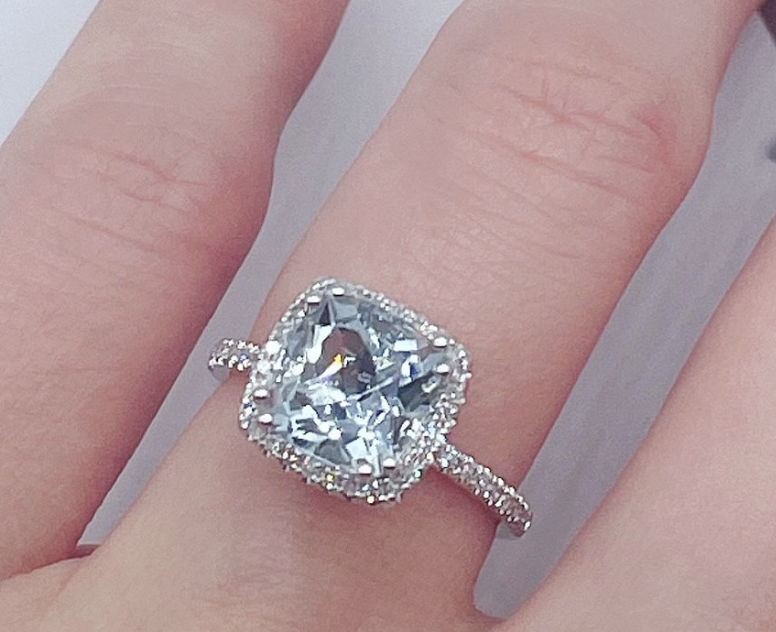 Aquamarine engagement ring diamond wedding band
Why we love this ring:
Colored gemstone engagement rings are very popular today, but it's important to select a gemstone that can stand up to everyday wear. This one will, as aquamarine is very durable. But more importantly than the practicality of this ring is its stunning beauty.
What you should know:
Handcrafted to order
Natural Aquamarine 2.30 carats
14K or 18K white, yellow or rose gold
0.26 TCW round diamonds H Color SI Clarity
RST Studio - Owner of RST Studio
CHECK PRICE ON ETSY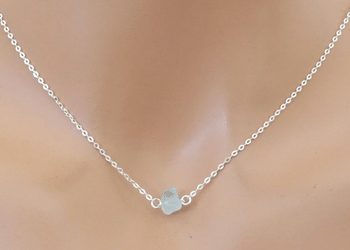 Genuine Raw Aquamarine Necklace
Why we love this necklace:
This is a fun piece and one that will appeal to those that like natural, raw crystals. Each piece will be different and colors will vary. A great necklace to wear alone or layered.
What you should know:
Handcrafted to order
Natural Aquamarine raw crystal
Approximately 6 x 8mm
925 Silver or gold filled or gold plated
14-20 inches in length
Maya Owner - LAminiJEWELRY
CHECK PRICE ON ETSY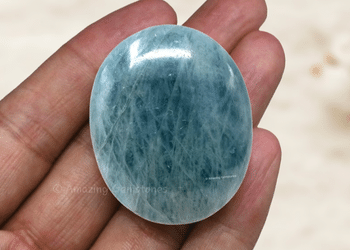 Aquamarine Crystal Palm Stone for Reiki Healing, Pocket Worry Stone
Why we love this piece:
Know someone that believes in the healing power of crystals? Worry beads and worry stones are believed to relieve stress just by rubbing them. Not only does this stone serve as a relaxation technique, but it's also so beautiful to look at.
What you should know:
Hand polished natural aquamarine
Smooth surface
Color and transparency may differ from image
Velvet pouch
Mr Shaikh - Owner of AmazingGemstonesInc
Click below for further details and learn about its calming powers.

CHECK PRICE ON ETSY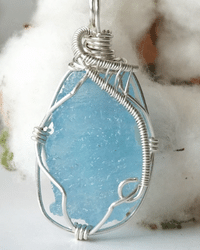 Rough Aquamarine Pendant, Raw Aquamarine Pendant,
Why we love this crystal:
Honestly, it looks like a yummy blue Popsicle! The wire work that surrounds it is artistic while not hiding the stone in a beautiful silver frame. Definitely a conversation starter.
What you should know:
Handcrafted to order
Natural Aquamarine raw crystal
The pendant measures 1.0 – 1.25 inches tall by 0.5-0.7 inches wide
Wire wrapping design unique to Nature Gems
Silver chain optional 16-20 inches long
Laura Sultan - Owner of Designs by Nature Gems
Click below for the story behind this pendant and order one today.

CHECK PRICE ON ETSY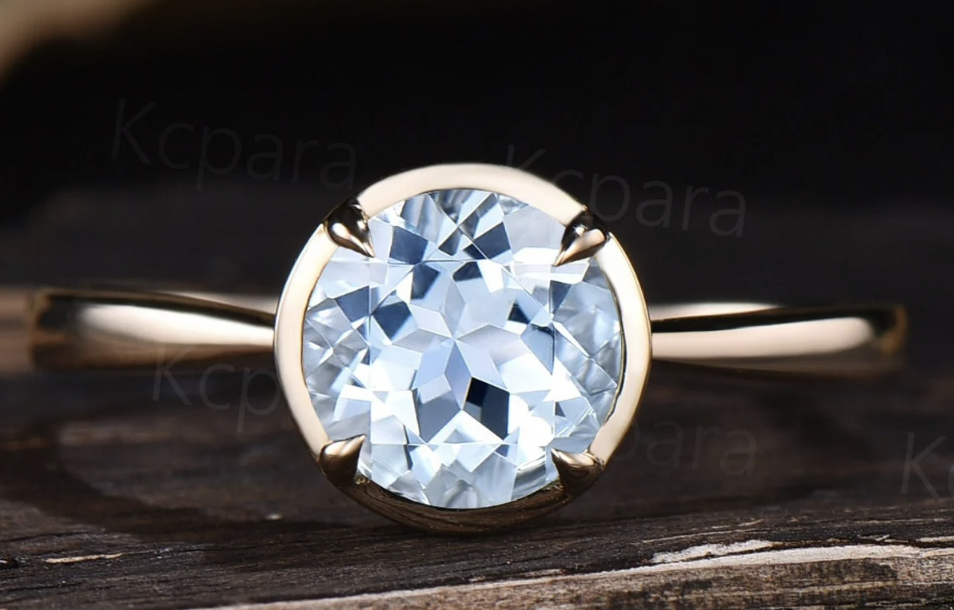 Unique Round Cut Natural Aquamarine Solitaire Ring
Why we love this ring:
This a super clean design and although described as art deco inspired, it is also very modern. The stone is held tightly in place by the elegant tapered prongs. The stone's color is a gorgeous soft blue with tons of brilliance. Looks great on the third finger.
What you should know:
Handcrafted to order
Natural Aquamarine 7mm round
Setting available in 10K, 14K, 18K, yellow, rose or white gold & platinum
Ring sizes 3-10
Kevin C Owner of kcpara
Click below to order your new favorite ring, or order one for a loved one's March birthday.

CHECK PRICE ON ETSY
In conclusion:
Everyone has that special someone who has a birthday this month — surprise them with one of these gorgeous birthstone gifts from Etsy! No matter which piece you decide on, you can be sure that it will make a lasting impression on your loved one—and show them just how much they mean to you!  
Oh, and BTW, we haven't forgotten about the men with March birthdays; we devoted a whole article to them - see the link to below.
With so many different styles available, there's something here to suit everyone's taste—so don't wait; start shopping now before all these wonderful pieces are gone forever!
---
Thank you for reading our article and please leave your questions and comments below and sign up to join the conversation!
Happy Shopping!
Francesca de Granville, G.G. (GIA) F.G.A.
Related articles:
Aquamarine: March's Birthstone
If you are interested in the healing and motivational powers of crystals, I recommend checking out Creative Chronicles.com
---
When you purchase through our links, we may receive a small commission. Prices are exactly the same for you if your purchase is made through an affiliate or a non-affiliate link.
You will not pay more by clicking through our links.
To read our full Affiliate Disclosure click HERE