Introduction:
From its deep purple hue to its sparkling facets, amethyst is one of the most popular gems for jewelry.
Whether you're looking for a special gift or a piece to add to your own collection—Etsy has something for everyone. Without a doubt it is a great place to find beautiful pieces of handmade jewelry featuring this gorgeous gemstone.
With hundreds of independent artisans creating stunning collections, you can find a piece that is truly one-of-a-kind: rings, bracelets, earrings, and pendants, Etsy is the perfect place to start your search.  
To help you find the perfect gift or treat for yourself, here's our guide to the best amethyst jewelry on Etsy.
Amethyst Pendants
For something truly eye-catching, check out the selection of pendant necklaces at Elizabeth Jewelry Inc. You can choose from dozens of beautiful designs, many of which feature amethysts in unique shapes and sizes.  

14K Gold Simulated Amethyst Teardrop Pendant-ElizabethJewelryInc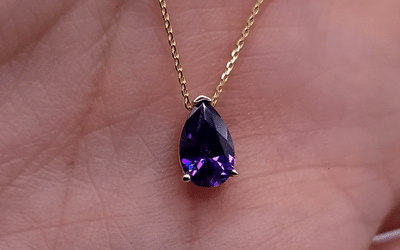 Why we love this piece:
This pendant caught our eye because of the deep rich purple color with flashes of pink, the color mimics the finest quality natural amethyst that would cost 100's of dollars.
The delicate chain does not detract from the stone or make the necklace appear bulky. The chain is sold separately and is available in 14K yellow, white or rose gold.  
If you are not looking for a February birthstone, this pendant is available in a variety of gemstones.
There are also matching bracelets, earrings and rings. Oh, and we love that the shipping is free!
Click below to see Elizabeth's full collection and select a piece for yourself or a loved one.

Natural African Amethyst Necklace with Sterling Silver 18" Box Chain - LaTienditaDesignCo
Why we love this piece:
From one of Etsy's Star Sellers, this natural African amethyst radiates light from every angle of the perfectly cut 6 x 8mm oval. The stone has a medium dark saturation reminiscent of yummy grape jelly!
We love the handcrafted silver setting that beautifully showcases the stone. This gorgeous amethyst is suspended from a sterling silver chain.
We also love the 18-inch box chain design for its strength and delicate appearance.
Free shipping in the U.S.
Click below to see the full collection, but hurry there is only one remaining!

14Kt Gold Simulated Amethyst Heart Pendant - ElizabethJewelryInc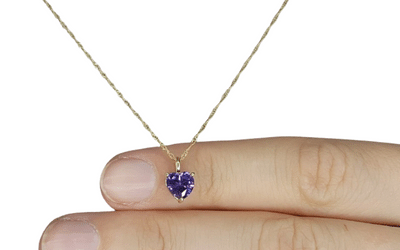 Why we love this piece:
We love this piece because it communicates two messages, happy. birthday and I love you, perfect for a birthday and or a Valentines gift.  
We love the gorgeous even purple hue and the stone's brilliance. This pendant is available in 14K yellow, rose or white gold.  The chain is sold separately. Matching earrings, bracelets and rings are also available.
Click below to find the perfect piece that will be the perfect gift.
Earrings
If you're looking for something with more timeless appeal, take a look at the selection of elegant earrings we have here.
From tiny studs with delicate facets to halo amethyst earrings featuring large stones, there's something for everyone and every occasion.
African Amethyst Stud Earrings With Halo - BlueGoddessco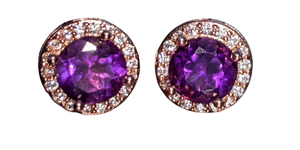 Why we love these earrings:
Who would not love these gorgeous handcrafted natural amethyst ear studs. The beauties are one carat each.
The contrast of the cubic zirconia halo really makes the color pop. We love the rose gold, it gives an elegant vintage look, and also that all reviews for this item are 5 star ratings.
Click below to get a pair of these lovely earrings today.
Amethyst Ear Climbers 14K Gold - GalantaJewels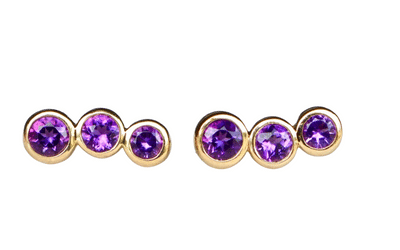 Why we love this piece:
These handcrafted ear climbers are so great, and very much on trend. We love the bezel setting that won't snag on clothing; the low profile means they can be worn for as long as you like comfortably. Each pair is made to order and the stones are beautifully matched.
We also love that Abdul offers detailed information about the gemstones, potential treatments and definitions on natural vs. synthetic gemstones. There is also an expressed warranty.
Click below to read more, and to contact Abdul to order your earrings today!
Amethyst Ear Studs in 14K White Gold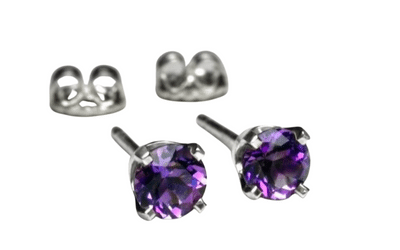 Why we love this piece:
These natural amethyst ear studs are perfect if you have multiple piercings. They are available in a range of millimeter sizes: 4-7mm. They will also look wonderful if you wear diamond ear studs along side them, what a great look.
The deep rich purple with pink flashes are simply brilliant, in more ways than one. They are set in 14K white gold but are also available in 14K yellow gold.
Click below for all the details on these best sellers.
Rings
If you're searching for an eye-catching ring that will draw compliments wherever you go, we've found three that we love.
Choose from simple solitaire settings or intricate multi-stone designs—either way, these rings are sure to turn heads!

Amethyst Bezel set ring -UrbanCarats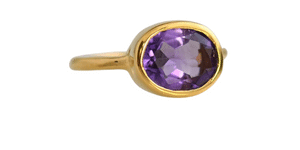 Why we love this ring:
We love the gorgeous bright purple and the multi-faceted surface of the stone because the results un believable brilliance.
The setting of the ring in this image is vermeil, 18K gold over silver (It actually looks like 24K gold) and the design is reminiscent of vintage pieces.
This stone would be gorgeous in sterling silver or in solid 14K yellow, rose or white gold, any of which can be ordered. Available in sizes 4-11, sizes for everyone.
We love that Eshna provides so much information about the stones, his warranty and the services they offer.
Click below to get all the details and order to one of these beautiful rings right now!

Natural Amethyst Ring,  925 Sterling Silver BlissfulBohoDesigns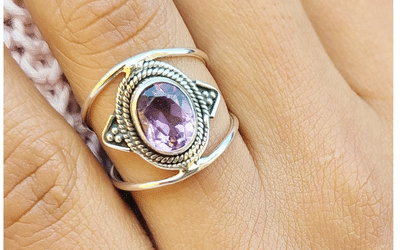 Why we love this ring:
We love the lavender shade of this stone. The details on the setting are beautiful and the quality of the  handcrafted workmanship is superb. Remember that no two natural stones are the same, so there will be a variation in color.
For those that prefer larger rings, but not anything bulky, this ring is perfect. The beautiful stone is secure in a bezel setting. Made in sizes 5-12. This design makes a great ring for the third finger.
Click below to order this fantastic ring.

Natural Amethyst Ring for Men, 925 Sterling Silver-IrnaJewels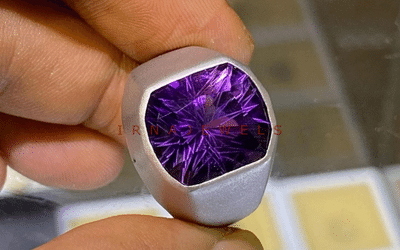 Why we love this ring:
It can be difficult to find really nice colored gemstone rings for men, but not on Etsy.
This handmade ring is very simple Art Deco design that really shows off the natural, unheated amethyst,
We love that there are so many options available: Sizes 3-12, so great for women too, and if desired, order in yellow or rose gold.
The color could not be any more striking, but remember each natural stone has its own individual characteristics so the color may vary from the image above.
Click below to order.

Bracelets
So easy to wear, just put them on and forget about them. Bead bracelets are some of the best value for price you can find today.
All are interesting and fun as they can be mixed and matched or stand proudly on their own. Take a look at three among the hundreds available on Etsy.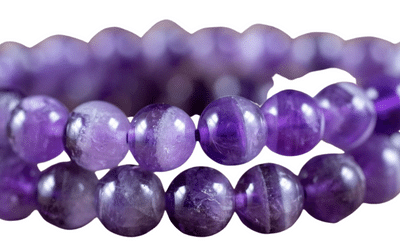 What we love about these bracelets:
You can barely meet a person today that doesn't wear at least one bead bracelet! Why, because the are just so interesting and colorful and many believe in the healing powers of crystals.
We love the the patterns and banding on these beads, each one is different. The bright purple is great for anyone looking for a pop of color and at quite the bargain price! Layer them with your other bracelets.
These beads are 8mm and strung on an 6.75 inch  stretchy elastic.
Click below to order, you will have a hard time selecting from their vast assortment of colors.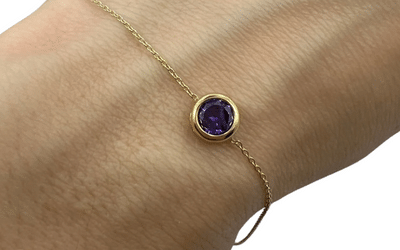 What we love about this bracelet:
Well, we love how dainty this bracelet is, and how the design is quite reminiscent of a very famous Italian jewelry designer.
It is gorgeous in 14K yellow gold but can also be ordered in 14K white gold, rose gold, or sterling silver. The bezel setting will keep the stone safely in place. We also love the the lobster claw clasp for extra security.
The sizes that can be ordered: 5-7.5 inches, so terrific for those with tiny wrists.
Click below to read more about Elizabeths designs or to place an order.
4mm Amethyst beaded bracelet - EarthlyAbundanceGems - Owner Jennifer M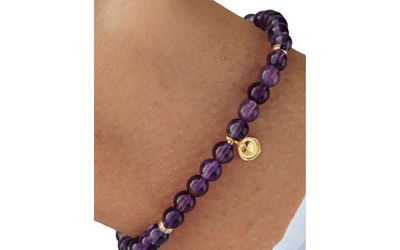 What we love about this bracelet:
We love this bracelet because of its delicate proportions. If you are someone that prefers a single bracelet, or stacks small bracelets, this is perfect.  The gold separators, gold vermeil, are nice accents.
The subtle differences in the shades of purple are matched for a harmonious look.  Available sizes:6.5-7.5 inches.
Click below to start your collection or add to the one you already have.
In Conclusion:
Whether it's a thoughtful gift or an addition to your own jewelry collection, amethyst is always a great choice. With so many options available on Etsy, it can be hard to narrow down your search—but hopefully this guide has helped point you in the right direction! Now all that's left is deciding which piece is perfect for you.
Related Topics:
Amethyst-February's Birthstone
Thank you for reading our article; please leave your comments and questions below. Join the conversation by signing Up!
Happy Shopping!
Francesca de Granville, G.G. (GIA) F.G.A.