Diamonds are Forever - The History of April's Birthstone
If you were born in April, then you know that diamond is your birthstone. But do you know why? What is it about diamonds that make them so special and why have they been associated with the month of April for so many years? Let's take a look at the history of April's birthstone and find out.
History
Diamonds have been used to symbolize love, commitment, and everlasting beauty since ancient times.
In the first century AD, Roman scholar Pliny wrote about diamond's connection to romance and its ability to ward off evil. Ancient Greeks believed that diamonds were tears from the gods or splinters of stars fallen from the sky.
The modern tradition of associating diamonds with April dates back to 15th-century Germany when it was said that wearing a diamond on one's left hand would bring good luck and fortune.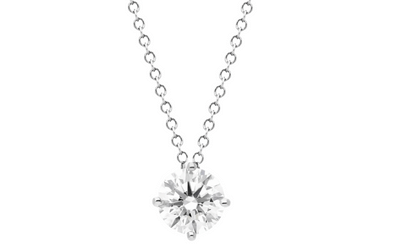 14K White Gold Kite Set Solitaire Lab Created Diamond Pendant
0.25 Carats (Available 0.25 up to 1.00)
F-G Color, VS2-SI1 Clarity
14K yellow or white gold, Platinum
Cable chain: 16-18 Inches
Why we love this pendant: What a beautiful and classic gift. A high quality lab-created diamond that is sure to please. The adjustable chain means that it can be visible with any neckline.
Take your pick of either gold or platinum, all feature a secure lobster claw clasp. Click below to select the perfect one for you. The price is irresistible.
CHECK PRICE ON JAMES ALLEN
The First Documentation Of Diamond As April Birthstone
The first documentation disclosing that diamonds were connected to April dates back to 17th century Italy, when it was believed that wearing a diamond could bring luck and protection against evil spirits.
The belief in the power of diamonds likely arose from their rarity and beauty; they are the hardest stones known to man, and have been prized since ancient times.
Diamonds are one of the oldest known materials on Earth—they were formed over 3 billion years ago! In ancient times, people believed that diamonds had healing and protective powers, which is why they were thought to be an ideal gift for an April baby. Some say that giving a diamond to a new baby was thought to bring luck and protection throughout their life.
In 15th century France, diamonds became even more popular when Charles the Bold declared them to be his favorite gemstone.
He presented many gifts including diamond jewelry to his loved ones and he even put them in his own crown! This made them very popular with other royals as well as wealthy individuals who could pay for these expensive gems.
Fast forward to modern day and you will find that diamonds remain the most sought-after gemstones in the world! They are often given to mark special occasions such as weddings or anniversaries, but they are also used to celebrate births and other important milestones too.
As April's birthstone, they signify beauty, strength, courage, and resilience — traits we wish all babies born in April will carry throughout their lives!
By 1912, all major gem trade organizations had adopted diamond as April's birthstone due to its popularity and enduring symbolism.
This decision was made because diamond is the hardest material on earth, making it extremely durable—a fitting metaphor for an everlasting bond between mother and child (which is what celebrating someone's birthday typically symbolizes).
Today, diamonds whether natural or lab-created are more popular than ever in jewelry thanks to their timeless beauty, symbolism and strength.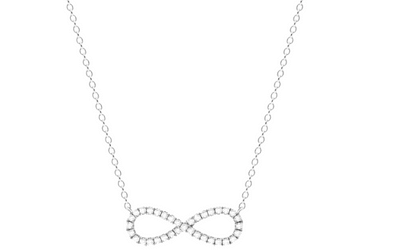 14K White Gold Infinity Pavé Necklace
Infinity, the symbol of a lifelong love
Diamond pavé infinity symbol
35 diamonds-0.15TCW
14K yellow, white or rose gold
16 inch cable chain
Secure lobster claw clasp
Why we love this necklace: It is the perfect message of eternal love, especially for your child born in April. The pavé eternity symbol catches the light and sparkles with every movement.
Click below to pick out the perfect gift!
CHECK PRICE ON JAMES ALLEN
Availability
Diamonds come in many different shapes, sizes, colors, and clarity grades, which gives consumers a large selection to choose from when selecting a piece of jewelry for themselves or a loved one.
Today, diamonds are still highly sought after for their beauty and symbolic meaning. The modern diamond industry is centered around De Beers—the world's largest producer and distributor of diamonds—and they are estimated to control more than 60% of global rough diamond production each year! In addition, many countries have adopted strict regulations governing how diamonds can be ethically sourced and mined, making sure all purchases are conflict-free.
If ethically sourced diamonds is an important consideration for you, lab-created diamonds will alleviate any concerns you may have, whether they are environmental, around human rights, or concerns regarding their source.  For more about lab-created diamonds click HERE.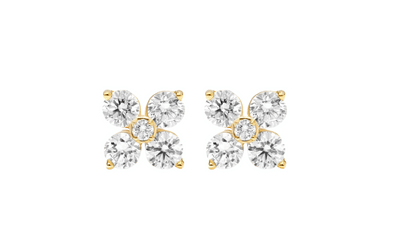 14K Yellow Gold Blossom Lab-Created Diamond Stud Earrings
14K yellow, white or rose gold
10 diamonds 0.50 TCW
F/G Color, VS2-SI1 clarity (Lab-created)
Matching pendant
Why we love these earrings: These lab-created diamonds earrings are so stunning, with so much brilliance and fire.
These are an incredible gift for anyone who loves diamonds (and who doesn't!) Click below to order. You will be amazed by the price.
CHECK PRICE ON JAMES ALLEN
Conclusion
Throughout time, diamonds have been associated with love and protection — making them perfect for marking special occasions like a new baby's arrival into the world!
If you know someone born in April, consider showing your love by gifting them with a beautiful piece of diamond jewelry – just like kings and queens did hundreds of years ago!
It may not bring luck or protection but it will definitely bring lots of sparkle and joy!
Whether you're looking for something special for yourself or someone else born in April, you can't go wrong with this timeless classic!
With so many options available today there truly is something out there for everyone! So if you're in need of some extra sparkle this spring season, don't forget about diamonds!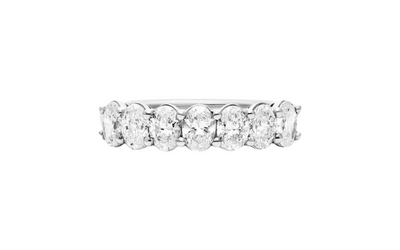 Lab Created Diamond Ring (1.00 CTW - F-G / VS2-SI1)
7 Oval Lab-Created diamonds
1.00 Carat TW - F-G Color, VS2-SI1
Available from 1-3.5 Carat Weights
14K White, rose, or yellow gold, Platinum
Why we love this ring: What a superb birthday or any occasion gift. Its jaw-dropping beauty will certainly send a message of love.
Click below to select the perfect ring for that special someone who deserves the best!
CHECK PRICE ON JAMES ALLEN
No matter what your reason may be for purchasing a diamond (or any other gemstones), make sure you do your research to ensure it is ethically sourced before you make your purchase - for both moral reasons as well as quality assurance reasons! From ancient Greece all the way up to today's modern day industry regulations - there is no denying the timeless appeal of gemstones like diamonds!
Happy shopping :)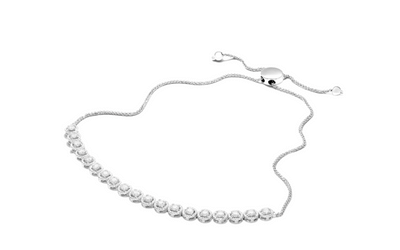 14K White Gold Bolo Diamond Bracelet
14K white gold
19 diamonds 0.75TCW
Chain of Bolo bracelet 11 inches
Cable chain design
Why we love this bracelet: This Bolo bracelet is terrific because it fits everyone and can be adjusted to wear tightly around the wrist, or as loose as you like.
With 19 diamonds, there's lots of bling. Click below to take advantage of the great sale price!
CHECK PRICE ON JAMES ALLEN
Related Damond Articles:
Why You Should Consider Buying Lab-Created Diamonds
Buying Guide to Engagement Rings
e-Course: Sell More Engagement Rings
Is It A Real Diamond, Or Something Else
Diamond Notes: The 4Cs - Carat Weight
Diamond Notes: The 4Cs - Clarity
Diamond Notes: The 4Cs - Color
What Are G.I.A. Certified Diamonds?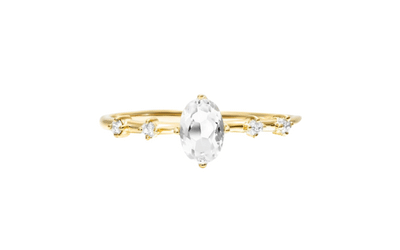 14K Yellow Gold White Topaz Oval And Diamond Birthstone Ring
This fun ring features four diamonds (appropriate for the fourth month April!)
14K yellow gold
0.50 Carat White Topaz
Available in sizes 5-9
Why we love this ring: The ring is terrific to wear alone, or stacked. It has an interesting and delicate design, with the small diamonds prominently in view.
It is also great to see that the ring features a white topaz, not a stone we see very often.
Great for women of all ages. Click below to learn more and purchase one today.
CHECK PRICE ON JAMES ALLEN
Thank you for reading our article. We welcome your comments and questions. Join the conversation by signing up below.
Francesca de Granville, G.G., F.G.A.
When you purchase through our links, we may receive a small commission.
Prices are exactly the same for you if your purchase is made through an affiliate or a non-affiliate link.
You will not pay more by clicking through our links.