A Look at the World's Largest Diamonds
Introduction
For fans of diamond jewelry, few stones are more impressive than the world's largest diamonds. These precious stones are true works of art and a testament to the beauty and majesty of nature.
Let's take a look at some of these incredible diamonds, their histories, and how they came to be.
From the Hope diamond to the Koh-I-Noor, diamonds are some of the most iconic and prized gems in the world. You have probably heard of some of them, but, there are many others that you may not of heard of, so we thought we would share them with you..
We're about to take a look at some impressive diamonds, and explore why they have become so renowned.
The Cullinan Diamond
The Cullinan Diamond is arguably the most famous diamonds in history, maybe in a tie with The Hope Diamond.) It was discovered in South Africa in 1905, and weighed an incredible 3106 carats when it was found.
The two largest stones from the rough are The Great Star of Africa I (530 carats) and The Great Star of Africa II (317 carats). In total there are nine major stones named Cullinan I-IX, as well as 97 small stones from the giant 3106 carat rough.
The two largest stones are part of the collection of jewels the British royal  family has amassed over centuries - the collection now belongs to King Charles III and his Queen Consort, Camilla.
The Cullinan I (530.2 carats) is mounted at the top of the Sovereign's Sceptre with Cross and the Cullinan II, Great Star of Africa (317 carats) II is set in the monarch's Imperial Royal crown.
For more details on the cutting of these incredible diamonds, click HERE.

The Lesotho, Another Impressive Diamond
Found in 1967 near South Africa's Lesotho mountain range, this diamond weighed an incredible 910 carats before it was cut down to just over 601 carats, 18 stones. It was eventually bought by DeBeers who made sure to give a portion away as charity to help those living within poverty stricken communities close to where it was found.
One of the diamonds cut from this rough was a 40-carat marquise shape L color, VS2 Clarity. It was named Lesotho III. This famous diamond belonged to Jacqueline Kennedy Onassis, given to her by her fiancé Aristotle Onassis.
The ring was sold at auction in 1996 by Sotheby's for $2.590,000, well above the $500,000-$600,000 estimate. Harry Winston now owns the Lesotho I.
Click HERE for additional details about these diamonds
The Golden Jubilee Diamond
The Golden Jubilee diamond is perhaps one of the more unique stones on this list; weighing an impressive 755 carats and with a final weight of 545.67 carats after cutting. It is also considered the largest faceted diamonds ever fashioned, as it surpassed the Cullinan I in weight by approximately 15 carats.
It was uncovered in 1985 in the Premier Mine in South Africa, coincidentally where the 3106 carat Cullinan diamond, The DeBeer's Centenary diamond crystals were found as well as the famous Taylor-Burton diamond.(More on this diamond later.)
Getting back to the Golden Jubilee Diamond, was presented to King Bhumibol from the people of Thailand to celebrate his 50th year on the throne. After its discovery it was simply called the  'Unnamed Brown'; it was officially renamed to the Golden Jubilee Diamond after King Bhumibol Adulyadej gifted it back to the people of Thailand during his golden jubilee celebration in 1997.
Graded by the Gemological Institute of America (GIA) it earned the color designation of Fancy Yellow Brown. It has been estimated that this stone could be worth anywhere between $4-12 million USD or more if sent to auction!
The Royal Museum at Pimammek Golden Temple Throne Hall in Bangkok is now home to the Golden Jubilee Diamond as part of the collection of the royal family of Thailand's crown jewels.
This diamond carried the nickname "the ugly duckling."
Click HERE to learn more about the Golden Jubilee diamond.
The DeBeers Centenary Diamond
This diamond was discovered in 1986 and weighed 599 carats when it was first unearthed in the Premier Mine. After a two-year cutting process by master diamond cutter Gabi Tolkowsky, it ended up weighing 273.85 carats, making it one of the largest certified D-flawless emerald cut diamonds in the world.
DeBeers decided to give this gem away as a gift to commemorate their 100th anniversary. The DeBeers Centenary Diamond is now part of DeBeers' collection traveling in exhibits around the world to showcase its sheer size and beauty.
The Centenary Diamond is another incredibly beautiful and impressive stone that was discovered in 1986 in South Africa's Premier Mine.
Weighing an astonishing 599 carats when it was first unearthed, it was eventually cut into an emerald-cut shape that weighed 273 carats—making it one of the biggest faceted diamonds in existence.
For additional information click HERE.
The Incomparable Diamond
The Incomparable Diamond is another impressive stone that has been lauded for its remarkable coloration—a deep brownish yellow hue with subtle hints of pink—and its size; 809 carats prior to cutting with the final weight of 407 carats.
Believe it or not it was first discovered by a young girl playing near her home in Central Africa  in 1980s. (I remember hearing the news reports at the time!) This diamond has been praised for its unique characteristics since then; after being cut into several smaller pieces, including one weighing nearly 90 carats.
In December 2000, jeweler Leland McKee put The Incomparable Diamond up for sale on eBay for $26,500,000.00, but there were no takers. It now resides at The Smithsonian Institute where visitors can come admire its unique beauty up close.
For further details, click HERE.
The Taylor-Burton Diamond
Although far from the enormous sizes of the diamonds we just described, at just 68 carats, the Taylor-Burton diamond's fascinating provenance and journey make it one of the most interesting gems ever mined, and well worth talking about.
As mentioned earlier this diamond was mined in the Premier Mine in South Africa, in 1966. The initial weight of the rough crystal was 241 carats. When the King of Diamonds, Harry Winston, purchased it he had it cut into a 69.42 pear shape and set into a ring.
This ring was then sold to billionaire publisher Walter Annenberg for his sister Harriet. Unfortunately, Harriet was so afraid to wear it that it stayed securely in a vault until the decision was made to sell it in 1968.
The auction took place the following year where several very wealthy participants such as Aristotle Onassis, Harry Winston, the Sultan of Brunei and Robert Kenmore, owner of the Kenmore Corporation that owned Cartier at the time, and of course representatives of Richard Burton.
There were others as well, but these were the bidders that were most aggressive, they really wanted that diamond even though the estimate was far higher than the hammer prize of any other piece of jewelry sold to date.
The bidding stopped at $1,050,000, but it was unclear to the participants whom had won. When it was later revealed that Mr. Kenmore had won the bidding, Richard Burton was livid, he wanted that ring for Elizabeth and would do anything to get it for her. By now the diamond had been renamed "The Cartier Diamond."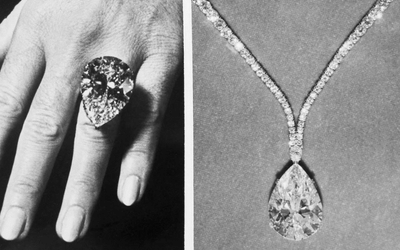 Mr. Burton was finally able to buy the diamond for his beloved wife and it was renamed the "Taylor-Burton Diamond." Ms. Taylor found the 68 carat stone too heavy to wear on her finger and had it reset into a pendant.
It was recut from its original weight of over 69 carats down to 68. Why, you ask? Gossip has it that during one of their legendary screaming matches, Liz threw the ring at Richard, missed and it hit the wall instead. The blow caused a blemish on the surface that needed to be removed in order to restore its perfection.
After her second divorce from Richard Burton in 1979, she sold the diamond. It currently belongs to the House of Mouawad, a world renowned jeweler.
To see the lovely Ms. Taylor wearing this magnificent diamond click HERE.
Conclusion:
So there you have it! These are just some of the world's largest diamonds; each with its own special story or significance attached.
Whether you want to take inspiration from them for your own jewelry designs or simply appreciate their beauty from afar, these stones will always remain icons within the world of jewelry!
FAQs
What is the most expensive diamond?
Although this diamond is not for sale, and probably never will be, is The Star of Africa I-The Cullinan 1. Although it is not the largest at 530 Carats, but because of its provenance (owned by the British royal family) experts estimate the Cullinan I would be valued north of US$400,000,000, but in reality it is priceless.
Where does the name "Cullinan" come from and where can I see the crown jewels?
The Cullinan diamond was named for the South African diamond magnate Thomas Cullinan, owner of the Premier Mine in Pretoria, where the rough diamond was discovered.
The British crown jewels reside in the Tower of London.
Are there large lab-created diamonds?
Yes, here is one example of a Lab-Created-12.78 Carat - E-VS1 emerald-cut by Lauren B. Click HERE for more details.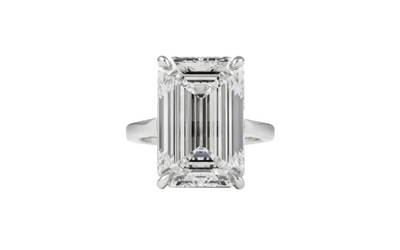 Are there other large famous diamonds in the British crown jewels?
Yes, the Koh-i-noor is a 105.60 oval diamond, set in the Queen Mother's crown (Elizabeth) which is also included in the crown jewel collection found in the tower of London.
Where are the rarest diamonds available for sale?
All of the most renowned jewelry houses, Cartier, Van Cleef & Arpels, or Tiffany & Co. unveil their high jewelry collections each year, however, The House of Laurence Graff specializes in creating jewelry using the rarest, largest and most coveted diamonds all year long. Click HERE to see some jaw-dropping, iconic pieces available for purchase.
Did Elizabeth Taylor own other large, famous, diamonds?
Yes, one of the other very famous diamonds she owned was the Krupp diamond. Believed to be her favorite piece of jewelry, the 33.19 carat Asscher cut is set in a ring.
The diamond was a gift from Richard Burton to Elizabeth in 1968; and at that time it was purchased for $307,000. It was subsequently purchased at auction in 2011 by the South Korean conglomerate E-Land for $8,818,000.
It is believed that the true value today is between $2.5 and $3.5 million dollars.
Thank you for reading our article and we welcome your comments and questions below!
Happy Shopping!                                                                                                                        
Francesca de Granville, G.G., F.G.A.
---
Articles You May Also Enjoy:
Why You Should Consider Buying Lab-Created Diamonds
Buying Guide to Engagement Rings
e-Course: Sell More Engagement Rings
Is It A Real Diamond, Or Something Else?
You will not pay more by clicking through our links.