Best Jewelry Gifts For Your Girlfriend If She's In Love With Diamonds
If you are someone who has difficulty finding the time to shop or making decisions about what to buy, we've got you covered. We've scoured many brands in order to curate pieces that are appealing, send just the right message, and provide a wide range of price points.
With Valentines Day just around the corner, now is as good a time as ever to take a look at our article.
Any one of these dazzling pieces is sure to put a smile on her face!
What You Need To Consider:
What is the message you want to send: happy birthday, congratulations, merry Christmas, I love you, or the best message, an unexpected gift that says "Just Because."
What kind of jewelry does she like, if it is a new relationship, notice what kind of jewelry she wears, and more importantly what kind she doesn't. Maybe she never wears bracelets because they get in her way.
Is her jewelry delicate or bold in proportion?
Notice the metals and gemstones she wears, that will give you a hint of what she prefers.
How much do you want to spend, that also goes with the message. Will she receive the wrong message if you purchase a ring with diamonds, that you think is pretty, but she thinks it's an engagement ring? Or, buying a piece of costume jewelry that is just not to her taste?
Do you know her ring size or the size of her wrist or ankles? Does she have pierced ears?
Don't worry if you don't know all these details, just make sure that where you purchase the piece of jewelry has a return/exchange policy or the capability of making size adjustments to whatever it is you buy.
Whether you're looking for something simple and elegant or something a little more extravagant, we've got a wide range of price points. So take a look and find the perfect piece of jewelry to show your girlfriend just how much you care.
💡
When you purchase through our links, we may receive a small commission. Prices are exactly the same for you whether your purchase is made through our affiliate link or directly through the website.
If your girlfriend is in love with diamonds, then a diamond necklace is the perfect gift for her!
If you're in search of a special gift for the love of your life, look no further than a diamond necklace.
If she's passionate about diamonds, what better way to express your appreciation and admiration than with this timeless, sparkling piece of jewelry? When she wears her diamond necklace, she'll be reminded of your love every day. It's sure to make her feel cherished and adored - and that's exactly why it's the perfect gift that can be worn for any occasion.
How We Choose
We love looking at jewelry, so going through thousand of offerings and reading an equal amount of reviews is an enjoyable task for us. Finding that special piece that we are excited to include in our list for you to see, makes our day. We compare and contrast like pieces to help you understand the differences in value.  So take a look at what we recommend and find the piece of jewelry that will put a smile on her face.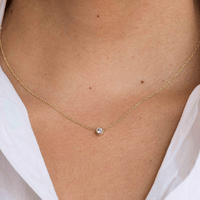 Amazon-Diamond Solitaire Pendants
What we love about this necklace:
This classic round brilliant solitaire pendant is always a crowd pleaser. The design of this piece is delicate and very subtle, for the woman that prefers dainty jewelry. It's one of those designs that is rarely and will accent any outfit. A solitaire pendant is a wardrobe staple and presents future add-ons opportunities, like diamond solitaire earrings.
What you should know:
Features natural diamond, 0.10 carats F-H Color - VS Clarity
Larger diamond pendants available
18 inch 14K yellow gold cable chain
Available in yellow or white gold
Click below to select the perfect gift in time for Valentine's Day
---
James Allen-14K White Gold Four Prong Basket Solitaire Lab Created Diamond Pendant
What we love about this necklace:
We wanted to give you options when it comes to diamond pendants. This beauty is a lab-created diamond. Which means that it has the exact characteristics as natural diamonds and graded using the same 4Cs. The size of the two pendants is exactly the same, however, the color and clarity are higher on the grading scales in this pendant.

What you should know:
0.50 CTW - Color- F-G Clarity VS2-SI1
Available in sizes 0.25-1.100 Carat
14K White gold with lobster claw clasp
16-18 inches cable chain
Valentine Day's Sale
Click below for more information and price comparisons.
---
A pair of diamond earrings is also a great option - she'll be able to wear every day!
Diamonds are a girl's best friend and with diamond earrings, your special someone will have sparkling reminders of you wherever she goes. The great thing about diamond earrings is that they don't just last a single occasion - they can be worn day-in and day-out, whether running errands or dressed to the nines for an evening out.
She is sure to feel loved every time she looks in the mirror and sees her beautiful diamond earrings which remind her of you. Investing in a pair of exquisite diamond earrings just might be the perfect gift that she treasures forever.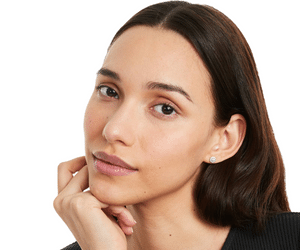 James Allen-14K White Gold Halo Lab Created Diamond Stud Earrings
Why we love these earrings:
We love that the halo makes the center stones look so much larger than it actually is and adds extra sparkle. We also love the quality, most natural diamond stud earrings are far lower on the color and clarity grading scales. These are truly gorgeous.
What you need to know:
0.50 TCW F-G Color - VS-SI Clarity
Sizes 0.50 - 1.25 TCW available
Diamond size option: from 0.25 -1.00 Carat
14K White or yellow gold or platinum
20% off Valentine's Day sale
Click below to learn more and order a pair of these beautiful earrings.
---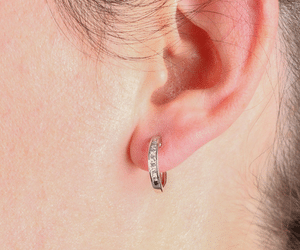 Ben Bridge-Diamond Hoop Earrings 14K
Why we love these hoops:
The tiny channel set diamonds accent the delicate white gold hoops, for just a touch of glamour. We love hinge backs because they are secure and so easy to put on and take off. This setting has no prongs, so they won't snag sweaters or get caught in her hair.
What you need to know:
14K white gold hoops
14 round brilliant diamonds 0.23TCW
H-J in Color I2 Clarity
Click below to get to learn more and to see the entire collection.
---
For something a little different, consider a bracelet or ring with diamonds - this will really show her how much you care.
If you're looking for a unique and special way to show your love and appreciation, diamond jewelry is the way to go. Whether it's a bracelet or a ring, nothing says love like diamonds.
For a truly impressive gift, select something special – the smile on her face when she sees her gift will really make the gesture stand out!  Diamond jewelry has been used for thousands of years as symbols of admiration and passion, making it an excellent choice for conveying how much you care about that special someone in your life.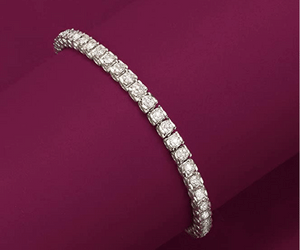 Amazon-Diamond Line Tennis Bracelet in Sterling Silver
Why we love this piece:
Such a gorgeous bracelet. This year both diamond line necklaces and bracelets are totally on trend. Used to be that jewelry pieces like this were only appropriate for evening, now they can be worn all day and night, with a gown, or jeans.  A fantastic piece at a fantastic price.
What you should know:
300 Tiny diamonds set in clusters = 1.00 TCW
Choice of 7 or 8 inches long
Set in sterling silver- options for 14K white or yellow gold.
H-J in Color I2 Clarity
Coupon available
Click below for further information:
---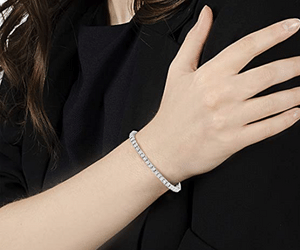 Amazon-Lab Grown Diamond Sterling Silver Tennis Bracelet
Why we love this bracelet:
If we had the choice between these two bracelets, I would definitely choose this one. The color and clarity of the stones are superior to the natural diamond bracelet which means the diamonds will be whiter, brighter and clearer. This is a stunning piece that she will love. What a fashion statement!
What you should know:
Lab-created diamonds  1.00 or 2.00 TCW
7.25 inches long
Set in sterling silver-rhodium plated
G-H in Color VS Clarity
Coupon Available
Click below for further information:
---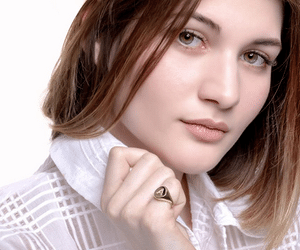 Amazon-Women's Diamond Initial Ring
Why we love this ring:
This is a terrific ring, as signet rings are true classics and today, very much in fashion. This initial ring features high quality diamonds that anyone would love to wear. Great for those who like multiple rings, as it is a great complement to band rings or a great pinky ring.
What you should know:
Available in 9K, 14K or 18K, yellow, white, rose gold, or platinum
12 diamonds 0.06 carats, Color-F-G, Clarity-VS
Sizes 3-12
Engraving available
Click below to order this fantastic gift, or pick one up one for yourself.
---
Amazon-Black and White Diamond Halo Ring in Sterling Silver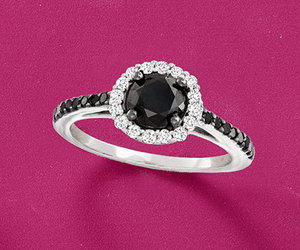 Why we love this ring:
Does your girlfriend love black? If so, she will love this black diamond ring. The white diamond halo really makes the center diamond pop. Such a fun ring. Great to wear every day.
What you need to know:
Black and white diamonds — 1.50 ct. t.w. black and white diamonds
Sterling silver setting
Sizes 5-10
Available in 14K and 18K gold
Coupon offer
Click below to take a closer look!
---
If you're on a budget, don't worry - there are plenty of terrifically priced jewelry options that will make her happy.
Finding the perfect jewelry for your special someone doesn't have to break the bank. You can find beautiful jewelry that won't cost too much; it just takes a bit of time to find the right pieces.
A great way to find budget-friendly jewelry is by shopping online - as long as you trust your source, you should be able to find some amazing deals.
Amazon-Personalized Cursive Name Necklace with Diamond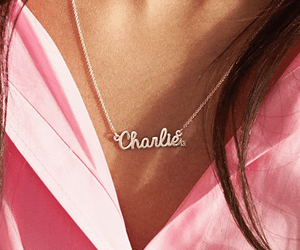 What we love about this necklace:
They say the sweetest sound to people is the sound of their own name. Why not encourage others to use her name by giving her this super cute necklace. The diamond adds a touch of sparkle and is a great gift for any occasion. This will be one of her favorite pieces.
What you should know:
Available in sterling silver, yellow or rose gold plate, or vermeil
18 inch sterling cable chain
0.05 carat lab diamond, Color D-F, Clarity VS-SI
Name can be up to 9 letters long
Click here to order this terrific gift or treat yourself.
---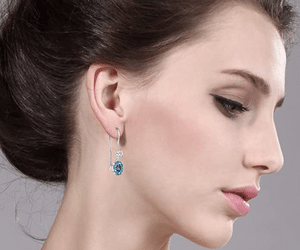 Amazon-14K White Gold Dangle Earrings Created Moissanite and Lab Grown Diamonds
Why we love these earrings:
These earrings are so gorgeous and oh so tempting! We love the sparkle from the blue moissanite and the lab-created diamonds. Dangle earrings really maximize the brilliance and fire. The shepherd hooks are extra long, comfortable and so easy to put in and take out. She will love these earrings!
What you should know:
4 stones-1.03 TCW Persian blue moissanite and lab-created diamonds
Setting and shepherd hooks-14K white gold
Click below to order these gorgeous earrings now!
---
FAQs
Is jewelry the best gift for my girlfriend?
Jewelry is generally a great girlfriend gift; it depends on the woman and her style. If your significant other has environmental or ethical concerns, than charm her with lab-created diamonds and gemstones. Take your cues from her.
How much should I spend on an anniversary gift?
There are a couple of factors you should consider. First your girlfriend's/wife's taste, second-the anniversary, is it a milestone? e.g. one, five or ten years. And third-how much you are comfortable spending. If you make the right decision on these factors, you should be fine.
Should I go to a store to buy jewelry? Or is it safe to buy online?
With all the information available online you can make very informed decisions, and many times the sites provide important information that you may not think to ask about in a store environment. Many sites also provide great images, but if you are someone that likes to see and touch the product then a store might be right for you. When buying online, make sure you read the return/exchange policy of the brand.
Should I take a chance and buy jewelry for my teenage daughter?
Yes, she will be touched that you purchased such a personal gift, but do not be offended if she prefers something else and wants to exchange it. Always remember, it's the thought that counts!
Should I leave the gift somewhere to surprise her, or should I present it to her face-to-face?
Again it depends on the recipient, if she likes surprises, then you can hide it. Generally it's nice to present a gift face-to-face so you can see the honest reaction. If you want to create a surprise, give it to her at an unexpected moment.
How should I explain to her how to care for the diamonds and gemstones?
Basic jewelry care works for just about every gemstone. That means cleaning jewelry using warm water, a mild liquid soap and soft brush. Read our article How To Clean Jewelry to see the basic tools to keep jewelry as beautiful as the day you purchased it.
Is jewelry with diamonds appropriate for my girlfriend if we are not engaged?
Yes, as long as the gift is not a ring that might be interpreted as an engagement ring
Can I Regift A Diamond Necklace My Ex Returned To Me?
Can you, yes, should you, definitely not. Sell it on eBay.
In Conclusion:
Buying jewelry for your girlfriend should not be a stressful task. If you have read this article we hope you have found the tips here helpful and have found the perfect gift.  If you are still stuck or need input, talk to her friends or family (as long as you are sure they won't spill the beans!)
Related Articles:
Thank you for reading our article. We welcome your comments and questions. Join the conversation by signing up below.
Happy Shopping!
Francesca de Granville, G.G., F.G.A.
Read our full Affiliate Disclosure