Are you looking for the perfect June birthstone gift for someone special? Pearls are the traditional birthstone of June, and they make a beautiful and timeless gift that is known to bring good fortune. But with so many different types of pearls, it can be hard to know which ones to buy.
We've compiled a list of the five best pearls on Amazon so you can find the perfect June birthstone gift. From classic white pearls to exotic Tahitian pearls, you'll find the perfect pearl to make your friends or the recipient's friends jealous. When deciding which pieces to select we look at pearl quality (luster, surface condition, and color) and modern well-crafted designs, and what the customers have to say about the pieces of course.
We've done the research so you can be sure you're getting the best value for your money. With our list, you can find the perfect June birthstone pearl that will be sure to make a lasting impression.
How We Choose The Best Cultured Pearls For You
June babies are lucky to have the beautiful pearl as their birthstone. If you're looking for the perfect gift for someone born in June, pearls make a great choice!
Our team of experts has read hundreds of reviews on Amazon to find the best pearl jewelry pieces. We've done all the hard work so that you can easily find and purchase the perfect piece for your special someone or yourself. From classic earrings to versatile necklaces, we've got five amazing gems that won't break the bank! Check out our list of June birthstone pearls today and give a gift they'll never forget!
💡
Affiliate Disclosure: When you purchase through our links, we may receive a small commission. Prices are exactly the same for you if your purchase is made through an affiliate or a non-affiliate link. You will not pay more by clicking through our links.
Pearl Jewelry From Amazon
CHAULRI 'Lucky Horseshoe' Tahitian Black Pearl Necklace
Buy On Amazon!
Why We Love It:
Discover the legendary Tahitian Black Pearl with CHAULRI's Lucky Horseshoe Tahitian Black Pearl Necklace! This stunning necklace is made with 9-10mm round cultured Tahitian pearl; handpicked by GIA-certified specialists for their excellent luster, color, shape, and surface condition.  The timeless classic design combined with the hypnotizing black (with green, silver, purple, pink, or peacock overtones) color will allow you to dazzle everyone! Not only will it bring abundance, luck and prosperity to the wearer, but it also makes a precious and thoughtful gift for your loved one.
What You Should Know:
The Lucky Horseshoe Tahitian Black Pearl Necklace is made with 18K gold plated 925 sterling silver pendant and comes in a beautiful gift box. In addition, if you are not 100% thrilled with your purchase, there is a full 30-day refund guarantee and an exclusive 90-day warranty. So why wait? Grab your one-of-a-kind piece today and make someone special very happy!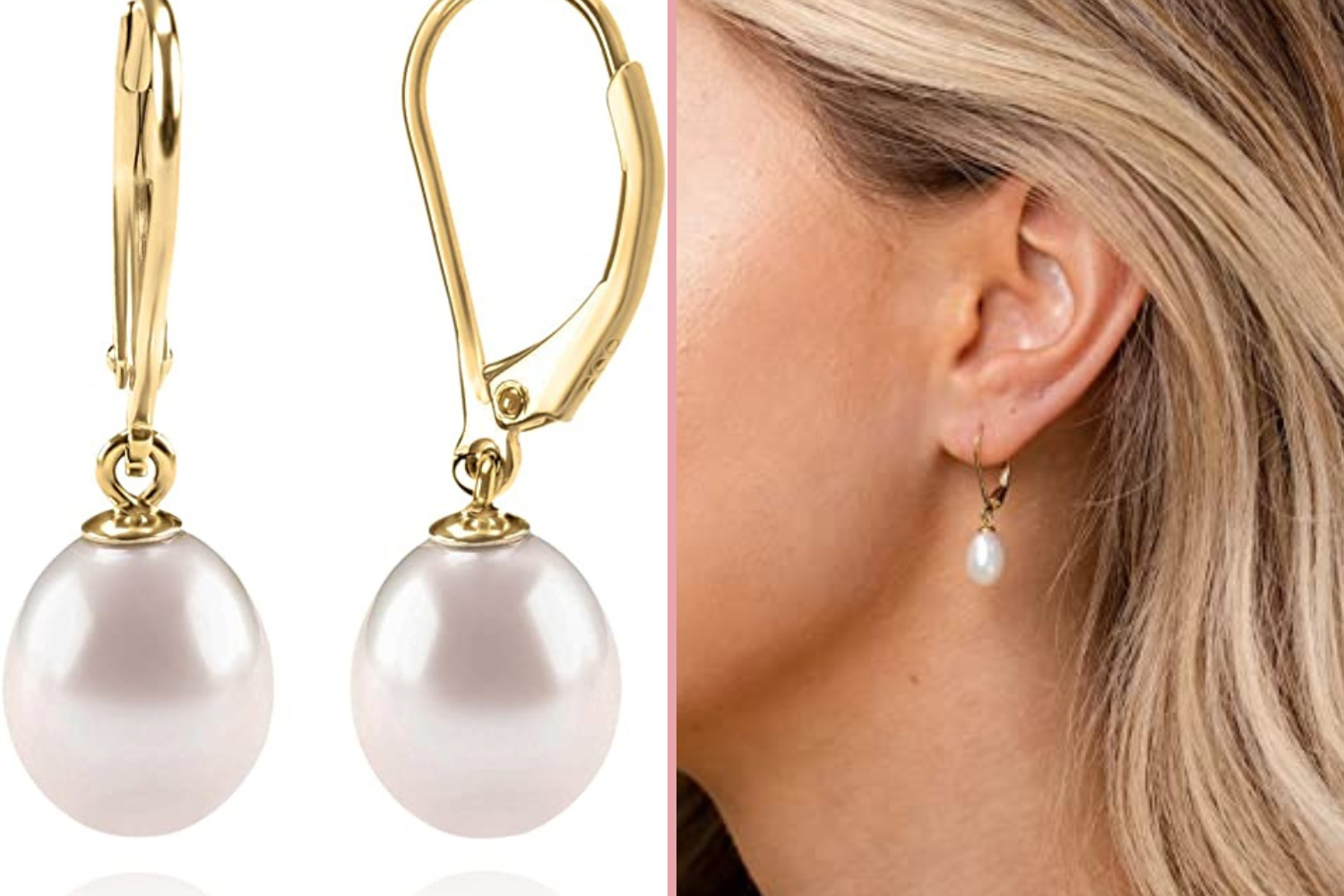 PAVOI Handpicked AAA+ Quality Freshwater Cultured Pearl Earrings Leverback Dangle Stud Pearl Earrings
Buy On Amazon!
Why We Love Them:
PAVOI Handpicked AAA+ Quality Freshwater Cultured Pearl Earrings Leverback Dangle are a must-have for anyone looking for elegant and stylish freshwater pearl earrings. Crafted from hypoallergenic sterling silver with a rhodium plating, these earrings are sure to stand out and make a statement. Plus, you'll love the 60-day guarantee that ensures your complete satisfaction, as well as PAVOI's dedication to sustainability throughout their product cycle.
What You Should Know:
The PAVOI Handpicked AAA+ Quality Freshwater Cultured Pearl Earrings Leverback Dangle come in a variety of colors and sizes and three luster categories, so you can find the perfect pair for your style and within your budget. Not only do these earrings look beautiful, but they're also incredibly durable and built to last. So why wait? Get your own pair of freshwater pearl earrings today and start making a statement!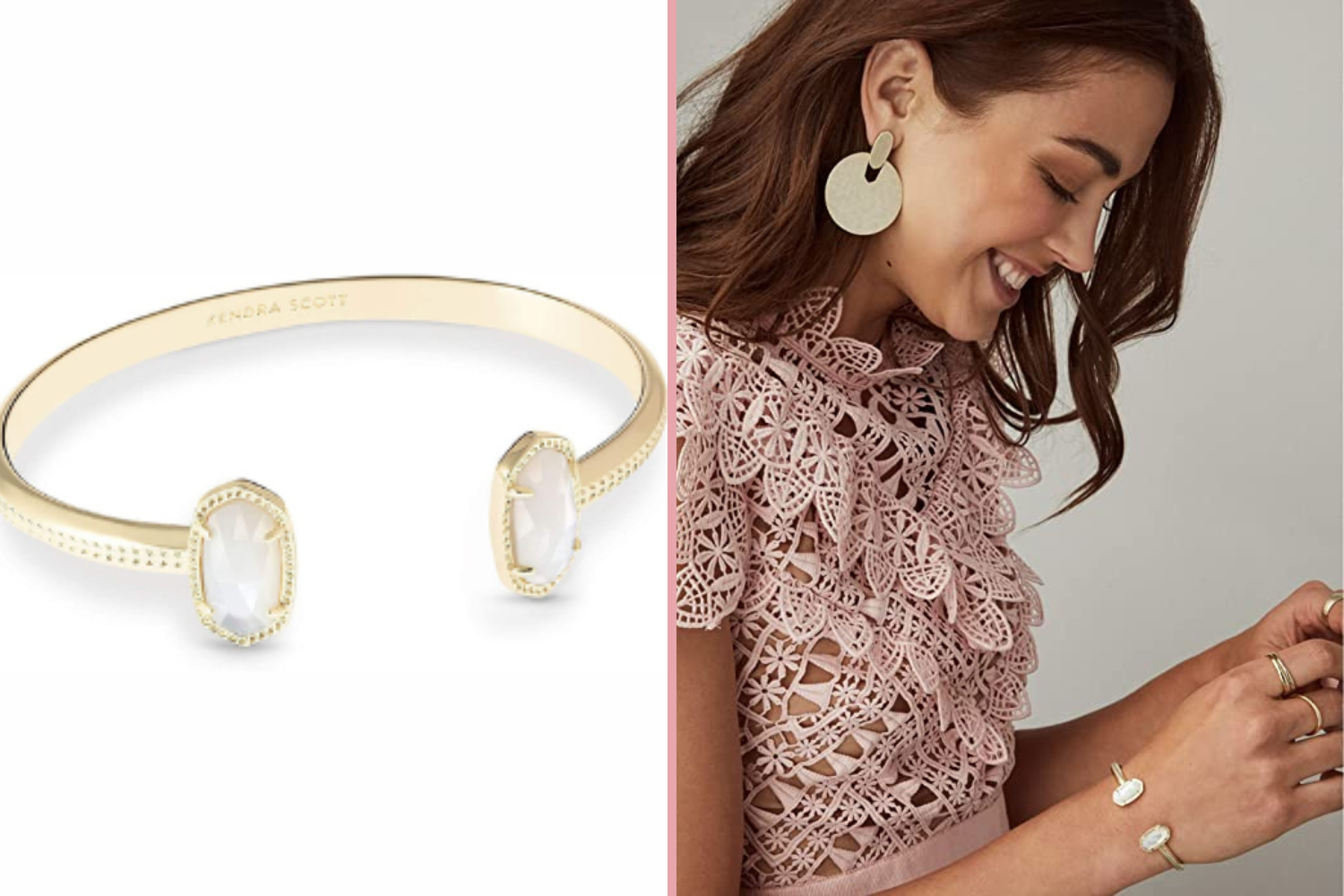 Kendra Scott Elton Cuff Bracelet for Women, Fashion Jewelry
Buy On Amazon!
Why We Love It:
Kendra Scott Elton Mother-of-Pearl Cuff Bracelet is a must-have for anyone looking for some extra sparkle in their life. This cuff bracelet is versatile and can be paired with a cocktail dress or casual jeans. It's made with a custom stone material unique to Kendra Scott and is adjustable, measuring 0.63"L x 0.38"W. Plus, it makes an amazing gift for special occasions such as Valentine's Day, Christmas, anniversaries, and of course June birthdays.
What You Should Know:
The Elton Cuff Bracelet is a perfect way to add some glamour to your outfit. It features a unique design, luxurious materials and is made with genuine iridescent stones. The bracelet is sure to bring a smile to the face of anyone who receives it! Plus, you can choose from a variety of colors and materials in order to find the perfect one to suit your or your gift recipient's style. So why wait? Get your own Kendra Scott Elton Cuff Bracelet today and make a statement!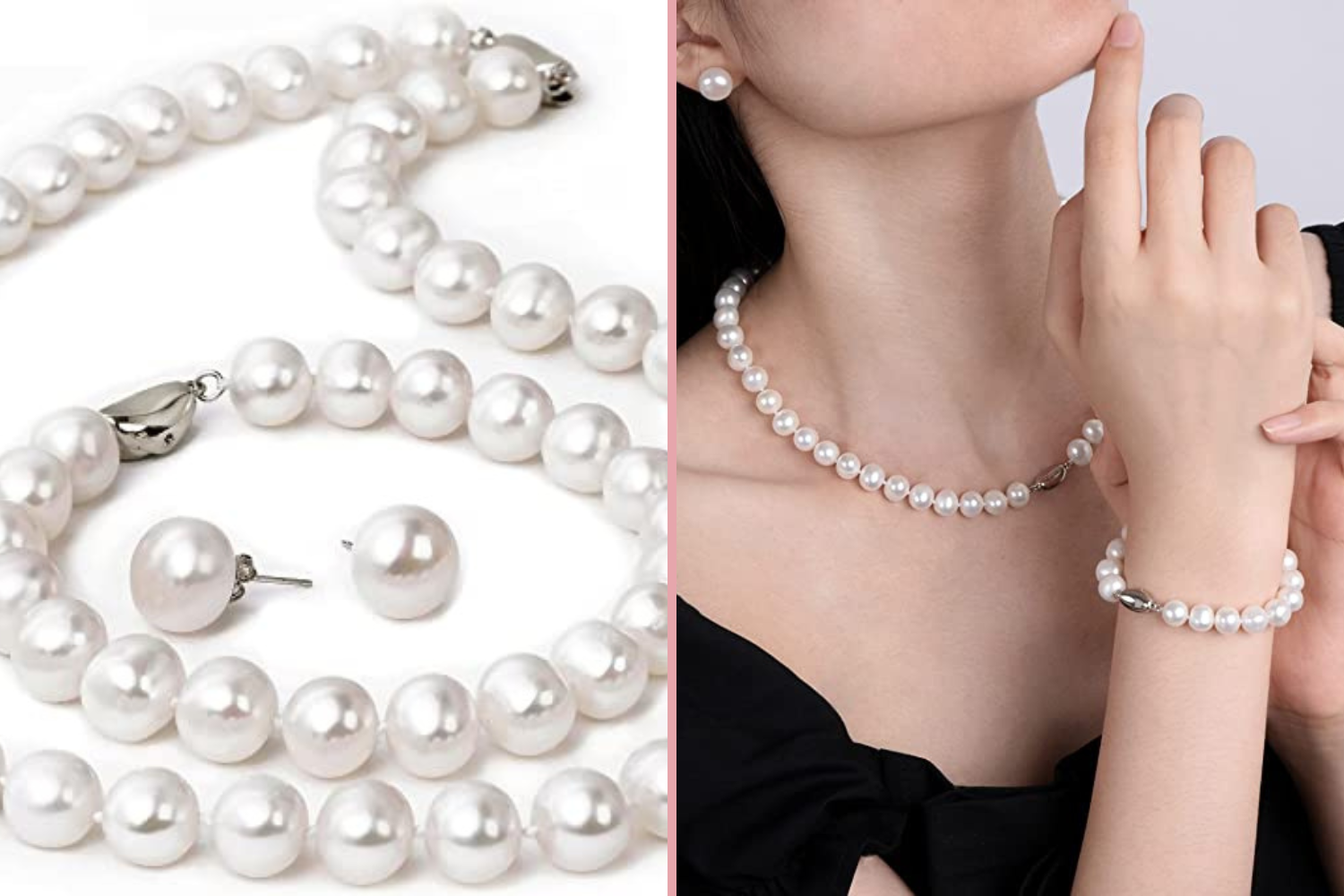 Freshwater Cultured AAAAA Quality Genuine Pearl Strand
Buy On Amazon!
Why We Love It:
This elegant pearl set includes:
Strand: 18-inch, 8.5-9.5mm pearl strand with 925 sterling silver clasp
Bracelet: 10.5-11mm
Pearl stud earrings: 10.5-11 mm
Pearls symbolize chastity, honesty, peace, and beauty. According to legend, pearls are the gems of the moon god, formed by the tears of the moon god falling into the shells of mussels. These pearls are 100% genuine cultured pearls, that radiate the essence of beauty!
What You Should Know:
All jewelry comes in branded packaging that is carefully selected for the item purchased and also comes in packaging that ensures they are ready for gifting upon arrival.
It is an ideal gift for loved ones or special occasions. Express your love for them with this classic design. It is also a good choice for engagement or wedding jewelry a Christmas gift, or that/p special June birthday.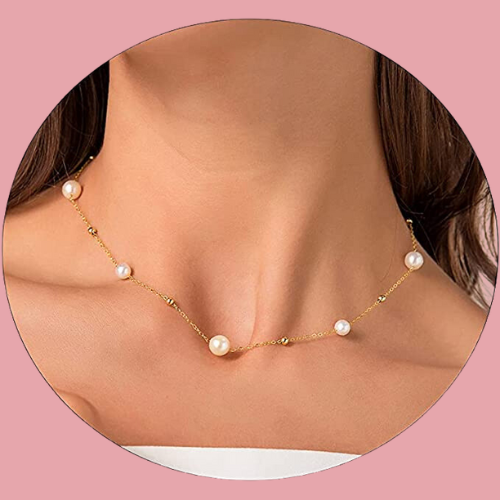 Havopso Dainty Pearl Choker Necklace 18K Gold Plated Adjustable Pearl Beaded Chain Necklace
Buy On Amazon!
Why We Love It:
Havopso Dainty Pearl Choker Necklace is a must-have for anyone looking for high-luster freshwater pearl jewelry. This pearl chain necklace is made of stainless steel and 18K gold plating, made with care to ensure it won't change color and is lead free, nickel free, tarnish resist and waterproof. Perfect for everyday wear! The timeless pearls lined on a strand can be worn on its own or can be easily layered with other pieces of jewelry. The size of this dainty chain necklace is 14" + 2" extender chain, the flexible and lobster-claw clasp design is convenient to adjust and can help you find a comfortable length. Plus, all Havopso Jewelry is packed in a delicate box and ready for giving, making it the perfect gift for your loved one!
What You Should Know:
Havopso Jewelry is made with the utmost care and attention to detail and is sure to be a great addition to any jewelry wardrobe. Each piece is crafted with high-quality materials, making sure it is built to last. Moreover, the 18K gold plating ensures the gold necklace will not lose its color and shine over time. The adjustable size of the necklace makes it suitable for any age group and provides maximum comfort. With its elegant and timeless design, Havopso Dainty Pearl Choker Necklace 18K Gold Plated Adjustable Pearl Beaded Chain is sure to turn heads!
Pearl Basics - Basic information on Freshwater, South Sea and Tahitian Cultured Pearls
Freshwater
China, U.S. (limited): are produced with or without bead nuclei, they can be produced by just inserting pieces of mantel tissue inside the freshwater mollusks (as many as 17 pearls can be produced per shell.
Abundant, pastel colors, accessible and affordable, are the keywords to describe freshwater cultured pearls - They are the mainstay of contemporary pearl designs.
The technology used to culture freshwater pearls today is amazing; these pearls rival the beauty and luster of Akoya pearls at far lower prices, which means, more accessible! Sizes: 6mm-12mm.
South Sea
Australia, Indonesia, Philippines: Cultured South Sea pearls are the largest and rarest variety of pearls and are known for their satiny or silky luster. The finest have very high luster. Colors: White, silver, or golden. Sizes:10mm-20mm. Their premium prices are due to several factors:
Value Factors For South Sea Pearls
The rarity of the oyster (Pinctada Maxima)
The limitations imposed by the Australian government on production
The enormous infrastructure, ships and seaplanes required to establish and maintain pearl farms
The extraordinary size and beauty of these pearls
Tahitian – Black South Pacific
French Polynesia (Tahiti and surrounding islands) Metallic luster - Although many think of Tahitian pearls as having a black body color, they form in a variety of colors in dark shades of gray, green, brown, and blue, with green and/or purple overtones. Sizes: 8mm-18mm
Mother-of-Pearl
The nacre coating that lines the inner shell of oysters. Used in jewelry, furniture, buttons, guitar frets and ornamental objects.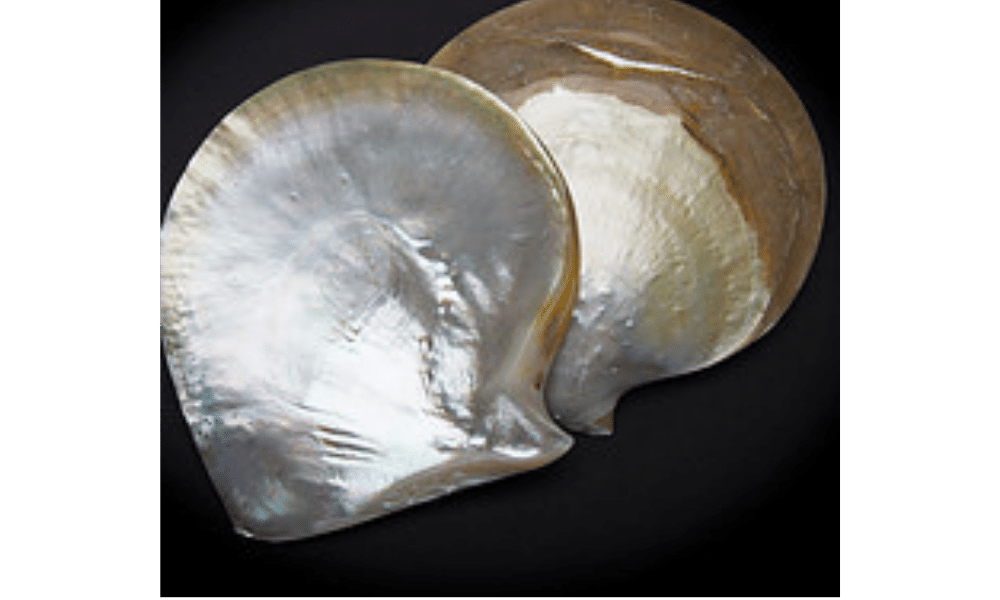 How to Care For Your Cultured Pearls
Do not wear pearl strands with any other jewelry that will scratch the delicate nacre coating.
Do not expose to hairspray, fragrance, or body lotion
Do not store in safety deposit boxes for long periods of time (years) the nacre coating will dry out and crack
Remove pearl jewelry prior to playing sports or household chores
Pearls should be the last thing you put on and the first thing you take off
Always store in the original packaging or soft-lined pouch
Professionally cleaning and restringing is recommended once a year if you wear your strands often
When caring for pearls at home, wipe them with a soft, slightly damp cloth
There are mild liquid jewelry cleaners that are safe for cultured pearls.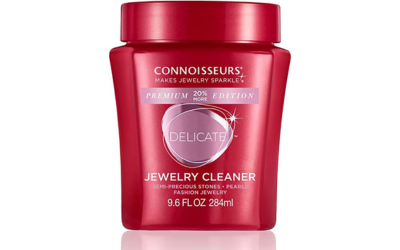 Connoisseurs Delicate Jewelry Cleaner
Buy On Amazon!
FAQs
1. What are cultured pearls? Cultured pearls are created by inserting a small bead or tissue from a donor mollusk (fresh or salt water shells) into the mantle tissue of a recipient mollusk. Over time, the recipient mollusk secretes layers of nacre around the bead or tissue, creating a pearl.
2. How do cultured pearls differ from natural pearls? Naturally occurring pearls form entirely by chance, cultured pearls are created with human intervention on pearl farms. They are not lower quality, are more affordable than natural pearls.
3. What are the different types of cultured pearls? There are several different types of cultured pearls, including Akoya, Tahitian, South Sea, and Freshwater pearls. Each type has its own unique characteristics and is valued differently depending on factors such as size, shape, luster, and color and rarity.
4. How can I tell if a cultured pearl is high quality? The quality of a cultured pearl is determined by factors such as luster, surface quality, shape, and size. Ideally, high-quality cultured pearls will have a deep, mirror-like luster, a smooth surface with few blemishes, a round or near-round shape, and a large size.
5. Are all cultured pearls white? While white is one of the most common colors for cultured pearls, they can also come in a range of other colors, including pink, black, gold, and silver.
6. Can I wear my cultured pearls every day? Cultured pearls are relatively durable and can be worn every day with proper care. It's important to avoid exposing them to harsh chemicals or extreme temperatures, however, as this can damage the pearls.
7. How should I care for my cultured pearls? To keep your cultured pearls looking their best, it's important to store them separately from other jewelry and avoid exposing them to harsh chemicals or extreme temperatures. You should also wipe them clean with a soft cloth after each use and have them restrung periodically to prevent stretching or breaking.
8. What is the average lifespan of a cultured pearl necklace? With proper care, a high-quality cultured pearl necklace can last for decades or even generations.
9. Can I mix and match different types of cultured pearls in my jewelry? Yes! Mixing different types of cultured pearls can create a unique and beautiful look. Just be sure to choose pearls that are similar in size, shape, and color to ensure a cohesive look.
10. Are cultured pearls considered sustainable? A cultured pearl is generally considered more sustainable than a natural pearl, as they do not require the same level of harvesting from wild oyster populations. However, it's still important to choose pearls that are sourced responsibly and ethically.
11.  Can men wear pearls?
Yes, it is becoming more and more common to see men wearing pearls.
Conclusion
Cultured pearls are a beautiful and timeless addition to any jewelry collection and the most coveted June birthstone. They come in a variety of shapes, sizes, colors, and types that can suit anyone's taste.
With proper care and maintenance, cultured pearl necklaces can last for decades or even generations! Whether you prefer the classic white Akoya pearls or something more unique like Tahitian black pearls, there is sure to be an option out there that fits your style perfectly.
We hope you have enjoyed this article and have found at least one piece that you cannot live without. If you haven't already click on the buttons above to learn more about the pieces.
Thank you for taking the time to visit our blog today – we hope it was helpful! If you have any questions or comments about this article please leave them below - we would love to hear from you! We look forward to seeing you back here soon!
---
Happy Shopping!
Francesca de Granville, G.G. (GIA) F.G.A.
Related Articles you may also enjoy: