Are you looking for a quick read about the gemstone Aquamarine?
The beauty and history of different colored gemstones are mesmerizing. In our Colored Gemstone Library, we strive to provide information and a brief reference sheet that will give you practical information about your favorite gems. Read more below about aquamarine.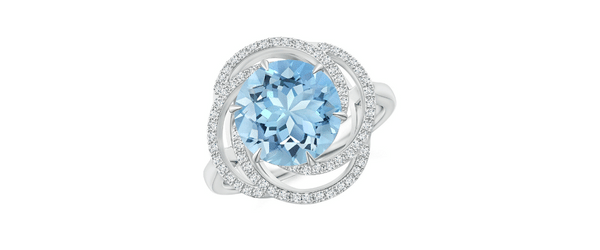 Angara-Click to learn more about this gorgeous ring.
We will explore the properties, symbolism, gemological details, and historical facts behind every gemstone - aquamarine included!
Our library has everything you need to know about your favorite gemstones! By discovering our website's short descriptions, you can find the fact(s) you need quickly.
If you are searching for more comprehensive information, take a look at the associated article links at the bottom of the page.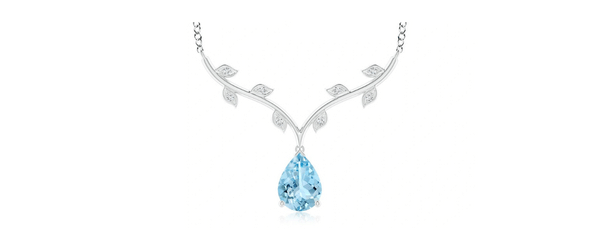 Angara stunning aquamarine and diamond necklace.
DESCRIPTION:
Aquamarine is a variety of Beryl that ranges from greenish-blue to bluish-green and is most often transparent with few inclusions. The most valued: pure blue with very little green.
Almost all Aquamarine on the market today is heat treated to reduce excess green that diminishes the pure blue hue. Heating intensifies the blue color.
GEM LORE:
Aquamarine is known as the gem of the sea.
In Latin, the name Aquamarine literally means "seawater." In ancient times, it was said to be the treasure of mermaids and thought to be a lucky stone for sailors and would protect them during storms.
Even on land, the gemstone has influence. It is reputed to ensure a happy, peaceful marriage helping husbands and wives work out their differences to ensure a long and happy marriage - which makes aqua a good anniversary present.
Gemstone Specifics:

SPECIES: Beryl
CRYSTAL SYSTEM: Hexagonal Columns
CHEMICAL FORMULA:   Al2Be3[Si6O18]       Aluminum Beryllium Silicate
COLOR RANGE: Greenish blue to greenish blue
CAUSE OF COLOR: Iron
SOURCES INCLUDE:
Brazil Nigeria Zambia Madagascar America Myanmar (Burma)
ACCEPTABLE ENHANCEMENTS: Heat treatment                                  
HARDNESS: 7.5 - 8
TOUGHNESS: Good
CARE: Basic jewelry care: warm water, soft brush, and mild liquid soap.
DID YOU KNOW?              
Aquamarine looks great on all skin tones.
In Germany thin slices of aquamarine were used as lens in eye glasses to improve shortsightedness.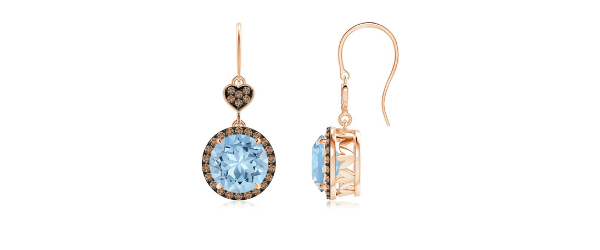 Angara-aqua and brown diamond earrings.
---
FAQs
Can aquamarine crystals be found in the U.S.?
Yes, aquamarine can be found in two states, California and Colorado, where it is the state gemstone.
Which metal is best for setting Aquamarines?
Most of the time you will see aquas set in white metal, either white gold or platinum, which emphasizes the icy blue tones and clarity of the stones. But the decision is based on your own preference.
Does aquamarine have any medicinal powers?
For those that believe in the powers of crystal healing, there are several beliefs regarding the healing abilities of aquamarine.
Calms nerves
Reduces stress
Increases energy levels
What determines value for aquamarines?
As with all colored gemstones, color is paramount. So color and gemstone size (carat weight)  are the two most important of the 4Cs when determining value.
The color that is considered most valuable, is pure, vibrant, highly saturated blue.
The best color for aquamarines is usually found in stones of five carats and larger.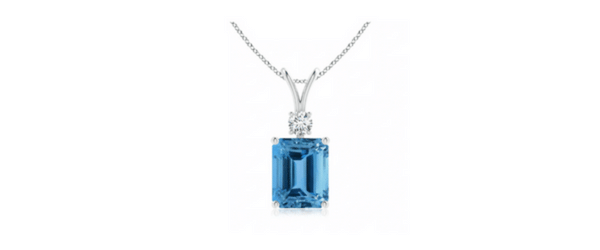 Angara-click to learn more about this beautiful pendant
What occasions are appropriate for presenting aquamarine jewelry?
Aquamarine is the birthstone for March and it marks the 19th wedding anniversary. But, "just because" is also a great reason to give a loved one aquamarine jewelry.
---
Thank you for reading our article and please leave your questions and comments below in the comments section.
Additional related articles:
Aquamarine: March's Birthstone
If you are interested in the healing and motivational powers of crystals, I recommend checking out Creative Chronicles.com
Happy Shopping!
Francesca de Granville, G.G. (GIA) F.G.A.
When you purchase through our links, we may receive a small commission. Prices are exactly the same for you if your purchase is made through an affiliate or a non-affiliate link.
You will not pay more by clicking through our links.
To read our full Affiliate Disclosure click HERE