Are you looking for the perfect gift for an upcoming March birthday? Look no further than aquamarine jewelry creations on Etsy!
Aquamarine is the birthstone for the month of March and is known for its calming energy, making it the perfect gift for a special occasion. It is also believed to bring courage and protection, giving the wearer a feeling of security.
How We Choose
As the designated birthstone, aquamarine jewelry is the perfect way to celebrate March birthdays! From necklaces and earrings to rings and bracelets, there are so many beautiful aquamarine creations available on Etsy. Many of these pieces are one-of-a-kind and handmade, so you can be sure that the gift you give will be unique and special.
But with so many different styles, sizes, and prices to choose from, it can be overwhelming to consider them all and to know which ones will give you the best value for your money.
Our team of jewelry experts has combed through hundreds of reviews on Etsy to find the best aquamarine creations for your needs. We've done all the hard work so that you can easily find and purchase the perfect piece of jewelry for that lucky person (or yourself.) We are anxious to present our picks to you, so let's get started!
When you purchase through our links, we may receive a small commission. Prices are exactly the same for you if your purchase is made through an affiliate or a non-affiliate link. You will not pay more by clicking through our links.
Our Picks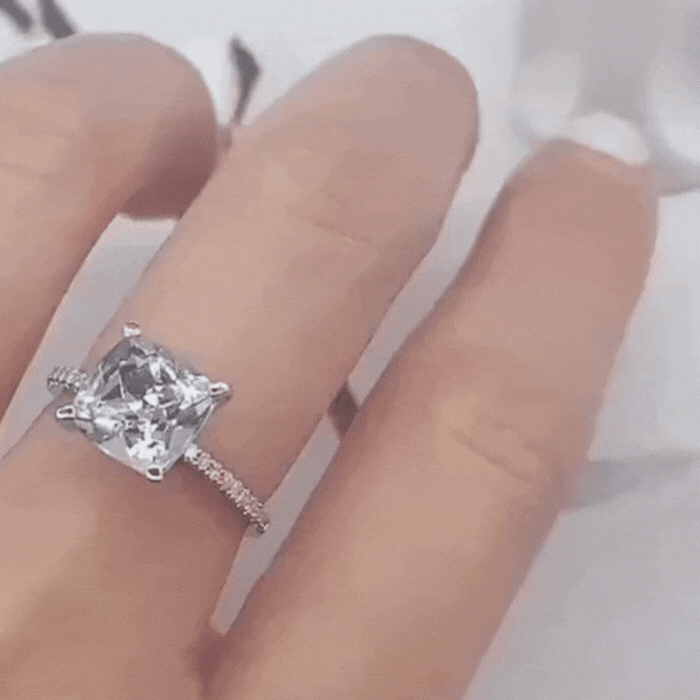 2.30 Carat Cushion Cut Aquamarine Rose Gold Ring
CHECK PRICE ON ETSY!
Why We Love This Ring
This beautiful 2.30-carat aquamarine ring is set in 14k rose gold, is handmade, and crafted with care. The ring features an 8mm wide cushion cut with a stunning ocean blue color and has  a total weight 0.24 of round conflict-free diamonds; SI clarity and H color. The band is made in 14K rose gold, with prong settings in a pavé set style band.  The band is 1.2mm wide that showcases the aquamarine beautifully without detracting from it. Contact the artisan for your choice of metals.
What You Should Know:
The aquamarine engagement/statement ring is perfect for anyone dreaming of a large aquamarine set in a gorgeous ring. It is a minimalist style and can be personalized to fit your needs. It is made to order, so you can be sure it is crafted with the utmost care. Whether it is for a wedding, an anniversary, or to just make a statement, the aquamarine ring is sure to leave a lasting impression.
Tap HERE To order customize and order your dream aquamarine ring today.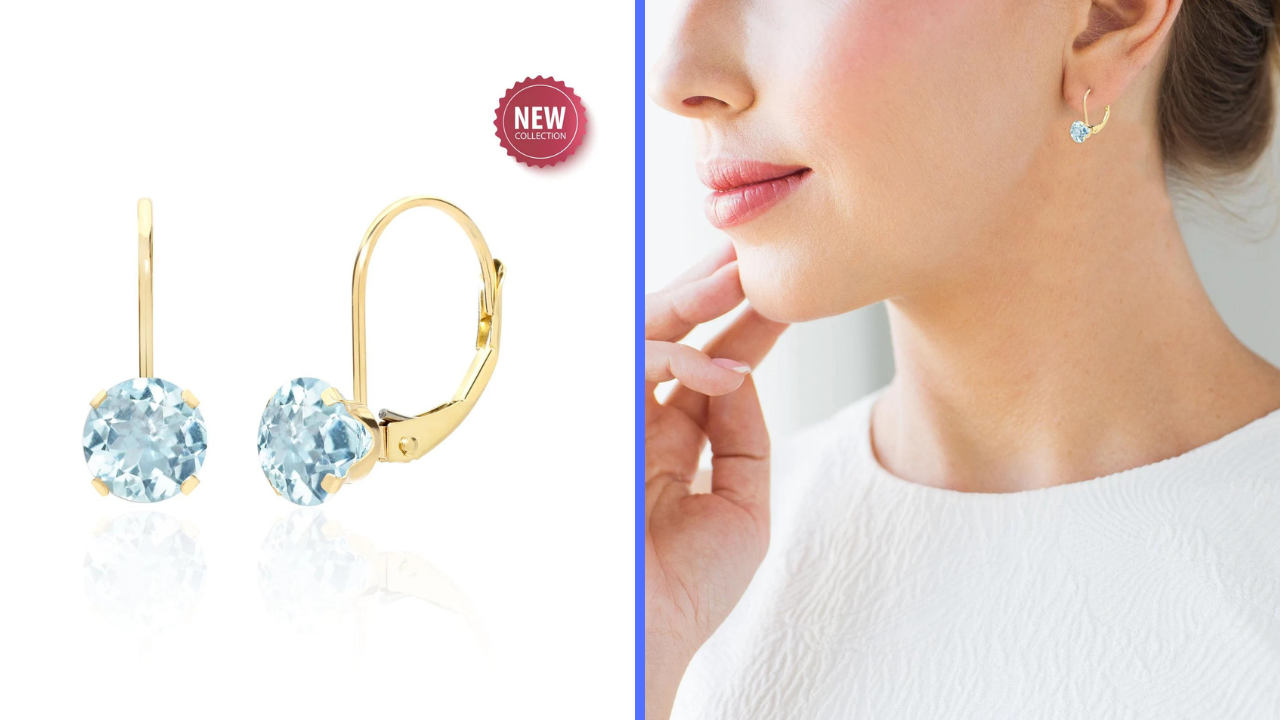 Aquamarine Earrings 14K Gold
CHECK PRICE ON ETSY!
Why We Love It:
These Aquamarine Earrings in 14K Yellow Gold are the perfect accessory for anyone looking for timeless and elegant jewelry. The small details of the earrings, such as the prong settings, lever back closures, and AAA quality 6mm round natural aquamarines, give these earrings a luxurious look and feel. The light blue color of the aquamarines is perfect and will sparkle with your every move; you can feel good knowing that the earrings are hypoallergenic, nickel-free and safe for sensitive skin.
What You Should Know:
These beautiful earrings are made to order and can be personalized to make them extra special. Aquamarines are perfect for March birthdays, and they make a wonderful 19th anniversary gift too. Whether you're looking for special jewelry to treat yourself or you are shopping for a loved one, these aquamarine earrings are sure to be treasured for years to come.
Tap HERE for the details and to place an order today.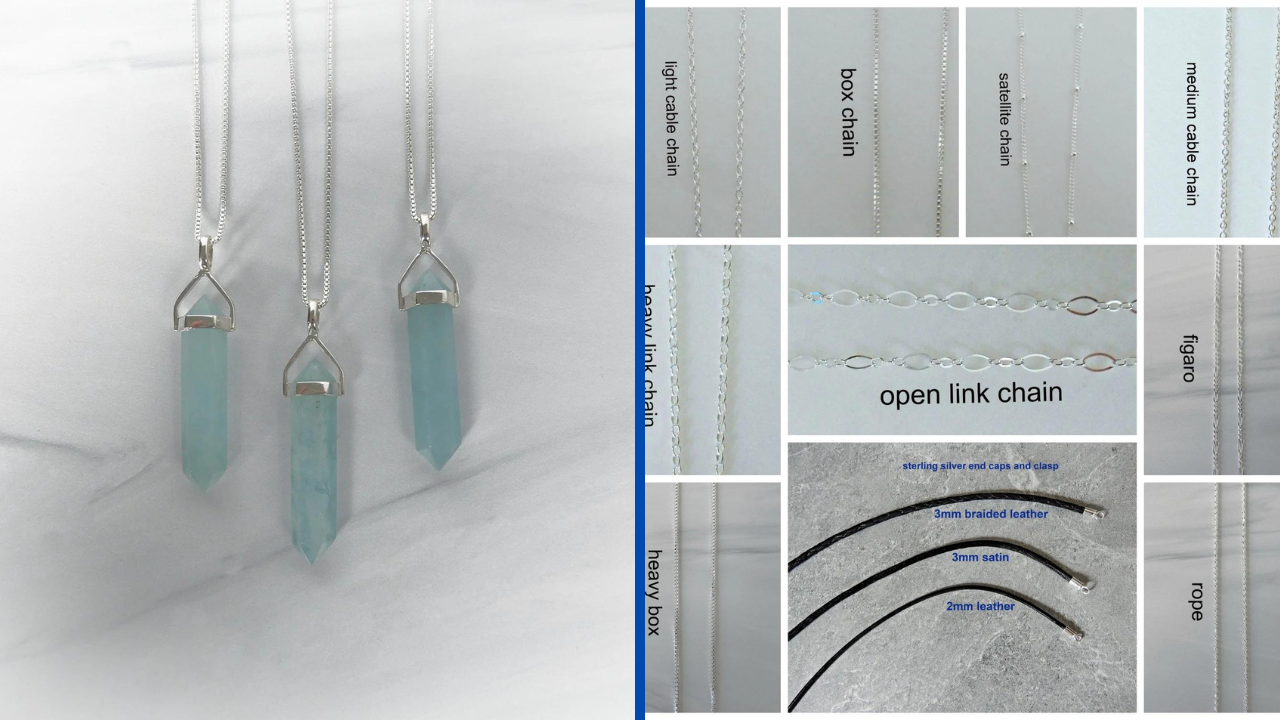 Aquamarine Crystal Pendant
CHECK PRICE ON ETSY!
Why We Love It:
Whoever said that jewelry was only for special occasions has never seen the aquamarine crystal pendants from Maxi-Health! These handmade items are made with the highest quality sterling silver, genuine aquamarine crystals, and your choice of chain length from sixteen to thirty-six inches. Each pendant is unique and ranges in size from 1 1/2" to 2" wide and 3/8" to 1/2" high, with each piece showcasing its own unique aqua blue/green to light blue crystal.
More and more the belief in and recognition of the power of crystals is going mainstream. So if you are craving a calmer atmosphere, aquamarine is the crystal for you.
What You Should Know:
Maxi-Health's aquamarine crystal pendants come in a variety of styles and lengths, and each one is perfect for layering. The available chain styles include cable, satellite, open link, box, and heavier chains like medium cable and link. You also have the option to choose from braided leather, satin, or leather cords for a more casual look. Whether you're searching for a necklace for special occasions or just to accessorize your everyday wear, these aquamarine crystal pendants are sure to make a statement. Both men and women love them, so get yours today!
Tap HERE to see all the chain options and additional details.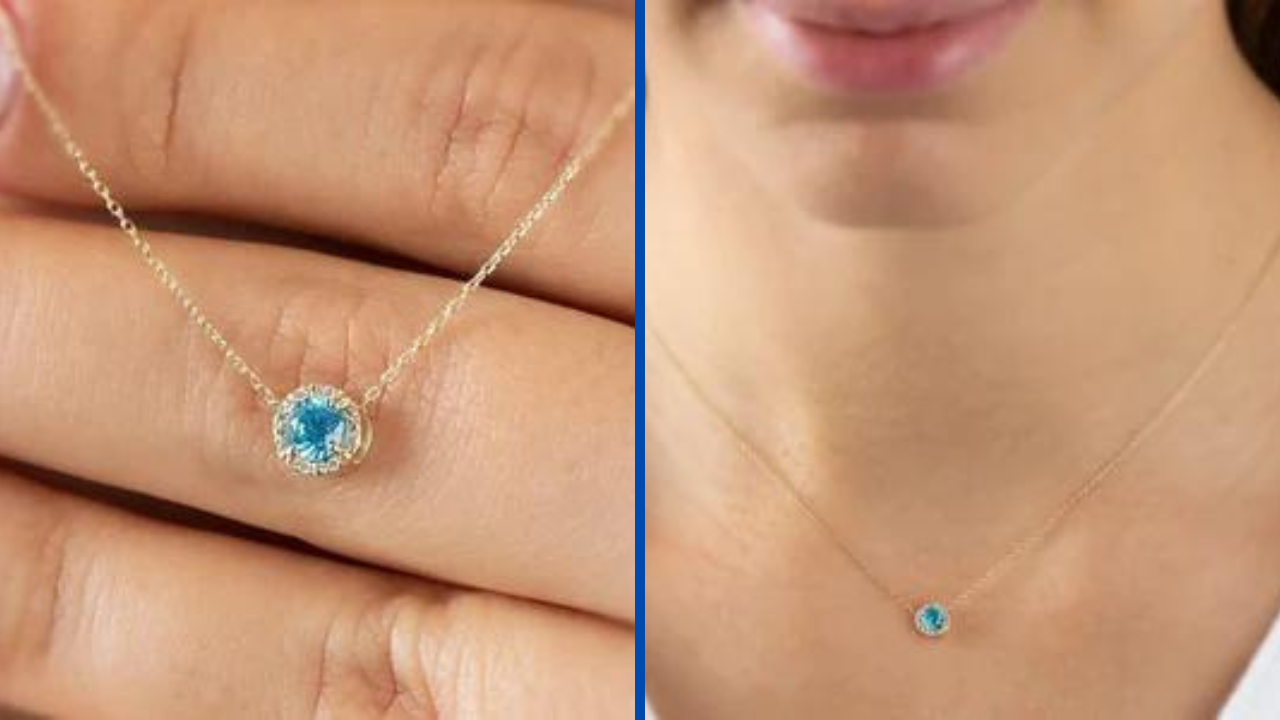 Aquamarine & Diamond 14K Gold Necklace
CHECK PRICE ON ETSY!
Why We Love It:
This Aquamarine and Diamond 14K Gold Necklace is an exquisite piece of jewelry that has been handmade with love. It features a beautiful aquamarine pendant surrounded by diamonds in a 14k gold setting for a luxurious look. Aquamarine is known for its calming properties and its ability to bestow courage on the wearer, making this necklace a special and meaningful gift for anyone. Plus, it comes in a variety of gold colors: yellow, rose and white gold, so you can choose the look that's right for you.
What You Should Know:
The Aquamarine and Diamond 14K Gold Necklace is the perfect way to pamper yourself or a loved one. With its elegant design and natural diamonds, this is sure to make a lasting impression. The necklace is made to order in lengths of 14", 16", 18", 20", 22" and 24" so you can get the perfect fit and the exact look you want. Plus, it's made from high-quality materials and is sure to last for years to come. Click HERE to order your Aquamarine and Diamond 14K Gold Necklace today.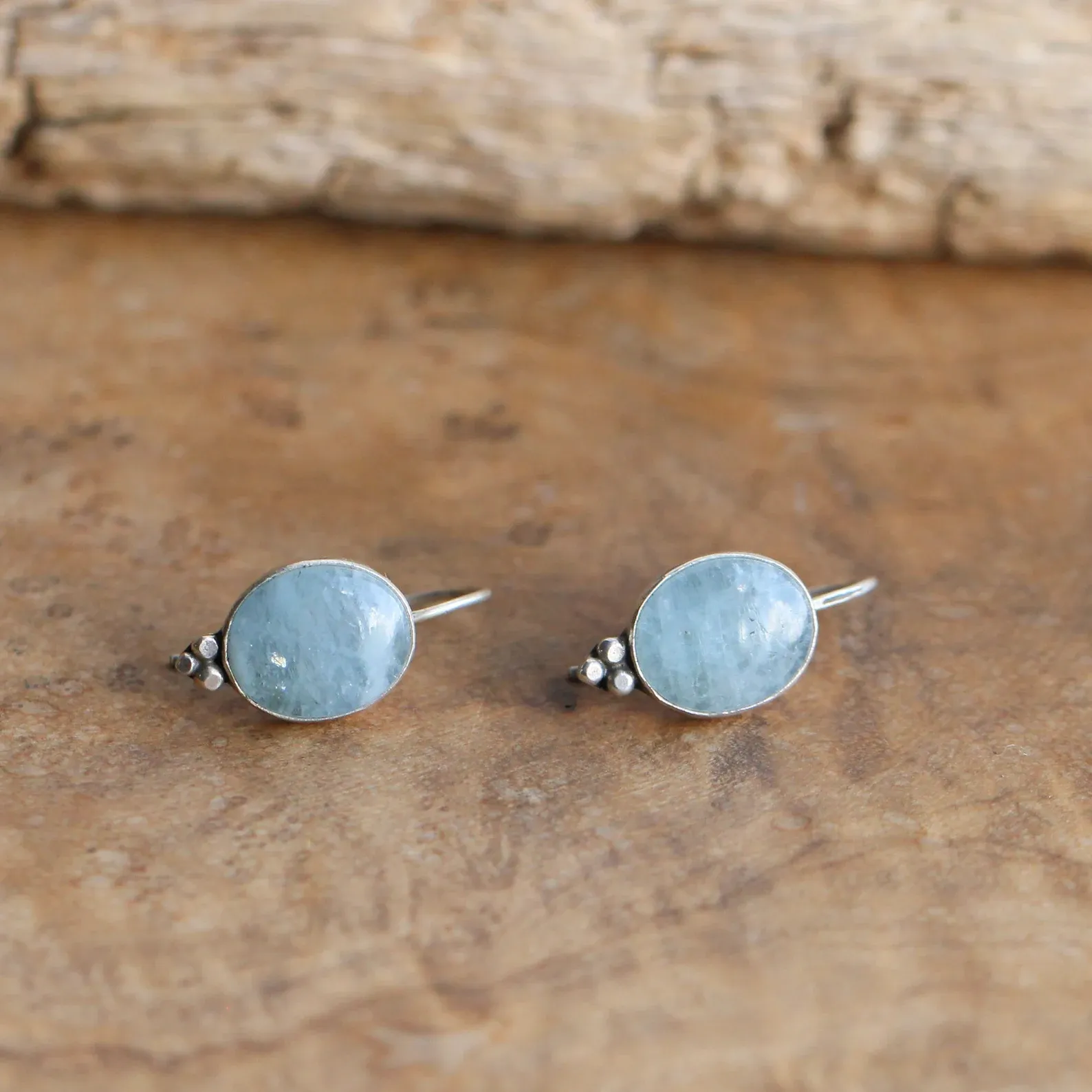 Aquamarine Piper Earrings
CHECK PRICE ON ETSY!
Why We Love It:
These stunning Aquamarine Piper Drop Earrings are a must-have for anyone looking for aquamarine earrings. Handmade with love and care, they feature 7/8 x 1/2 inch, oval aquamarine cabochon-cut stones and are set in high-polished sterling silver. A trio of sterling silver beads add the perfect decorative touch to the beautiful natural Aquamarine stones, making these earrings so appealing. Plus, they are lightweight and comfortable to wear and can be easily put on and taken off with the ear wire closure. The baby blue color is soft and just so darn pretty. Imagine wearing these earrings with your favorite wool sweater or pale blue satin blouse.
What You Should  Know:
These beautiful Blue Aquamarine drop earrings are perfect for any occasion, from formal dinners to casual days out. Plus, they make a great gift for anyone looking for unique and stylish jewelry. All crafting of these earrings is done in the artist's Baltimore, MD studio, ensuring the highest quality and craftsmanship. These earrings will add a touch of elegance to any look.
Tap HERE to order a pair of Blue Aquamarine earrings today!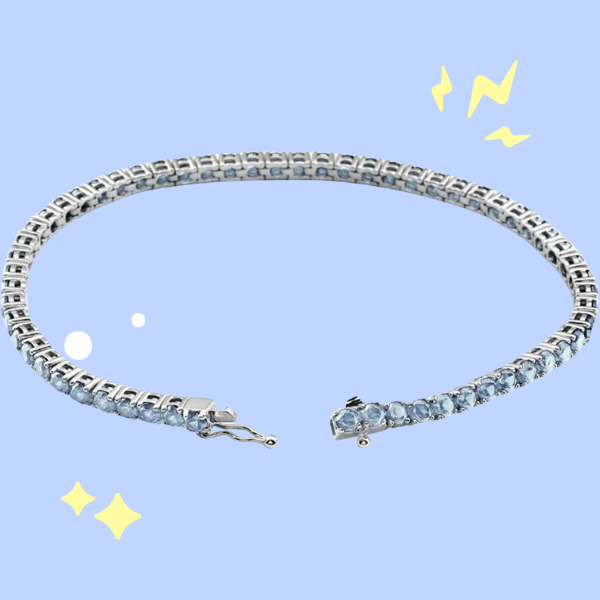 Natural Aquamarine Line Bracelet
CHECK PRICE ON ETSY!
Why We Love It:
This Aquamarine Line Bracelet is a beautiful and timeless piece of jewelry that adds a touch of glamour to any outfit. Handmade with high-quality materials, this bracelet features stunning natural aquamarines set in a delicate 14K white gold setting; making it an elegant and luxurious accessory. The bracelet is designed with a box clasp closure, making it easy to put on and take off and is 7.25 inches long. Perfect for any occasion, this bracelet is sure to make a statement and become a treasured part of your jewelry collection for many years to come.
What You Should Know:
The Natural Aquamarine Bracelet is made with rhodium-plated 14K white gold and features sixty 3mm round natural aquamarine gemstones. With its 6mm width it is a show-stopper on its own or stacked with other bracelets. The Natural Aquamarine Bracelet is also a great way to show someone you care, making it an ideal gift for a special occasion. This beautiful bracelet is sure to make a lasting impression, so why not add one to your collection today?  Tap HERE to learn more and to order your aquamarine line bracelet.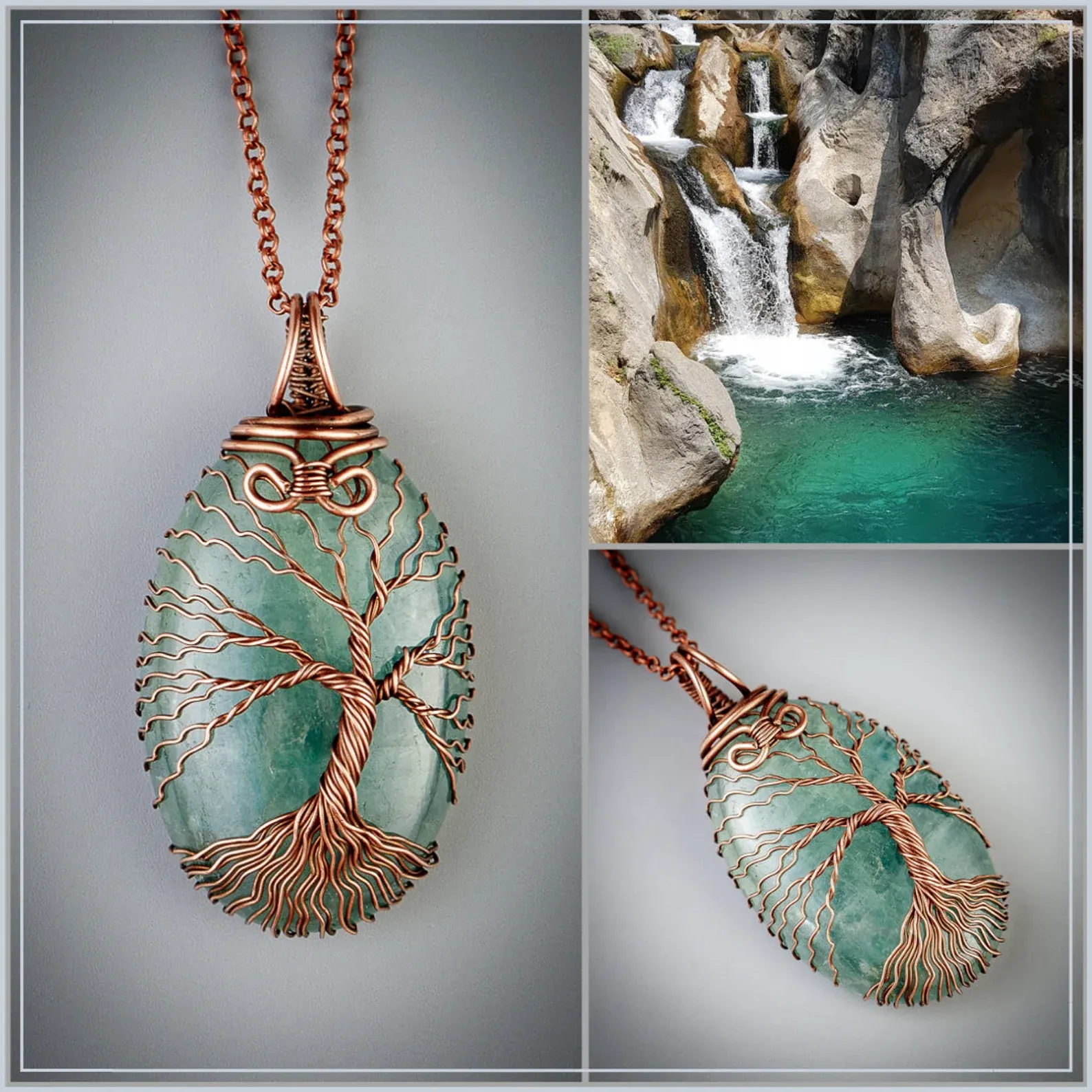 Natural Aquamarine with Copper Wirework
CHECK PRICE ON ETSY!
Why We Love It:
This stunning aquamarine pendant is the perfect accessory for anyone looking to add a touch of art deco style to their wardrobe. The pendant is handmade with a natural aquamarine and copper wirework, making it a truly unique and special piece. The natural aquamarine, (also available in moonstone, and tourmaline) gives this piece a stunning look that's sure to turn heads. Plus, the adjustable 60 cm (24') chain is a great length for layering and making the pendant the focal point when worn with your other chains.
What You Should Know:
This pendant is the perfect accessory for anyone looking to add a bit of eclectic beauty to their wardrobe. Not only is it a stunning piece of jewelry, but it's also a great gift for any special occasion. Whether it's for an anniversary, birthday, or just to show someone how much you care, this aquamarine pendant is sure to make them smile. Plus, its adjustable chain makes it the perfect fit for anyone. So why wait? Tap HERE to order this aquamarine pendant today!
Buying Guide: Facts About Aquamarine
Why is Aquamarine so popular?
Aquamarine is a popular gemstone because of its beautiful blue-green color. It is associated with the sea, and its name comes from the Latin words for "water" and "sea". It is the birthstone for March and is believed to bring peace, courage, and protection to its wearer. Aquamarine is also known to bring luck, health, and happiness. Its popularity is due to its calming color, which is said to be soothing and healing.
Where is Aquamarine mined?
Aquamarine is primarily mined in Brazil, Nigeria, Madagascar, Zambia, and Mozambique. It is also found in Afghanistan, Pakistan, India, Russia, and the United States. The largest aquamarine deposits are found in the Minas Gerais region of Brazil.
What is the best color of Aquamarine?
The best color of aqua is subjective and will depend on personal preference. Generally, aqua is a shade of blue-green that is light and bright. It can range from pastel blue to deep teal. Depending on the color palette and the desired effect, the best color of aqua can vary.
Is Aquamarine more expensive than other beryl minerals, like morganite?
No, aquamarine is generally the least expensive variety of beryl. Morganite is usually more expensive than aquamarine due to its pinkish hue, which is more rare and sought after than aquamarine's blue-green hue. Emeralds are the most expensive type of beryl, due to their intense green color, rarity and high demand.
FAQs
We hope that the information we've provided about aquamarine jewelry featured on Etsy has gotten you off to a good start on your quest for something beautiful!
With so many different aquamarine pieces available on Etsy, it can be hard to know which ones are the best quality and worth your money. It's important to find jewelry that is made with high-quality materials and craftsmanship at a great price, and that suits your style.
So just in case you still have a question, we've compiled a list of the most frequently asked questions about aquamarine jewelry on Etsy. If you still have questions, please leave them below and we will be happy to respond.
Are the images of the aquamarine pieces actual sizes?
No, the images are enlarged to show details of the settings and stones, etc. Be sure to read product descriptions carefully, as almost all provide the actual dimensions. Don't just gloss over them, think about what the measurements actually represent, as this will help you determine if the piece is what you are looking for. If you have questions or need more details, contact the seller.
Are the Aquamarine stones on Etsy heat-treated?
Yes, almost all of the Aquamarine stones on Etsy are heat-treated. Heat-treating is a process where the Aquamarine is heated to a very high temperature in order to enhance its color. Almost all aquamarines are heat treated, it is industry standard and not a negative when it comes to Aquamarine. This process is used to improve the color of Aquamarine by driving out iron that causes a strong secondary green color.
How durable is aquamarine?
Aquamarine is a durable gemstone that is rated 7.5 to 8 on the Mohs scale of hardness. This means that it is suitable for everyday wear; it is resistant to scratching. But, like all gemstones, aqua is still susceptible to damage from rough handling, harsh chemicals, extreme temperatures and direct sunlight, so it is important to take care to protect your aquamarine from these elements.
What is the best way to care for my new aquamarine jewelry?
To clean your aquamarine jewelry, you can use a soft cloth and warm, soapy water. Rinse the jewelry well and dry it before putting it away (be sure to separate it from other jewelry that can scratch it.) Avoid using ultrasonic cleaners or steamers when cleaning your aquamarine jewelry, as they could possibly cause damage.
In conclusion
We hope this review has given you a better idea of the amazing aquamarine jewelry you can find on Etsy. From elegant earrings to sparkling necklaces and bracelets, the design(s) you select are sure to turn heads and become cherished pieces in your jewelry collection.
If you're looking for something special, unique, and of the highest quality at fantastic price points, Etsy is the perfect place to shop.
With the seven beautiful aquamarine pieces we've shown you, you're sure to find something that speaks to your style and budget. So go ahead, browse these stunning pieces, and show off your individual style, or make a loved one feel even more loved with the gift of jewelry from Etsy!
Thank you for reading our article; please leave your comments and questions below.
Happy Shopping!
Francesca de Granville, G.G. (GIA) F.G.A.
---
Related Articles You May Like: