Are you looking for a special gift for the man in your life? Aquamarine jewelry is an excellent choice. Not only does it look beautiful, but it has special meaning, too. Here's why aquamarine jewelry makes the perfect gift for men.
Aquamarine jewelry makes a great gift because of its versatility. Aquamarines come in all shapes, sizes, and shades – from light blue to deep blue-green hues – so no doubt you can find one that perfectly matches his style.
The color and beauty of aquamarine jewelry can be worn by men and women alike, but in this article, we will focus on how to integrate it into any man's jewelry wardrobe.
Beyond aquamarine's natural beauty, lies a deep and meaningful history that dates back thousands of years.
The history of aquamarine
Aquamarine's name was derived from the Latin phrase "aqua marinus," which means "water of the sea." This is fitting because its beautiful blue-green color resembles the ocean waves on a sunny day.
Aquamarine stones have long been associated with courage and protection – qualities that make them especially meaningful to give as a gift.
In ancient Greece, aquamarine was believed to be a treasure belonging to mermaids and a symbol of good luck. It was also believed to protect sailors in their travels across the seas, making it an important part of the seafaring culture for centuries.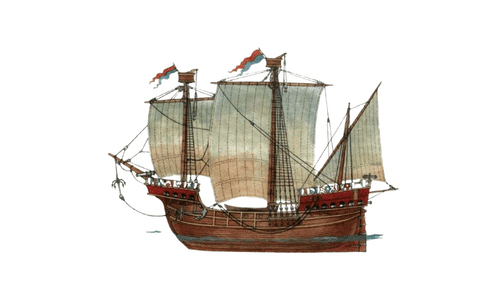 Today
Men are looking to break away from the notion that they should only wear plain metal jewelry or perhaps an earring if they dare. Adding color and beautiful colored gemstones is a great way of doing just that.
Common beliefs about aquamarine.
Many believe that aquamarine can bring peace and relaxation into their lives, and protect them from harm. Don't we all need a little more of that these days?
It also brings clarity and focus to those who wear it, making it an excellent choice for those seeking balance in their lives.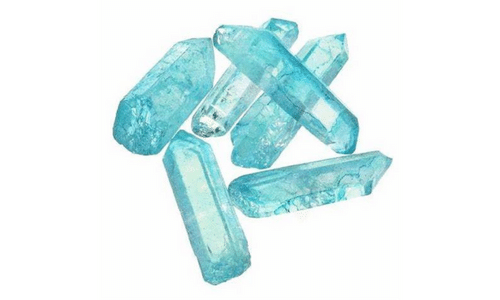 Aquamarine also looks great in any type of jewelry setting—from solitaire rings to beads and pendants—making it easy to find something perfect for any occasion. Let's discuss the options.
Aquamarine Rings for Men
Aquamarine rings are a popular choice for men's jewelry. They range from simple settings with solitaire stones to intricate swirls of white gold with multiple aquamarines. Depending on how bold a statement you want to make, you can either choose a ring that stands out or one that is more subtle.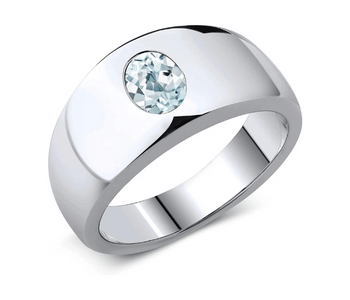 Gem Stone King Silver Aquamarine Men's Ring
Sterling silver aquamarine ring. 1.20 carats, 8mmx6mm. Available in sizes 7-13. Click below for additional information.
Check Price
Aquamarine rings are perfect to mark special occasions like engagements, anniversaries, or even a night out on the town!  It also happens to be the birthstone for March (along with Bloodstone) if you are looking for an appropriate birthday gift.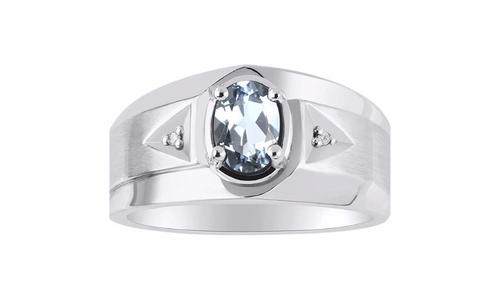 RYLOS Mens Rings Sterling Silver Classic
Aquamarine and diamond sterling silver ring. 7x5mm aquamarine in sizes 8-13. Available in all birthstones. Click below for additional information.
Check Price
Aquamarine necklaces
Necklaces with aquamarines are also great fashion pieces for men. These necklaces come in various shapes and sizes and look great when layered with other pieces or worn solo as an everyday accessory.
From simple chains to elaborate pendants, these necklaces add an elegant touch to any outfit. Looking for a rustic piece that highlights the mesmerizing color? How about a gorgeous piece of rough aquamarine strung on a silk or leather cord? for a more casual look.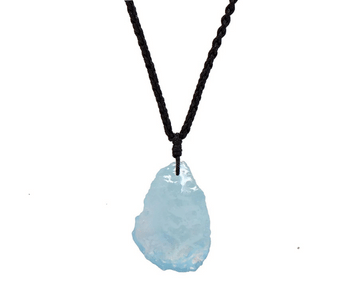 Natural Aquamarine Rough Healing Crystal Pendant
Natural aquamarine rough, on 18-25 inch cord. 1 inch to 1.5 inches long by 0.6-1 inch wide. Click below for additional information.
Check Price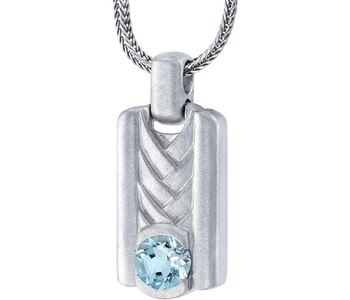 Peora Aquamarine Chevron Pendant Necklace for Men in Sterling Silver
Sterling Silver and aquamarine in sterling pendant. Beautiful chevron, brushed design features a round 6mm, 0.75 carats aquamarine. The wheat pattern sterling silver chain is 22 inches long. Click below for additional information.
Check Price
Aquamarine bracelets for men
Another way to accessorize his wardrobe is with an aquamarine bracelet. Bracelets offer more flexibility than rings because they can be dressed up or down depending on the occasion. Whether you prefer something sleek and modern or classic and timeless, there is an aquamarine bracelet to match your style!  
Many women and men alike stack bead bracelets; some use them as worry beads to relieve stress and others, combine them with other beads just because they look great.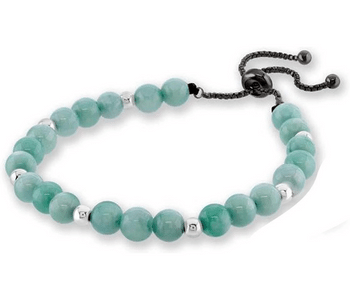 Believe London Men's or Women's Stress Relief Bracelet
This beautiful bead bracelet is 8 inches round, but strung on flexible cord that will stretch to fit the wearer. Smooth, touchable beads have calming powers. Click below for additional information.
Check Price
Care Recommendations
In addition to its aesthetic value, men's aquamarine jewelry is practical as well. Aquamarines are durable stones with a hardness rating of 7.5-8 on the Mohs scale, so they can withstand everyday wear and tear without scratching or losing their luster over time. They require very little maintenance beyond regular cleaning with warm water and mild soap, making them an ideal option for busy lifestyles.
For additional details on jewelry care, read our article: How To Care For Jewelry
In Conclusion
Whether you're looking for a gift, or something special just for yourself, men's aquamarine jewelry is always a great choice! Its timeless beauty will never go out of style, while its symbolism brings peace and protection into everyday life. Plus, with its durability and low maintenance requirements, you can count on your aquamarine piece to endure through all adventures - both big and small! So why not treat him today? You won't regret it! And while you are at it, pick up an aquamarine piece for yourself!
FAQs
Is aquamarine a member of the emerald family?
Yes, aquamarine is a member of the beryl mineral family, of which emerald is the patriarch. Although emerald is considered one of the most valuable of all gemstones, it also is known for its fragile constitution. Another species of beryl that you may be familiar with is Morganite, a light pink gemstone.
Emerald is also known for its having an abundance internal characteristics (referred to as "jardin" which means garden in French.) whereas Aquamarine is usually free from eye-visible internal characteristics.
Although emerald is hard, 7.5-8 on the Mohs scale, it is not tough (rated poor-good), therefore it can be chipped and is vulnerable to breaking. Aquamarine, on the other hand, is as hard and tougher (good) than emerald and is considered safe for everyday wear.
Is aquamarine expensive?
Aquamarine is available in a number of shades of blue and in a range of sizes. Most aquamarine is heat treated to drive out the iron which is the cause of green in crystals which results in greenish-blue stones.
Finding an aquamarine with the most valuable pure blue colors that do not require heat treatment is rare and will sell for premium prices. Blue topaz comes in a full range of blue shades and sizes (10 carat stones are common.) It is an affordable alternative if you are unable to find an aqua that you like and can afford.
Where is the primary source of aquamarine?
The primary source today is Brazil. Other locations are Africa (Kenya, Namibia, Nigeria, Madagascar, Mozambique) and Pakistan.
Aquamarine has also been found in the U.S. in Colorado and Riverside and San Diego counties in California. Russia is also known for producing very fine-quality aquamarine crystals.
How do I take care of my aquamarine?
Standard jewelry care: Warm water, mild liquid soap, and a soft toothbrush to access the nooks and crannies of your pieces is recommended. Ultrasonic jewelry cleaners are also safe to use, as long as they don't get too hot.
Always store your jewelry in the original packaging or soft pouches to prevent scratching. A special note of caution for aquamarine is to avoid long-term exposure to direct sunshine or bright lights that can fade the color.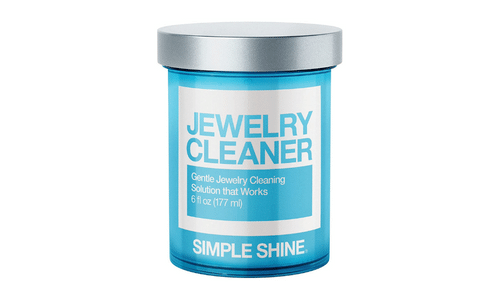 Click HERE to purchase:
Where can I buy aquamarine jewelry for men?
There may not be an abundance of men's jewelry featuring aquamarines out there. But what you should do is research and ask what is available at a trusted jeweler. Most fine jewelers will custom design a piece are/or bring pieces in for you to see. Throughout this article we have included great aquamarine designs for men from Amazon.com.
Thank you for reading our article and happy shopping!
Francesca de Granville, G.G., F.G.A.
Click HERE to read our affiliate disclosure statement.