The History of Rose Gold
It may come as a surprise to some but rose gold is not actually a new invention. In fact, it's been around for centuries.
Also known as "pink gold" and "red gold," the earliest examples date back to the 19th century when jewelers began combining pure yellow gold with copper alloys to create this unique hue.
So popular was rose gold in Russia in the 1800s it earned the name "Russian gold."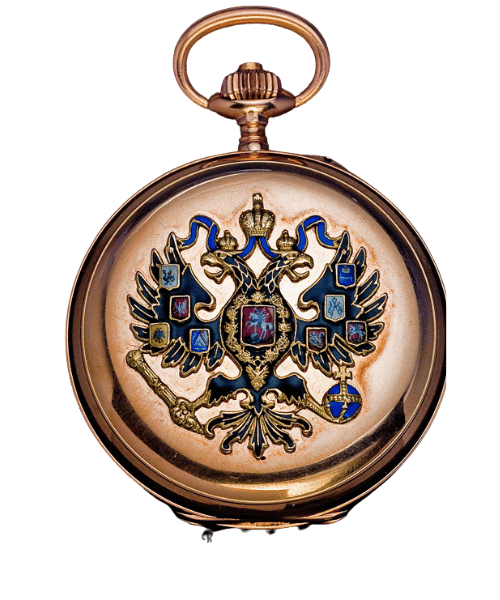 Later, in the 1920s the famed House of Cartier designed their first tri-colored gold pieces known as Trinity, which are still wildly popular today!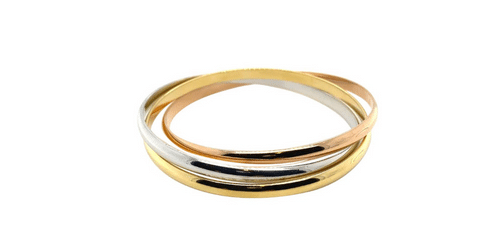 Since then, it has been used in all categories of jewelry throughout history, including watches, rings, chains, pendants, and earrings. In fact today, any jewelry you desire is, or can be produced in rose gold!  
And, as more and more people are shying away from traditional wedding practices, modern brides and grooms are choosing rose gold engagement and wedding rings to seal their commitments.
The Appeal of Rose Gold
Today, rose gold remains one of the most popular colors among jewelry lovers everywhere. One reason for its ongoing appeal is its versatility; with its warm, rich hue and subtle sheen; it can be worn with virtually any color outfit or skin tone.
If you've ever spent time perusing jewelry websites, chances are you've seen rose gold; just about every jewelry brand offers a least a portion if not all their designs in rose gold, right alongside yellow and white gold.
It's hard to miss the blush of pink that radiates from the metal, and it's no wonder this timeless color has become so popular. But what is rose gold, and why is it such a beloved classic? Let's take a closer look at this beautiful precious metal!
Like most gold, other than 24K, rose gold is an alloy-which means it is pure gold blended with one or more other metals.  The primary purpose of alloying metals is to create a new metal that possesses attributes that no other single metal has on its own. This usually means increased strength and hardness, and/or a new attractive color.
Copper in particular gives rose gold pieces durability and "wearability" due to its intrinsic strength.
So what is the recipe? We start out with yellow gold and blend it with copper, which diminishes the strength of the "yellow" along with a little silver.
Depending on the amount of copper added, the karat percentage (gold) and color of the resulting metal will differ. As you would expect, the more copper, the stronger and more dominant the pink, or rose tone will be.
Here are the alloys and the karat gold percentages:
18K Red Gold: 75% gold and 25% copper
18K Rose Gold: 75% gold, 22.25% copper, and 2.75% silver
18K Pink Gold: 75% gold, 20% copper, and 5% silver
14K Rose Gold: 58.5% gold, 41.5% copper, and silver.
10K Rose Gold: 44.5% gold, 55% copper, and 0.5% silver
18K Purple Gold: 80% gold, 20% aluminum (slightly higher gold content but still referred to as 18K. Purple gold is brittle.)
Different manufacturers will have similar recipes that vary slightly to achieve the color and durability they desire. 14K rose gold will appear slightly darker and will be harder due to the higher amount of copper in the mix.
Over time, the higher copper content in 14K rose gold will oxidize and along with the patina that develops, will appear darker-but generally speaking, very appealing.
18K will have a softer, lighter shade and 14K will be darker so depending on your personal preference, choose the shade that you feel suits you the best and that complements the design of the piece.
Plus, thanks to advances in technology and manufacturing processes over the years, there are now many different shades available in both solid and plated forms—everything from pale pink to deep red!
Caring for Your Rose Gold Jewelry
14K or 18K rose gold used in fine jewelry does not tarnish and is very easy to care for.  To maintain the beauty of your rose gold jewelry items, always keep in mind that the key is cleanliness!
To preserve its original luster and shine, regularly clean your pieces with mild soap and water using a soft cloth or brush, or a safe, mild liquid jewelry cleaner.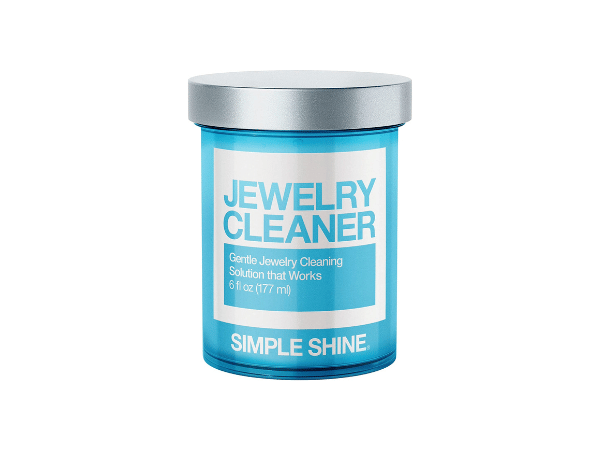 Click HERE to purchase.
Costume jewelry that features a rose gold outer layer, otherwise known as plating, will tarnish and eventually wear off.  Be sure to look for the fineness stamp if you are looking to purchase karat gold (10K, 14K, or 18K) on the inside of the band (especially if you are looking at pieces in antique stores, pawn shops, etc.)
Additionally, when not wearing them your pieces them them separately in the original packaging  to prevent scratching. Never throw them into your jewelry box where they will be scratched by other metals and particularly gemstones.
Click HERE to read our article How To Clean Jewelry.
In Conclusion
From its humble beginnings in 19th century Russia to its current status as one of the world's favorite fashion accessories, there's no denying that rose gold has earned its place as a timeless classic.
Whether you're looking for something special for yourself or someone else, consider investing in a beautiful piece of rose gold jewelry today! You will be rewarded by the stunning beauty that lasts beyond a lifetime.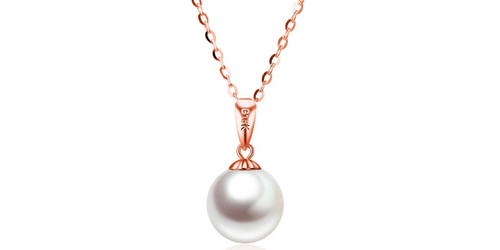 14K Gold Pearl Necklaces for Women with 18k Gold Pendant
14K and 18K rose gold pendant, features an 8mm freshwater pearl on 18 inch 14K rose gold chain. Click below for additional information and product options.
Check Price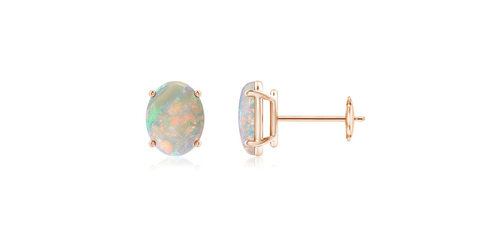 Angara Opal Stud Earrings
Heirloom quality opals sets in 14K rose gold. 1.60tw oval, enhancement-free opals.(Smaller and larger sizes available.) Click below for additional information and product options.
Check Price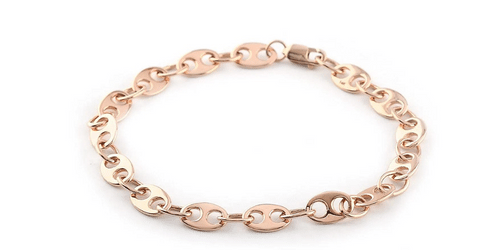 Rose Gold Mariner link Chain Bracelet
18K Rose Gold Mariner bracelet. Available from 6.75-8.00 inches long, in Yellow, white, or rose 14K and 18K gold. Click below for additional information and product options.
Check Price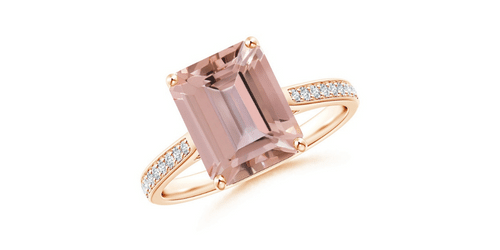 Angara Emerald-Cut Morganite Cocktail Ring
3.24 carat Morganite set in 14K rose gold. The emerald-cut morganite measures 10mm X 8mm, also available in smaller and larger carat weights. Click below for additional information and product options.
Check Price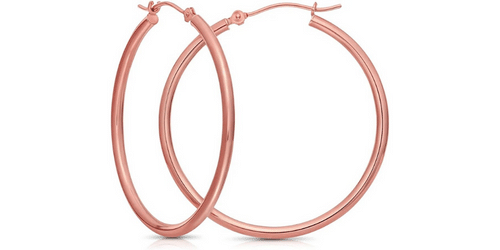 14k Gold Round Polished Hoop Earrings, 2" Diameter
Classic hoop earrings in 14K rose gold-also available in yellow and white gold. Click below for additional information and product options.
Check Price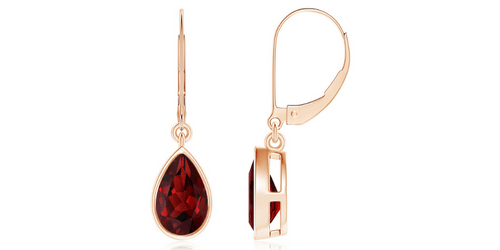 Angara Pear Garnet Leverback Drop Earrings
Bezel-set pear shaped heirloom quality garnet earrings. Measuring 8X5mm, 2.40 carats TW. Click below for additional information and product options.
Check Price
We thank you for reading our article and we wish you happy shopping!

Francesca de Granville, G.G., F.G.A.

Click HERE for our Affiliate Disclosure.