When it comes to accessorizing, ankle bracelets are must-haves. They can add a touch of elegance and style to any outfit, for any occasion. Whether you're dressing up for a formal event or just want to look your best for a day out shopping, an ankle bracelet will do the trick.
History Of Ankle Bracelets
The custom of wearing ankle bracelets (a.k.a. anklets) has been around for literally thousands of years. At that time anklets telegraphed various messages such as "my husband is wealthy" "I am in a serious relationship" or "I am protected from all evil". Today they are worn as fashion statements to bring attention to your ankles, those beautiful designer shoes you are so proud of and of course the anklets themselves!
In this blog post, we will take a look at 7 of the most beautiful ankle bracelets, discuss why we love them, and provide you with the facts you need to know to make a decision.
We have taken the time to research and review hundreds of styles, price points, and customer reviews to find the best designs for you. We know your time is valuable so we have narrowed down the options so that you can select the perfect anklet!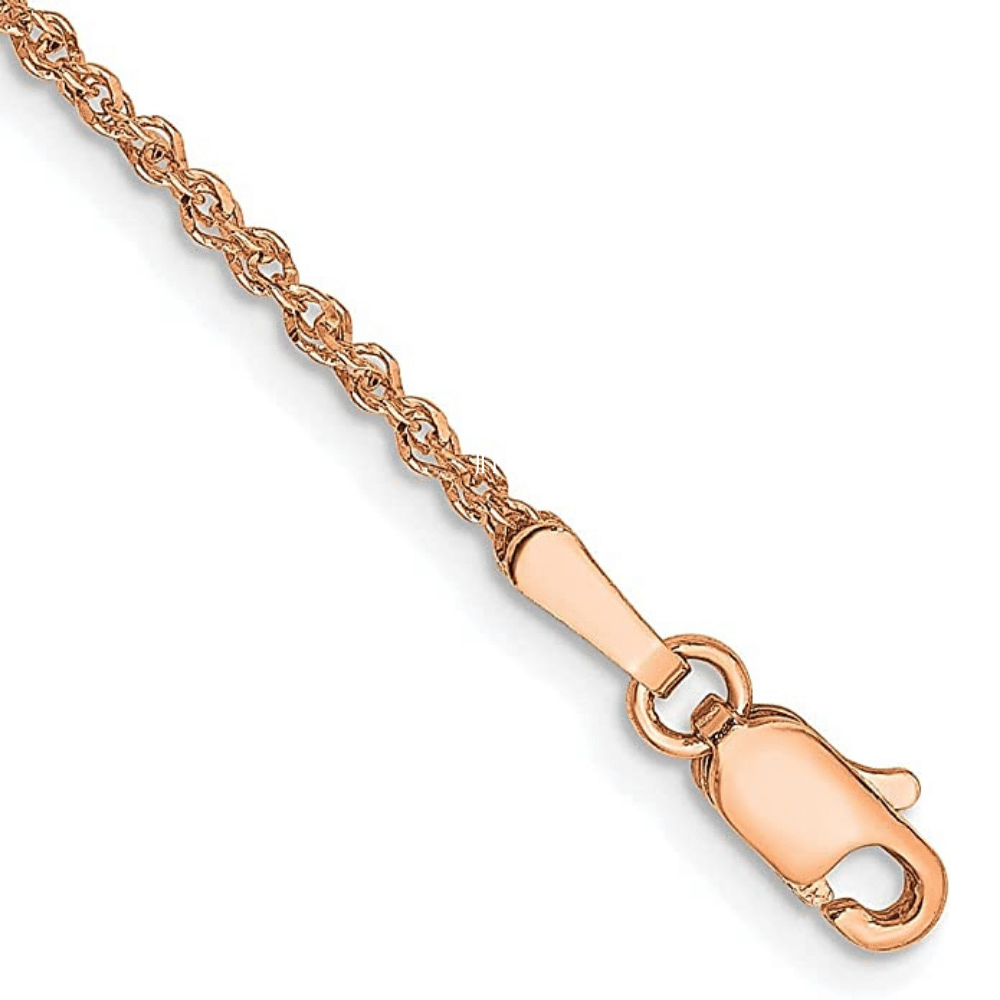 14k Rose Gold 9 Inch 1.7mm Ropa Lobster Clasp Anklet
What we love about this product: Searching for a high-quality classic look? This beautiful rose gold rope anklet is just perfect. Made from 14K rose gold, this anklet is 9 inches long and 1.7 millimeters wide. A lobster clasp is easy to open and close and holds the anklet securely in place and is worry-free. This is a perfect piece for layering and the textured design sparkles with every move. If you are looking for an understated look this is the one. Click below to learn more.
Check Price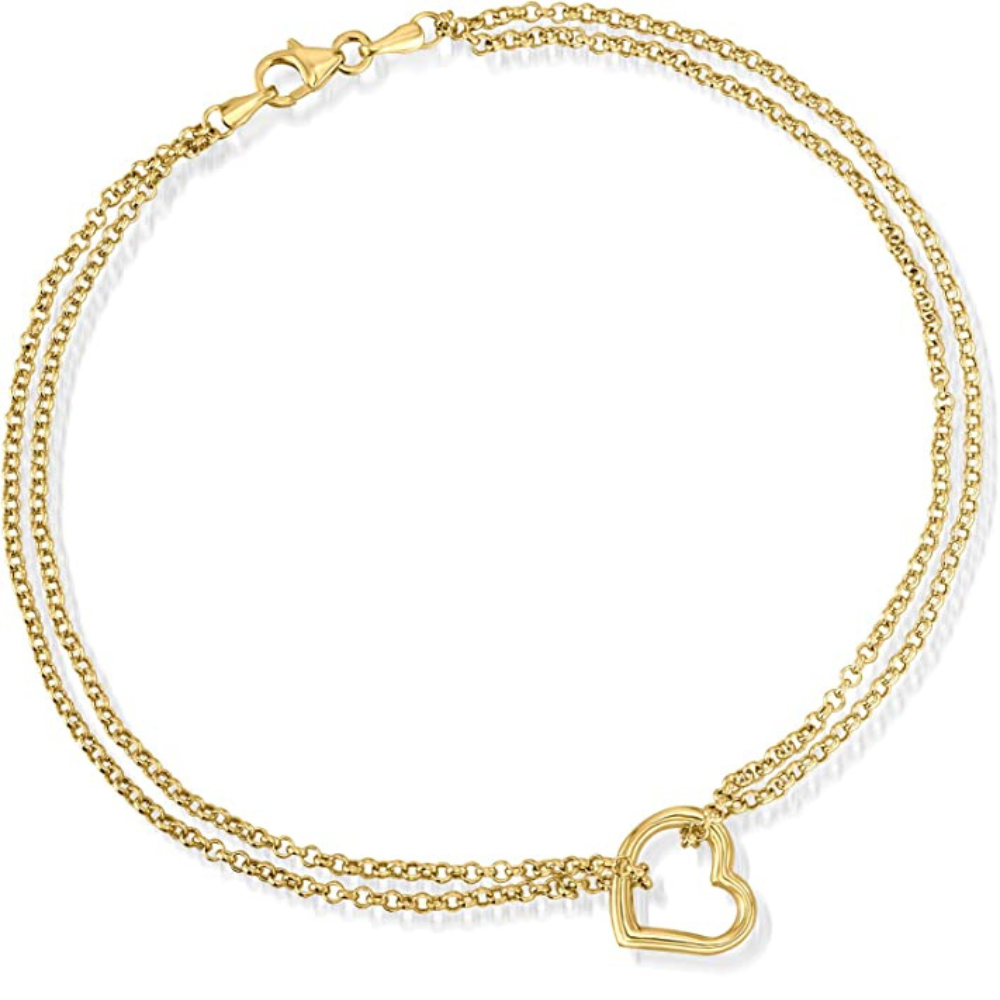 Ross-Simons 14kt Yellow Gold 2-Strand Heart Center Anklet.
What we love about this product: Looking for a high-quality layered look? This double-chain heart design might just be the one. Made from 14K yellow gold it is 10 inches long, slightly longer than average. This piece may look somewhat familiar as it was inspired by the open-heart created by Elsa Peretti long ago an iconic Tiffany & Co. designer. The anklet connects with a lobster clasp, considered one of the sturdiest.
If you are looking for a gift for anyone you love, especially yourself, click below to order one now!
Check Price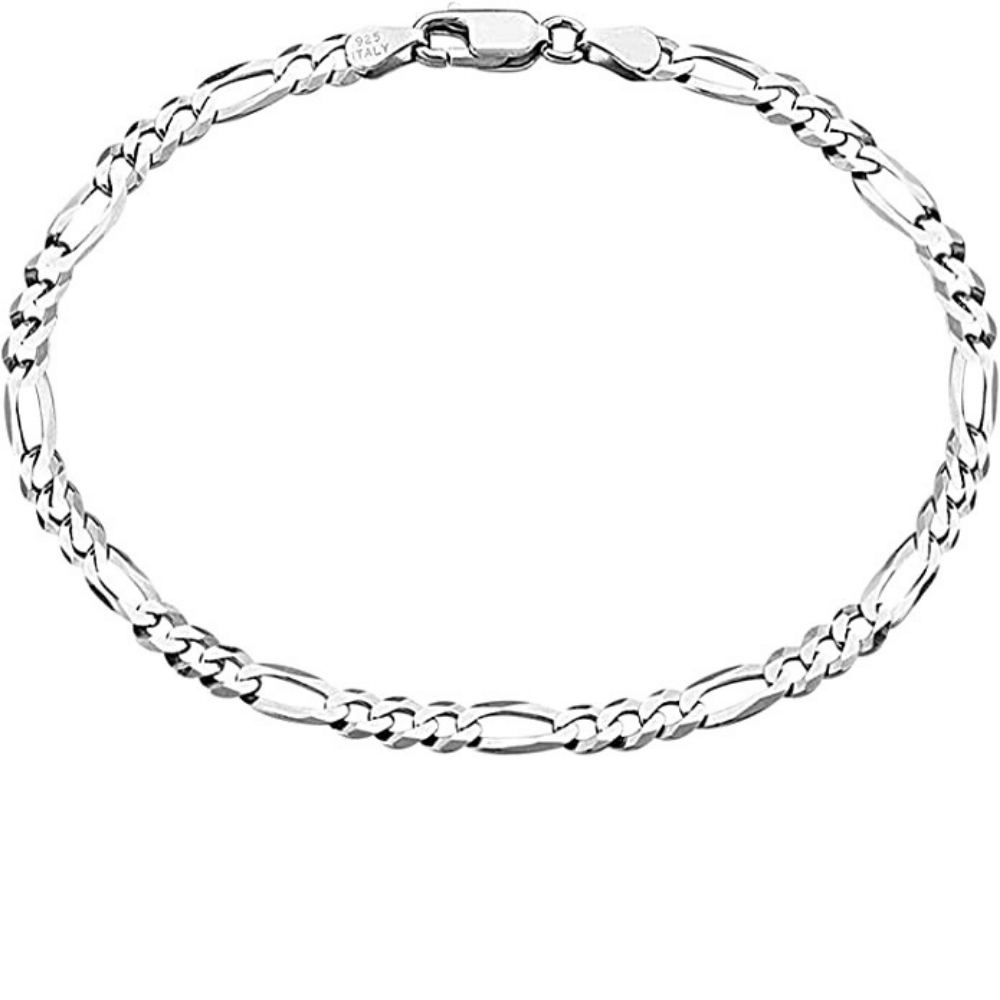 Savlano 925 Sterling Silver Solid Italian Figaro
What we love about this product: Jewelry manufactured in Italy is world-renowned for its high quality and beauty. This sterling silver Figaro anklet is no exception. It measures 10 inches in length and features a sturdy lobster claw clasp.
Because it is made from 925 Sterling Silver is a nickel-free precious metal and hypoallergenic. Sterling silver is appreciated for its ability to take a high polish.
Maintaining this metal's beauty is as simple as a quick wipe with a jewelry cleaning cloth (see our article on jewelry care kits.) Click below to see this and other designs by Salvano, both all metal or those that include charms and or gemstones.
Check Price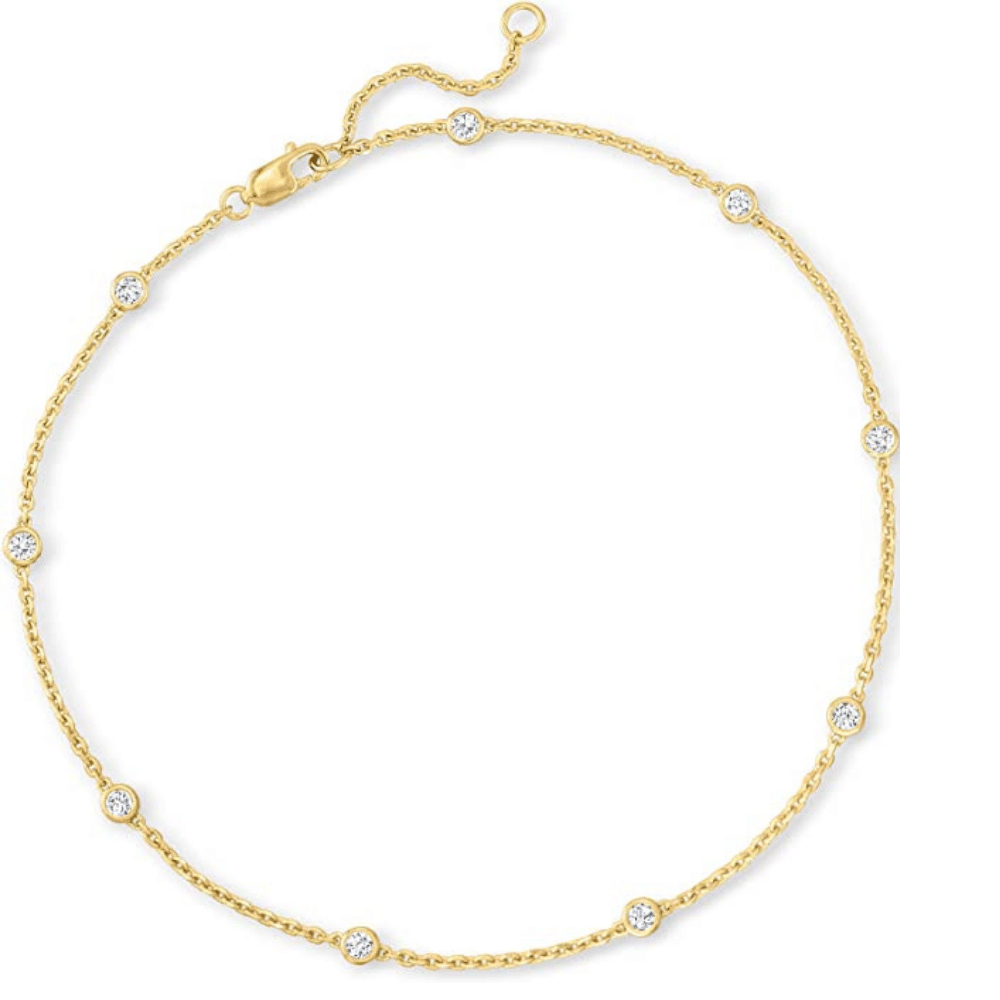 Ross-Simons 0.50 ct. t.w. Diamond Station Anklet
What we love about this product: What we love about this product: This dainty and elegant anklet features bezel-set natural diamonds that total 0.50 carats. The cable chain is vermeil (18K yellow gold-covering sterling silver) which is 9 inches long.
A lobster clasp, considered one of the sturdiest clasps, will ensure your anklet will stay put. The smooth bezel settings will not catch on clothing. Also available in Sterling Silver. Click below for details.
Check Price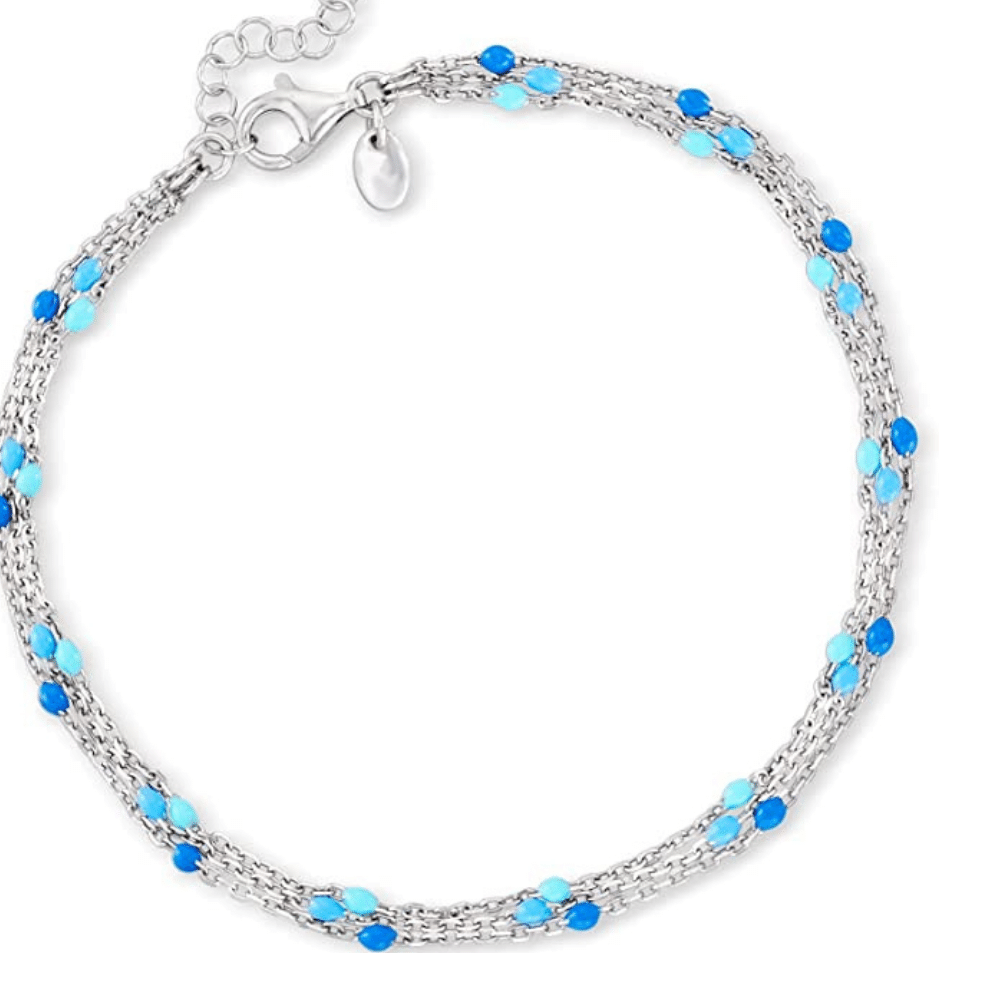 Ross-Simons Italian Tonal Blue Enamel Beaded
What we love about this product: Looking for a pop of color? This sterling silver anklet features eye-catching blue enamel beads and is 9 inches long with a one-inch extender. The anklet has 12 bead stations with a total of 36 beads in three shades of blue (a great look with jeans.)
Because it is sterling silver, it is nickel-free and hypoallergenic. Click below for additional details about this beautiful ankle bracelet. Use a mild jewelry cleaner that will keep the chains brilliant, but won't harm the enamel.
See our article: The best Jewelry Cleaning Kits.
Check Price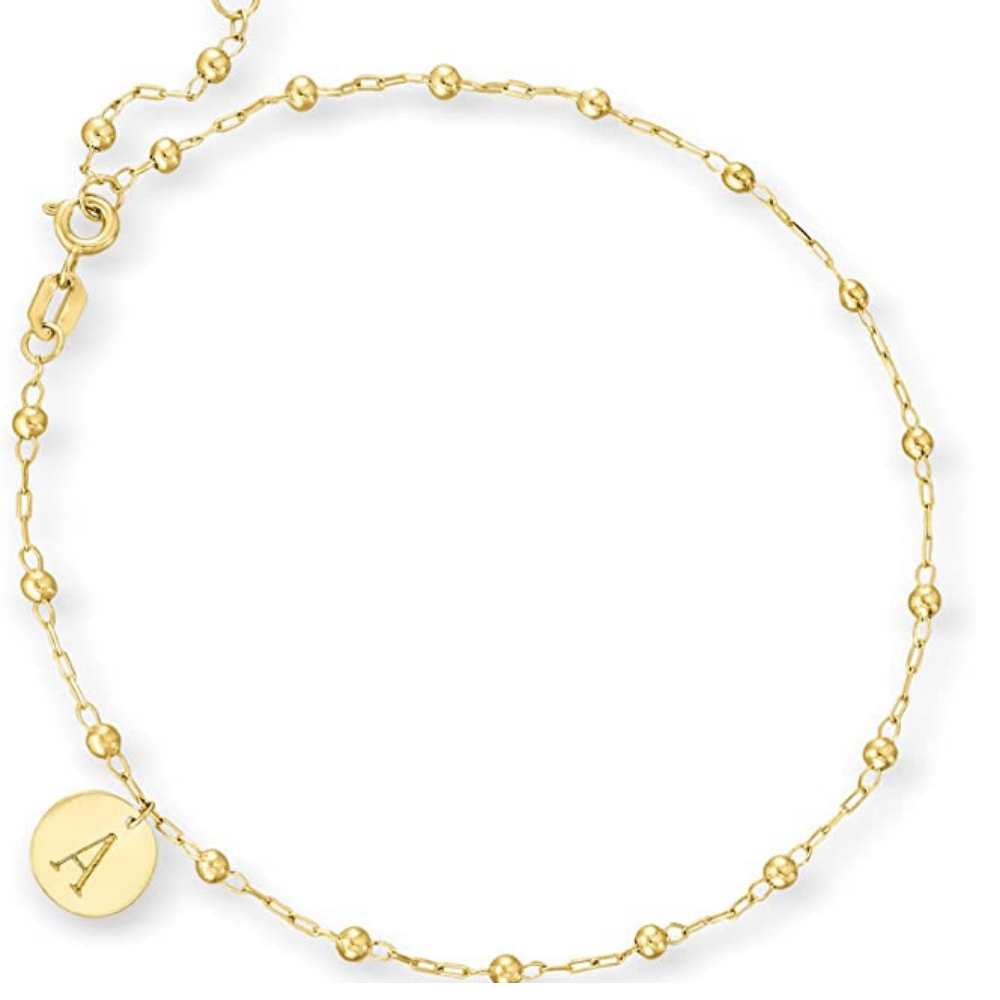 Ross-Simons Italian 14kt Yellow Gold Personalized
What we love about this product: Looking for a subtle and elegant design? This 14K yellow gold bead anklet may be just the right one. This gleaming high-polished design features an initial tag to emphasize your individuality.
Italian jewelry is known for its manufacturing quality and beautiful designs. The length is 9 inches and secured with a spring-ring clasp which makes it so easy top put on and take off. The high-polished tag is customized with the block letter initial of your choice.
Click below for additional information.
Check Price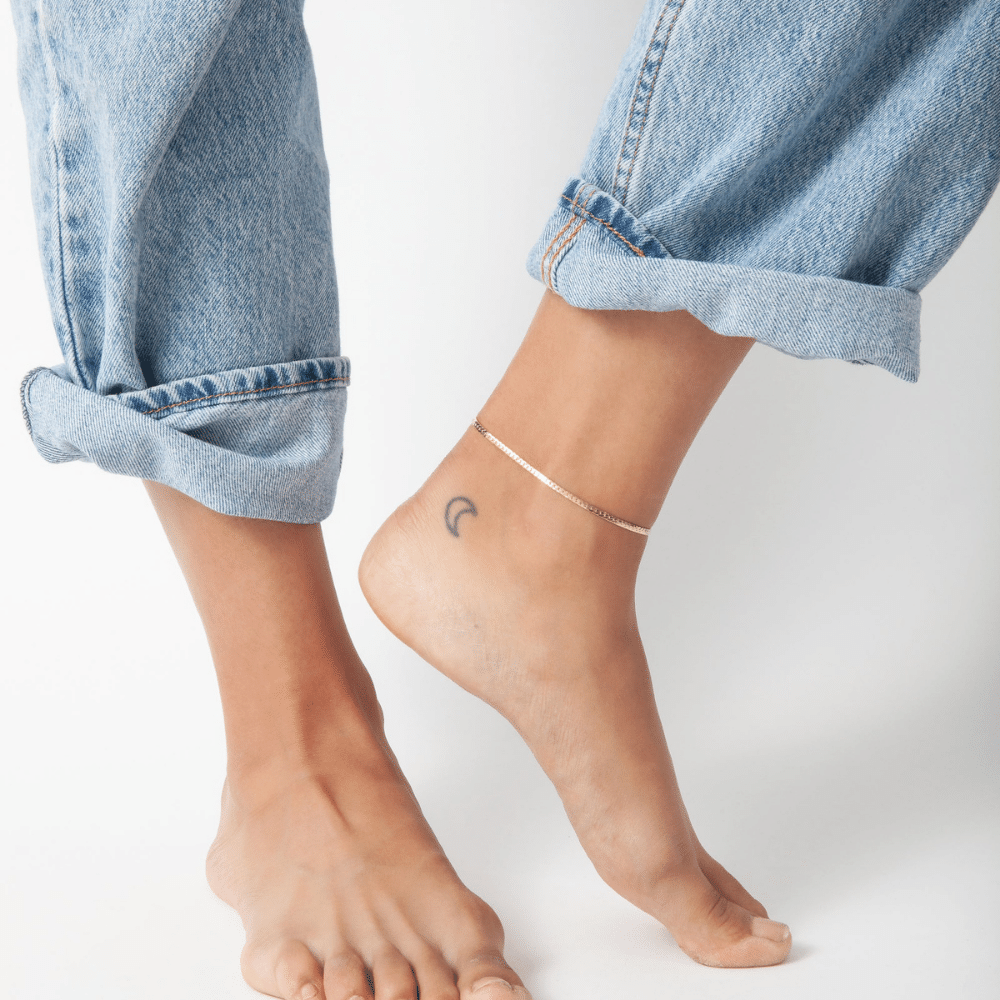 BELLA ANKLET
Looking for a slightly longer anklet? This design by Miranda Frye is available in 3 lengths 8.5" - 9.5", 9.5" - 10.5", 10.5" - 11.5". Take your pick between silver or gold tones The Bella anklet is a classic elegant design that works well with jeans, or your favorite summer dress. Click below to see this and all of Miranda's beautiful designs.
FAQs
Do anklets have a special meaning?
Anklets have been worn for thousands of years in many countries around the world, but most notably the far east and as with many cultures, anklets' interpretations, meanings, or attached superstitions differ depending on where you are. In certain locations, anklets can indicate social status, in others relationship status, and still others as good luck or protection from evil. Today they are primarily worn as a fashion statement.
Which ankle should I wear my anklet on?
There are a few meanings assigned to anklets worn on either the right or left ankle from long ago, but today, I don't think those that wear anklets don't give it a second thought. Some say that wearing an anklet on the right ankle signifies that the wearer is in a serious relationship or married others say the opposite is true.
One of the most popular beliefs is that anklets protect against evil spirits. Worn on the left ankle for some is important because it is on the same side as the heart. So, take your pick, either adopt one of the above beliefs or ignore them altogether, it's up to you.
Do anklets go over or under socks?
In the United States in the 1950s wearing anklets over white bobby socks was popular to "jazz them up", think of the popular show, Happy Days. But today, it is a definite fashion "faux pas"! Wear them only against bare skin.
Do men wear anklets?
As more and more men have abandoned their socks and in general are wearing more jewelry, the trend for anklets is also growing. The preference for men tends to be leather anklets, just as leather is very popular in men's bracelets.
How tight should anklet bracelets be worn?
Most anklets are adjustable so you can experiment to determine where you like them to fall. It is important that the fit is not too tight, as a delicate chain anklet might break when you move your ankle.
Some people prefer that anklets are long enough to lie at the top of the foot so that they can easily be seen. Others prefer different lengths so that can be layered while not falling on top of each other. Wear your anklet the way it's most comfortable for you.
Can I wear my ankle bracelet in the shower or bath?
If your anklet is all metal, there is no problem. Anklets with gemstones should be fine as well. Remove your anklet if it features pearls or other porous gemstones such as turquoise. Don't forget to remove your anklet if you are getting a spray tan!
Our Best Advice
Ankle bracelets are fun and sexy, with a range of price points well within the reach of everyone. If you are looking to expand your jewelry wardrobe and want something interesting that's on trend, then consider an anklet. We have researched many, many styles and provided a selection of beautiful designs that we are sure you will love. Treat yourself or someone else to a brand new beautiful anklet!
Thank you for reading our article; please leave your comments and questions below. Join the conversation by signing Up!

Happy Shopping!

Francesca de Granville, G.G. (GIA) F.G.A.

When you purchase through our links, we may receive a small commission.

Prices are exactly the same for you if your purchase is made through an affiliate or a non-affiliate link.
You will not pay more by clicking through our links.
Read our full Affiliate Disclosure