Spring is in the air and it's time to get your wardrobe ready for the season! But why stop at clothes and accessories? This season, why not add some sparkle to your life with the top 5 spring-colored gemstones from Blue Nile?
The Blue Nile gemstone collection is overflowing with vibrant and unique gemstones that will make you stand out. From pretty pink morganite to bright green peridot, Blue Nile has a gemstone to match any outfit. And to make it even better, each gemstone has been carefully selected and cut to perfection, ensuring that you get the best quality gemstone every time.
The best part? You can find a gemstone to fit any budget, from affordable turquoise to luxurious tanzanite. With Blue Nile, you can find the perfect gemstone to match your style and budget.
So get ready to make this spring season sparkle with Blue Nile's top 5 spring-colored gemstones. Shop now and get ready to dazzle! With these vibrant gemstones, you'll be sure to turn heads wherever you go.
How We Choose
As the days get warmer and brighter, it's time to bring some spring colors into your life! But what gemstones should you choose for a truly spring inspired look?
When you think of Blue Nile, you probably think of their ginormous diamond selection, but did you know they sell amazing colored gemstones too?
Our team of jewelry experts has scoured Blue Nile's selection of spring-colored gemstones to find the top 5 that will give you the perfect pop of color. We want to make sure you find the perfect piece so that you can easily find and purchase the jewelry of your dreams.
Say goodbye to guesswork and hello to stunningly beautiful pieces with Blue Nile's top 5 spring-colored gemstones. Check out our reviews today and add some sparkle to your wardrobe!
Our Picks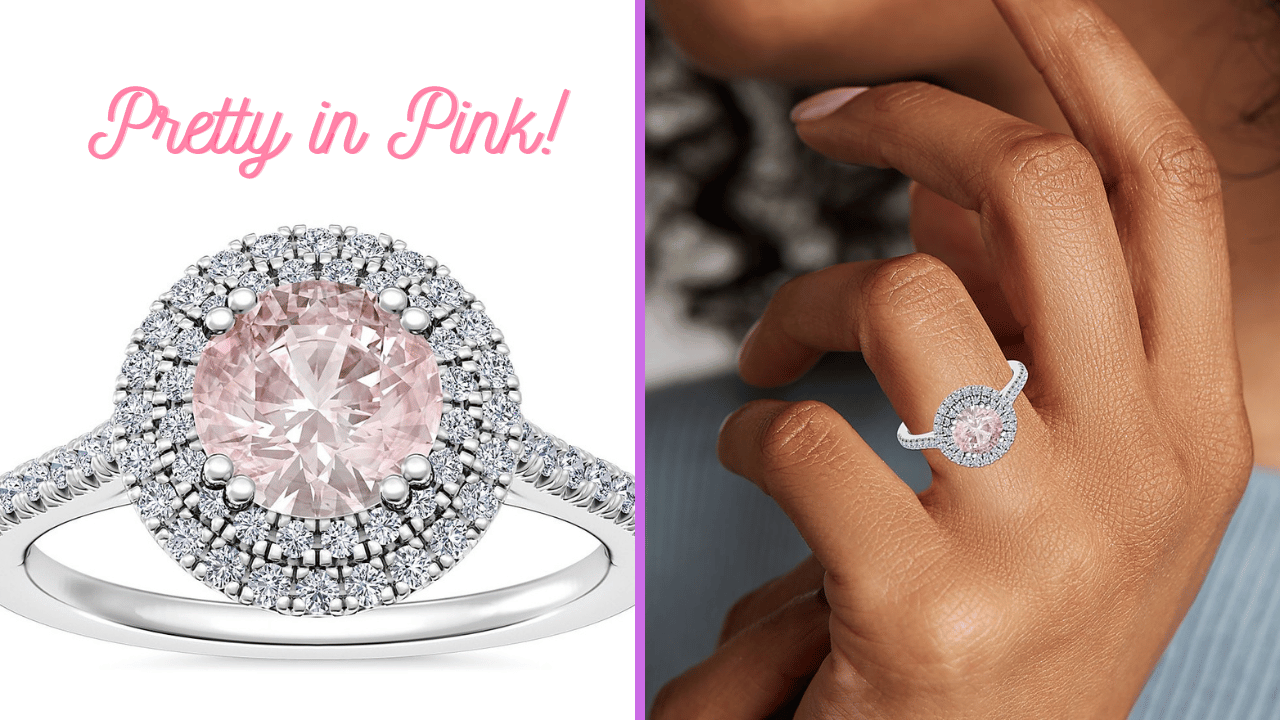 Micropavé Double Halo Diamond Ring with Round Morganite in 14k White Gold
CHECK PRICE ON BLUE NILE!
Why We Love It:
Love Anything Pink? This exquisite 14k White Gold Pink Morganite and Diamond Ring is a stunning must-have accessory for any pink gemstone lover! This gorgeous ring features a beautiful 6.5mm pink morganite center stone, along with 62 dazzling diamonds. Not only does this ring sparkle and shine, but it's also set in a prong setting and rhodium plated for a luxurious look. It is available in yellow and rose gold as well as platinum. Gemstone options: amethyst, blue sapphire, aquamarine, and emerald. There is also the option to select the size and shape of stone you would like.
What Else You Should Know:
This ring is perfect for any occasion, whether it be an engagement ring, a birthday gift, or just a special present for yourself. Plus, all the diamonds used in this ring are ethically sourced and certified to ensure the best quality. What's more, this ring comes with a free appraisal certificate and is backed by a lifetime warranty.
Tap HERE to see all your options and order your own Pink Morganite and Diamond Ring today!
Pros
So many options to select from - customization
Morganite is a hard stone 7.5-8 on the Mohs scale of mineral hardness - and good toughness (resistance to chipping and breaking) so it is safe for everyday wear
Micropavé design creates lots of bling!
Cons
color saturation varies, some customers may not be looking for such a pale pastel pink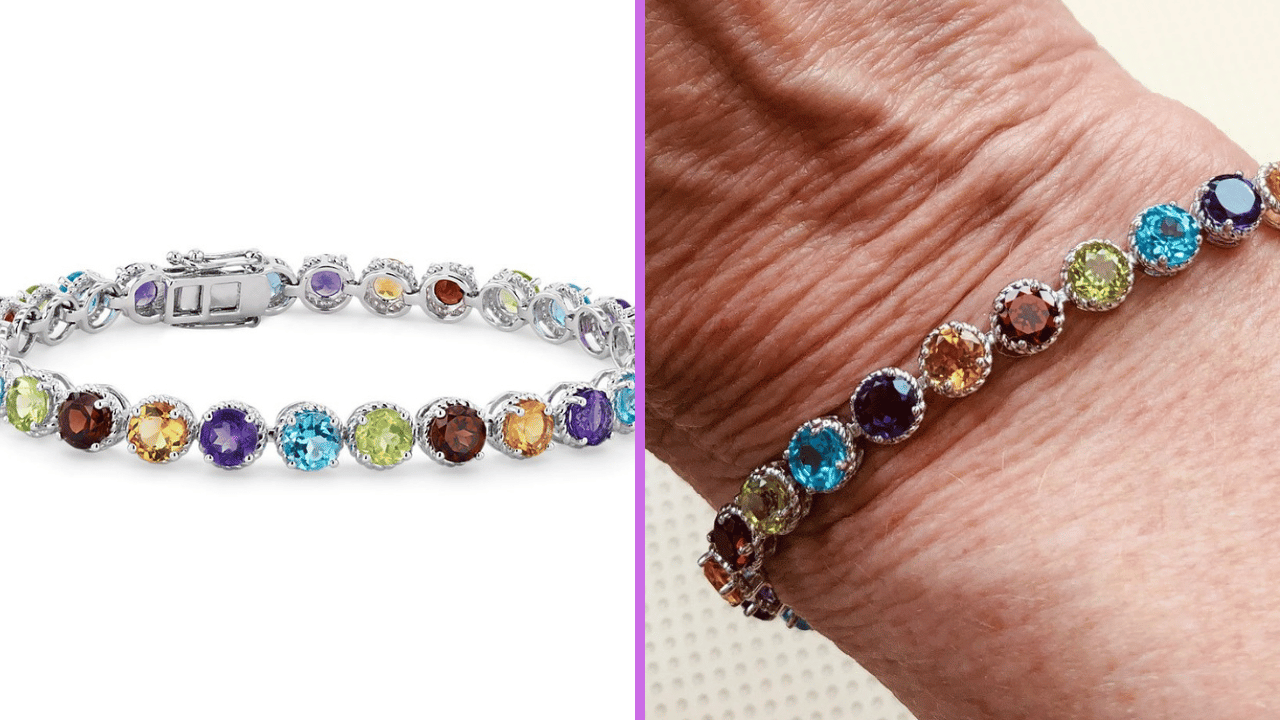 Multicolor Round Rope Bracelet in Sterling Silver
CHECK PRICE ON BLUE NILE!
Why We Love It:
The Multicolor Round Rope Bracelet in Sterling Silver (5mm) is perfect for those who can't decide on just one color! This beautiful and unique bracelet features an array of round blue topaz, amethyst, and garnet set in sterling silver, crafted into a flexible single-line design. It's perfect for any occasion and makes a great gift for those who love a little bit of sparkle in their wardrobe and lots of color. Plus, it's rhodium-plated for extra protection and durability.
What You Should Know:
The Multicolor Round Rope Bracelet in Sterling Silver (5mm) is crafted with high-quality materials and is sure to last for years to come. It's also 7.12 inches long and ¼ of an inch wide, making it the perfect size for any wrist. Plus, it secures with a box clasp for extra security.
Customer Quote:
"This bracelet is perfect in every way. I gave it to my wife for her birthday. She was asking for some color to be added to her jewelry collection. During the stay at home orders our local jeweler was closed. I'm so glad I found and decided to try Blue Nile. The bracelet is gorgeous in all lighting and is a perfect fit and weight. All who have seen it are amazed. Very nicely priced too. Thank you. Blue Nile. I'll remember you next time I'm shopping for my wife."
So why wait, you will be amazed at the price. Tap HERE and order your multicolor round rope bracelet in sterling silver today!
Pros
A delicious assortment of beautiful colored gemstones that will go with any outfit
Customers say the stones are actually larger than they appear in the images (That's a first!!)
Terrific value for money
Cons
Only available in sterling silver, not gold
Clasp a little tricky at first, but does have a safety clasp, if you have a problem with the clasp contact customer service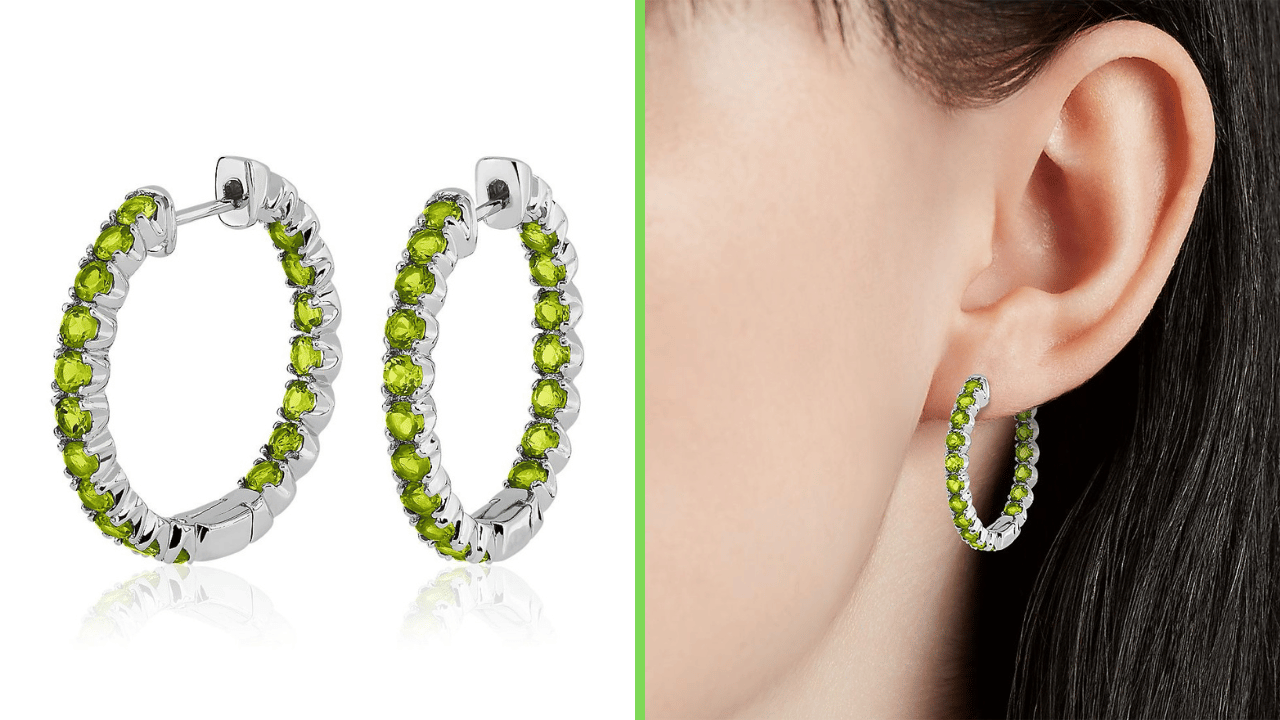 Peridot Hoop Earrings in Sterling Silver
CHECK PRICE ON BLUE NILE!
Why We Love It:
As soon as we saw these peridot hoop earrings, the vivid but soft green color reminded us of the early spring buds just before they burst open! These peridot hoop earrings are crafted from gleaming sterling silver, and exude bold elegance. The design is brilliant with the front-facing edges of the hoops set with gorgeous peridot, while the back inner hoop is also set with stones that are strikingly visible as the light catches them. We can imagine just how beautiful they will look worn with a forest green sweater or dress!!
What You Should Know:
These earrings are made with a hinged back so they are easy to put on and take off. Plus, they are plated in rhodium to make them long-lasting and even more beautiful. Whether you're heading to a special event or just out for a night on the town, these Peridot Hoop Earrings in Sterling Silver are sure to turn heads.
Tap HERE to see the options and to order your sterling silver peridot hoops today!
Pros
Beautiful brilliant green color
Clasp has a safety latch
Available in amethyst, sky blue topaz and mixed colors
Also crafted in yellow gold
Rhodium plated silver resists tarnish
Cons
Only one size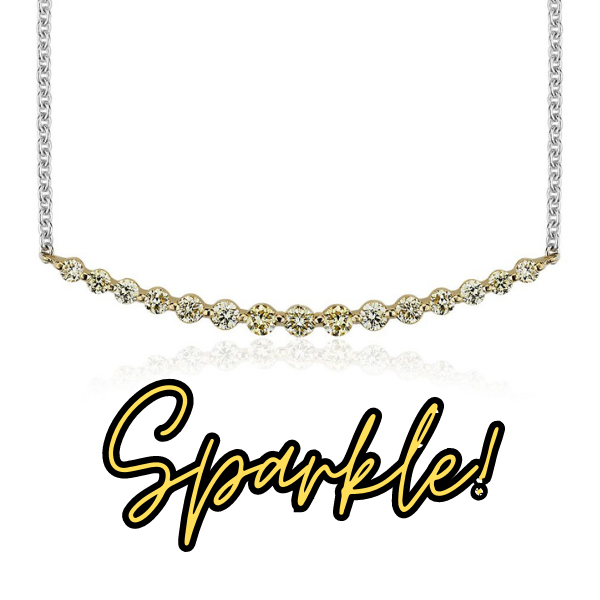 Yellow Diamond Smile Necklace in 18k Yellow and White Gold
CHECK PRICE ON BLUE NILE!

Why We Love It:
I know, I know, we titled this article "Colored Gemstones" but technically, diamonds are gemstones and yellow is a color, so... We couldn't resist this Yellow Diamond Smile Necklace in 18k Yellow and White Gold, not just because it is a beautiful and eye-catching piece of jewelry, but because yellow is the color of springtime sunshine and of the first daffodils.
This necklace features 15 yellow diamonds suspended from an 18-inch cable chain secured with a lobster claw clasp. The diamonds are prong set and come with a minimum carat total weight of 0.40. This necklace is sure to make a statement and will definitely turn heads. There are no gemstones that shine more brightly than diamonds!
What You Should Know:
This necklace is made with 18k yellow and white gold and is plated with rhodium for extra shine. It is sure to last for years to come and makes a great gift for any special occasion. The yellow diamonds are SI2 clarity. With its unique design and alluring color, this necklace is the perfect addition to any jewelry collection, springtime, or any time. And as an added bonus, it is currently 30% off the original price.
Tap HERE to order now!
Pros
Yellow gold prong setting highlights the yellow color of the diamonds
Wonderful piece that can be worn all the time
True Review by Jason O. on 2 Aug 2020 review states: "Very nice necklace — true to the images in the description."
Cons
limited availability, but similar options are available
💡
Note to customers: because these are natural diamonds, the colors will not all be exactly the same. When any colored gemstones are matched the goal is visually harmony, this means that none of the stones will be drastically different from the others.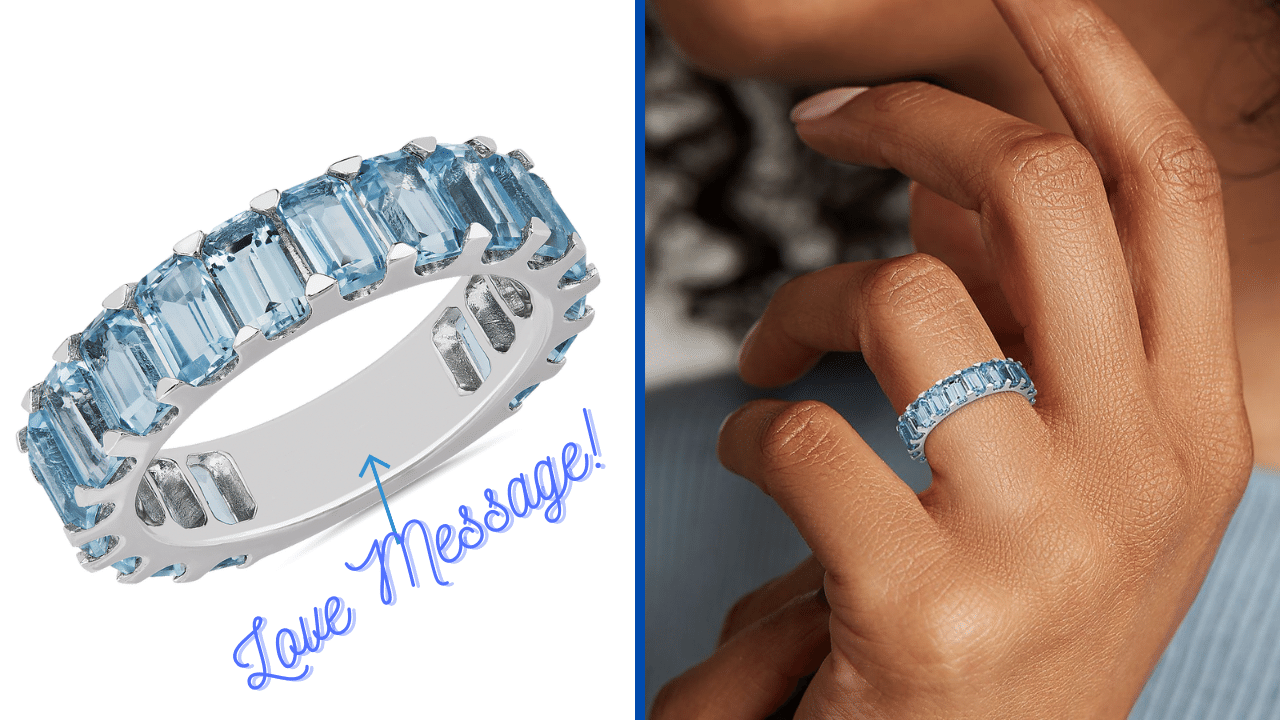 Octagon Sky Blue Topaz Eternity Band in Sterling Silver
CHECK PRICE ON BLUE NILE!
Why We Love It:
Springtime brings with it the most beautiful azure skies, warm sunshine, and puffy white clouds. This Octagon Sky Blue Topaz Eternity Band in Sterling Silver is the perfect embodiment of these idyllic days! The sterling silver eternity band sparkles with a circle of octagon-shaped sky-blue topaz for a elegant style that commands any ring stack and works equally well on its own. The rhodium plating adds extra shine and protection from wear and tear. Plus, this band is 2.5 mm in height and 5.5 mm in width, making it the perfect size for a comfortable fit.
What You Should Know:
This Octagon Sky Blue Topaz Eternity Band in Sterling Silver is a timeless piece of jewelry that will last for years to come. Not only is it a beautiful accessory to dress up any look, but it is also an incredibly meaningful gift for a special someone. Its simple yet elegant design and gorgeous blue hue makes it a conversation piece for sure.
So take a close look at the details and make sure to add this timeless piece of jewelry to your collection today! Tap HERE!
Pros
Also available in amethyst or multi-colored gemstones
16 Stones=Minimum a total weight of 6.29 carats
Sizes 5-8
Rhodium plated sterling silver resists tarnish
Cons
Even though this design includes "Eternity" in its name, which means it is a full circle of gemstones, this ring goes about 85% around, but if fit properly it is unlikely to turn so stones will always be on display
Finger size range could be wider (below size 5 and above size 8)
Rhodium plating will eventually wear off, ring must be returned to Blue Nile for re-plating
Buyer's Guide
Blue Nile is one of the most reliable jewelry companies in the world and not only familiar to their 1.7 million customers, but also millions more shoppers around the world. They were one of the first .com companies to sell loose diamonds and fine jewelry online beginning in 1999. Their website is user friendly and features all the information regarding the products you will need to make sound purchasing decisions.
When buying jewelry online it's important to read all descriptions and especially measurements. Most disappointed customers expect pieces to look exactly the same (in terms of size) as product images on jewelry web sites, when in fact almost all are enlarged in order for customers to see details of the items. Not all retailers share this information plainly for people to see.
In addition, take note of the return/exchange policy, to ensure you will be able to return an item if it is not right.
Clean colored gemstones with warm water, mild liquid soap and a soft toothbrush to reach under the setting, rinse and dry well. Always store jewelry in the packaging provided or in a soft pouch and away from other jewelry to avoid scratches to the metal or gemstones.
FAQs
Do you offer a warranty on your jewelry?
Yes, Blue Nile offers a lifetime warranty that covers manufacturer's defects. The warranty does not include normal wear and tear or damages incurred due to rough handling, negligence, lack of regular maintenance, loss, or theft. Contact your insurance provider for jewelry coverage or speak with a member of the Blue Nile customer service team.
What is the best color of blue topaz?
The best color of blue topaz depends on personal preference. Generally, the most popular color is bright, Swiss blue, or dark London blue. However, some people prefer a paler blue that mimics aquamarine or sky blue.
Do the silver peridot earring have silver posts, I have sensitive skin.
Yes, silver earrings have sterling silver posts, however, 925 silver is hypoallergenic and does not contain nickel, lead or cadmium.
Can I wear the morganite ring on any finger?
Yes, it is purely your choice. It can be worn as an engagement ring or as a righthand ring. You are permitted one free sizing within the first year of ownership should you decide to wear the ring on a different finger.
In Conclusion
Whether you're looking for something to celebrate the start of the season or a special gift for someone you love, Blue Nile's top 5 spring-colored gemstones are sure to be a perfect choice. From blue topaz to delicate morganite, these gems are sure to add a touch of color and sparkle to any look. With their unique hues and unparalleled quality, these stones will make a lasting impression and put a spring in your step.
So go ahead and choose the perfect gemstone for you or someone you love and get ready to welcome the season in style!
Thank you for reading our article; please leave your comments and questions below.
Happy Shopping!
Francesca de Granville, G.G. (GIA) F.G.A.
---