Are you considering piercing your nose to wear a nose ring or stud? If you are, there are many more options than you might think! Whether you select a barely visible, subtle piece, or go for something that is highly visible, nose jewelry will communicate that you are edgy, cool or even mysterious!
Nose piercing has been popular for thousands of years, for example, in East Indian culture. Today, however, they are gaining more and more popularity in North America and the trend is steadily growing! We will focus on styles for nostril piercings, but keep in mind some of these pieces can be worn in other locations as well.
Have you always wanted a nose ring or stud, but are unsure what is right for you? Keep reading to learn all you need to know to select the nose ring(s)or stud that is right for you. Want to change your look daily? We will show you multi-pack sets that feature a variety of looks to suit your every mood.
Once you feel prepared we will recommend the most popular styles with attractive price points that won't break the bank!
There are so many options, depending on the style you are looking for, something simple, or more ornate, for piercings anywhere on your nose, ears, or worn in other locations on your body.
How We Choose:
There are so many options when it comes to nose jewelry, so to save you time, we have read thousands of reviews on nose jewelry. As nose piercing is the second most popular body piercing today (only second to traditional ear piercings) there are lots of options to consider! As with all forms of personal adornment, nose jewelry communicates whatever you want it to about your personality, from demure to edgy and subtle to bold. We have recommended styles that will help you do just that!
What You Should Consider:
The metal: An important aspect to consider is whether the metal the jewelry is made from is hypoallergenic, especially if your piercing is new. This means that with the proper care the risk of irritation or infection is very ow.
The Closure: How easy is the closure to open and close? Once closed does it feel secure? Is the closure sturdy and will it withstand frequent opening and closing? Can you wear it for as long as you like without discomfort? Is the nose ring comfortable?
What size and look are you going for?
Consider the size of your face, nose, and proportions
Which part(s) of your nose is or will be pierced?
How obvious or subtle do you want your look to be?
How much "bling" are you looking for? Most styles offer a variety of sizes with measurements clearly shown in the ads. Be aware that all images are enlarged to show detail.
The Cost: As with any jewelry purchase, how much you want to spend is important. There is a wide range of price points, from below ten dollars to as much as your want to spend depending on the type and size of the gemstone(s) you select.
Our Recommendations:
BLESS MY LOVE CLEAR CZ NOSE RING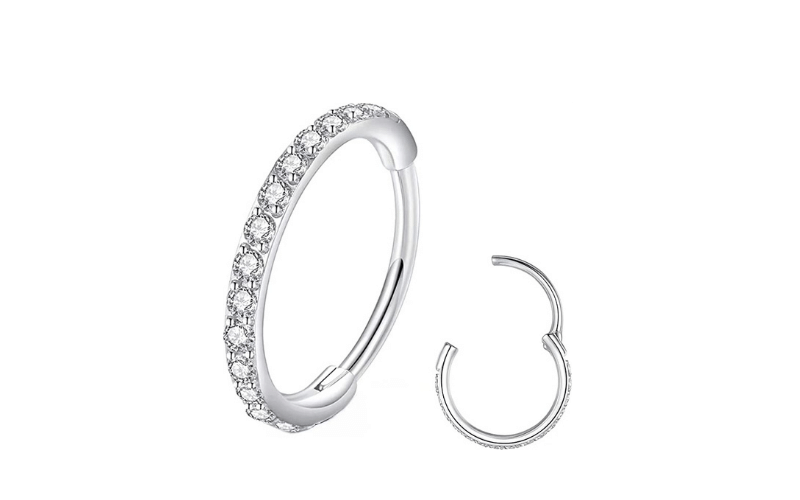 Why We Love It:
These beautiful hoops are made with 316L surgical steel. And because they are lead and nickel-free, skin irritation and infection are drastically reduced. The clasp is quite secure and users stated that pushing firmly down on the closure until you hear the click signals that they are closed, with no risk of opening up on their own.
The cubic zirconia accents are subtle, but with just the right amount of sparkle!
Regardless of your color preferences for jewelry, you can select from black, silver, gold, or rose gold tones, or buy them all!
What You Should Know:
This hoop comes in a variety of sizes and although we are reviewing it as a nostril hoop, there are a variety of sizes that can be worn anywhere in the ear as well!
ONE SING 36 PIECE 20G NOSE RINGS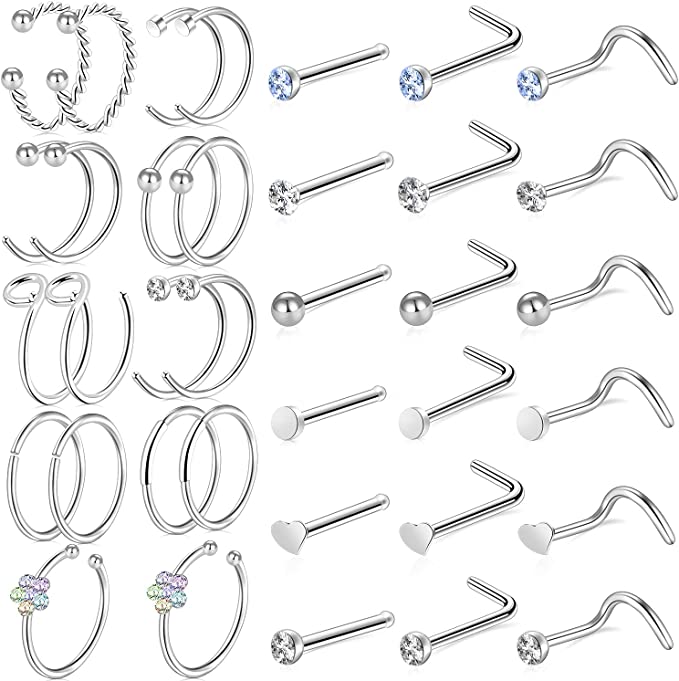 Why We Love It:
Hoops or studs, take your pick! These styles are dainty but still edgy. We love that they come in their own box that you can slip into your purse or pocket. With so many different styles to choose from, you can switch out whenever the mood strikes.
What You Should Know:
Made from 316L hypoallergenic stainless steel, you never need to worry about skin irritation. Kits are sold separately in black, gold or silver tones, with 36 pieces in each box. Each one is 20G gauge.

OUFER Nose Rings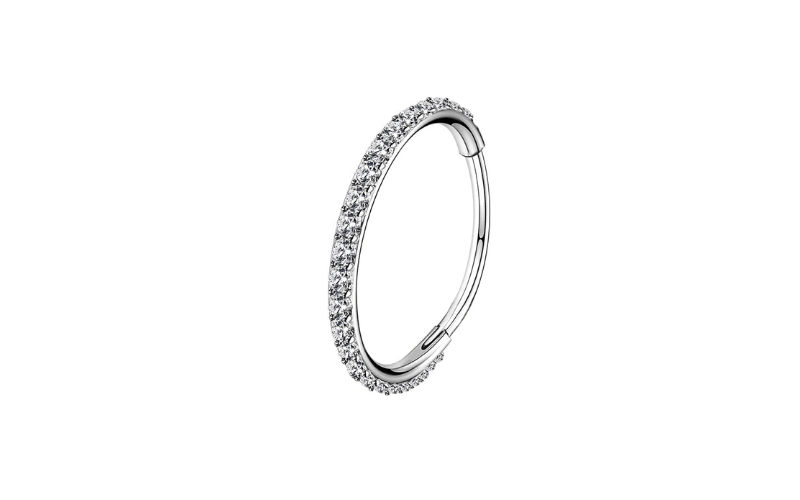 Why We Love It:
The best feature of these hoops is the sparkle that everyone loves. This thin hoop feels and looks beautiful, perfect for any occasion. It is thin and elegant. I love the look of the setting, barely any metal is visible.
What You Should Know:
Made of 316L Stainless steel which is hypoallergenic, Clip closure for easy insertion and removal. It is offered with various colored CZs, pink or light blue and the micro-pavé setting is smooth to the touch and will not catch on clothing.
Nose Rings Hoop, 316L Surgical Steel 20G 18G 16G 14G Hypoallergenic Nose Rings Septum Cartilage Hoop.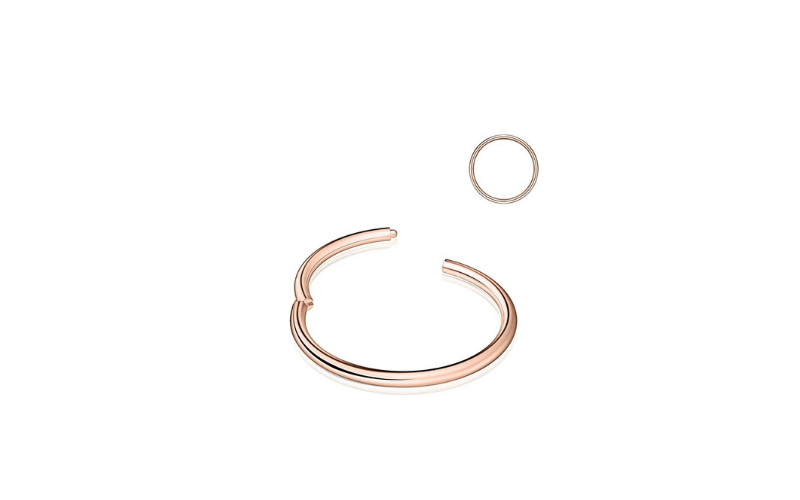 Why We Love It:
The beauty of this nose hoop is in its simplicity. The complete round contours make it super comfortable to wear, even for extended periods of time. Very inconspicuous in design makes it very appealing, especially for those with new piercings, or those with double piercings. Want your hoop to be front and center? This style works perfectly as a septum (lower area between the two nostrils) hoop too and can be worn in any ear piercing as well.
What You Should Know:
We also like the fact that these hoops, no matter which color you select, are virtually worry-free. That is because they are manufactured from 316L Stainless Steel, a metal that is nickel-free, lead-free, and cadmium-free. Great for anyone with sensitive skin.
FreshTrends 14K White Gold Diamond Nose Ring with Flush Bezel Setting - 18 Gauge, I1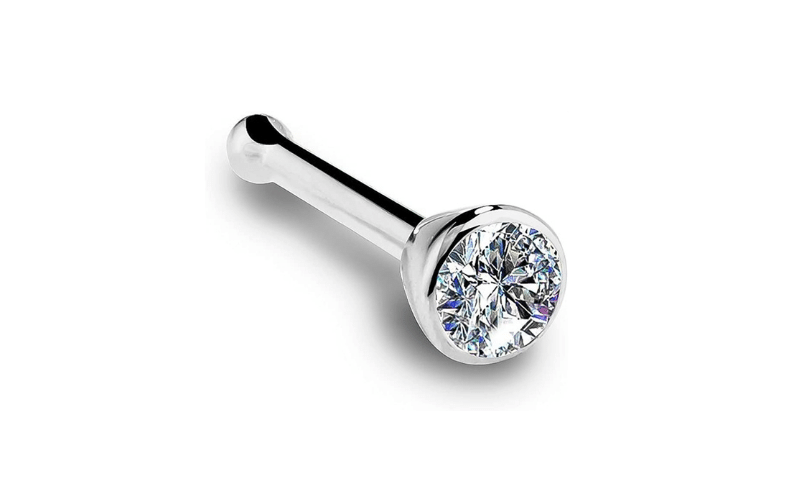 Why We Love It:
Single diamond studs are so elegant, especially when set in a super delicate 14-karat white gold bezel! So easy to wear, slide it through easily and forget about it. You can wear this fine jewelry piece forever.
What You Should Know:
This is a very delicate piece and unlike fashion pieces, this stud is made from 14K white gold. The natural diamond is 0.06 points (2.5 mm), the post length is 6.4 mm, with an 18G gauge (1 mm) barbell, but available in various gauges. The image is enlarged to show the fine polish and finish. You will be amazed at the price, so click below!
FreshTrends Genuine Diamond Nose Stud 14K Yellow Gold Nose Ring Twist Screw 20 Gauge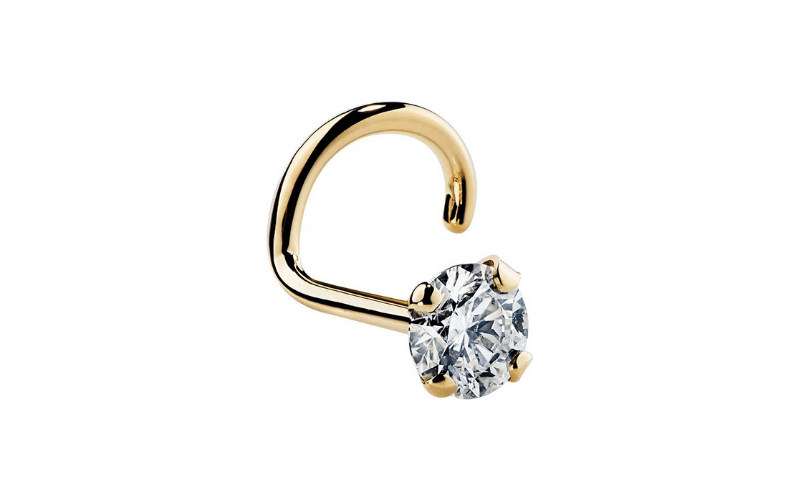 Why We Love It:
Who doesn't love diamonds? Well, start at the top with this natural diamond (not CZ) for your nose. This twisted nose ring stud sparkles in 14K yellow gold. The prong-set diamond delivers the sparkle and brilliance you would expect from a natural diamond while maintaining subtle elegance. Choose from four different diamond sizes. We love how this style sits flat against the nose so it does not get caught on clothing
What You Should Know:
Standard gauge size 20G, as seen above, subtle differences in diamond size are shown. 14-karat yellow gold (not gold tone) is nickel-free and suitable for those with sensitive skin. The twist post is so easy to insert, is snug, and just as easily removed. Diamonds in this style are all conflict-free with settings made in the U.S.A.
FINEROCK - 0.13 Carat 7-Stone Diamond Nose Pin in 14K Gold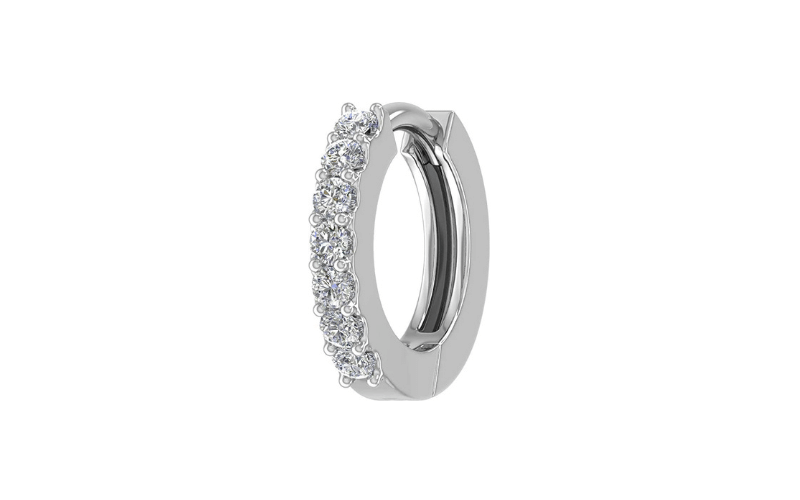 Why We Love It:
This is an absolutely gorgeous piece, set with seven natural diamonds in 14 Karat white gold. For those looking for a delicate nose ring with plenty of sparkle, this is it. A snug fit against the nose is comfortable, elegant, and perfect if you are looking for the brilliance of diamonds!
What you Should Know:
Available in 14 Karat white, rose or yellow gold, all are nickel-free. The diamonds are all certified by the IGI (International Gemological Institute) conflict-free. A variety of total diamond weights, as well as diamond clarities (internal characteristics), are available.
Nose Rings/Nose Studs FAQs:
It can be hard to know what type of nose ring or nose stud is right for you. With all the different styles, metals, gemstones, and price points out there, it can be hard to make a decision you will be confident about.
In addition to our product descriptions and the details we have provided, we have also included questions that others like yourself have asked. So keep reading in case you have some outstanding questions in your mind.
Which style is best for a new piercing? 316L is a hypoallergenic metal, so perfect for new piercings. Purchasing a style that is easy to insert and remove is also important (studs and unadorned pieces are best.) It can be challenging in the beginning; if you have a problem have someone help you, to avoid too much pulling on the piercing. ALWAYS wash your hands before touching your new piercing.                                                              
How do I know which size will fit my piercing?  The average gauge is 20G. Be sure to ask the person who pierced your nose, or if you do not have access to the information, go to a piercing establishment and they can help you.
Which metals are best for sensitive skin? Hypoallergenic nose jewelry is made of 316L surgical steel, lead-free, nickel-free, and cadmium free. Also, karat gold is also unlikely to cause irritation in most people.
Can you feel the clasp when the ring rotates in your nose? If the clasp is well integrated, not too big, and has smooth surfaces, you should not be able to feel it in your nose in any significant degree.
Can I wear gold nose rings in the shower? Yes, no need to remove gold nose jewelry before showering. Keeping your piercings and jewelry clean is important to avoid irritation or infection, especially in fresh piercings.
Our Best Advice:
Nose jewelry is a fun way to put your personality on display. Whether you want a discreet, tiny diamond, or an obvious amount of bling is up to you.
There is a multitude of price points and styles available and opportunities to change your look as often as you like to best express your mood.
We have reviewed many products and read thousands of customer reviews to ensure we are providing great options we are sure you will love, while saving you time.
Related Articles You May Also Enjoy
Is It A Real Diamond, Or Something Else
Thank you for reading our article; please leave your comments and questions below. Join the conversation by signing Up!
Happy Shopping!
Francesca de Granville, G.G. (GIA) F.G.A.
When you purchase through our links, we may receive a small commission.
Prices are exactly the same for you if your purchase is made through an affiliate or a non-affiliate link.
You will not pay more by clicking through our pages.
Read our full Affiliate Disclosure