Rose cut diamonds are a beautiful and unique alternative to the more traditional style of diamonds we see everyday. If you're looking for something a little different for your next piece of jewelry, rose cut diamonds are definitely worth considering! If you have never heard or seen one, here's what you need to know.
As they say, a picture is worth a thousand words:

A rose cut comprises a dome shaped top and comes to a pointed apex, most often with a flat base.
History Of Rose Cuts
It is one of the first cutting attempts to polish and fashion rough diamonds before modern cutting techniques were invented.
Rose cut diamonds have been around for centuries, to be specific, since the 1500s. One of the first examples of jewelry featuring rose cut diamonds was from famed Italian metalsmith, Benvenuto Cellini.
As cutting methods became more understood based on diamonds' superior ability to reflect and refract light based on the how they were cut, cutting styles and diamond proportions evolved as well. Sadly rose cuts gradually faded away, however, this took hundreds of years.
But lately, they've been making a huge comeback in the jewelry world! You are most likely to see them in vintage jewelry stores and auctions, most Georgian and Victorian era jewelry feature rose cuts. But there are also contemporary jewelry designers that love and use them for their uniqueness, softness, clarity and beauty.
How Are They Different?
This elegant, old-fashioned shape features multiple facets on the face (top) of the stone that are often arranged in a circular pattern to remind us of rose petals.
A flat base characterizes the rose cut and a pointed dome-shaped crown comprised of triangular facets. The number of facets can range from 3-24.
These diamonds were cut prior to modern cutting techniques and cutters lacked the ability to achieve precise measurements.
Because they were cut by hand you will see under close examination, imperfections, facet shape variations and misalignment.
Beautiful rose cut gems get their name from the distinctive, domed shape with triangular facets that resembles a rosebud in bloom.
The base of most rose-cut are relatively flat so all the weight of the diamond is at the top, which makes the diamond appear larger than today's round brilliant cut. There are double rose-cuts, but these are more rare than the flat bottom roses.

Rose cuts are becoming popular once again for their vintage feel, beautiful transparency and added warm surface reflections.
Unlike traditional round brilliant cut diamonds, rose cuts don't have a lot of depth, so tend to reflect white light from the surface of the facets which produces soft white light, more of a glow, and little fire (spectral colors.)
Most rose cuts are circular in outline, but occasionally may be pear-shaped, cushion or oval. We also think of them in the context of accent stones, small and discreet, but historically there have been large stones set in jewelry for royalty and leaders in the religious hierarchy.
Today we see primarily pieces with small stones as larger rose cuts were eventually recut to more modern standards to enhance their value.
Compared to the traditional round diamond or other shapes, which require precision cutting, rose cut diamonds come in more organic forms that show off their natural beauty.
With its unique faceting, each diamond radiates a subtle, soft, glow with unsurpassed elegance.
Why Are Rose Cuts Finding New Appeal?
Diamond seekers are drawn to the romantic beauty of rose cut diamonds. Their abstract, flat-bottomed silhouette has a unique charm that can't be found with other diamond cuts.
The unique look is becoming immensely popular among jewelry fanatics. Not only do rose cut diamonds offer a signature style but they also have practical benefits over other diamond cuts.
Rose cut diamonds sparkle even in low light and tend to appear larger than they actually are due to their broad-faceted surface. There is no doubt that these romantic stones have an enduring appeal and will continue to captivate lovers of jewelry for years to come.
Rose cut diamonds are becoming increasingly popular in both fashion and fine jewelry, especially as engagement rings for those who want a distinctive design.
Their versatility makes them ideal for any look -- whether you're looking for something more classic and timeless or a show stopping piece of jewelry.
If you prefer soft, ultra feminine pieces go for a pair of rose-cut earrings to add to your jewelry wardrobe.
Jewelry set with rose cut diamonds have low profiles, especially when bezel-set. (See the 3-tone Kwiat ring below.)
Rose cut diamonds are very special! They have an absolutely distinctive look that emphasize the romanticism of the past.  
They are also more affordable than other fancy cuts which makes them an attractive option for jewelry enthusiasts who want something special but don't want to break the bank. There really is no wrong way to enjoy beautiful rose cut diamonds!
All in all, rose cut diamonds make for quite the eye-catching accessory if you're looking for something very special. They are real conversation starters.
Where Can You Find Jewelry Featuring Rose Cut Diamonds?
Although it may be a little difficult to find rose cut diamonds (it is said that only 1 in 1,000 diamonds for sale is a rose cut) they are out there, if you do your research. But we are here to get you started.
A great website I ran across that has a selection of rose cut diamond jewelry is: Gembreakfast.com.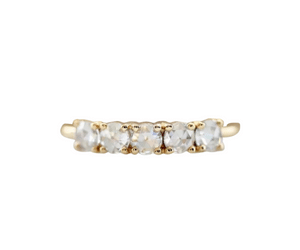 Not only do they feature rose-cuts, they also have diamonds with very interesting and unique characteristics, such as salt and pepper diamonds, fancy color diamonds, such as amaretto Champagne (this one is an emerald cut) all set in hand crafted beautiful designs.
They also offer very interesting shapes in beautiful, unique settings There is lots to check out on this fun site!
Graduating to examples of much larger stones we talked about earlier, below is a ring featuring a total of nine carats rose cut diamonds (4 carat center.) This antique cluster (modern name "halo setting") ring is a rare example of larger rose cut stones.  To see this beauty, head over to fredleighton.com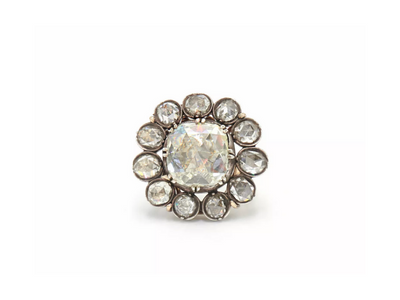 4.39 Carat Rose Cut Center Antique Halo Ring-Fred Leighton
Another example of perfection: vintage inspired rose-cut trio with blue sapphires: Kwiat.com. Kwiat has an amazing collection of vintage inspired designs, using today's advanced cutting technology and master craftsmanship. This is an outstanding collection from one of New York's most famous diamond houses.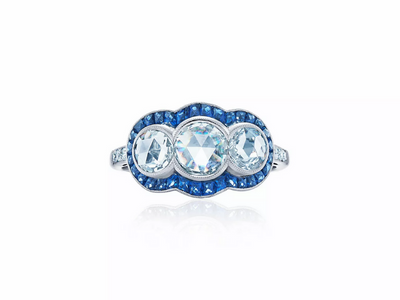 Ken & Dana Design also offer a terrific selection of vintage inspired rings featuring rose cuts at great prices.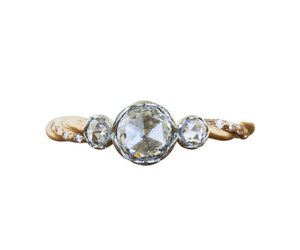 Après Jewelry-Triple Rose Cut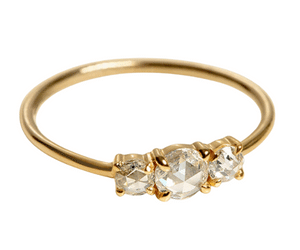 Après Jewelry does not have a huge selection of rose cuts, but they do specialize in dainty, delicate band rings for anyone who prefers refined design, subtle looks or stacking band rings that are not too bulky.  If so this is your brand.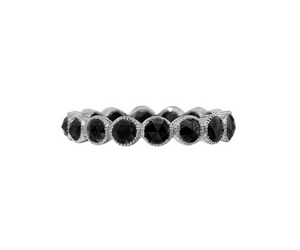 Sethi Couture offers this unique black diamond rose cut band ring. This full circle ring can be ordered to size and is available in 18K white or yellow gold. Fantastic in a stack or on its own as a wedding ring.
Do Rose Cuts Come With GIA Reports?
Rarely, but when the GIA does provide a report there is no cut grade, only color and clarity for rose cut diamonds. This is due to the fact that there is no set cutting standard for this cut.
You should ask for and receive a detailed replacement cost appraisal from your jeweler, that includes a detailed description of the entire piece, and a picture, to submit to your insurance company.
Related Topics:
Diamond Notes: The 4Cs Of Diamonds - Color
Diamond Notes: The 4Cs Of Diamonds - Clarity
Diamond Notes: The 4Cs Of Diamonds-Carat Weight
Lab-Created Diamonds: A Sustainable And Ethical Direction
Why You Should Consider Buying Lab-Created Diamond Stud Earrings
Buying Guide: Engagement Rings
The Magic Of Fancy Color Diamonds
What Are G.I.A. Certified Diamonds?
Is it a Real Diamond or Something Else?
Thank you for reading our article; please leave your comments and questions below.
Happy Shopping!
Francesca de Granville, G.G. (GIA) F.G.A.
Affiliate Disclosure: