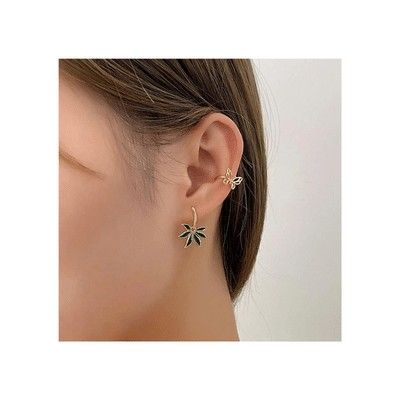 Unique Look
Are you looking for a unique and eye-catching piece of jewelry? If so, butterfly ear cuffs are the perfect accessory for your wardrobe! If you have never considered an ear cuff before, we will give you a quick overview of what exactly they are, how they are worn, where to find the best selection and last but not least, how to care for them.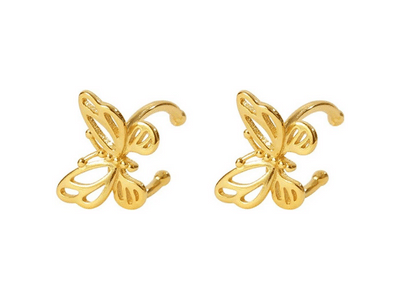 Ear Cuff Wrap Butterfly Earrings for Women and Teen Girls
925 Sterling Silver, covered in 18K gold
Clip-on for non-pierced ears
Nickel-free, Lead-free
Hypoallergenic
Lightweight
Terrific for teens
CHECK PRICE
Maybe you are unsure exactly how they are worn, or if you require pierced ears or not. We will address all our questions.
These pieces of jewelry are both stylish and elegant, making them ideal for any occasion.
Let's take a closer look at why butterfly ear cuffs are such a great choice and hopefully you will find something that is just right for you.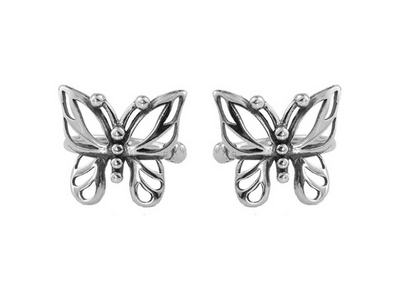 Ear Cuff Wrap Clip-On Butterfly Earrings
Clip-on for non-pierced ears
925 Sterling Silver covered in white gold Ear Cuff Wrap Clip-On Butterfly Ear Cuffs
Nickel-free, Lead -free
Hypoallergenic
Lightweight
Terrific for teens
CHECK PRICE
What is an Ear Cuff?
An ear cuff is a type of jewelry that wraps around the upper cartilage area of your ear. Unlike traditional earrings that require pierced ears to hold them in place, ear cuffs don't need to be inserted into the hole in your earlobe. Instead, they're held securely in place by the pressure from the metal band wrapped around your cartilage. Some larger styles, however, comprise both a cuff and a post to secure them to the ear.
Depending on the style and size, you can decide how far up or down your ear cuff fits best on you. There may be a little flexibility in the metal to slightly adjust them if you need to.
Butterfly Ear Cuffs
Butterfly ear cuffs offer a unique look thanks to their intricate details and beautiful designs. They can come in different sizes and shapes, as well as with different types of gems or jewels embedded into them. This makes it easy to find one that fits your style and personality perfectly.
Additionally, butterfly ear cuffs are incredibly lightweight so you won't even feel like you're wearing them! They also make great gifts for friends or family members who love jewelry with an interesting twist. Plus, due to their lightness and size, they can be worn comfortably all day long without causing any irritation or discomfort.
Dainty Butterfly Ear Cuffs Stud Earrings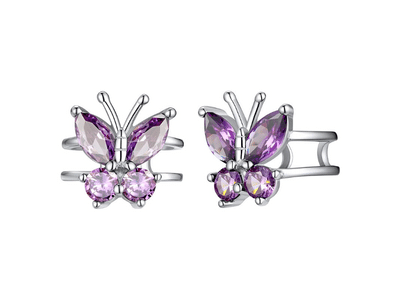 Butterfly Ear Cuffs
Sterling Silver double clip ear cuff
Wings adorned with purple CZs
Hypoallergenic
Nickel-free, lead-free
Available in ten additional colors
CHECK PRICE
How to Wear Butterfly Ear Cuffs
Since most butterfly ear cuffs don't require piercings, they can be worn on both ears without any additional piercings required! There is no message sent based on which ear you wear your butterfly cuff.
Additional Looks
They look great when paired with other unique accessories such as hoops or studs for a more eclectic look or kept simple when paired with classic studs for a more minimalist vibe.
Alternatively, if you want something really special try pairing it with an updo hairstyle! You want to ensure your cuff is visible, to highlight the beauty of the design and make heads turn everywhere you go!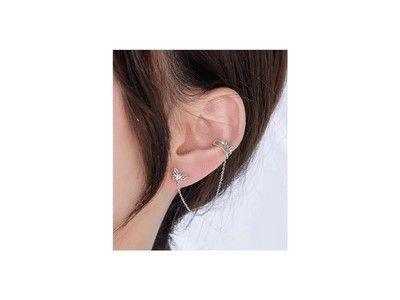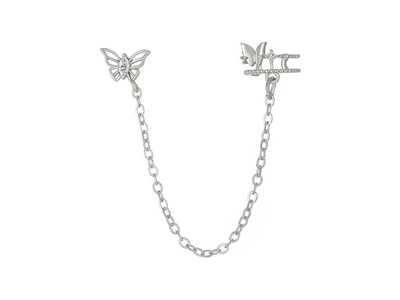 Fashion Butterfly Ear Cuff And Chain
Double butterfly ear cuff
Available in silver or gold tones
Bottom stud piercing required
CHECK PRICE
Why Butterflies?
Butterflies have always been associated with beauty and grace so it's no surprise that butterfly ear cuffs have become popular pieces of jewelry. Not only do they provide an interesting twist on traditional earrings but they also allow you to express yourself through the many designs and styles available.
A powerful symbol of transformation, hope, and new beginnings, it's no wonder butterflies have captivated humans for centuries. And now, with these beautiful butterfly ear studs, you can enjoy their beauty every day – no ear piercing necessary!
So light and fashion-forward, they're perfect for any outfit, whether you're dressing up or down. They make the perfect gift for a friend or loved one (or treat yourself!). And because butterflies represent freedom, they're also a reminder to seize the day and live your life to the fullest. Order your pair today!
Care
Care for your ear cuffs is easy. Simply clean them with a quality jewelry cleaner or use warm water, mild liquid soap and cloth. Always store your jewelry in the packaging provided or any soft pouch to avoid scratches. We recommend the jewelry cleaner below.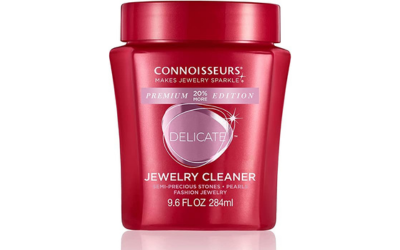 FAQs
Where can I find butterfly cuffs?
The widest selection of butterfly ear cuffs can be found at Amazon.com, Etsy.com and Butterflycuffs.com
Can you wear ear cuffs on both ears?
Yes, there are no rules. You can wear the same cuffs on both ears or different cuffs. Play with different looks to see what expresses your personality best.
How secure are ear cuffs?
To ensure your cuff is on securely slide it along your ear until it feels snug. Some metals, like sterling silver have some flexibility and can be GENTLY pinched between your fingers to tighten.
Can I sleep in my ear cuff?
Maybe, depending on the style, e.g. small cuffs, but in reality it's always best to remove all your jewelry before bed.
Thank you for taking the time to read our article; we would love to hear from you, so please signup and leave your comments and questions below.
Happy Shopping!
Francesca de Granville, G.G. (GIA) F.G.A.
---
Related Articles you may also enjoy: