Background
Swarovski's Florere Collection is a breathtaking jewelry line that transforms an ordinary outfit into pink crystals arranged into a floral-inspired alluring design.
This collection features the Florere cocktail ring, which boasts an impressive Swarovski design with detailed faceted pink crystals. The cocktail ring comes in a size 5-9 with gold-tone plating perfect for those who enjoy vibrant and bold statement pieces.
The purpose of this product review is to provide readers with a comprehensive assessment of the Florere Collection and its features. Our goal is to help readers determine whether the Florere Collection is worth the investment and to showcase the collection's undeniable beauty and craftsmanship.
Readers can look forward to a detailed analysis of the Florere Collection's design and construction, durability, maintenance, and more. We've also included helpful tips on how to care for Swarovski jewelry and maintain its brilliance over time. By the end of this product review, readers will have an in-depth understanding of the Florere Collection and its unique features, allowing them to make an informed purchasing decision.
💡
When you purchase through our links, we may receive a small commission. Prices are exactly the same for you if your purchase is made through an affiliate or a non-affiliate link. You will not pay more by clicking through our links.
Product Specs
Swarovski's Florere Collection is a testament to the brand's exceptional artistry and craftsmanship. The collection features an impressive cocktail ring that exudes elegance and sophistication, with a gorgeous flower motif crafted from premium-quality Swarovski crystals, pendants, and earrings in pastel colors.
Ring:
The cocktail ring comes in sizes 5-9, perfect for individuals who appreciate statement pieces that possess bold and eye-catching jewelry.
The central stone of the ring features Swarovski's renowned pink hue, surrounded by multiple faceted petals of light pink for maximum brilliance.
The band of the ring is designed to provide extra comfort and style to the wearer, with a double-shanked gold-tone finished setting that fits snugly around the finger.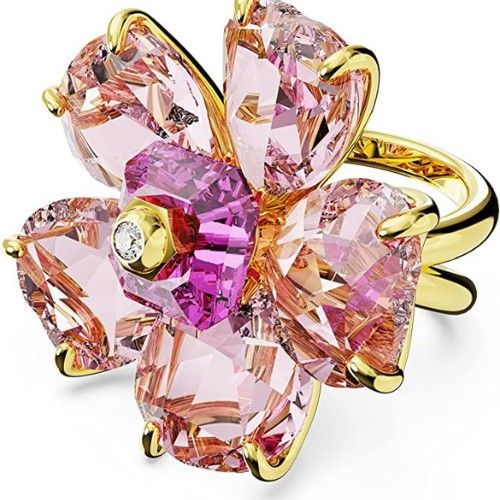 Pierced Earrings:
Timeless and elegant: These pierced earrings showcase dazzling yellow or pink Swarovski crystals in a floral design, the setting is an elegant gold-tone plating, for a sparkling and stylish look.
Measurements: Length 1 1/8 in, Width 1 1/8 inches
Decorate yourself: Blooming with fine crystals, these studs feature a delicate flower pattern made up of five pink or yellow crystal petals around a darker center stone, inspired by the beauty of nature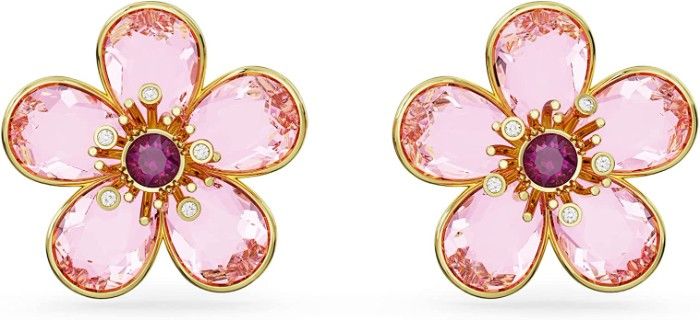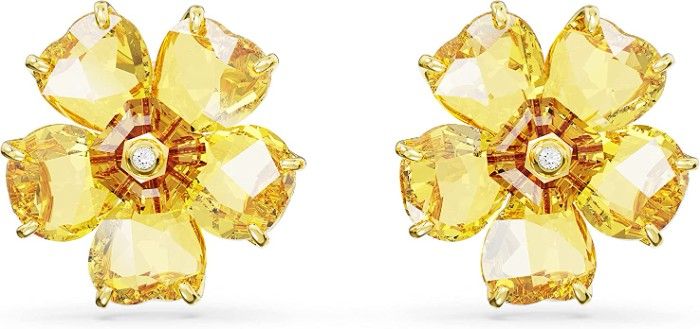 Pendants:
Measurements: Minimum length: 14 7/8 in, Maximum length: 16 7/8 in, Width: 7/8 inches
Swarovski Florere Pendant Necklace with pink flower motif on a gold-tone finished chain comes beautifully packaged in an elegant Swarovski necklace box
A world of wonder awaits: Enhance your style and bring the luminous beauty of nature to any look with this bright necklace, featuring a floral crystal design that catches light from every angle
Versatile and eye-catching: A flower in bloom motif with a combination of gold-tone finished metal, faceted pink crystal petals, and a dainty center stone in a deeper hue, is an elegant daytime or evening look
Refined artistry: Showcasing meticulous craftsmanship, this stylish necklace shimmers with delicate yellow or pink crystals that evoke the joy of spring, pieces that are sure to catch hearts and turn heads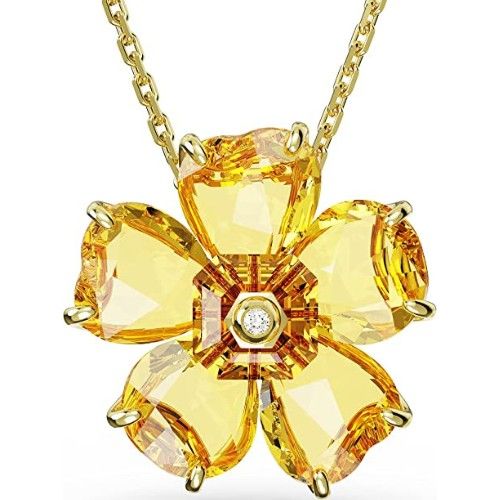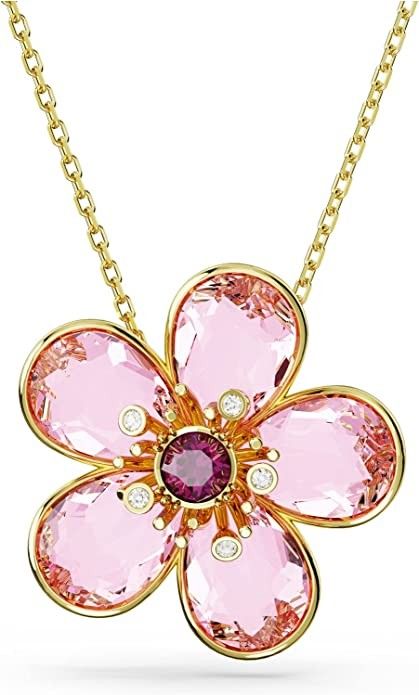 Pros:
Gorgeous Design: The Florere Collection features an eye-catching flower motif that exudes beauty and elegance. The petal arrangement on each piece of jewelry is highly detailed.
High-Quality Materials: The materials used in each piece of the Florere Collection are of premium quality. The brass setting and cubic zirconia crystals used in the collection undergo a rigorous quality control process to ensure maximum brilliance, clarity, cut, and color consistency. The pink or yellow hues of the central stones and lighter crystals are vibrant and create an excellent contrast against the gold-tone finished settings.
Versatility: The Florere Collection is incredibly versatile and comes in sizes 5-9, making it perfect for individuals who enjoy statement pieces with bold designs. Additionally, the pendant necklace can be adjusted to fit any neckline comfortably, making it an elegant and versatile piece to have in your collection.
Durability: The Florere Collection is highly durable, thanks to the materials and craftsmanship used in its construction. The brass setting is robust, ensuring that each piece can withstand daily wear and maintain its luster and shape over time.
Great Gifts: The Swarovski Florere Collection makes excellent gifts for anyone special in your life. Whether it's a birthday, anniversary, or any other special occasion, this collection is sure to delight and impress with its exceptional beauty and craftsmanship.
Commitment to Sustainability:

Cons:
While the Swarovski Florere Collection is a stunning example of high-quality and exquisite craftsmanship, there may be a few cons to consider as well:
Price: The Florere Collection is a high-end line of fashion jewelry that comes with a premium price tag. While the quality and design are exceptional, some individuals may find the costs prohibitive.
Size Availability: While the Florere Collection comes in US size 5-9, it may not fit everyone's finger comfortably. Individuals with larger or smaller hands may find it challenging to find a size that fits properly.
Risk of Damage: The Florere Collection may be delicate due to its intricate design, and the crystals may be vulnerable to damage. The wearer must be careful not to wear the jewelry during any strenuous activities or contact with any hard surfaces.
While the cons of the Swarovski Florere Collection may seem significant, they are easily outweighed by the collection's features and benefits. For those in the market for high-quality and stunningly beautiful fashion jewelry that will last a lifetime, the Florere Collection is worth every penny!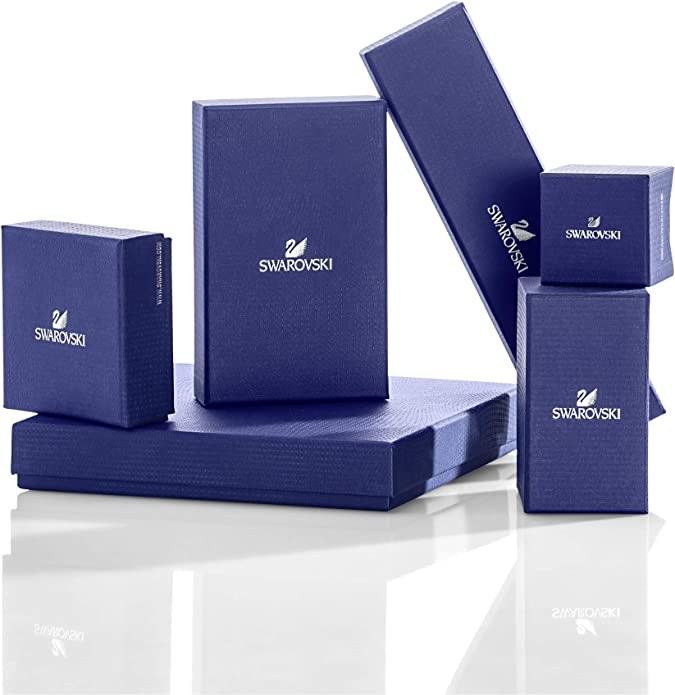 Customer Experiences
Customers who have purchased items from Swarovski's Florere Collection have expressed their satisfaction with the jewelry's wondrous beauty and craftsmanship.
One customer who purchased the Florere cocktail ring noted that the ring looked even more beautiful in person than in the pictures
The customer also commented on the ring's comfort, stating that it fit perfectly and did not feel heavy on her finger
Another customer who purchased the Florere pendant necklace admired the versatility of the piece, noting that it looked just as stunning with a casual outfit as it did with a more formal one
One customer also praised the necklace's adjustable length, which allowed them to wear it with different necklines comfortably

One customer who has been wearing the Florere earrings for several months noted that the earrings still look just as beautiful as when they first received them
Many customers have also remarked on the Swarovski Florere Collection's durability
The customer also remarked on the earrings' secure backs, stating that they do not fall off easily
Another customer who purchased the Florere cocktail ring stated that they have been wearing it daily for several months and that it has not shown any signs of wear and tear
Many customers have also noted the collection's ability to maintain its brilliance over time, even with daily wear
Overall, customers have expressed their admiration for the Swarovski Florere Collection's exceptional design, premium materials, and outstanding durability.
Care:

FAQs:
Q. What is the Swarovski Florere Collection?
A. The Swarovski Florere Collection is a line of fashion jewelry crafted with premium materials and impeccable craftsmanship. This collection features an eye-catching cocktail ring in sizes 5-9, a pendant necklace, and pierced stud earrings, all designed to add a touch of elegance and sophistication to any look.
Q. How do I care for this product?
A. Swarovski jewelry should be handled with care as it can be delicate due to its intricate designs. Avoid contact with hard surfaces or strenuous activities while wearing the pieces from the Florere Collection, as this could lead to damage or scratches on the metal settings or crystals. When not worn, store your jewelry in soft fabric bags as this will help prevent scratches that occur during storage and transport when stored together with other pieces of jewelry. If deep cleaning is required we recommend: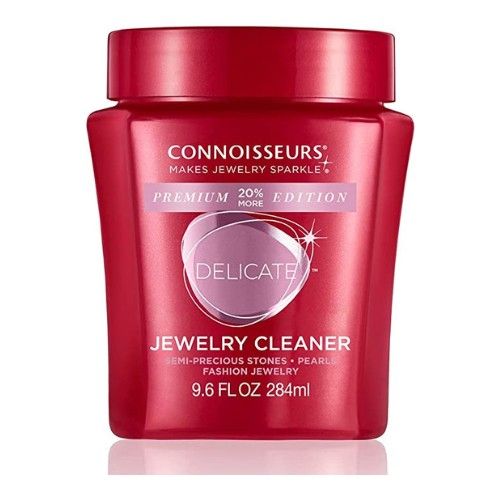 Q. Does this product come in different sizes?
A. Yes, the rings in the Swarovski Florere Collection come in different sizes to ensure a comfortable and perfect fit for every wearer. The ring sizes available in this collection range from sizes 5-9.
Conclusion:
The Swarovski Florere Collection is a stunning line of fashion jewelry that exudes beauty and elegance. With its premium craftsmanship, high-quality materials, intricate designs, versatility, durability and long-lasting brilliance, this collection makes an excellent investment for anyone looking to add a touch of sophistication to their wardrobe.
What's Next
If you are looking for high-quality and stunningly beautiful fashion jewelry that will last a lifetime, look no further than the Swarovski Florere Collection.
So why wait? Tap the button below to purchase the Swarovski Florere Collection on Amazon and elevate your style with the luminous beauty of nature today. And don't forget to leave a comment and share your experience with others.

Thank you for reading our article and please leave your comments or questions below.                                                                                                  
Happy Shopping!                                                                                                
Francesca de Granville, G.G. (GIA) F.G.A.
---
Related Articles You May Also Enjoy: