Introduction
When it comes to finding the perfect wedding band, there are a lot of factors to consider. Do you want something that is classic and timeless? Or maybe something more modern and edgy?
One of the most important decisions you will make is what type of metal to choose for your wedding band. Tungsten Carbide, Titanium, and Tantalum are all popular options, but which one is right for you? In this article, we will compare the features of each metal so that you can make an informed decision.
Tungsten Carbide
Tungsten Carbide (TC a combination of Tungsten and Carbon) and Titanium wedding bands are increasingly popular options for couples looking to exchange rings.
History
TC is a metal that was first discovered centuries ago but was not a metal used in jewelry until the 1960s. jewelry craftspeople began to appreciate the advantages of using TC in bringing their designs to life.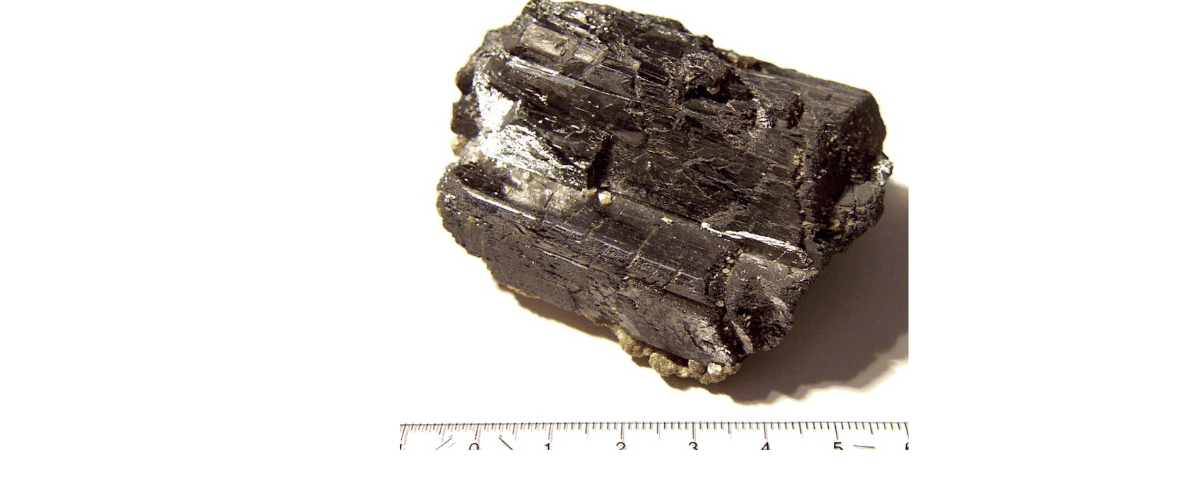 One of the most important advantages of TC is its incredible durability, making it an ideal choice for those who work with their hands or have active lifestyles.
What Makes Tungsten Carbide So Durable?
Hardness is defined as a gemstone's or metal's ability to resist scratching, an important characteristic for jewelry that will be worn daily.
The Mohs scale ranks materials from 1 (Talc) to 10 (diamond)Tungsten Carbide ranks 9-9.5, so it is indeed hard. So hard in fact that it has many applications: surgical and medical instruments, drills, cutting tools, tips for ball-point pens, and of course jewelry.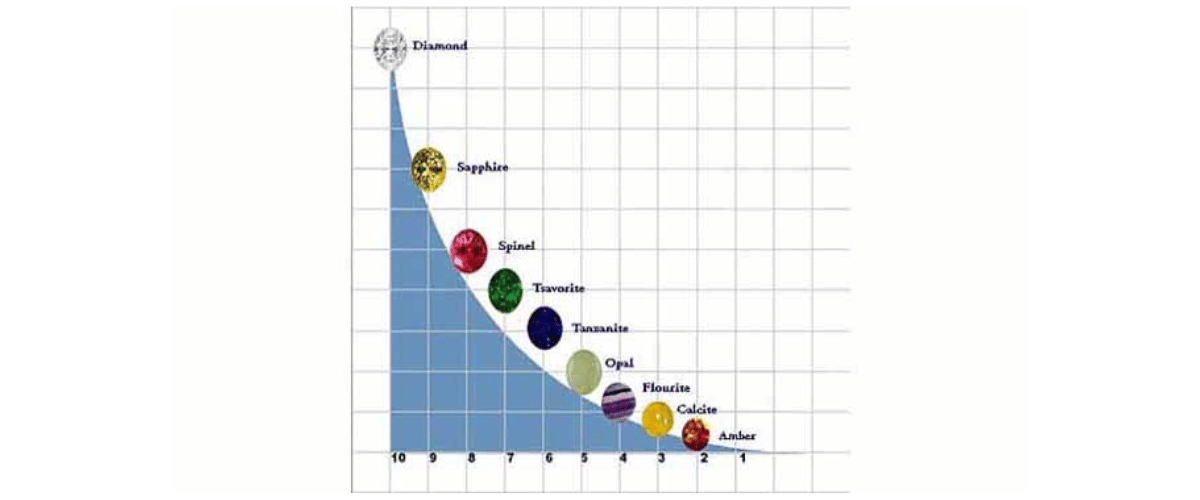 Tungsten Carbide in its pure state is too difficult to work and form into jewelry, so it is alloyed (mixed with) with nickel and in some cases steel.
This alloy maintains Tungsten's exceptional hardness, and durability but gives it the ability to be fashioned into jewelry.
Its superior hardness is a double-edged sword as it tends to be brittle and if knocked very hard can break.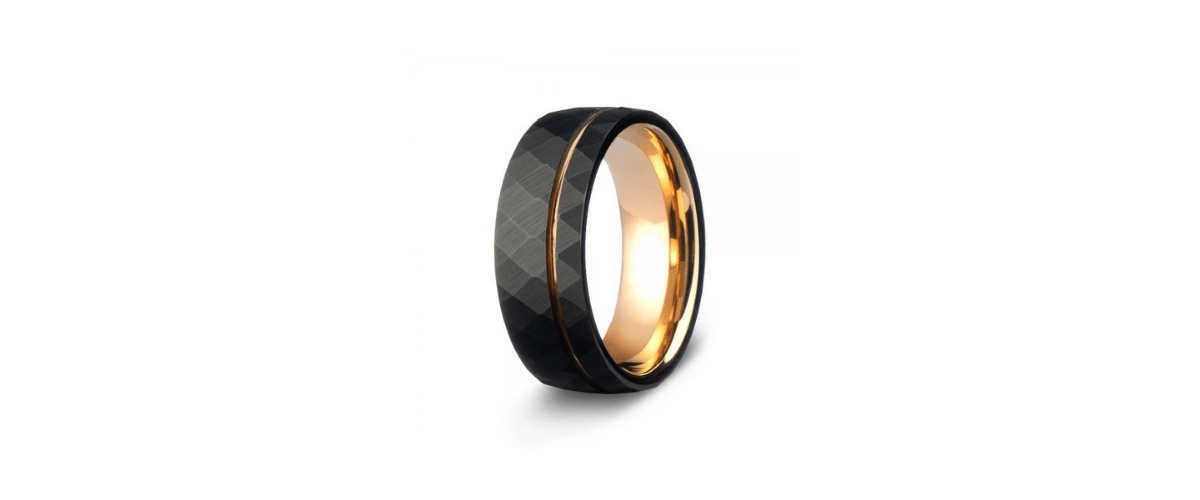 Tungsten Carbide - The Panther
This black Tungsten Carbide wedding band is perfect for anyone looking for an elegant design. Available in 6mm or 8mm in sizes 6-14.5. The diamond pattern accented with rose gold features the signature black matte finish.
Click HERE to select your favorite design.
Tungsten Carbide is said to be a stronger metal than Titanium, but both metals offer beneficial features.
Because Titanium is known for its hypoallergenic property and its rust and corrosion resistance, it might have a slight edge over Tungsten Carbide, even though TC is harder.
Beauty
Another attribute of Tungsten Carbide is its ability to take a high polish, leaving a super smooth surface that reflects most of the light that hits it. When anodized, it can be transformed into many attractive colors.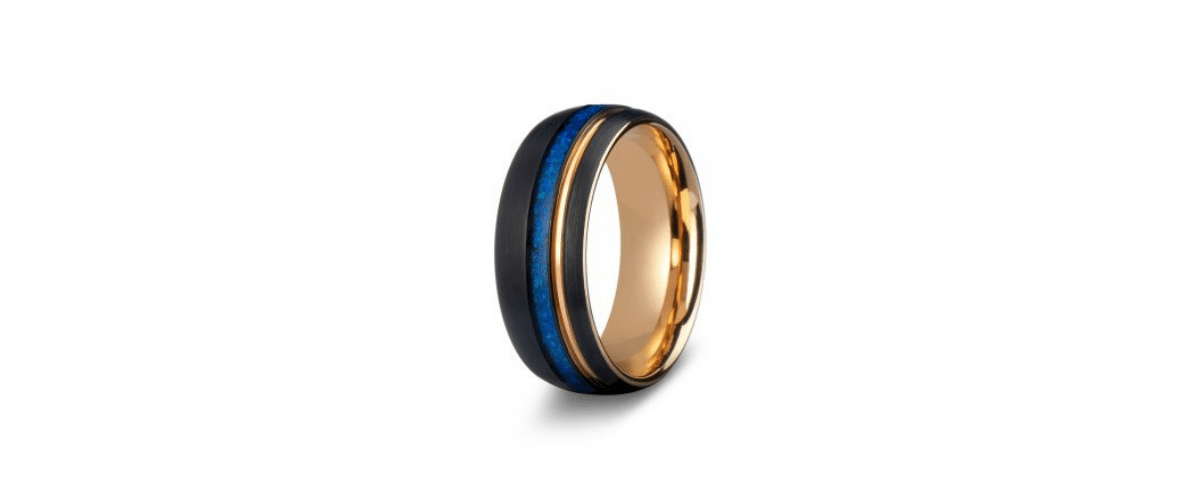 Tungsten Carbide - The Danube
This is Tungsten Carbide at its best, epitomizing beauty and elegance. It features a smooth black matte finish with an ocean blue, opal stripe and rose gold accent. Available in sizes 4-17.
So, not only is it beautiful and durable but priced extremely well, especially when compared to its gold or platinum counterparts. Rings styles are for both men and women, available in a wide range of attractive modern designs.
Click HERE for additional information.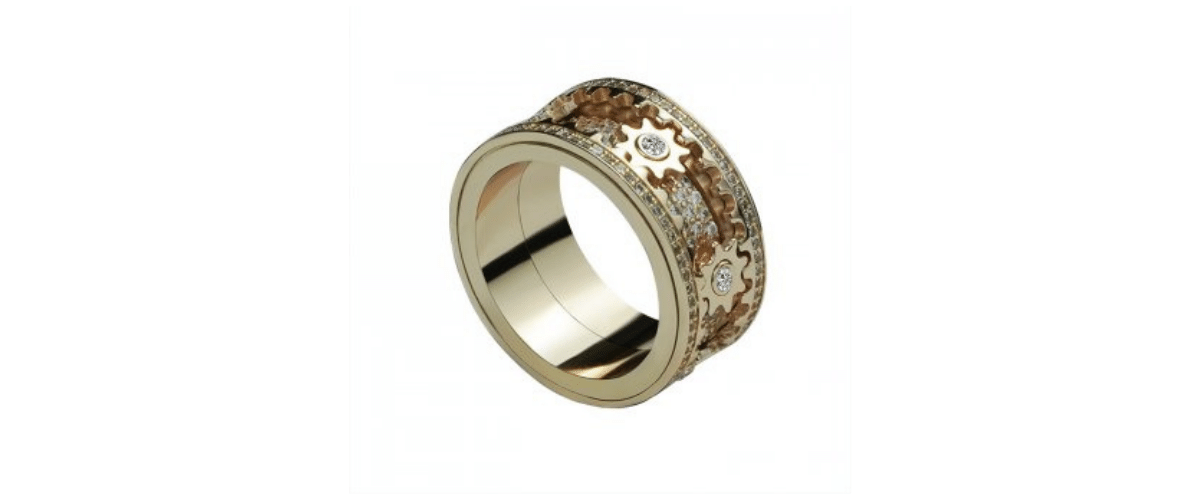 Tungsten Carbide - The Aerosmith
This is truly an extraordinary ring. Not only is it a combination of gold and Tungsten Carbide, but the outer rings actually rotate to activate the gears. A true conversation piece. Available in sizes 4.5-16.5.
Click HERE to see a video on how this ring works!
Next, let's turn to Titanium.
Titanium
Titanium is probably more familiar to you, because of its use for medical devices, such as joint replacements. Titanium can be used within the body because the it does not reject it and is hypoallergenic; an important property for a jewelry metal.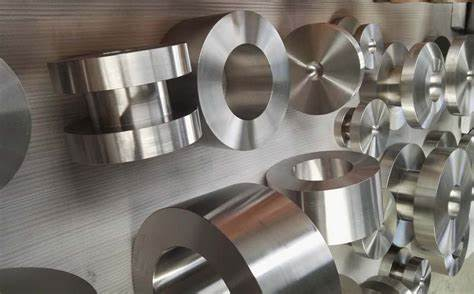 What you may or may not know is that the smart ring Oura (Oura monitors exercise, vital signs, and sleep) is made of Titanium due to the advantages mentioned above.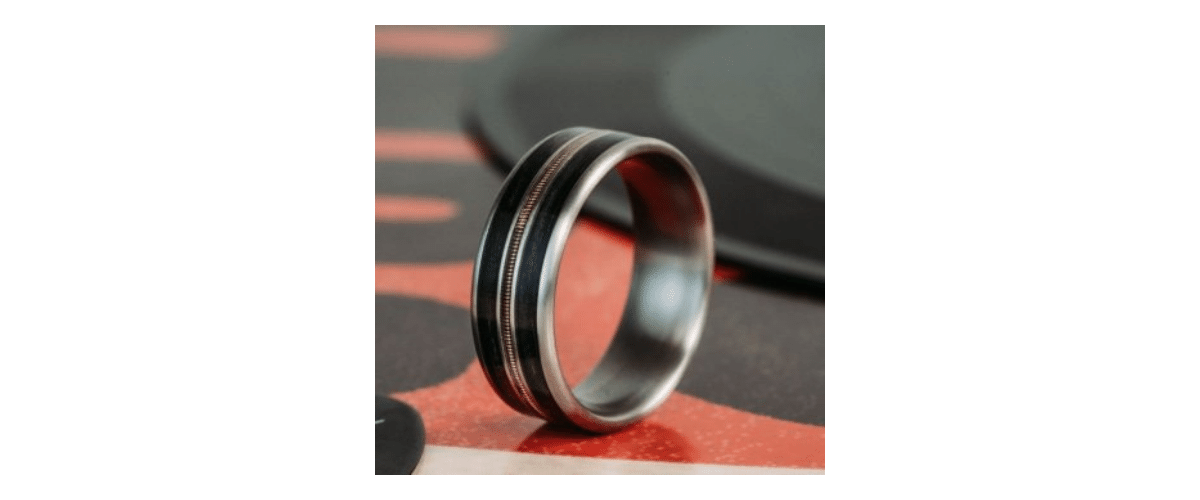 Titanium- The Luminescence
Is your fiancé a guitar player, a whiskey lover, or both? This beautiful, masculine Titanium ring features a guitar string and whiskey barrel inlays. A truly unique design. Available in sizes 5-16.
Click HERE for additional information on the components of this ring.
History
It is only within the last decade or so did jewelers begin to craft pieces entirely from Titanium. Titanium is often paired with white, yellow, and rose gold in wedding ring designs, or as a simple Titanium accent.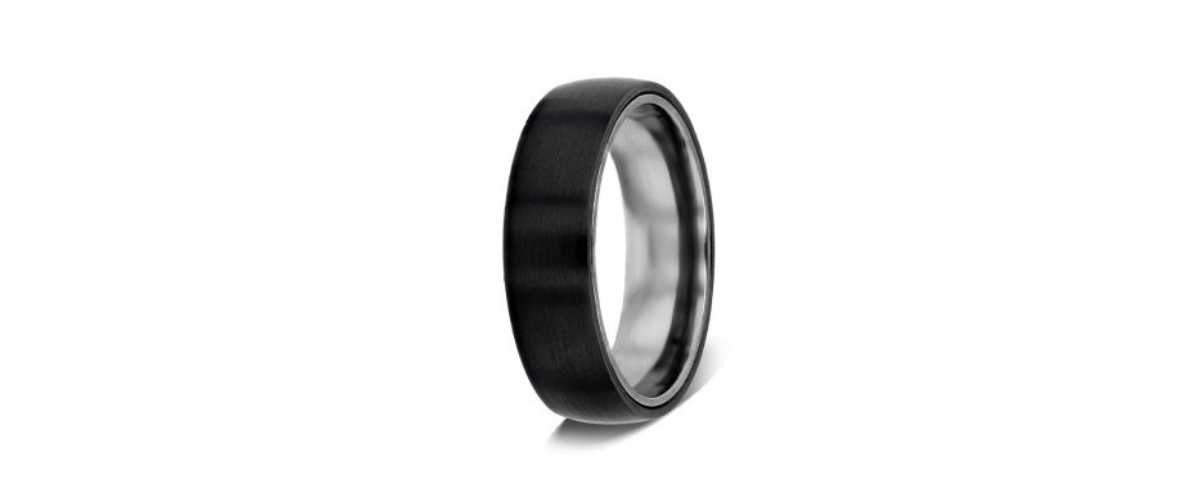 Titanium and Tantalum - The Matte
Appropriately named, this band features a Titanium outer surface and Tantalum layer on the inside that insures years of wear. The ring is 6mm wide and is available in sizes 6-16.
Click HERE to see the entire collection.
Today, Titanium jewelry is seen in most jewelry stores, even premium jewelry purveyors, e.g. Tiffany & Co. have collections for both men and women in Titanium. Even offering Titanium and diamond men's engagement rings!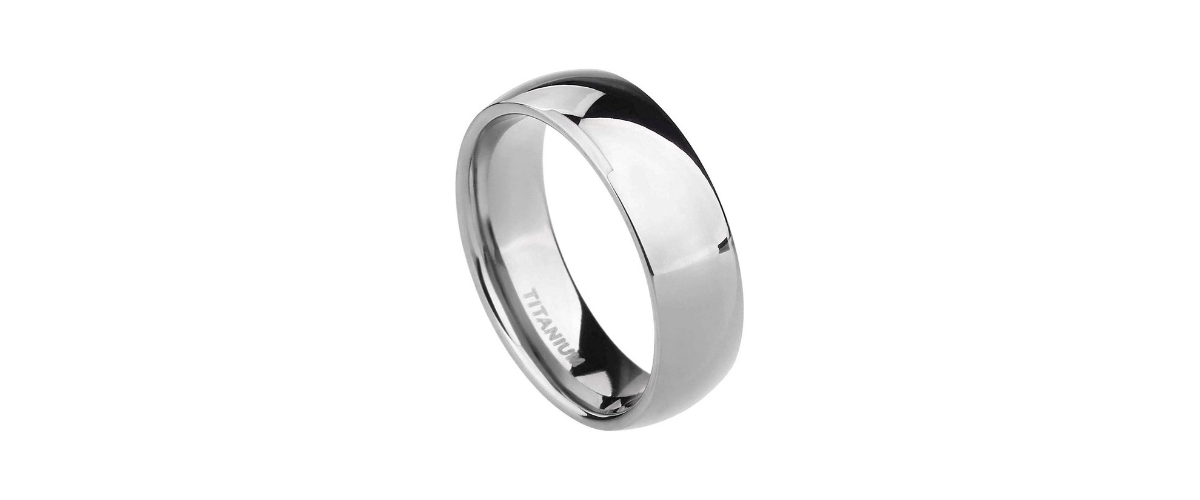 Titanium Ring High Polished Wedding Band
Looking for a no-nonsense wedding band? This high polished, light, comfort fit band might be just what you need. It is available in widths 2mm-10mm in sizes 3-15.
Click HERE to see the amazing price.
Tantalum
History
Last, but certainly not least is Tantalum. Discovered in 1802, was found to have many advantageous properties beneficial to a host of industrial uses, such as jet engine parts, military tanks, and many more applications; and as discussed here, wedding bands that represent the strong bonds between partners in marriage.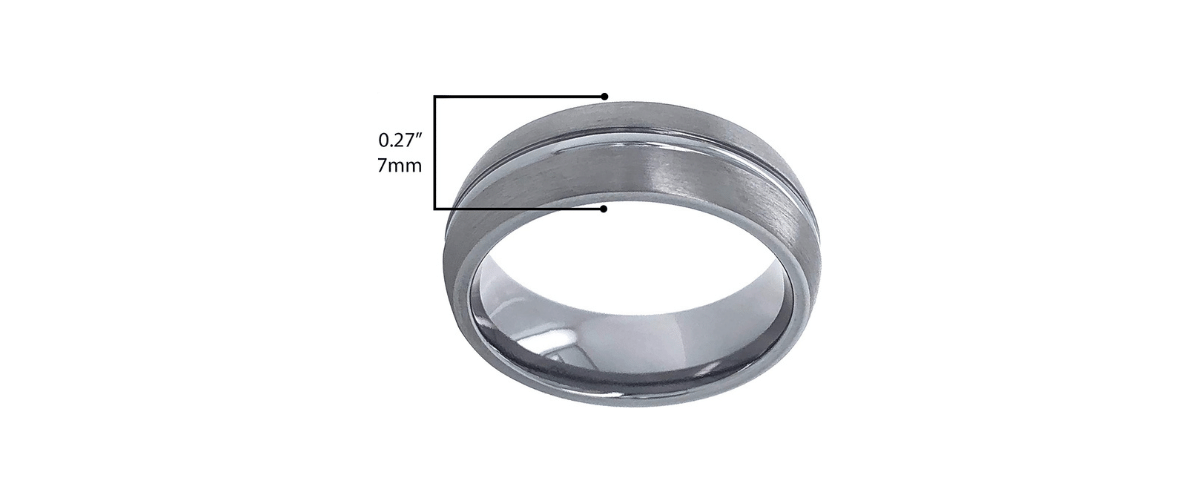 Tantalum Brushed Matte Dual Finish Wedding Band Ring
This textured Tantalum band features a brushed finish with a high-polished band in the center. All edges are smooth and curved for a comfortable fit. The color is medium gray and available in 7mm only, and in sizes 8-14.
Click Here for additional information.
Possessing similar properties as the first two "T" metals, Tantalum is actually more malleable, ductile, and less brittle.
Naturally blue-gray in color, one difference is the black ceramic coating used to create the edgy matte surface that also increases its resistance to scratching.
Even though Tantalum is scratch resistant, it will develop a patina over time.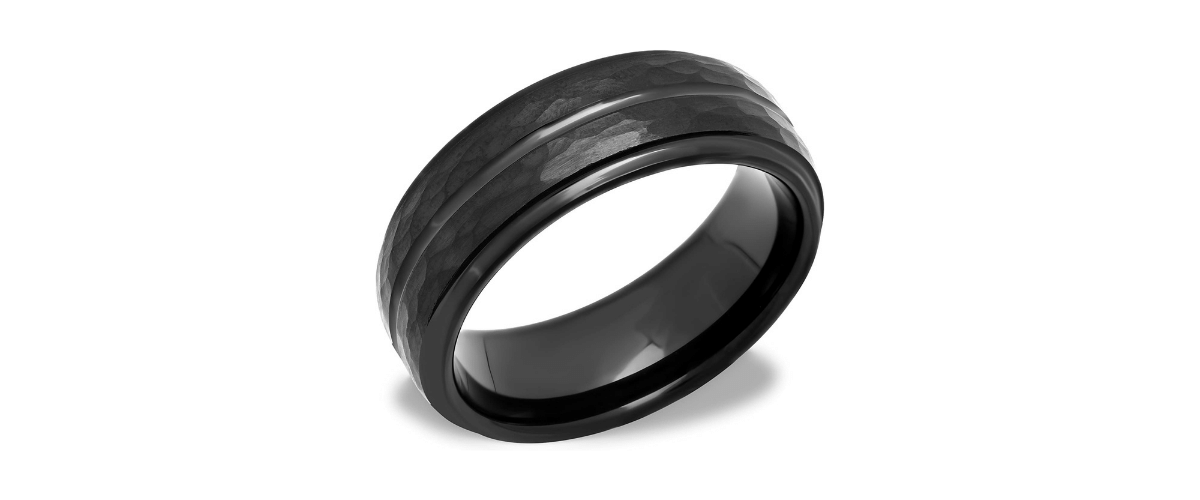 STEEL NATION JEWELRY Black Tantalum Hammer Finish Wedding Band
Looking for a textured surface on you wedding band? This Black Tantalum hammered surface with high-polished center stripe could be exactly what you need. Available in 8mm width, in sizes 7-14.5. An extremely durable ring, due its hardness, rust and corrosion resistance.
Click HERE to learn more.
Like Titanium, because it is hypoallergenic is also used in surgical instruments, so it is unlikely to cause skin irritation. It is also rust and corrosion-resistant, and depending on how hefty you like your jewelry to be, Tantalum is much heavier than Titanium.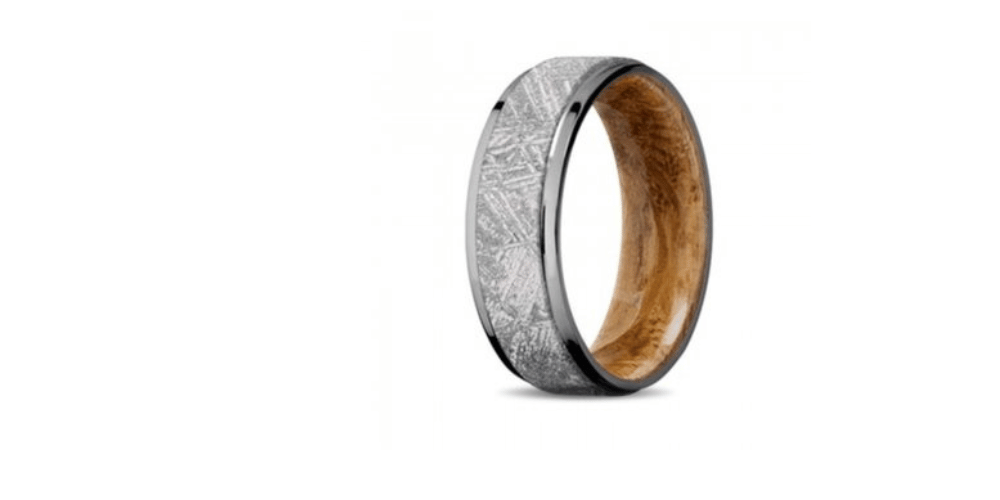 Tantalum - The Armageddon
This amazing ring features Tantalum, meteorite, with the inner portion polished whiskey barrel. A beautiful gray surface is 8mm wide, available in sizes 4-17.
Click HERE for additional information on the unusual materials in this design.
Average Price Ranges For Tungsten, Titanium, And Tantalum:
Tungsten Carbide bands range from $20-$1200+
Titanium is another metal that is more affordable than gold or platinum. Prices range from $20-$2000+ higher prices include bands that are combined with precious metals.
Tantalum-$200-$1500+ tends to be more expensive due to the difficulty extracting Tantalum from the earth and its host mineral.
Tantalum bands are probably easier to find online than in brick-and-mortar retail locations.
In Conclusion
But in the end, all three "T" metal wedding bands offer a practical yet elegant way for couples to commemorate their love and commitment.
With so many unique options to choose from, these rings are sure to make a lasting impression. The deciding factor will probably come down to your design preference as all three metals are elegant and durable.
No matter what your lifestyle or budget is, Tungsten Carbide, Titanium or Tantalum wedding bands can provide the perfect way for you and your partner to express your eternal bond.
FAQS
Q: Can I wear my Titanium ring in the ocean?
Yes, Titanium resists rust and corrosion, so it is safe to wear in salt water.
How should I keep my Tungsten Carbide ring clean.
Tungsten Carbide resists corrosion, but to remove dirt, wipe it off with a damp cloth, or use a mild jewelry cleaner, rinse and dry.
What is the difference between white gold and Titanium. rings?
White gold is plated with Rhodium to produce the highly reflective white surface, as well as for additional strength. Titanium does not require plating and is at least four times harder than gold.
Which metal is better, Tantalum or Platinum?
Depending on what your priorities are, one may be better for you than the other. If you work with your hands or are tough on your jewelry than Tantalum may be better for you. It is also far less expensive than platinum. If you prefer a precious metal that will hold its value, than platinum would be the better choice. If you have sensitive skin both are hypoallergenic.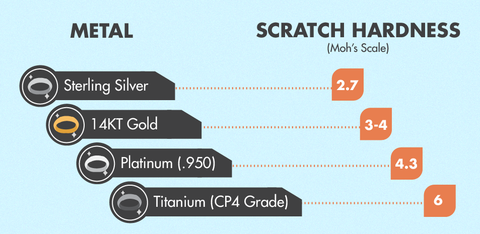 Thank you for taking the time to read our article; we would love to hear from you, so please signup and leave your comments and questions below.
Happy Shopping!
Francesca de Granville, G.G. (GIA) F.G.A.
---
Related Articles you may also enjoy: