Are you looking for the perfect gift for your special someone, or maybe something for yourself? Look no further than blue sapphire jewelry on Etsy! This stunning and unique jewelry is sure to bring a smile to your face.
Etsy-blue sapphire jewelry is the perfect way to show your appreciation for the special people in your life. Whether it's for an anniversary, birthday, or just because, this beautiful and timeless jewelry is sure to make a lasting impression.
The Etsy-blue sapphire jewelry finds are unique, timeless, and in many cases, one of a kind. The jewelry is crafted with care and precision, making it a must-have for any jewelry enthusiast. From earrings to necklaces, and everything in between, you're sure to find something that will make your loved one feel special.
This article will review the best Etsy-blue sapphire jewelry finds that will certainly spark joy. We'll go over the different styles, designs, and prices so you can find the perfect piece that suits your needs. Get ready to explore the world of Etsy-blue sapphire jewelry and find something truly remarkable that will make your loved one feel special.
How We Choose
If you are looking for blue sapphire, then you've already made one great decision. Sapphire is not only beautiful, but it is one of the most durable gemstones you can buy. Because it ranks 9 out of 10 on the Mohs scale of mineral hardness and has excellent toughness, it will resist scratching, chipping, or breaking and can be worn on a daily basis.
There are a lot of offers on Etsy, which can be a good thing, but it can take a while to go through them all, read the descriptions and keep track of all the details. We've done most of the hard work for you by reading hundreds of reviews and selecting our top picks from Etsy's selection.
From all their pieces, we have compiled a list of must-have finds that will make any outfit shine. We hope that they will inspire you.
So save yourself some time and check out our top picks for Etsy-blue sapphire jewelry! We guarantee you'll find something special that will bring a smile to your face.
💡
When you purchase through our links, we may receive a small commission. Prices are exactly the same for you if your purchase is made through an affiliate or a non-affiliate link. You will not pay more by clicking through our links.
Our Picks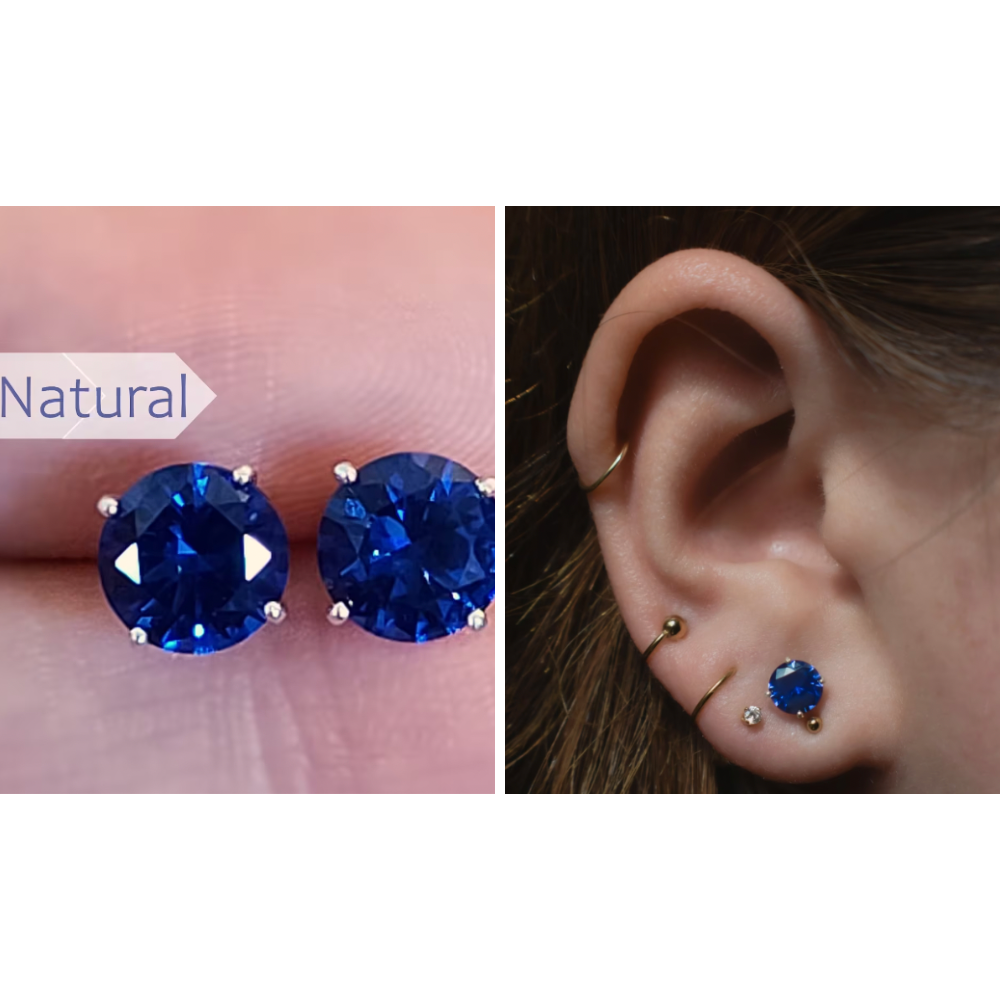 Blue Sapphire Stud Earrings -
CHECK PRICE ON ETSY!

Why We Love Them:
These Blue Sapphire Stud Earrings are truly mesmerizing! These stones are cut to show off the gorgeous saturated blue color. They come in 4mm, 5mm, and 6mm sizes and make a beautiful accessory for any outfit. The cut style, brilliant cut, refers to a specific way of cutting that maximizes sparkle and color. Plus, you can make sure your earrings stay secure with extra earring backings that are available for just $0.95!
What You Should Know:
These Blue Sapphire Stud Earrings are made with the highest quality materials and craftsmanship to ensure a lifetime of wear. They are perfect for special occasions, such as weddings and anniversaries, or just to add a touch of sparkle to your everyday look. The sterling silver settings are hypoallergenic and require very little maintenance. They are also available in 14K white or yellow gold.
Click HERE to order your pair of Blue Sapphire Stud Earrings today and add a touch of elegance to any outfit. You will also be glad to know that 10% of all profits go to animal rescue charities. For more information click HERE.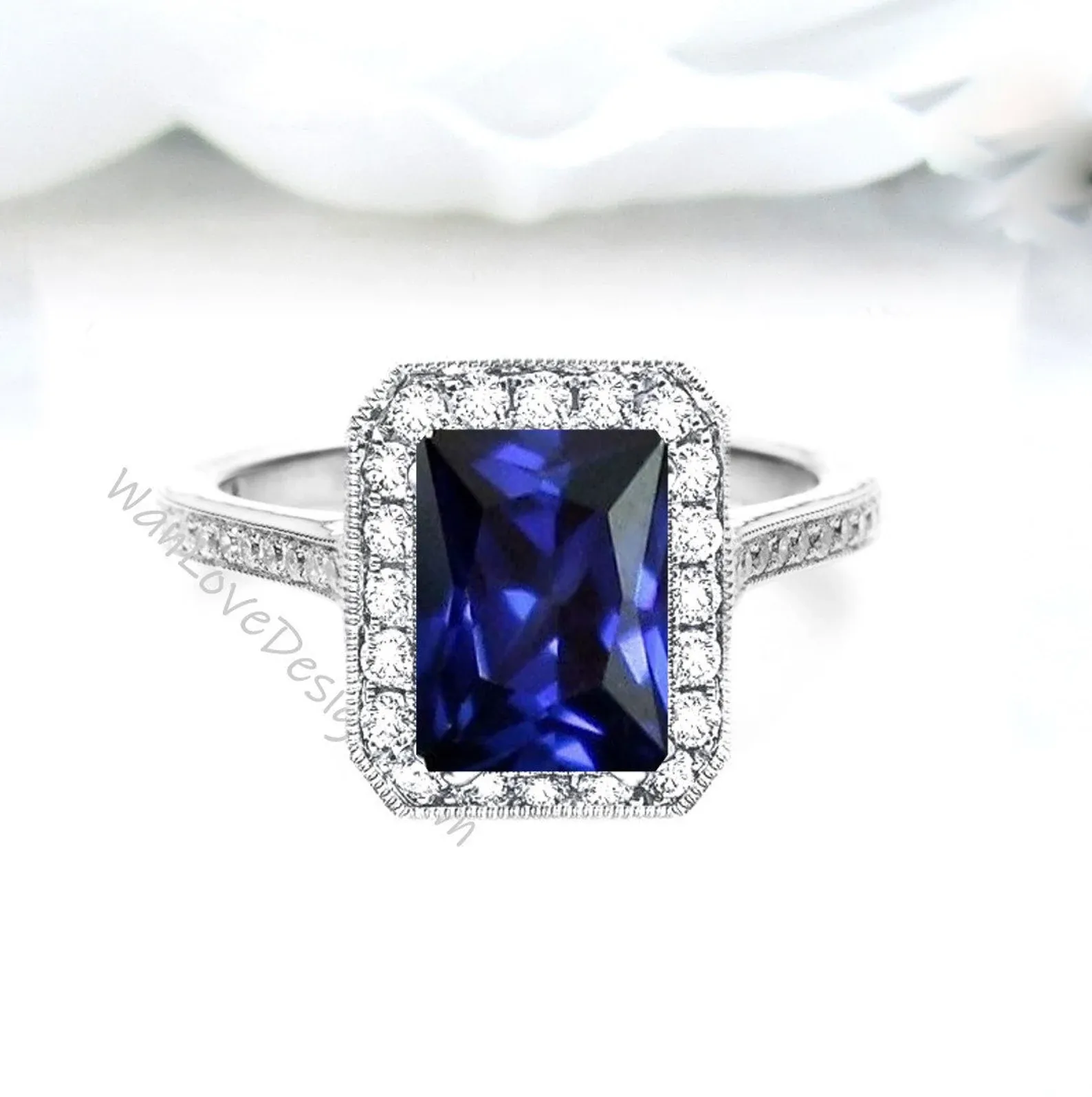 Milgrain Halo Emerald-cut Blue Sapphire Engagement/ Statement Ring
CHECK PRICE ON ETSY!
Why We Love It:
Make a bold statement with the Milgrain Halo Emerald-Cut Blue Sapphire Engagement/Statement Ring. This stunning ring is crafted with a center gem of your choice, along with customizable accent gems, from natural to lab-created diamonds to Moissanite, that will create a unique look perfect for any special occasion. The ring is made with high-quality metal in your choice of 10k, 14k, 18k gold and platinum, and comes in your choice of white, yellow, or rose gold. Plus, all purchases over $500, receive up to 12 characters of free engraving.
What You Should Know:
This exquisite ring is sure to be treasured for a lifetime and makes the perfect gift for that special someone. Plus, it is available in ring sizes 3-8.75, and larger and smaller sizes can be requested for an additional fee. Finally, the center gem is a lab-grown Emerald-Cut Sapphire in a beautiful blue color with VS clarity. Click HERE to learn more about this exquisite ring!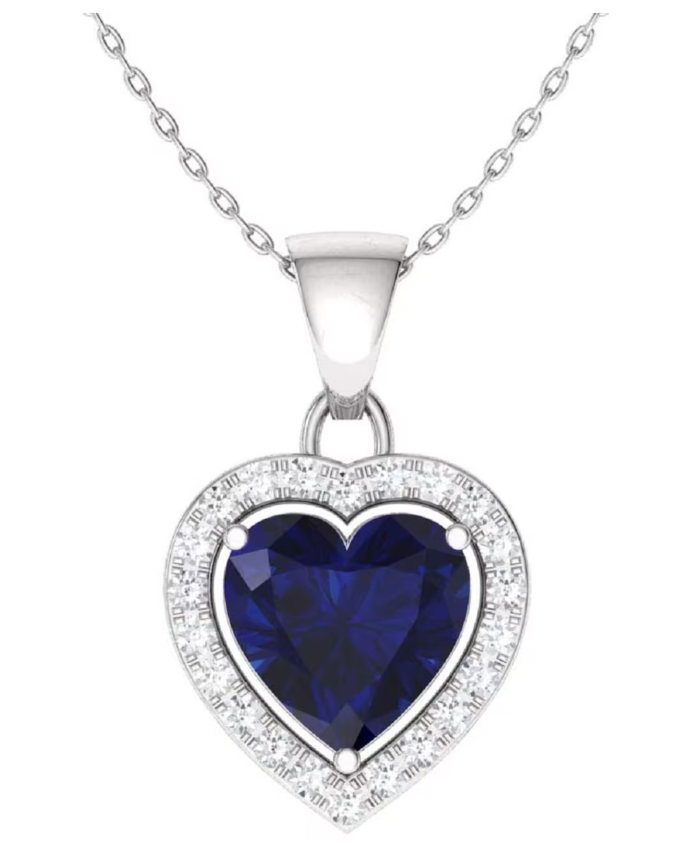 Heart Shaped Sapphire and Diamond Necklace
CHECK PRICE ON ETSY!
Why We Love It:
If you are looking for a unique and timeless piece of jewelry for yourself or as a gift for someone special, then the Heart Shaped Sapphire and Diamond Necklace is the perfect choice. This necklace is handmade with a gorgeous lab-created blue sapphire and diamonds, set in your choice of solid 14K white, rose, yellow gold, or sterling silver. The pendant width and height are 9 millimeters and 14 millimeters respectively.
What You Should Know:
This necklace is perfect for any occasion - from everyday wear to anniversaries, weddings, engagements, and cocktail parties. It also makes a great gift for any occasion. The necklace includes an 18-inch sterling silver chain that can be personalized to make it even more special. Click HERE for additional details on the Heart Shaped Sapphire and Diamond Necklace!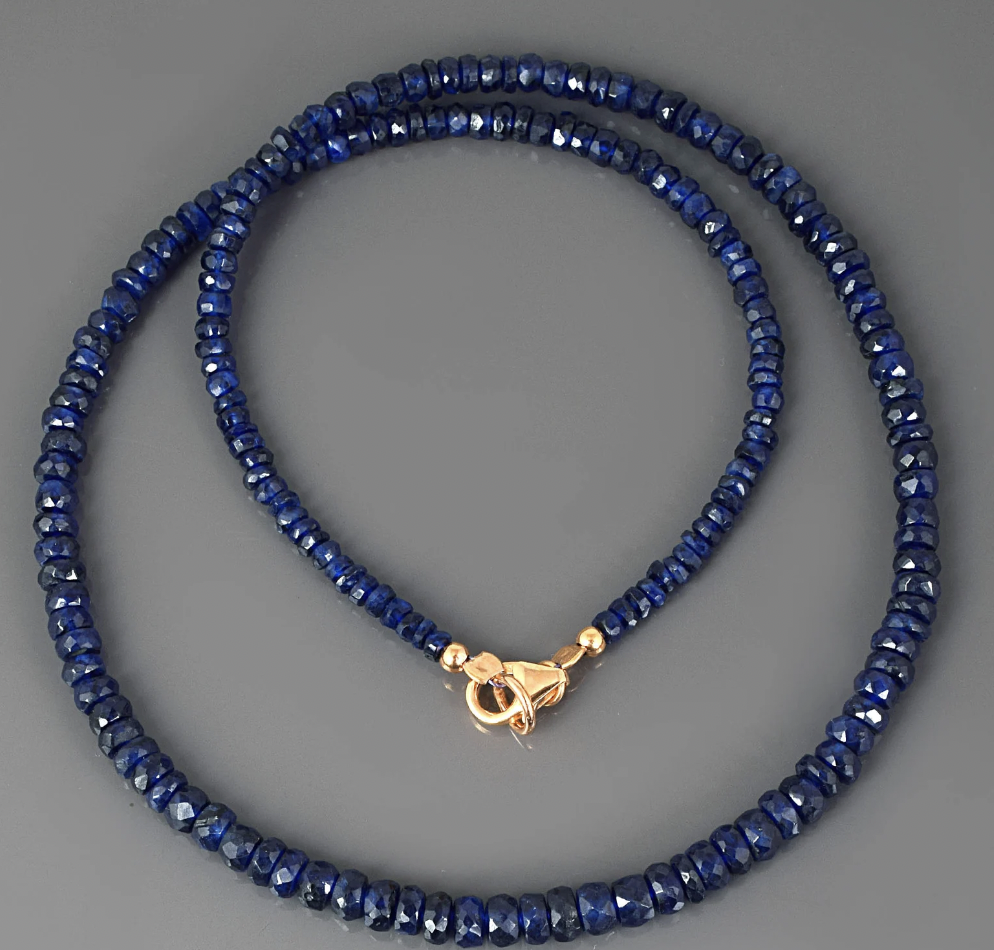 Natural Blue Sapphire Bead Necklace
CHECK PRICE ON ETSY!
Why We Love It:
This handmade Natural Blue Sapphire Gemstone Bead Necklace is a must have for anyone who loves beads and natural sapphires. This stunning piece is crafted from genuine 925 sterling silver, and features a lobster claw closure for secure wear. The necklace length is approximately 17 inches long, making it the perfect length for almost any neckline. The beautiful sapphire gemstones are cut into rondelles (faceted flattened rounds) creating a beautiful art-deco inspired look.
What Else Should People Know:
This necklace is the perfect gift for any occasion, whether it's for yourself or a loved one. With its unique design and high-quality materials, you can be sure that it will last for years to come. Plus, the natural blue sapphire gemstones are sure to capture the attention of friends and family. Click HERE for shipping details and to place your order.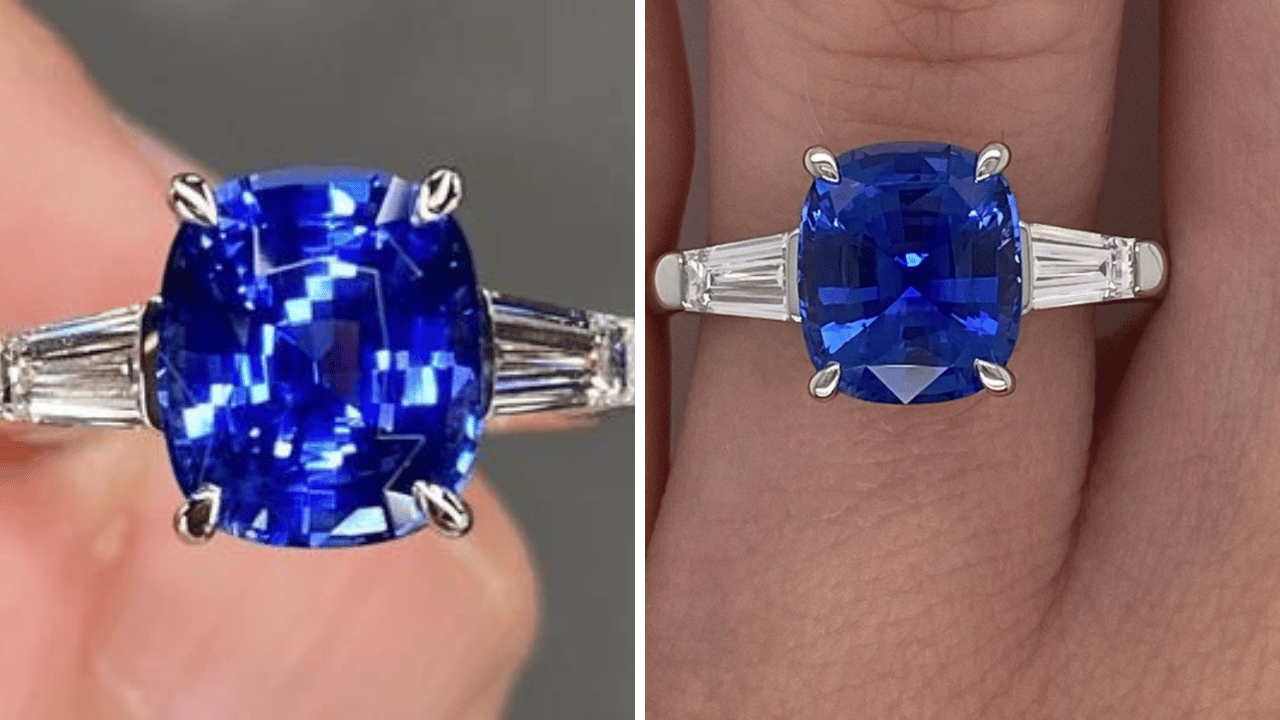 3.14-Carat Ceylon Sapphire Ring
CHECK PRICE ON ETSY!
Why We Love It:
This Ceylon Sapphire ring is an incredible and breathtaking piece of jewelry that is perfect for anyone who loves rare and valuable gemstones. The GIA-certified natural, 3.14 Carat Vivid Blue Sapphire was mined in Ceylon (Sri Lanka). It has a incredibly rare vibrant cornflower blue color with vivid saturation of color that is exquisite. The mounting is crafted in platinum with a matching pair of D-E color VVS clarity tapered baguette diamonds: approximately 0.62 Ct total weight, making this a one-of-a-kind ring.
What Else Should People Know:
This Ceylon Natural Sapphire Ring can and should be worn proudly for any occasion. Not only is it an eye-catching piece, it is also durable, thanks to its solid platinum mounting, but without a doubt is sure to turn heads. Plus, it is an ideal choice for those who want a unique and special piece of jewelry that can be passed down for generations. This ring comes with the G.I.A. report as well as a G.I.A. gemologist's insurance appraisal. It is an incredible treasure at a bargain price! Click HERE to learn more about this incredible gemstone. Watch the VIDEO to see the incredible beauty and vibrancy of this ring!
Thank you for reading our article; please leave your comments and questions below.
Happy Shopping!
Francesca de Granville, G.G. (GIA) F.G.A.
FAQS
I hope you fell in love with at least one of these pieces, but rest assured there are still plenty more for you to consider on Etsy.
You may also have questions about sapphires so we've compiled a list of the most frequently asked questions and answers to give you the confidence you need to make the right choice. Oh, and we would also love to hear your comments on the last very special ring we described.
What color blue are the best sapphires?
The best sapphires are typically blue with strong saturation and a vivid hue. The most valuable sapphires have a deep, pure blue hue, which is often described as a "royal blue" or "cornflower blue." Sapphires with a slightly purplish or greenish-blue hue are also highly valued. The most sought-after sapphires are those that are a medium to medium-dark shade of blue. See the last ring shown above.
Where do the best blue sapphires come from?
The best blue sapphires come from Kashmir, and Sri Lanka (formerly Ceylon) which are known for their intensely blue sapphires. Other sources of blue sapphire include Madagascar, India, Thailand, and Myanmar.
Can I wear a blue sapphire as an engagement ring?
Yes, you can certainly wear a blue sapphire as an engagement ring. Blue sapphire is a beautiful and classic choice for an engagement ring, and it is said to symbolize loyalty, trust, and commitment. Blue sapphires are also believed to bring good luck to the wearer, so it can be a great choice for an engagement ring. In addition, they are durable enough to be worn daily.
How do I clean my blue sapphire ring?
The best way to clean your blue sapphire ring is to use a mild soap and warm water solution. Soak your ring in the solution for a few minutes, then use a soft brush to gently scrub away any dirt or grime underneath the setting. Rinse the ring with clean water and dry it with a soft cloth. It is important to avoid harsh chemicals, as they can damage the stone and setting. You can also use a jewelry cleaning solution to help keep your ring looking its best.
Why does my one carat sapphire look smaller than my one carat diamond?
The mineral corundum (sapphires and rubies) is denser than diamonds, which means they are heavier. So, a one-carat sapphire will be smaller than a one-carat diamond. They are also cut deeper to accentuate their color, which will also make them appear smaller.
Should I wear my blue sapphire in the sun?
No, it's not recommended to wear your blue sapphire in direct sunlight. Sapphires are a type of gemstone that is sensitive to light, and prolonged exposure to direct sunlight can cause fading and discoloration. It's best to store your sapphire jewelry in a dark, dry place, away from direct sunlight.
Do blue sapphires glow?
Yes, blue sapphires do glow under ultraviolet light. Blue sapphires contain trace amounts of titanium and iron, which give them the ability to fluoresce when exposed to ultraviolet light. This means that when a blue sapphire is exposed to UV light, it will emit a soft blue glow.
Do diamonds sparkle as much as diamonds?
No, sapphires generally do not sparkle as much as diamonds. Diamonds have a higher refractive index than sapphires, meaning that they are able to bend and reflect light more effectively, resulting in more sparkle. Sapphires can still be quite sparkly, but generally not as much as diamonds. (See the video above.) Also, the most important value factor for blue sapphires (and all colored gemstones) is the quality of the color!
Do blue sapphires hold their value?
Yes, blue sapphires are valuable gemstones and are considered "precious." This means if the stone is of rare fine quality and or comes from an esteemed origin (Kashmir or Ceylon) or is untreated it will retain its value or even increase in value. The value of blue sapphires is determined by their color first, then carat weight, cut, and clarity.
Is blue sapphire a birthstone?
Yes, blue sapphire is a birthstone. It is associated with the month of September and is said to bring luck and protection to those born in that month. Blue sapphire is also the traditional stone for the 45th anniversary. It's also been listed for the 5th, 7th, and 65th anniversaries. But honestly, give blue sapphire whenever the inspiration hits you!
Related Articles You Might Also Enjoy:
Gemstone Library: Corundum-BLUE SAPPHIRE
If you like, read our full Affiliate Disclosure