Introduction
Looking for a unique gift to give this holiday season? Why not consider gold or silver neck chains! These chains can be worn in many different ways, and can add a touch of elegance to any outfit.
In this article we will discuss the different types of neck chains that are available, as well as options and tips on how to wear them. We will also provide tips on choosing the right chain for the exact look you want to achieve. So if you're looking for a special gift that is sure to impress, read on!
What to Consider
Whether you are thinking about a single chunky choker, several delicate chains, several chains of different textures and lengths, or layered pendants, the options are infinite. In terms of materials, depending on how much you are comfortable spending, there are so many directions you can travel. Also consider how many chains you want to buy.
The materials range from solid gold, sterling silver, stainless steel, gold-filled and gold-plated, or vermeil (gold-plated sterling silver) to name just a few; that offer a wide range of price points.
If you are buying for yourself, be sure to look through your jewelry box for those forgotten necklaces that you may want to include in your ensemble of chains. If you want to include colored gemstone beads pull them out too. Have some vintage pieces? perhaps a beautiful gold locket, that would be gorgeous!
Tip    
💡
If you would like to include pearl strands, be aware that metal chains can scratch off the nacre coating, reducing the luster; so try keep them as separated as you can.
Mix and match for the look that you like best. If you are buying for a loved-one, think about their style and jewelry preferences and perhaps have a casual conversation with them that might reveal the direction you should take.
Some people prefer chains that overlap. Others prefer their necklaces evenly spaced.  If you are in the first camp, your options are limitless and all you have to do is basically pick chains and necklaces that appeal to you.  But be careful to avoid the messy look by limiting the number you randomly layer on.
If you prefer to have yours chains evenly spaced, the chart below will help you decide the lengths that will work best for you, don't forget to take into consideration the neckline you want to wear, but you don't want to look too perfect either..
What's old is new again and this season turtleneck sweaters have made a huge comeback. There is no better way to show off your layered look than on a white or brightly colored turtleneck worn with winter white jeans and a great navy or black wool blazer.
Tip
💡
Make sure your necklaces and chains sparkle. Tarnished chains especially will leave black marks on your sweaters. After cleaning, be sure to firmly wipe the chain dry to insure all the tarnish and cleaner has been removed. For recommendations on cleaning, check out our article:
How To Clean Jewelry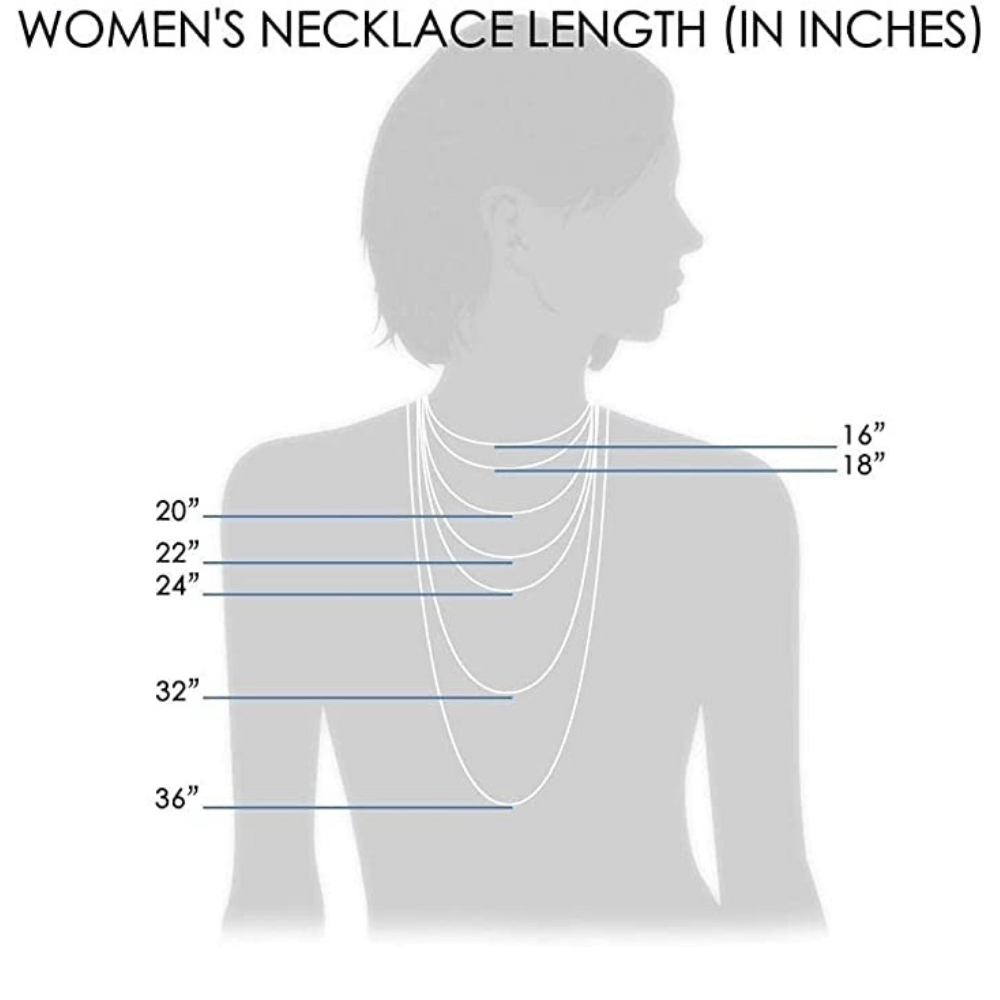 If you, or the gift recipient are in the second camp, then a little more work and planning are required. Measuring each chain so that they are approximately two inches apart, or more if any of the chains include pendants, is needed in order for the chains not to tangle.  Some chains feature extenders so that you can change the length at will.  
To ensure your chains don't tangle, you can purchase a nifty little jewelry hack called a "necklace layering clasp"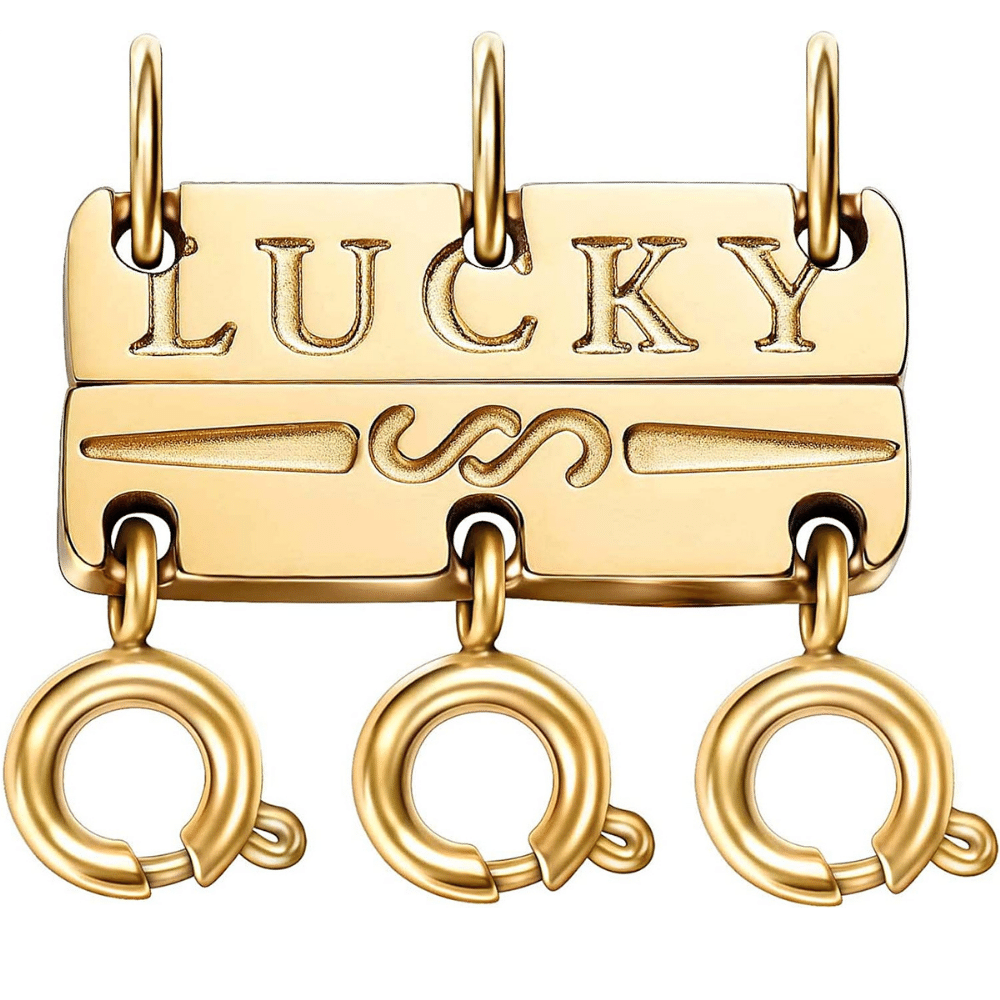 Multiple Necklace Clasps For Layering Chains
Perfect for anyone that is looking to create the layered look with their chains, but does not want them to tangle. The strong magnet keeps the trio of chains in place, but still easy to remove. Available in both yellow and silver tones and for two or three chains. Watch the video on Amazon to see just how easy it is to layer your necklaces! Click below to go straight to this great find.
CHECK PRICE ON AMAZON!
Let's take a look at a few choker length chains: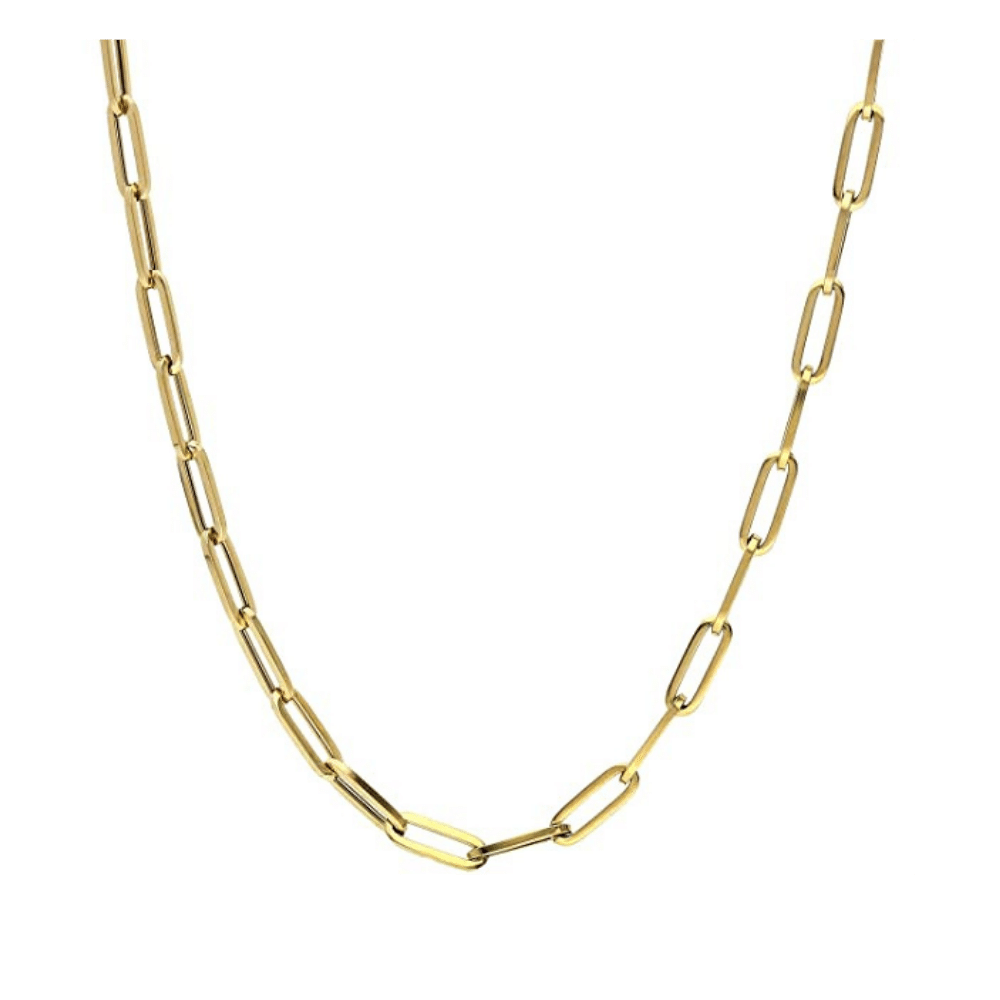 14K Yellow Gold 4mm Paperclip Elongated Chain Necklace 16"
Gorgeous Paperclip necklace. Italian made this piece reflects the high-quality manufacturing they are known for. Various lengths available from 16"-30". Features a durable lobster claw clasp and polished to a gleaming finish. Clip below for further details.
CHECK PRICE ON AMAZON!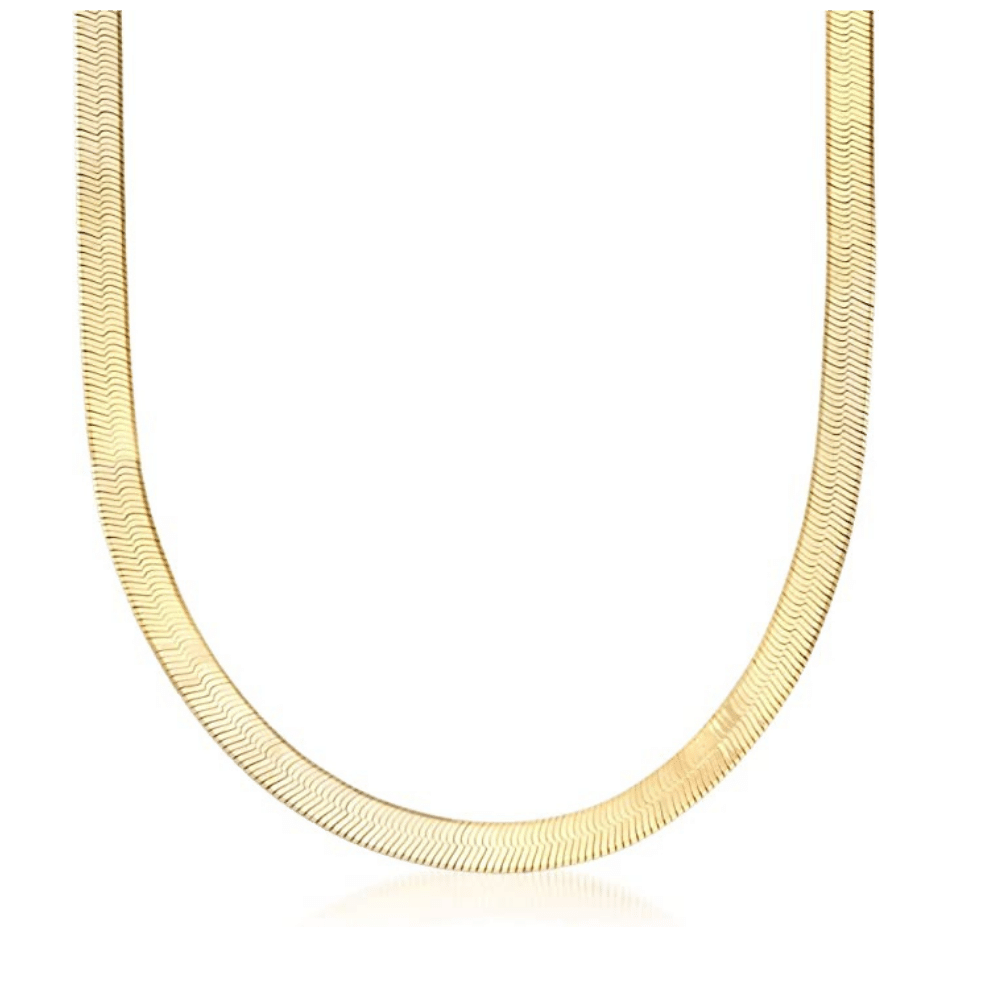 Ross-Simons Italian 6mm Herringbone Chain Necklace
This eye-catching design is sterling silver covered in 24K gold. Available in 16, 18, and 20 inches, with a lobster claw clasp. Beautiful worn alone or layered with additional necklaces, it will be a staple in your jewelry wardrobe. Click below to learn more.
CHECK PRICE ON AMAZON!
Let's take a look at some 18-inch designs: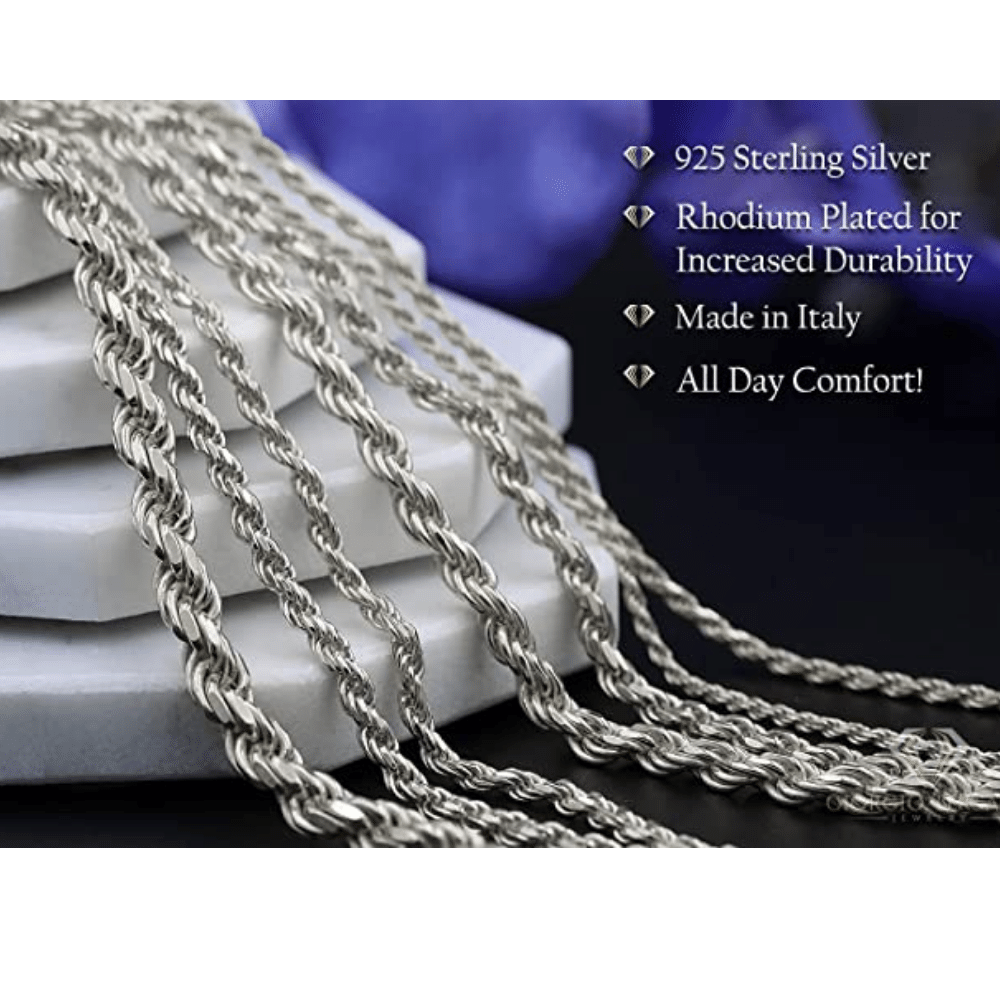 925 Italian Sterling Silver 1mm Solid Rope Diamond Cut Chain Necklace
Gorgeous 925 Sterling Silver rope chains. These chains are rhodium plated for added durability and tarnish protection. Choose from a delicate 1mm width up to 5.5mm. Available in 16-30 inches long; and 9 inch matching bracelets. The diamond cut design reflects the light with every movement. For a closer look at the available options, click below.
CHECK PRICE ON AMAZON!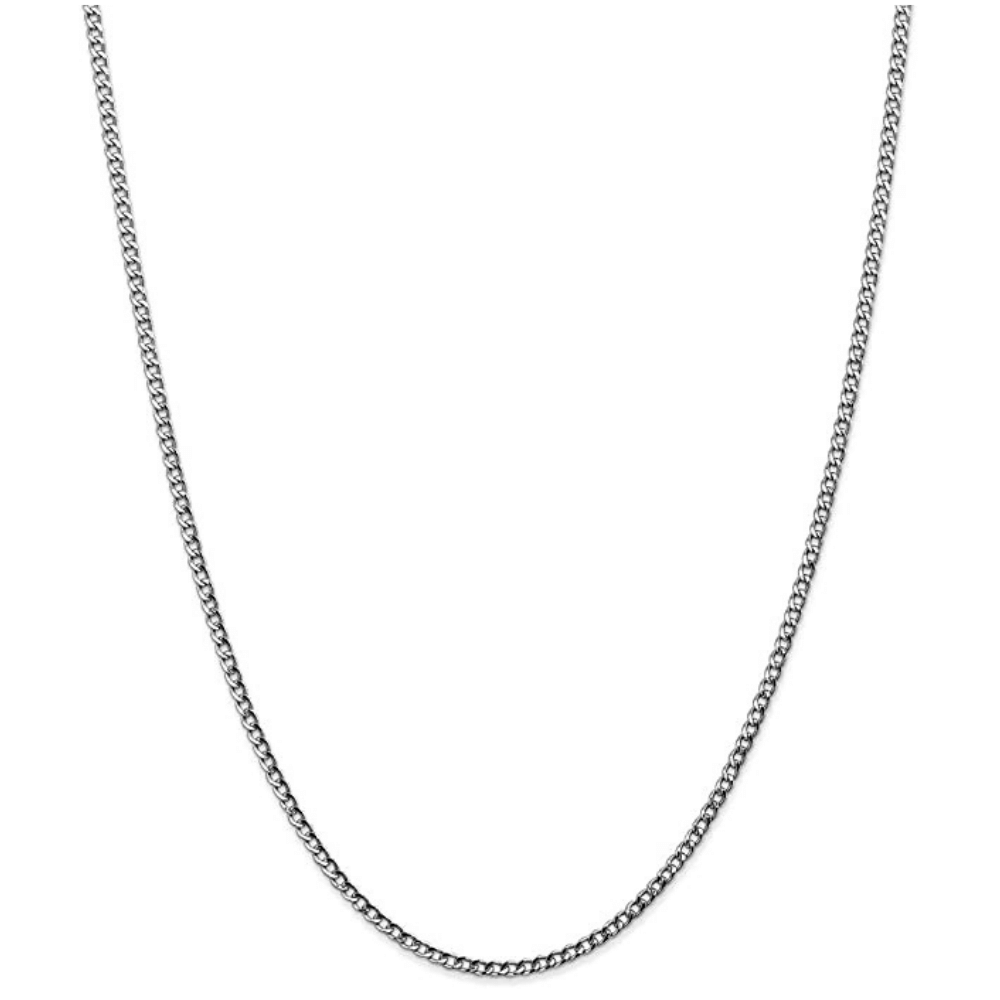 14k White Gold 2.5mm Curb Cuban Link Chain Necklace
This solid 14K white gold 18-inch chain is perfect for layering. Available in lengths 16-24 inches means you can select the chain that fits into your vision, or wear it all on its own. Click below for a closer look.
CHECK PRICE ON AMAZON!
On to 20 inch chains: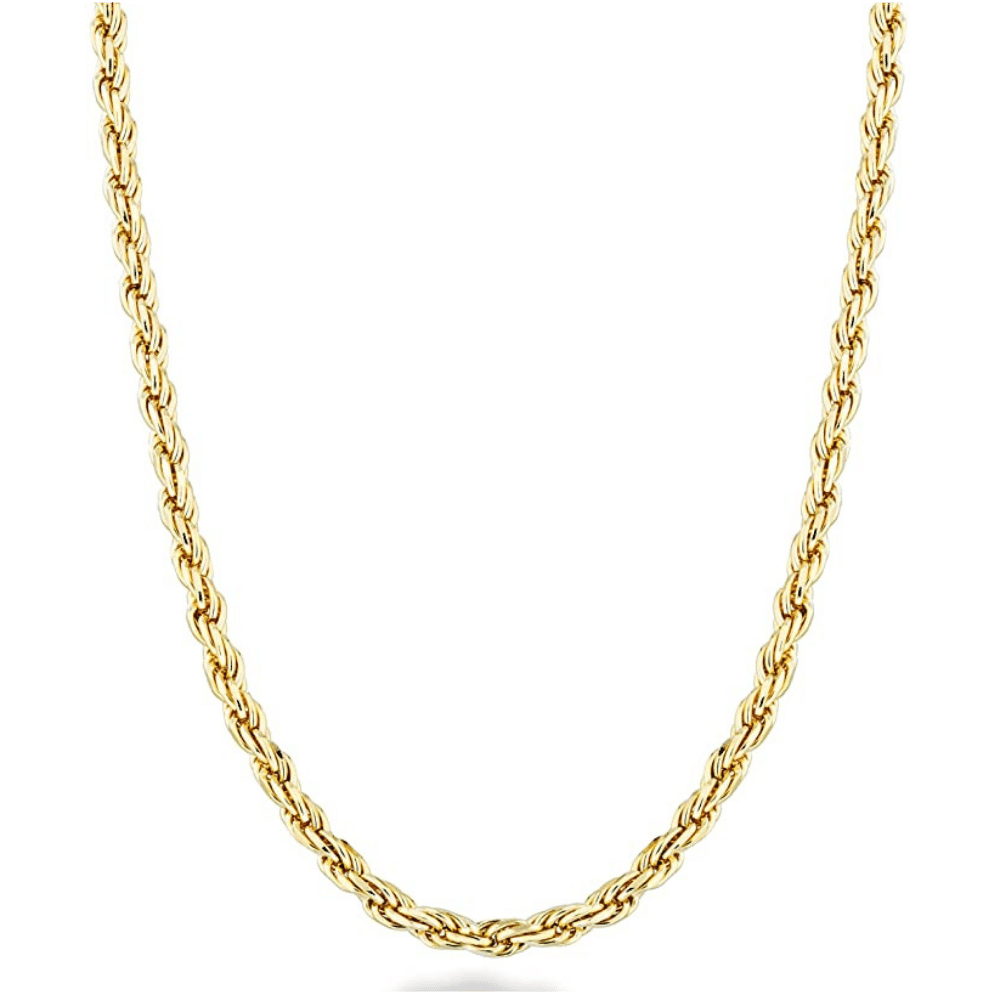 Miabella Solid 18K Gold Over Sterling Silver Italian 2mm, 3mm Diamond-Cut Braided Rope Chain Necklace
Italian vermeil neck chains offer quality at affordable price-points, especially if you have several chains to buy. And even more important they work extremely well for the layered look. The diamond cut design catches and reflects the light like no other design. Click below for all the details.
CHECK PRICE ON AMAZON!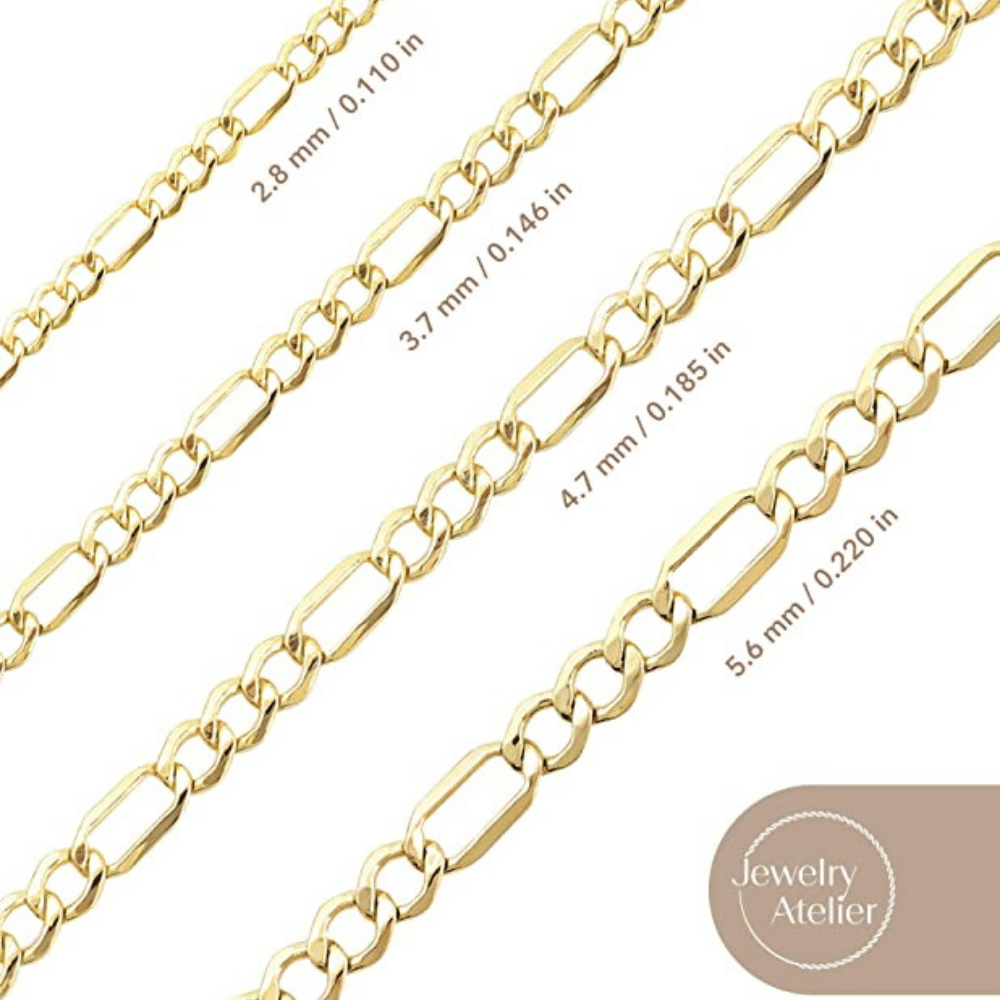 Figaro Necklace Collection - 14K Yellow Gold Filled Chain
This collection features the classic Figaro design. As you can see in the image above, the details of design and the various widths available to you. Available in lengths 18-30 inches, gold filled chains offer superior durability as the gold outer layer is heavier than in simple gold-plated jewelry. Click below for additional details
CHECK PRICE ON AMAZON!
Now a couple of 22-inch chains: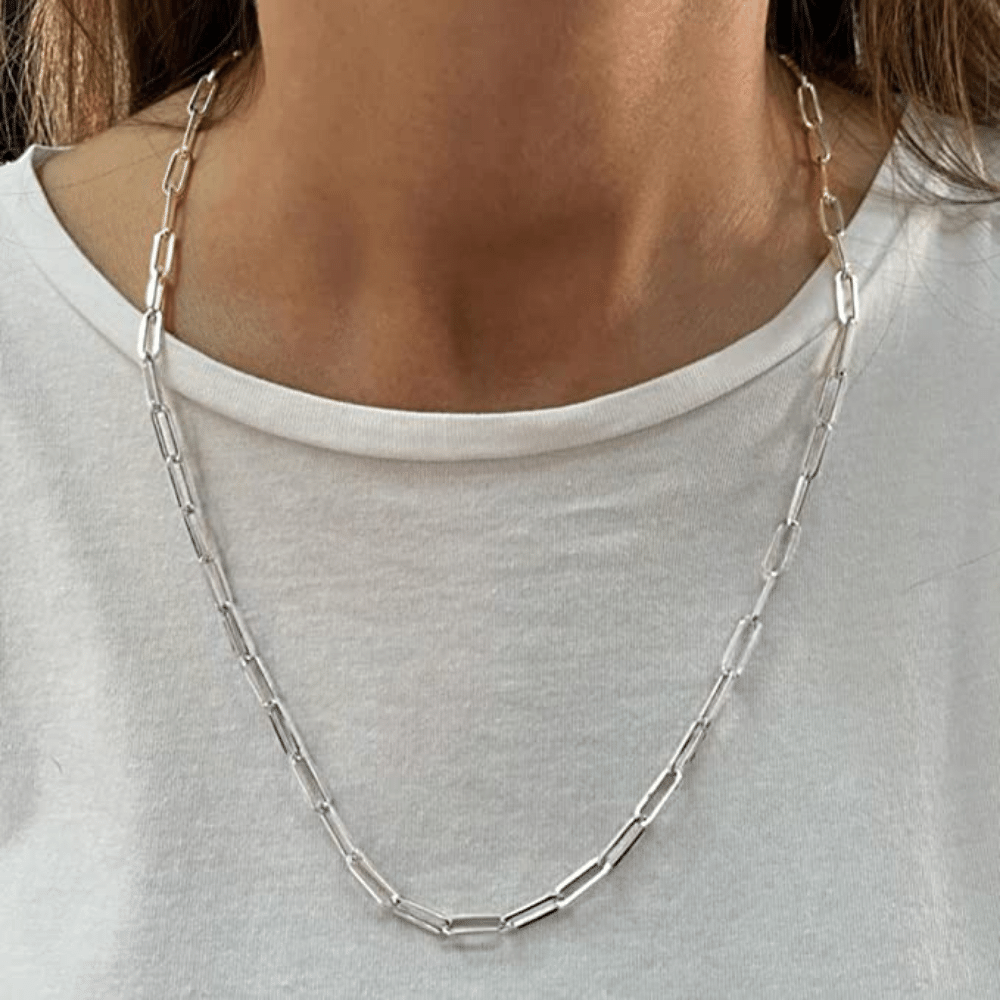 925 Sterling Silver Clasp 5mm Paperclip Chain
The Paperclip design is the hottest design this year in necklaces and bracelets. The glimmering high-polished surface is certainly eye-catching. This 22 inch chain is also available in lengths 18-30 inches. Click below to get yours today!
CHECK PRICE ON AMAZON!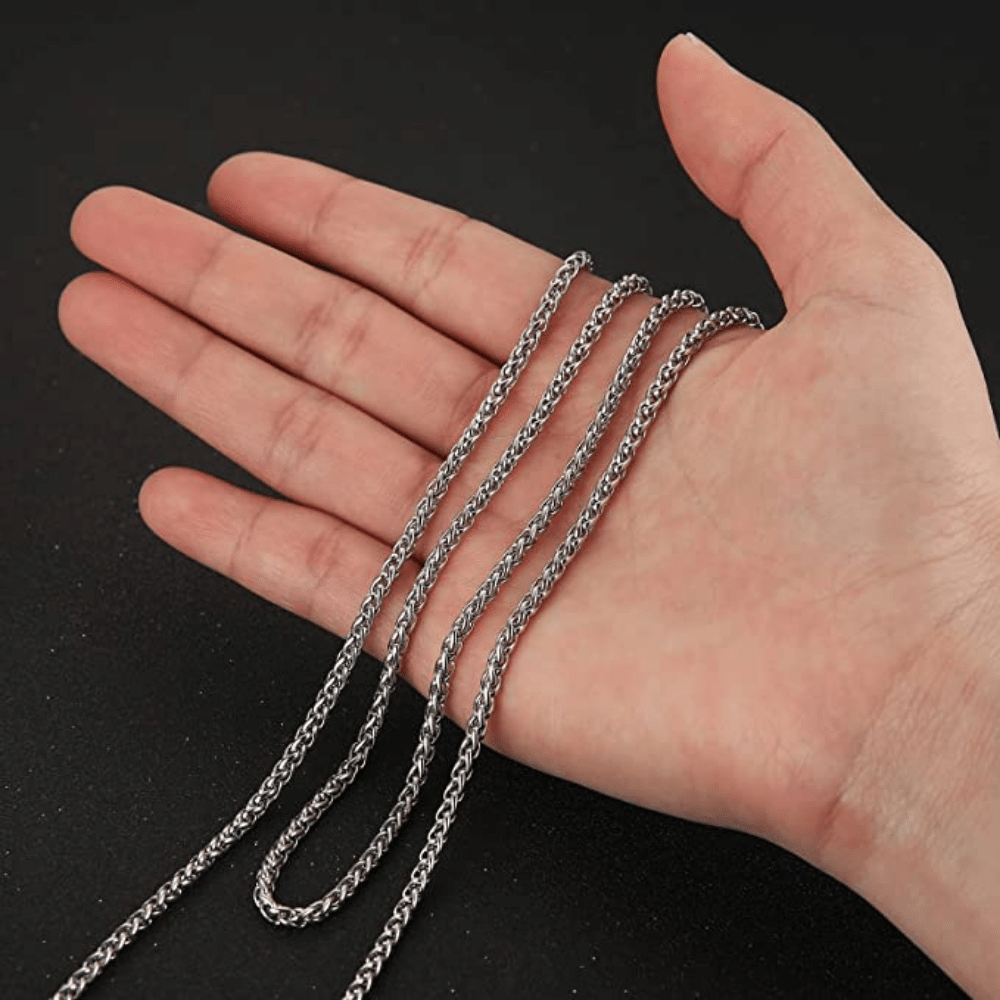 HZMAN 3.0 mm Stainless Steel Wheat Chains
Super sensitive skin? Then try one or more of these beautiful, stainless steel chains, featuring the wheat design. They are tarnish and rust resistant, sturdy, with a lobster claw clasp, and most importantly beautiful. This model is available in lengths 16-36 inches. Click below for the full range of options.
CHECK PRICE ON AMAZON!
And finally two 24-inch examples: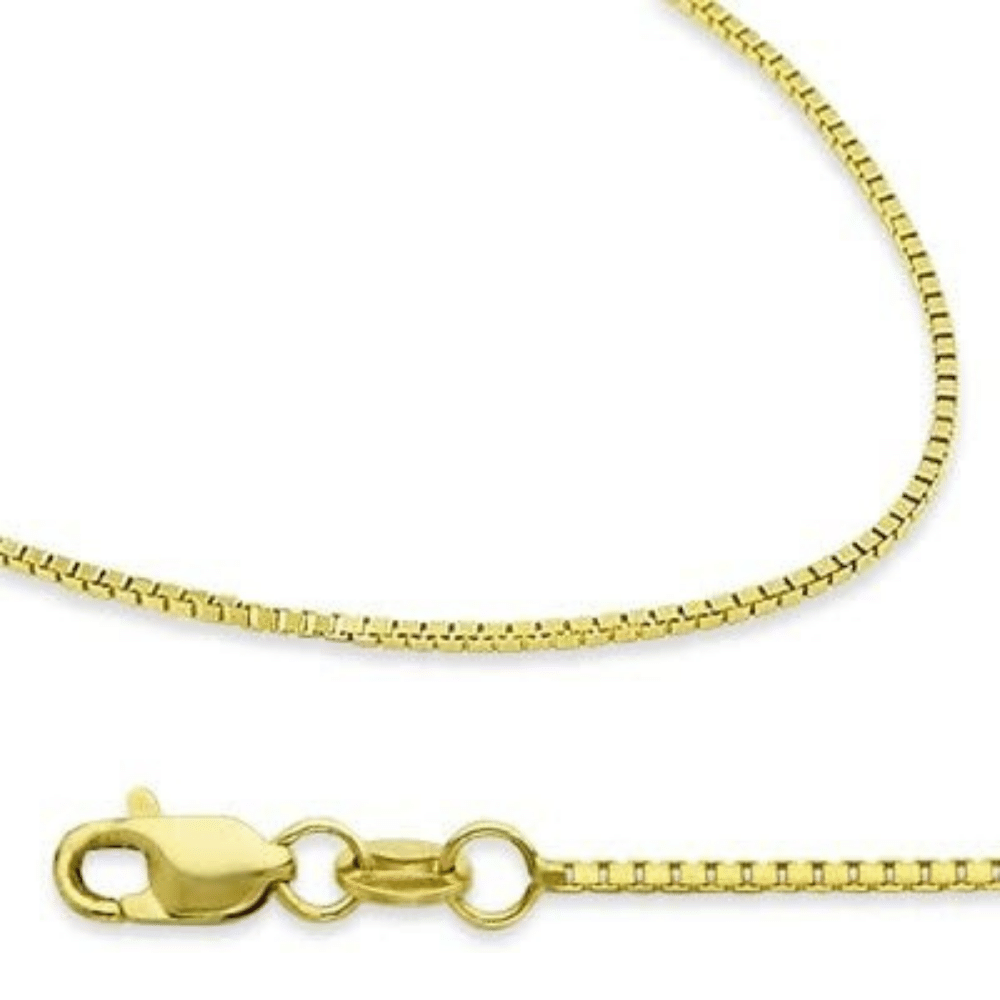 Solid 14k Yellow Gold Box Chain
We love this elegant, super shiny box chain. Made from solid 14K yellow gold. This chain works well for the layered look, or to hang a pendant. Notice the lobster claw clasp that adds to its durability. Click below for a closer look at the details of this beautiful chain.
CHECK PRICE ON AMAZON!
In Conclusion
These ten examples of beautiful neck chains at competitive price points, are merely a drop in the bucket when it comes to your options.  
Whether you are purchasing as a gift, or for yourself, these chains will provide many years of enjoyment with tons of opportunity and flexibility to change or build on the look at any time. And while you are at it, don't forget to add on a bracelet or two!
With so many great options available, it's easy to find the perfect holiday gift for the jewelry lover in your life. Whether you opt for something classic or trendy, there's sure to be something that will please everyone on your list. So get shopping today and let the holidays begin!
FAQs
How many chains should I wear together?
It's really an individual decision. If you are a little unsure, start with two necklaces and go from there. It also depends on the neckline you are wearing, only wear as many chains as can be seen; don't crowd them to the point that they look messy.
How can I create an interesting look?
It's great to play with different textures: Herringbone, Figaro, Rope, Wheat, and Box to name just a few. There are so many designs. You can play with different widths too. Accents like name tags, or bar necklaces, gemstone station necklaces or pendants will create eye-catching stacks.
How do I get a knot out of a chain and untangle chains that are in knots in my jewelry box?                                      
The best way is to place the chain(s) on a flat surface; unhook the clasp(s) and find two straight pins, place them inside the knot and gently pull apart. If you feel too much resistance then try another area, eventually they will come apart. Sometimes it takes a lot of patience, depending on how many knots there are and how badly knotted they are. It has also been suggested that a little dab of oil on the knot helps to loosen them up.
What if I am still unsure of how to create an attractive layered look?
If you need help, visit a brick and mortar store that has a good assortment of chains and necklaces. The jewelry professional will help you try on various styles and adjust lengths and make recommendations to find the perfect look.  Invite a friend along if you think you need an unbiased opinion. Also, remember to bring your own necklaces that you are considering including in the stack.
---