Is Your Jewelry As Clean As You Would Like?
One thing is for certain, jewelry, whether costume or jewelry crafted from precious metals and gemstones, look atrocious when tarnished and dirty. Many people wear their jewelry constantly and don't even think to take it off and clean it! Look down at the jewelry you are wearing now, how does it look?
Why Is It Important To Keep Your Jewelry Clean?
Well, besides being proud of your jewelry, if you do not clean and inspect your pieces regularly, you will miss damage you may have. Rings especially are vulnerable to accumulating dirt and oil as well as damage. For example, when we wash our hands, soap residue gets into the settings and underneath the stones.
What's even worse is when we slather our hands with moisturizer coating the gemstones, that blocks brilliance and sparkle, leaving the gems dull and lifeless, even those of the highest quality. I cringe at the sight of people wearing their rings when mixing food with their bare hands, visualize meatloaf or bread dough mixtures!
When a jewelry professional cleans our jewelry for us, we are amazed at how beautiful the pieces are when we get them back; they look as if they are brand new, with gleaming metals and brilliant gemstones.
How Do The Pros Do It?
Many top brands, such as Tiffany & Co. sell their own liquid jewelry cleaner and silver polishing cloths. But even better, you can leave your jewelry to be professionally cleaned by their jewelers. Not only will they clean the pieces, but they will also inspect the settings to ensure all gemstones are secure. Some jewelers sell their own branded jewelry cleaning kits.
When I worked as a sales professional at Tiffany & Co., I always advised my customers to bring their pieces in to be cleaned by our customer service team, and called every six months to remind them it was time for a cleaning.  
Cleaning silver jewelry, or any jewelry is very time-consuming and in some cases labor intensive. The exact cost must be determined based on how many pieces you have and what type of cleaning and polishing is required. It is well worth the price to keep your cherished items beautiful.
Basic Jewelry Cleaning Techniques:
Can we get the same results at home, without the special tools found in jewelry stores? You can get good results if you are willing to take the time and effort, not as good as the pros but pretty darn close with the right tools!
If you are cleaning silver jewelry all you need is a silver polishing cloth that you should use often, at least once a week to remove and prevent tarnishing. For more seriously tarnished pieces you will require jewelry cleaners, either liquid cleaner or cream silver cleaners.
Speaking of Sterling Silver-here are terms that you may have heard, but not quite sure what they mean.
Tarnish:
is defined as a surface discoloration of silver caused by sulfur dioxide, a naturally occurring element in the atmosphere, or by contact with sulfur-rich substances such as egg yolks or rubber bands or chemicals containing sulfur.  The discoloration can be black, bluish-black or even red to orange. Wearing your jewelry and simply wiping it with a silver polishing cloth each time you wear it will prevent tarnishing.
Patina:
is defined as a soft finish created on the surface of silver caused by uniform surface oxidation as well as a multitude of tiny scratches from everyday wear.  If you prefer a bright shine, the surface can be re-polished to restore most of the shine.  You may prefer the softer, mellowed appearance that patina creates and may not want your pieces polished.
For jewelry with gemstones, use a soft toothbrush, warm water, and mild liquid soap, such as dishwashing liquid. There are also jewelry cleaners sold in jars that you just place your pieces in, let them soak for a while and then rinse off and dry with a soft cloth. Avoid paper towels as the are rough and can scratch soft precious metals. Never put opals, turquoise, or pearls in liquid jewelry cleaner unless the instructions say definitively that you can.
One thing we have not talked about is how safe is it to try and clean your own jewelry. I'm sure you've heard things such as "use toothpaste" or ammonia, sounds very messy and sticky to me, and ammonia, although it does cut grease, is very toxic.
Today, there are some fantastic tools that will help you keep your jewelry always looking like new and is very safe for your jewelry and you! Let's talk about exactly what they are.
Achieve Professional Jewelry Cleaning Results At Home:
The best way to get your jewelry as clean as possible at home is with an ultrasonic machine. The jewelry cleaning kit consists of a small machine, with a basket that holds your jewelry and a liquid cleaner. The machine uses ultrasonic waves that gently release dirt from the settings as well as below and around the gemstones.
Additional Tips That Will Keep Your Jewelry Beautiful:
Gold and Platinum:
Gold and platinum jewelry should be cleaned with a non-abrasive liquid cleaner (see recommendations below.)
Avoid exposing gold jewelry to household bleach, and prolonged wear in swimming pools or hot tubs, as chlorine may damage the surface and cause gold to discolor and pit (small surface holes.)
General Care Tips:
Store all jewelry in the packaging provided – do not store unprotected in jewelry boxes-Most jewelers provide soft pouches.
If you do use a jewelry box, make sure pieces do not touch each other. Diamonds especially will scratch metals and other softer gemstones.
If you are wearing fragrance or lotion, let your skin dry before putting on your jewelry. The same goes if you are using hairspray.
Use a gentle liquid silver cleaner (see recommendations below.) Rinse and dry well, otherwise dark water spots will form on the surface that are very difficult to remove.
Have your pieces cleaned and inspected professionally ever few months.
Between professional servicing, most gold and platinum jewelry can be maintained with a non-abrasive cleaner or shined with a jewelry cloth.
Occasionally examine your jewelry for damage, such as broken prongs, or clasps that no longer function properly-especially if you have knocked a piece against a hard surface.
Avoid wearing jewelry when cleaning house, playing sports or any activity that puts your jewelry at risk. Wear rubber gloves to wash dishes or when using household cleaners.
Costume jewelry, pieces made from metals other than gold, platinum or silver, or that are plated can be cleaned in non-abrasive cleaners to remove dirt.
💡
Affiliate Disclosure - When you purchase through our links, we may receive a small commission. Prices are exactly the same for you if your purchase is made through an affiliate or a non-affiliate link. You will not pay more by clicking through our links.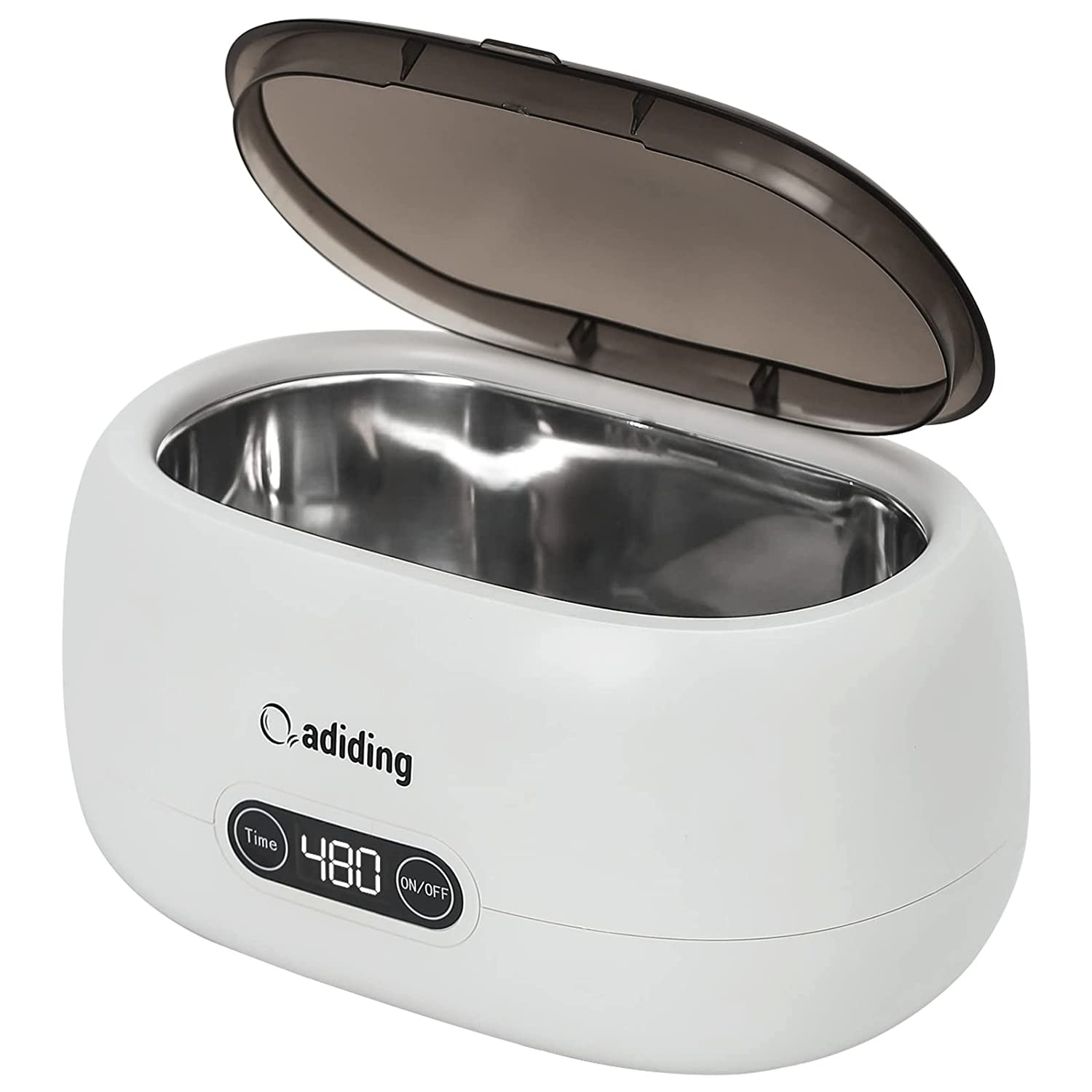 Ultrasonic Jewelry Cleaner, 650ML Professional Ultrasonic Cleaner
Why we love about this product: Primarily for jewelry, it also can be used for eyeglasses, watches, coins, dentures and laboratory instruments. Simply fill with water, add liquid hand or dish soap and push the button. It features five time settings, an automatic shut off and an 18-month warranty. For details click below!
CHECK PRICE ON AMAZON!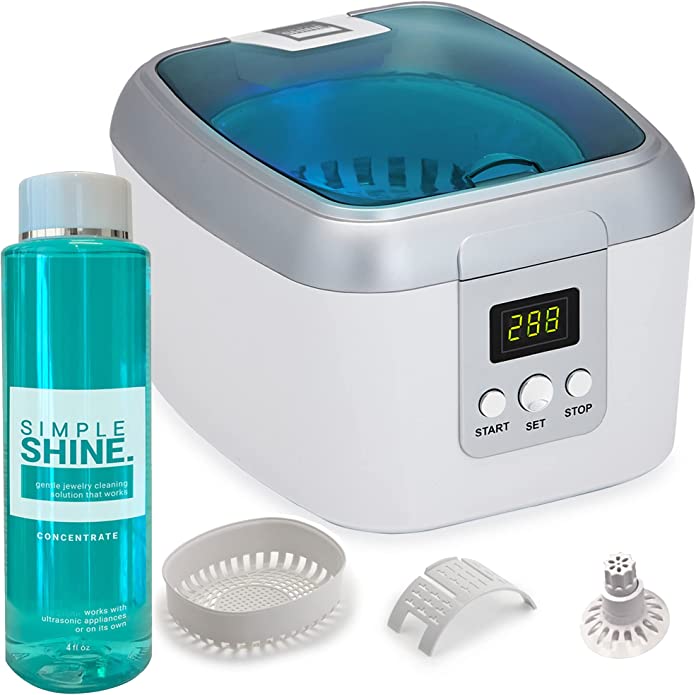 Premium Ultrasonic Cleaner
What we love about this product: It comes with its own jewelry cleaning liquid concentrate. It cleans virtually all metals and is equipped with watch, ring and bracelet holders as well as an inner basket. It also has five timing cycles. The kit also includes its own concentrated liquid cleaner. Large enough to clean several pieces at one time, as long as they don't touch each other. For detailed information click below!
CHECK PRICE ON AMAZON!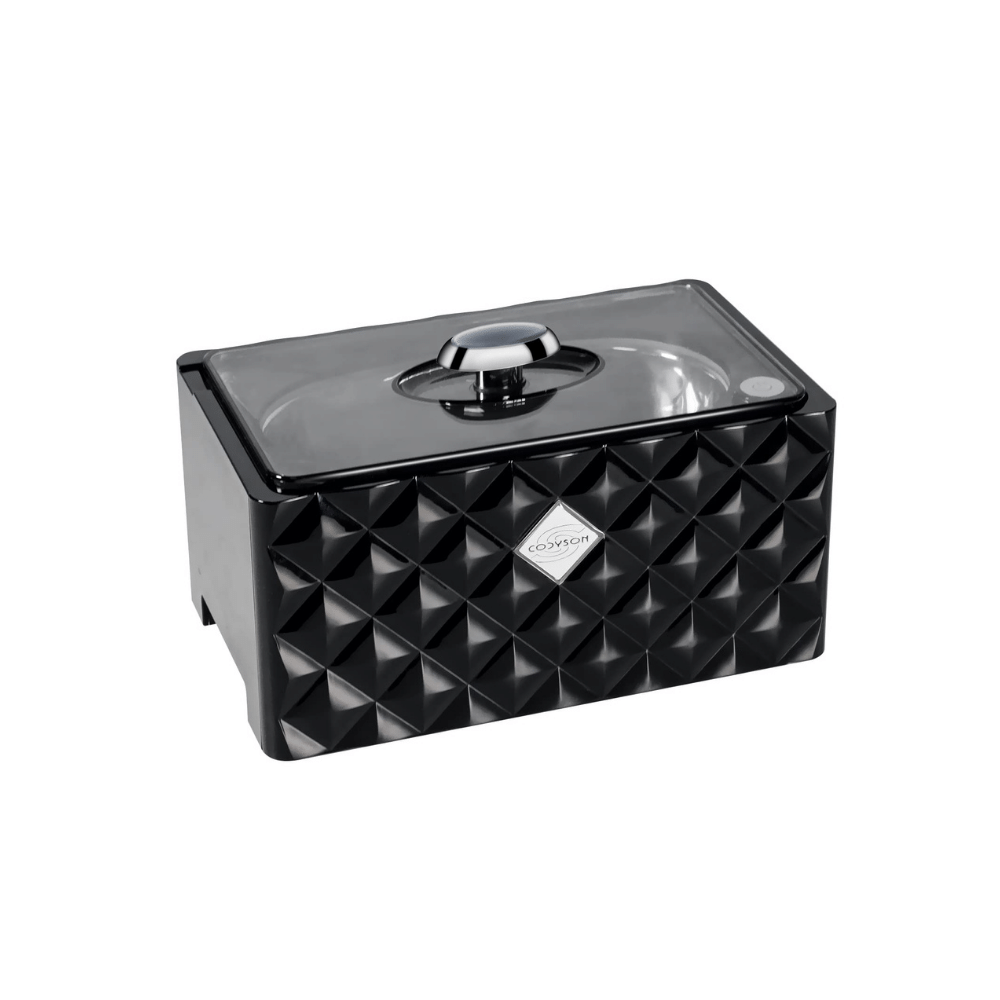 Ultrasonic Jewelry Cleaner, VLOXO Ultrasonic Cleaner Machine Portable
What we love about this product. It's quite attractive and will look great no matter where you place it. It also has a detachable power cord. It is super simple to operate with a single activation button with a three-minute timer. For further details click below.
CHECK PRICE ON AMAZON!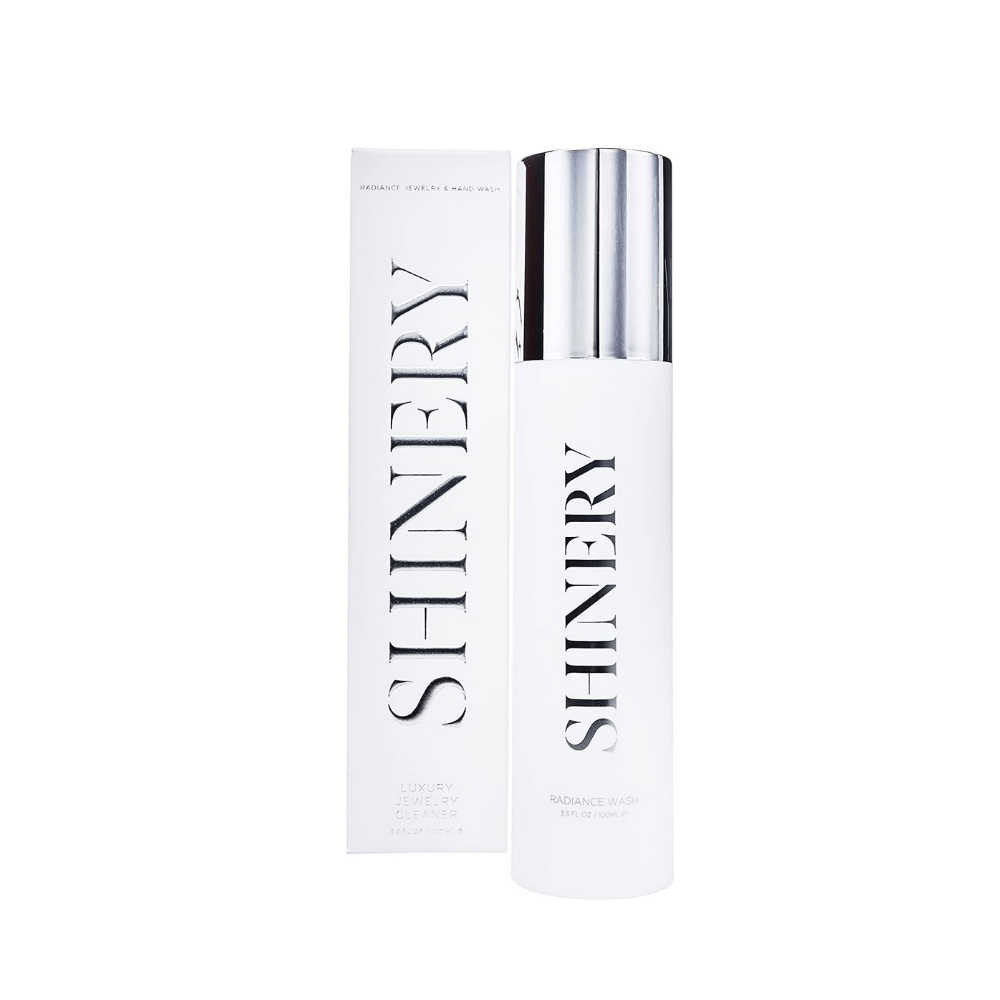 Shinery Radiance Wash, Jewelry Cleaner Solution
What we love about this product: So simple to use, just spray it on and wash your hands; it will wash off completely leaving no residue. Great to use as you are rushing out the door. No harsh chemicals so is safe for all types of jewelry, costume jewelry, enameled pieces, even delicate pearls. Oprah claims Shinery as one of her favorite things! Click below to see their whole range of jewelry cleaning products.
CHECK PRICE ON AMAZON!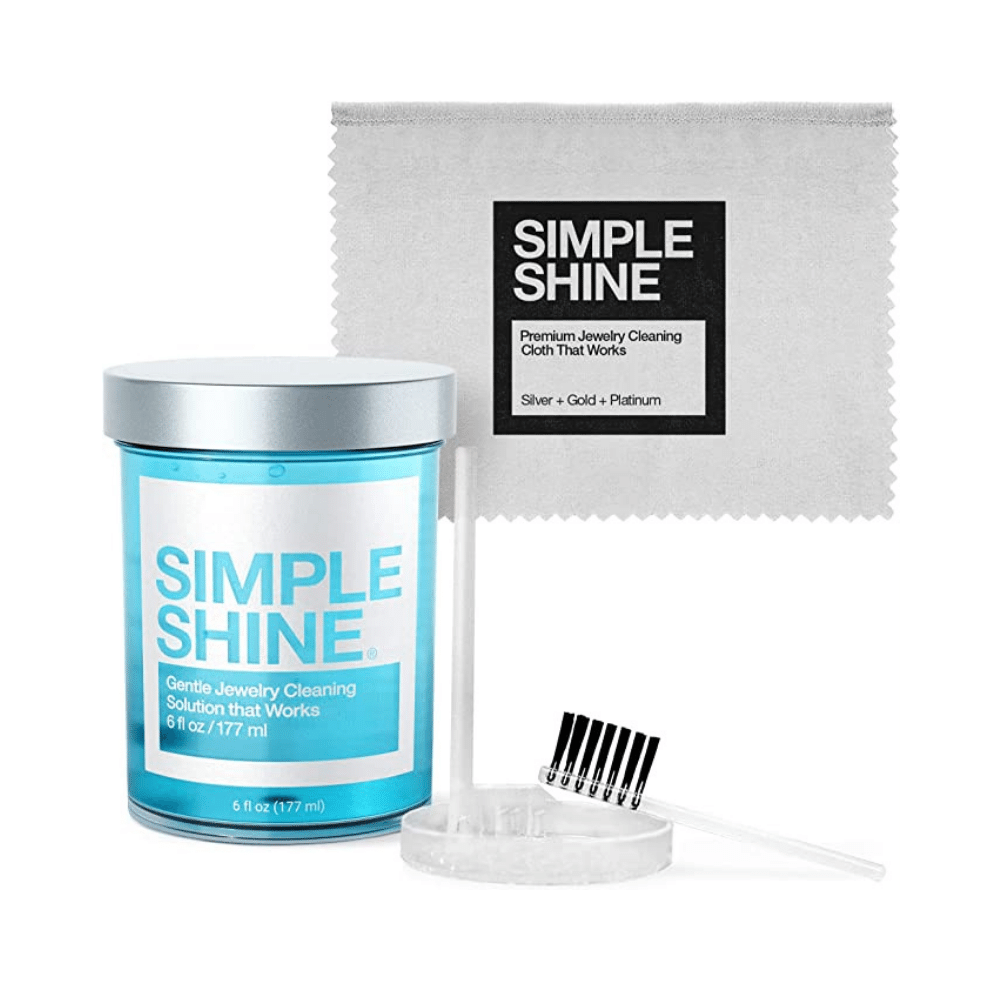 Complete Jewelry Cleaning Kit Polishing w/Cloth, Brush and Jewelry Cleaner Solution for all Jewelry.
Why we love this product: Looking for the simplest way to keep your jewelry beautiful? This is it! Just drop your pieces in, rinse, dry and go! Simple Shine gentle jewelry cleaner is safe for all your jewelry: clean diamonds gold, palladium, platinum, sterling silver, stainless steel, titanium, CZ, pearls, beads, porous stones (e.g. lapis lazuli), soft stones, enamel, treated gemstones & more! The kit also includes a soft brush so that you can reach intricate spaces. Non-toxic and ammonia-free. A jewelry cleaning cloth lets you quickly wipe away surface tarnish and smudges. Great for traveling. Click below to order your kit now.
CHECK PRICE ON AMAZON!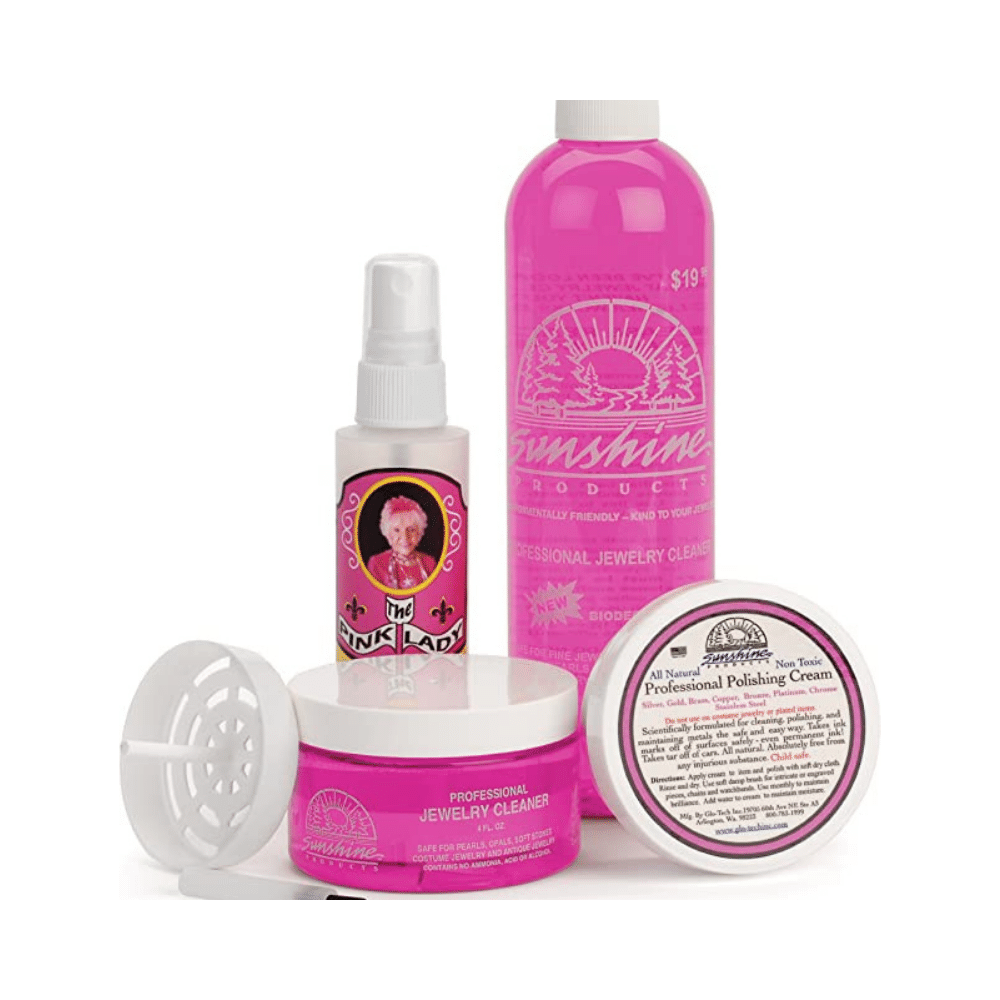 Pink Lady Sunshine Premium Jewelry Cleaner Kit with Metal Polish - Safe Jewelry Cleaner
What we love about this product: It includes everything needed to keep any type of jewelry clean. It is non-toxic, gentle and will not harm even your most delicate gems. Contains no ammonia, alcohol or other harsh chemicals. Includes spray, liquid and cream forms. Click below to learn more.
CHECK PRICE ON AMAZON!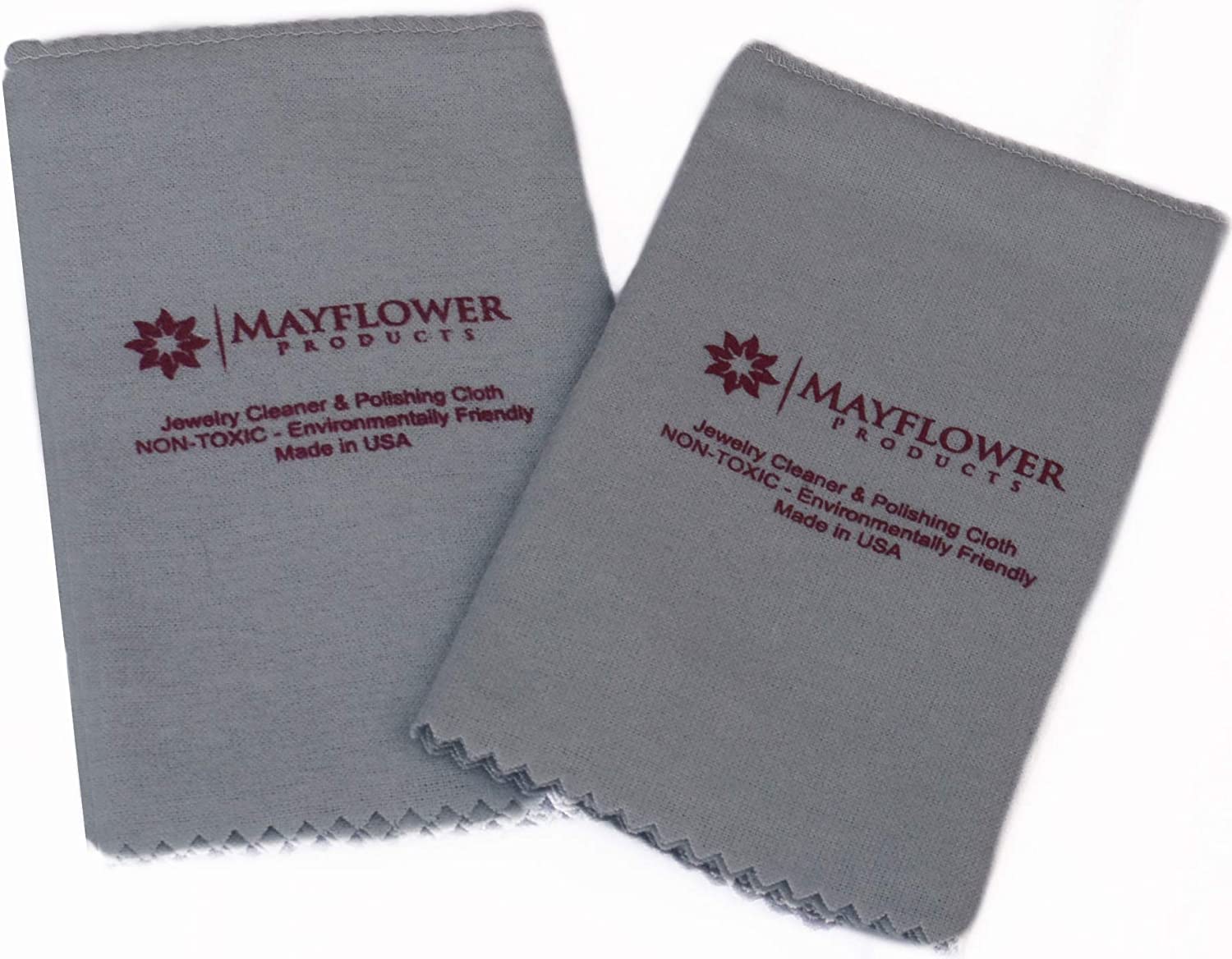 Pro Size Polishing Cloth Set of 2 Large Cleaning Cloths
What we love about this product: There is nothing easier than quickly wiping your pieces to restore their beauty. Soft cotton will not scratch surfaces or remove plating from costume jewelry, just dirt and fingerprints. These cloths also leave a protective layer that slows the tarnishing process. Keep one near your jewelry box and the other in your suitcase. Click below to order yours now.
CHECK PRICE ON AMAZON!
Jewelry Care FAQs
Can I clean pearls or beads in liquid cleaner or ultrasonic?
It is best to wipe pearls with a very damp cloth. Getting the stringing material wet will weaken the string. If you must clean pearls or beads, or any strung jewelry, let it dry completely before wearing, so that the string does not break.
Can I wear my jewelry when playing sports?
It is best to remove jewelry when playing sports, doing heavy housework, or any activity where there is a chance you may chip gemstones or break prongs.
Can I wear my jewelry when swimming?
No, if swimming in natural bodies of water, jewelry can come off and be forever lost. Swimming pools and hot tubs contain chemicals (especially chlorine) that will pit gold, that is, create small holes on the surface or cause discoloration.
How do I bring back the shine of my silver jewelry as it was when I bought it?
Silver is a soft metal that develops a patina over time. To restore the original brilliance, silver pieces must be machine polished by a jewelry professional to remove tiny surface scratches that will restore the shiny surface very close to what it was when first purchased.
What is the best way to clean diamonds?
Diamonds naturally attract grease and dirt, even the oil from our skin will diminish their brilliance. But it is easy to keep them beautiful.
First, never place your fingers on the diamond(s), hold the piece by the setting.
Use warm water, mild liquid soap, and a soft brush to clean. Be sure to reach below the setting as that is where the most dirt accumulates.
Inspect all pieces prior to cleaning to ensure there are no missing diamonds, gemstones, or worn broken prongs. If unsure, take the piece to a professional for an inspection.
Never clean jewelry over an open drain, make sure the bottom of the sink is padded in case you drop the piece you are cleaning.
How do I know if diamonds in my jewelry are loose?
Most people realize they have loose stones by the slight rattling sound they hear that indicates the diamond is moving around in the setting.
Another way is to use the eraser end of a pencil and try to wiggle the stone. Look carefully to see if any of the prongs are broken, worn down and thin. It is wise to have your jewelry inspected at least once a year by a professional.
Next I will recommend the best jewelry cleaning kits on Amazon.com. Keep your most cherished jewelry pieces sparkling clean and beautiful for generations!
In conclusion, treat yourself and your jewelry to a special gift. Also, keep these recommendations in mind for the holiday gift-giving season.
Thank you for reading our article!
Francesca de Granville, G.G., F.G.A.