Looking for a special gift for your 10th wedding anniversary?
If so, the tenth anniversary is a very big deal, it's a milestone anniversary, as well as one of those special occasions that require a lot of preparation!
This gift requires careful and considered thought before deciding what exactly to buy. So we would like to give you a few ideas on how to make your life partner's eyes light up.
Old and New Traditions
Did you know that tin and aluminum are the traditional gifts associated with a 10th wedding anniversary?
Most people think that after 10 years of partnership and the ups and downs of marriage, tin or aluminum might not quite do the trick... when you are trying to express your eternal love and appreciation!
Today, the more appropriate gift is a diamond(s) whether set in gold jewelry, silver jewelry, or platinum jewelry. Thank goodness, as traditionally diamonds were reserved for the 60th wedding anniversary!
What Are Your Options When It Comes To Diamonds
The great news is that there are so many options when it comes to diamond jewelry. After ten years of marriage, you probably have a sense of your partner's taste and may have had a conversation or two about jewelry over the years, and what special diamond piece s/he would love to have.
Suggestions for the perfect gift:
Upgrade the diamond engagement or wedding ring.
Perhaps when you first exchanged rings, you were just starting out and you and your spouse had a million bills to pay, student loans, etc. Maybe your budget would not allow you to buy the ring that you really wanted. So now is the perfect time to do just that.
You can either select a new diamond and have it set into the original ring if you are sentimental, or, purchase a completely new ring. Don't forget to have the inside engraved with a heart-felt message or the commemorative date.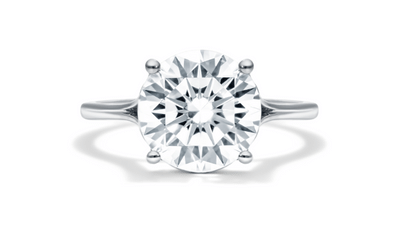 The traditional diamond anniversary band.
Generally, anniversary bands are diamond rings where the diamonds are set around the entire band (a.k.a eternity bands) or halfway around the band. Anniversary bands, as the name implies are a great traditional gift.
The beauty of these bands is that the diamond weight dictates the prices, so take your pick.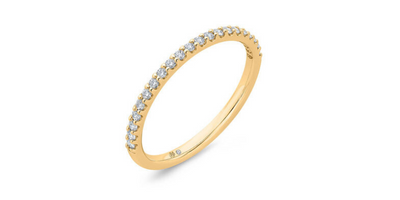 The bands can feature all diamonds or in combination with your choice of colored gemstones for a pop of color. A diamond band can be paired with the wedding and or engagement ring, worn in a stack, or completely on its own, highlighting its beauty.
Ben Bridge Wedding Band, this is for men and women, or maybe as a couple you each have one, a great way to celebrate your bond.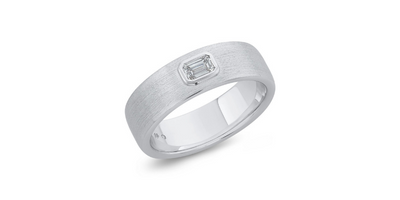 Jean Dousset Lab Created diamond band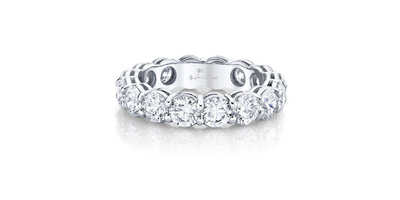 Diamond Earrings
Are a classic and beautiful gift that both men and women appreciate. A gift that they will wear all the time! Again, the size of the diamond(s) will determine the price. Either diamond studs, or a multitude of beautiful designs featuring just about every shape are available.
Jean Dousset Ear Studs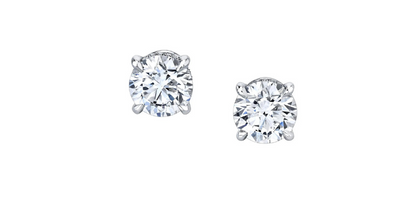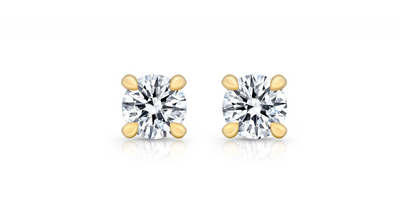 Solitaire diamond pendant.
What a beautiful, classic gift. Diamonds, either prong set in a basket or bezel setting are sure to please. Diamond pendants are magical on their own or layered with other chains.
Because the pendant chains come in the length of your choice, they can be customized to fit in perfectly with any other chains she wants to wear alongside her new diamond! White, yellow or rose gold chains can be worn separately or together.
Ben Bridge Soitaire Diamond Pendant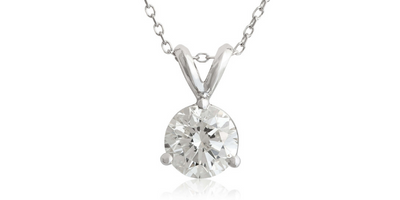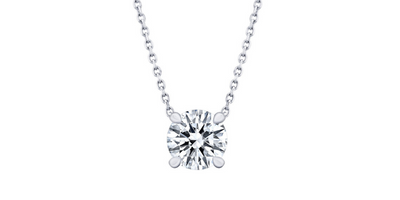 Diamond Line Bracelet (a.k.a. diamond tennis bracelet)
Nothing makes a woman feel more glam than a diamond line bracelet! The good news is that jewelry pieces such as this, that in prior years were thought to be appropriate only for evening events can be worn and appreciated anytime, day or night. As with all diamond jewelry, the total weight of the diamonds will determine the price.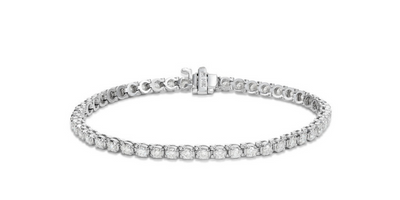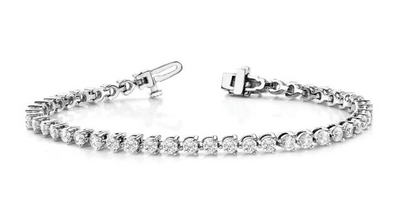 Diamond Line Necklace.
I am so excited about this option. Diamond line necklaces are completely on trend right now. I know it sounds expensive, but I will show you several designs at different price points that are truly surprising!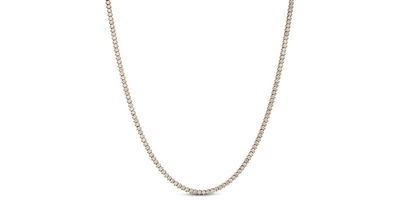 James Allen Lab-Created Diamond Line Necklace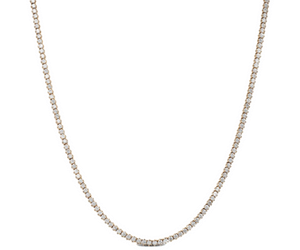 The Diamonds
So now that we've reviewed the basic diamond pieces, let's talk about your choice when it comes to diamonds. Back when you purchased the first engagement ring, the only option when it came to diamonds was earth-grown, mined diamonds; the biggest concern was the possibility that the diamond you purchased could possibly be a conflict diamond.
But fast forward 10 years and we now have lab-created diamonds that exhibit the same beauty as mined diamonds, the only difference is that they were born in a lab, rather than formed a hundred miles below the surface of the earth.
There are many benefits associated with lab-grown diamonds-if you would like to read more about them take a look at our article: Lab-Created Diamonds: A Sustainable And Ethical Direction.
Not only are lab-created diamonds good for the environment and without any ethical concerns, but the prices are a lot more consumer friendly.
Below are a few comparisons between earth diamonds and lab-created diamond jewelry for you to take into consideration.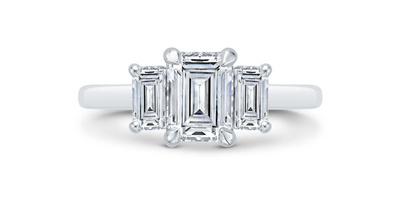 Jean Dousset and Diamond Engagement Rings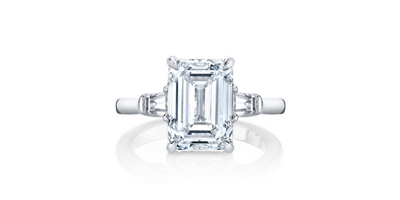 As you can see by these beautiful emerald cut engagement rings. All three are approximately the same carat weight, color and clarity, but the price difference is quite apparent.
Take a look at these rings and others at Ben Bridge and Jean Dousset This brand carries both earth and lab-created diamonds.
Other ideas for your 10th anniversary:
Set the scene for the special moment when you present the gift: the beautiful gift of diamonds.
Start with the traditional bouquet of flowers, whether your spouse is male or female, everyone deserves flowers; BTW daffodiles are the designated 10th anniversary flower, but of course the standard is red roses. That goes for chocolates too!
Take your partner to their favorite romantic spot, either for a weekend getaway or for maybe just a quiet evening at home with a meal and beautiful bottle of your favorite bubbly.
How about a spa day or, maybe a couples' massage, cooking class, or roller skating? Whatever floats your boat!
Creating an aura of mystery with a little creativity, design a scavenger hunt, and leave notes or clues around your home to keep your partner guessing.
Focus on an activity your partner loves to do, maybe that activity is mountain climbing or just a long walk in the woods, something that will put a smile on their face.
In Conclusion
Show your spouse how much you appreciate them on this special occasion by investing in beautiful diamond jewelry!
Not only does it offer something distinctive and memorable for your tenth year together, but there are also plenty of options when it comes to finding just the right piece—rings, pendants, and bracelets.
Be assured that there's something out there that will match your partner's style and personality perfectly.
Anniversary Gift List: The Knot
Thank you for reading our article; please leave your comments and questions below.
Happy Shopping!
Francesca de Granville, G.G. (GIA) F.G.A.
Related Articles You May Enjoy: